Butternut Squash Lasagna Rolls are cozy, rich and oh-so delicious. With only six ingredients, they're a cinch to throw together, and sure to impress a crowd.
When it's colder outside than inside, only a few leaves remain on the trees in my backyard, and I find myself reaching for cozy socks and sweaters, it's also the time I find myself reaching for the same type of comfort in the things I eat. And probably why I gain extra three to five pounds like clockwork come January.
While soups and stews are often my go-to, the item I crave the most out of anything is a rich, creamy pasta much like today's Butternut Squash Lasagna Rolls.
Butternut squash is one of those quintessential fall flavors the world can't get enough of, myself included. I find myself utilizing it in a myriad of different ways, but I absolutely LOVE using it to amp up a classic cream sauce, or as a creamy filling in a ravioli or lasagna. When it's pureed, it's irriesibilty creamy and I find it compliments a classic cream sauce perfectly.
Since I've already done an easy Butternut Squash Alfredo with rave reviews, this time I thought I'd take the roasted squash and whip it up with ricotta cheese as a stuffing for lasagna roll ups.
The Breakdown:
Butternut squash and garlic are roasted until super soft and sweet, pureed, and then gently mixed with whole-milk ricotta, a little bit of parmesan cheese and some salt. The mixture is spread over cooked lasagna noodles, rolled up and then nestled into a greased baking dish. The whole thing is doused in a SUPER simple cream sauce, baked and ready to be served.
It's about as simple as you can get when it comes to lasagna, but the flavor is OUT OF THIS WORLD. It's rich, be warned, but worth every single bite.
Instead of going into lengthy paragraphs about how to prepare it, let's get straight to the point with some easy tips that will save you time and frustration.
Cooking the lasagna noodles:
Use a VERY large pot, as big as you've got. I used this one.
Salt and oil your cooking water. Because we're not using a lot of ingredients, every step has to be seasoned perfectly. The oil helps to prevent the noodles from sticking together.
Add noodles one or two at a time, and stir in between each addition, making sure the noodles don't stick together. There is NOTHING worse than taking your lasagna noodles out only to find they've all stuck together and break when you pry them apart.
Cook them just shy of aldente. They will cook more in the oven and you don't want them mushy!
Take them out one at a time with rubber tongs. Lay each noodle on a greased cookie sheet, one next to the other, making sure they don't touch. Cover with foil and start another layer. Don't lay them on top of each other, they will stick together!
The Cream Sauce:
This is basically an Alfredo sauce without the butter. All it is, is heavy cream and parmesan cheese. That's it. You barely even need any salt – I didn't need any. Just heat the cream until it's scalding hot, and SLOWLY whisk in the parmesan cheese. Simmer for 7-8 minutes until super thick. If you like a hint of nuttiness, sprinkle in a little bit of nutmeg.
The filling:
I roast a whole butternut squash flesh-side down along with a few cloves of garlic. Once everything is super soft and sweet, it's cooled completely and pureed in the blender and then gently mixed with some whole-milk ricotta cheese and grated parmesan. Plenty of salt and pepper to taste finish it off. That's it. Super simple. Super easy.
Assembly couldn't be simpler. Spread a couple tablespoons of filling on each lasagna sheet, roll her up, and nestle each roll into a greased baking dish. Cover with the cream sauce, bake until brown and bubbly and serve!
Other awesome butternut squash recipes.
Butternut Squash & Spinach Lasagna
Butternut Squash Tahini Dip
Five Ingredient Butternut Squash Alfredo
Butternut Squash, Apple Cider and Cheddar Soup
Pretty things/Tools Used in Today's Post:
All-Clad Pot

11-Cup Food Processor

Similar Baker
Salad Plates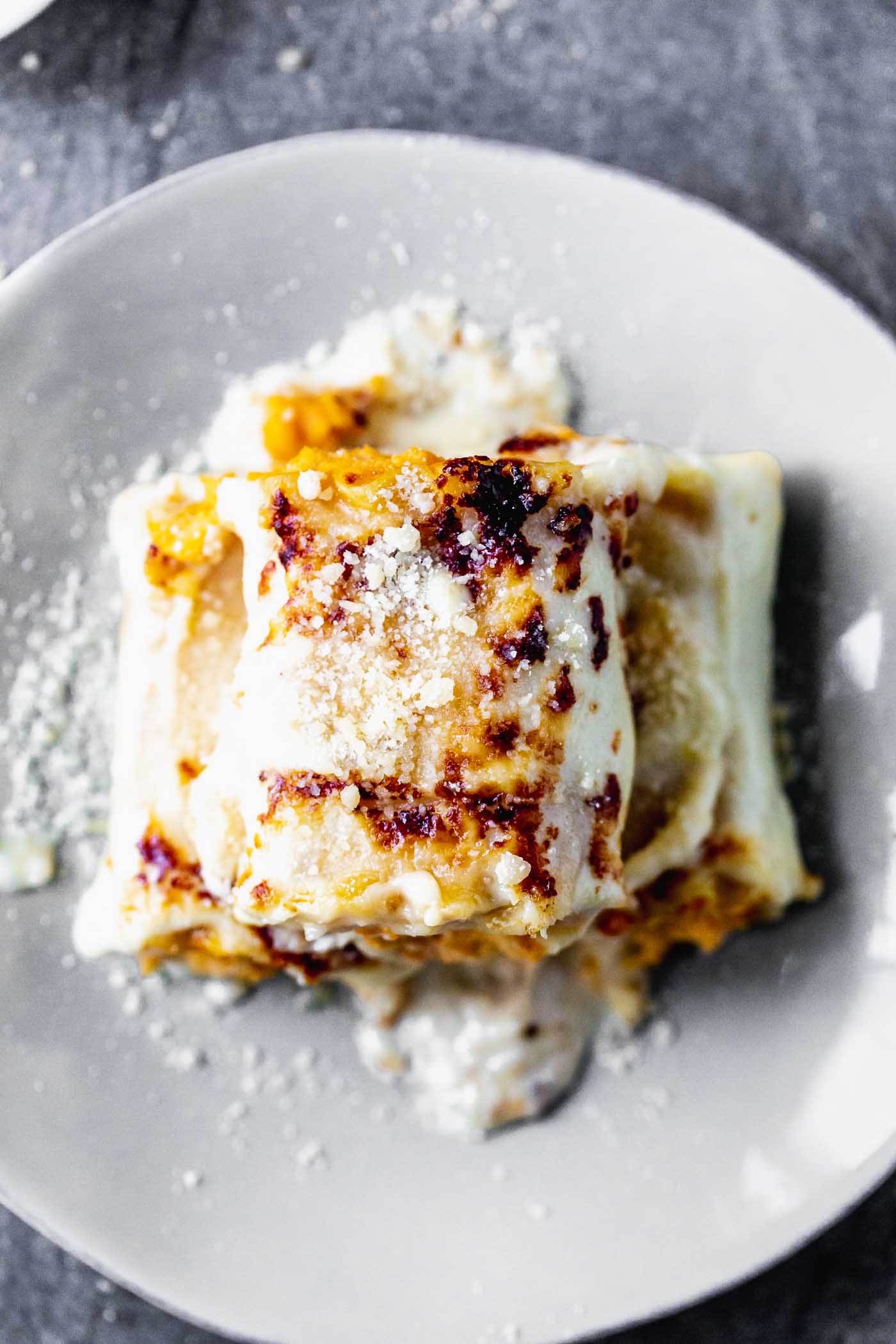 Butternut Squash Lasagna Rolls
Butternut Squash Lasagna Rolls are cozy, rich and oh-so delicious. With only six ingredients, they're a cinch to throw together, and sure to impress a crowd.
Ingredients
1

medium to large

butternut squash, halved

2

tbsp + 2 tsp

olive oil

7

large

garlic cloves, skin on

3/4

cup

whole-milk ricotta

1

cup

grated (good quality) parmesan cheese

3/4

tsp

kosher salt

1 3/4

cup

heavy cream

12

lasagna sheets (You'll only need 10, but I like extra in case one breaks)
Instructions
Preheat oven to 375 degrees. Fill the largest pot you have with water and bring to a rapid boil. Grease a 9x12 baking pan with non-stick cooking spray.

Rub 2 tablespoons olive oil over the flesh of the butternut squash and the skin of the garlic cloves. Season the squash liberally with salt and pepper and place flesh-side down on a baking sheet. Sprinkle garlic around. Roast in the oven until the squash is fork-tender, about 45 minutes. Check the garlic about halfway through cooking and if it's soft, pull it out and continue to cook the squash.

While the squash cooks. Add a good amount of salt to the boiling water. It should taste as salty as the sea. Add remaining olive oil. Add lasagna noodles one at a time, stirring in between each addition so they don't stick. Cook until just under aldente. Use tongs to remove noodles and place on a baking sheet or flat surface. Make sure the noodles aren't stacked on top of each other. I like to to line them up on a baking sheet, then cover the baking sheet with plastic wrap or foil and continue to line up the pasta.

Once the squash and garlic are soft, remove from oven and cool completely. Scrape the flesh from the squash and transfer to a food processor. Remove the skins from the garlic and also place in the food processor. Process until smooth.

Add the ricotta and 1/4 cup of parmesan cheese. Pulse just until combined.

While the squash and lasagna noodles cook, make the sauce. Add the cream to a medium saucepan. Bring to a simmer. Whisk in remaining 3/4 cup grated parmesan cheese. Whisk until melted. Let the sauce simmer until thickened, about 3-4 minutes. Stir frequently. Season to taste with salt an pepper.

Spoon a little bit of the sauce in the bottom of the baking dish. Spread about 1/4 cup of the filling across the entire lasagna sheet. Roll up and place in the baking sheet, seam-side down. Repeat. Cover with sauce. Bake at 375 degrees until hot and bubbly, about 25-30 minutes. If you like the top a little crusty and charred, turn the broiler on for a minute or two until the tops are brown.

Serve with more parmesan cheese.
Nutrition Information
Serving:
1
serving
,
Calories:
457
kcal
(23%)
,
Carbohydrates:
34
g
(11%)
,
Protein:
14
g
(28%)
,
Fat:
30
g
(46%)
,
Saturated Fat:
17
g
(106%)
,
Cholesterol:
92
mg
(31%)
,
Sodium:
460
mg
(20%)
,
Potassium:
168
mg
(5%)
,
Fiber:
1
g
(4%)
,
Sugar:
1
g
(1%)
,
Vitamin A:
979
IU
(20%)
,
Vitamin C:
1
mg
(1%)
,
Calcium:
238
mg
(24%)
,
Iron:
1
mg
(6%)