Caramel Shrimp with Coconut Rice: Sweet shrimp tossed in a salty brown sugar and soy sauce, studded with green onions, and served over coconut-infused rice to sop up all that delicious juice. Bonus? This is one of those 30-minute, no-fuss meals everyone in your family will love.
Caramel Shrimp with Coconut Rice
There aren't many instances where I see something being made on television so delicious, I immediately need to head to my own kitchen to make the same thing.
Caramel Shrimp was one of those instances.
Well, it was caramel chicken, and it was Katie Lee on the The Kitchen who was making it. I'm a sucker for easy, Asian-flavored dishes (just take a look at this Easy Maple Soy Shrimp and these 5-Ingredient Peanut Noodles), and sticky caramel chicken is one of those dishes that totally sucked me in after seeing the salty, sweet chicken being prepared.
Here's the deal. The reason it's called caramel chicken is because you cook down a copious amount of brown sugar. As it thickens and reduces, it transforms into a caramel-like texture and taste, but in a savory way. If that makes sense. Just trust me, this is something you want to try, immediately.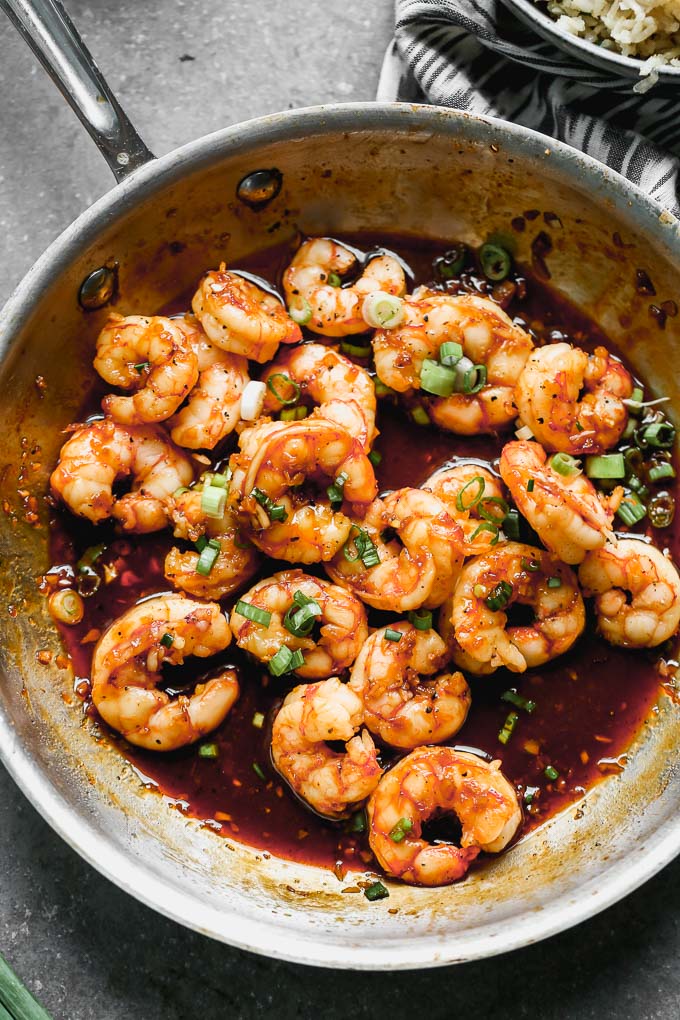 The stickiness comes in to play by using an almost equal amount of sugar to liquid, so when the sauce cooks down, it reduces and becomes super sticky and thick. And of course, incredibly delicious.
Guys. The combination of sweet, salty, and savory is totally out of this world. And we can't get enough of it.
For caramel shrimp, we've altered the sauce just a touch, and instead combined it with my favorite Argentinean shrimp from Trader Joe's. We serve it over a super simple pile of coconut and green onion-infused jasmine rice to soak up all that finger-lickin' sauce.
Serve with a side of steamed or roasted broccoli, spinach, or seasonal veggie and call it a day.
Ingredients in Caramel Shrimp
Canola oil. You need just a touch of oil to cook the shrimp. Any fat will work. Olive oil, coconut oil, canola, butter, or even sesame oil are great.
Shrimp. You can use whatever shrimp you'd like in caramel shrimp, but I prefer the Argentinean shrimp at Trader Joe's. I've waxed poetic about it many times before, but basically it's a heartier shrimp that's tastes really similar to lobster. I love it. You will too. If you don't have access to a Trader Joe's any large shrimp will work great.
Garlic. Lot and lots of garlic. I use about 3 tablespoons, which is seven or eight garlic cloves. You could use less, but I love that you get a good amount of garlic in each bite with this amount.
Ginger. Fresh ginger root from the store is what you want to get. It looks kind of funky, but after you peel the skin off and chop it, it looks very similar to minced garlic.
Soy sauce. I used to buy the low-sodium soy sauce, but I find it doesn't have the same depth of flavor regular soy sauce has. I also love to use tamari in this dish, which is basically just a richer soy sauce.
Brown sugar. This is the secret in ingredient. And we use a lot of it, about 1/2 cup, packed. Because born sugar has that deep molasses taste, it really adds to the "caramel" flavor of the sauce. It's also what makes the sauce super thick and sticky, so don't try to cut back on it.
Fish sauce. I'm not a big fan of fish sauce in large quantities. I like to add just a teaspoon or two to add a little depth of flavor to the sauce without it tasting completely like fish. If you want to leave it out completely, you can do that too. There's no need to buy an entire jar of fish sauce if you don't have to.
Apple cider vinegar. The original recipe calls for rice vinegar, but I ran out of it a couple weeks ago. Any acid with a mild flavor will work here – apple cider vinegar, white vinegar, white wine vinegar, or rice vinegar all work.
How to make Caramel Shrimp
Make the rice.
Because caramel shrimp is a super quick and easy dish, you want to start with the rice. It would be a bummer if your shrimp overcooked because the rice wasn't ready, so try to time it well. I highly recommend using quick-cooking rice to ensure this happens. Our favorite is the quick-cooking brown basmati rice from Trader Joes, but any quick-cooking long-grain rice will do just fine.
Rinse the rice. Add it to a medium saucepan with coconut milk, chicken stock, and a little bit of salt. Bring to a boil, reduce to a simmer and cover. Cook until it's fluffy, about 15 minutes.
Once the rice is done, add in a little bit of brown sugar, lots of sliced green onion, and plenty of sweetened coconut. Toss and serve. (This is also a GREAT base for our Crispy Honey Beef or our Sweet and Sour Baked Salmon.
Cook the shrimp.
First, season the shrimp with plenty of salt and pepper. Simple dishes, and cooking in general, is all about layering the seasoning and flavors, so it's essential to start off on a good foot.
Heat a large skillet to a medium-high heat and add the oil of your choice. Once the oil is hot, add the shrimp. Normally I'd advise you to not overcrowd the pan, but here, it doesn't really matter because the shrimp will be drenched in sauce later on.
Once the shrimp are pink and plump, remove them from the pan.
Make the caramel sauce.
As many sauces begin, this one starts with lots of aromatics. I sweat the garlic and ginger in a teaspoon or two of oil. You want to keep the temperature relatively low so you don't burn the garlic or ginger, keeping an eye on it is probably a good idea as well.
Once the garlic and ginger are fragrant, add the soy sauce, brown sugar, fish sauce, and vinegar. Whisk to combine. Bring the mixture to a boil and let it cook until it's super thick and sticky. Remove from the heat and toss with the shrimp and a ton of sliced green onion.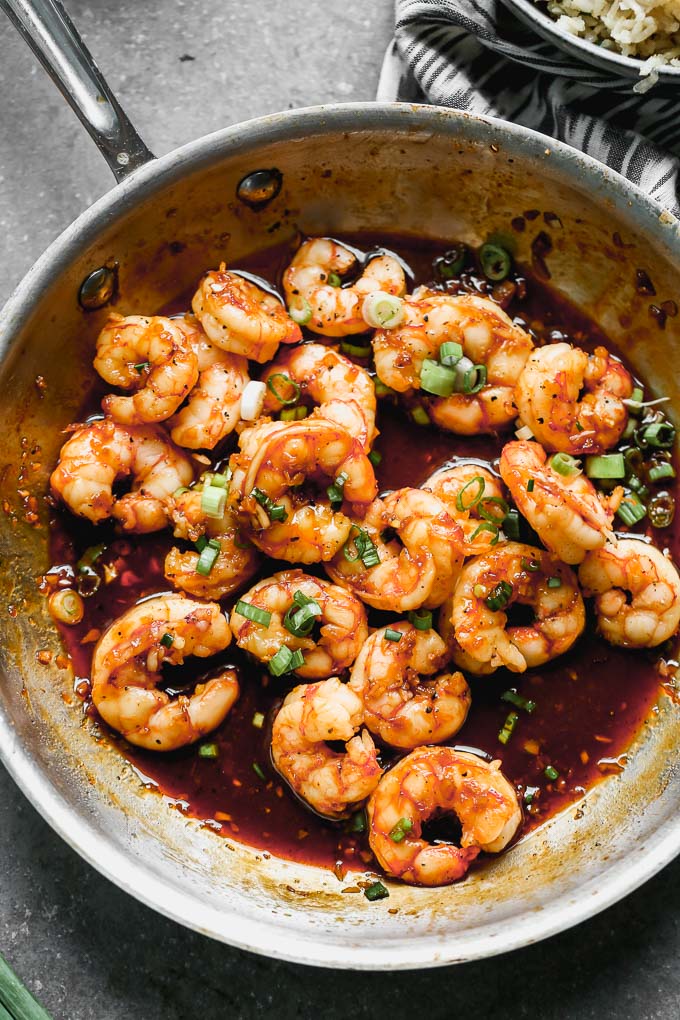 Do I have to use shrimp?
Even though caramel shrimp, is titled, caramel shrimp :), you don't have to use it. If you do choose to use chicken, you will have to alter the cooking method and times. This would also be DELICIOUS with seared scallops.
Can I made caramel shrimp in advance?
No. I really don't like shrimp prepared ahead of time. Because it's so quick-cooking, there's no good way to reheat it without becoming rubbery and overcooked. The rice however, can absolutely be made in advance. Luckily, caramel shrimp takes mere minutes to throw together, so if you do make the rice in advance, dinner will be on the table in about 15 minutes.
Do I really need to use all that brown sugar?
Yes and no. Yes, if you want to achieve that sticky, finger-licking texture. No, if you want to add in a little bit of corn starch mixed with water. You could probably cut back on the brown sugar by 1/3 if you whisk in a little cornstarch slurry (2 tsp cornstarch + 2 tsp water) into the sauce. Keep in mind, this will thicken the sauce, but it won't have the same sweet, sticky taste and texture.
Substitutions and Tips and Tricks for Recipe Success
Don't overcook your shrimp. Once they're pink and starting to curl, take them off the heat. They will cook just a touch more once they're tossed with the hot sauce.
Be sure to start with the rice first, that way everything comes together all at once. I'd even recommend, starting the recipe, then prepping all of your ingredient for the rest of the rice, the shrimp and the sauce. Don't add the shrimp back to the sauce until the rice is finished cooking.
Swap out shrimp for seared scallops or lobster.
If you want to add veggies, try roasting or steaming some broccoli while you cook the rice. Serve it alongside the shrimp or toss with the sauce as well.
Caramel Shrimp with Coconut Rice
Caramel Shrimp: Sweet shrimp tossed in a salty brown sugar and soy sauce, studded with green onions, and served over coconut-infused rice to sop up all that delicious juice!
Ingredients
1 1/2

cups

quick-cooking brown rice

14

oz

lite coconut milk

2 1/4

cups

low-sodium chicken stock

1/2

tsp

kosher salt

1/2

cup + 1 tbsp

packed brown sugar

1/4

cup

sweetened coconut

1

tbsp

canola, divided

2

lbs

large shrimp

3

tbsp

minced ginger

3

tbsp

minced garlic cloves

1/2

cup

soy sauce

2

tsp

fish sauce

1

tsp

apple cider or rice vinegar

3

green onions, sliced
Equipment
Large skillet

Medium saucepan
Instructions
Rinse rice under colder water. Add rice, coconut milk, chicken stock, and salt to a medium saucepan. Bring to a boil and reduce to a simmer. Cover and cook on low until rice is fluffy, about 15 minutes. Add 1 tablespoon brown sugar, coconut, and 2 sliced green onions to the rice. Toss and season with salt and pepper.

Season shrimp on both sides with salt and pepper. Heat a large skillet to a medium-high heat. Add 2 teaspoons of oil. Add shrimp. Cook until bright pink and starting to curl. Remove from skillet. Set aside.

Turn the heat down to medium and add remaining 2 teaspoons oil. Add garlic and ginger. Sweat the aromatics until fragrant and they start to soften, about 2-3 minutes. Add in soy sauce, brown sugar, fish sauce, and vinegar. Whisk to combine. Bring to a boil and cook until thick and sticky, about 3-4 minutes. If needed, reduce the heat to a simmer. Keep warm until rice is finished cooking.

Once the rice finishes cooking, add shrimp and green onions to the sauce. Toss until coated. Serve the shrimp over rice. Spoon sauce on top. Garnish with green onion.
Nutrition Information
Serving:
1
serving
,
Calories:
653
kcal
(33%)
,
Carbohydrates:
69
g
(23%)
,
Protein:
55
g
(110%)
,
Fat:
16
g
(25%)
,
Saturated Fat:
9
g
(56%)
,
Cholesterol:
572
mg
(191%)
,
Sodium:
4059
mg
(176%)
,
Potassium:
421
mg
(12%)
,
Fiber:
1
g
(4%)
,
Sugar:
35
g
(39%)
,
Vitamin C:
9
mg
(11%)
,
Calcium:
375
mg
(38%)
,
Iron:
8
mg
(44%)