You're going to love me…
Or maybe you're going to hate me, because I hate me…
You may love me because I made the most extravagantly delicious cheesy corn dip…
And you may hate me because I made the most extravagantly delicious corn dip…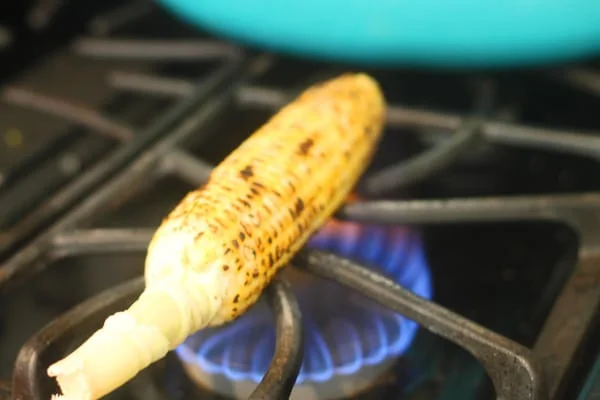 I know the pictures are somewhat modest and don't scream to be devoured, but trust me – this is good stuff.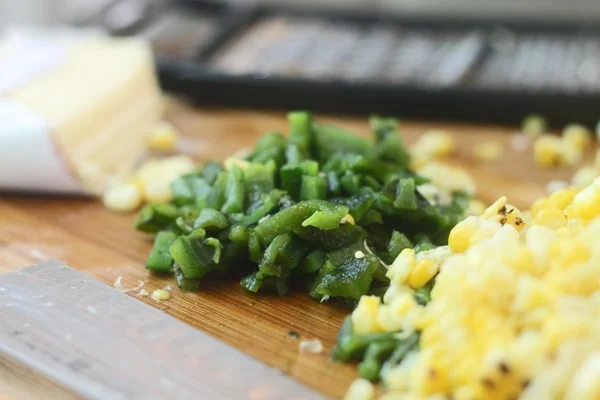 You see, it all started at this restaurant that has the BEST mac and cheese ever – a bold statement coming from a self-proclaimed mac and cheese connoisseur.
While at said restaurant before ordering said mac and cheese, we ordered a rather plainly described hot corn dip. As I anxiously awaited the appearance of my mac and cheese, the corn dip I was so blasé about arrived at our table, bubbling over the sides of the cast iron skillet, smelling out of this world and sending my stomach into a tizzy.
And then four adults behaved like the crazed zombies on The Walking Dead and greedily demolished it faster than you can say, "Pass the salt please." It was creamy, cheesy, spicy, and it was unbelievable – almost as tasty as the mac and cheese I inhaled a short time later. I should have known better than to underestimate the power of melted sharp white cheddar cheese on a crispy, salty chip…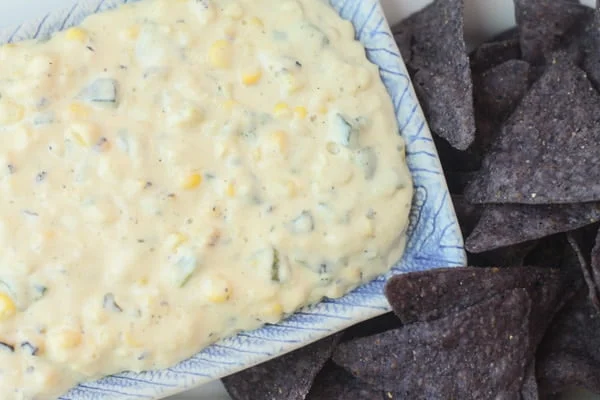 Since everybody knows that food doesn't contain any calories on holidays and since I can pass off my creations as something I made for the benefit of others and not myself, I thought that Memorial Day would be the perfect opportunity to try my hand at replicating the dip at home – and boy did I ever…
I'm mostly a dump, stir, and bake kind of gal when it comes to dips – meaning I don't believe that there should a gazillion steps to a dish that you dunk chips, crackers and crudités into. So because of that mentality, the hardest part of this dip is roasting up the veggies. After the corn and poblanos are nice and charred they are thrown into a saucepan with shredded white cheddar cheese, tangy cream cheese, evaporated milk, and some spices. It's then slowly heated until smooth, creamy and piping hot, and then dumped into a serving dish to be demolished. You could also throw everything into one of those mini slow-cookers and just walk away while the magic happens…
… I should have thought of that before I made it over the stove…

Cheesy Corn and Poblano Dip
Author:
Nicole-Cooking for Keeps
Ingredients
2 ears of corn
1 poblano chili
1 cup white cheddar cheese
4 ounces cream cheese
½ cup evaporated milk (plus more if needed)
1 garlic clove, grated,
¼ teaspoon garlic powder
1 teaspoon cornstarch
½ teaspoon salt, plus more to taste if necessary
Pinch of cayenne pepper
Instructions
Roast the chili on the grill or over a gas burner until completely blacked on all sides. Place in a bowl and cover with plastic. Let sit for 10 minutes. Peel the skin off the chili and remove seeds and stem. Roughly chop.
Cook corn over the girl or gas burner until charred. Let cool and then cut the corn from the cob.
In a medium saucepan combine all ingredients, turn the flame on to a medium heat, stirring until cheese melts and mixture is thick, about seven minutes. If mixture becomes too thick add a little bit more evaporated milk. Season to taste with salt and pepper.
Remove from heat and pour into serving dish.