Chicken and Veggie Korma Stew, is a classic Indian dish transformed into a spicy, ultra-creamy, DELICIOUS soup. All it needs is some garlicky Naan to soak up all the luscious broth!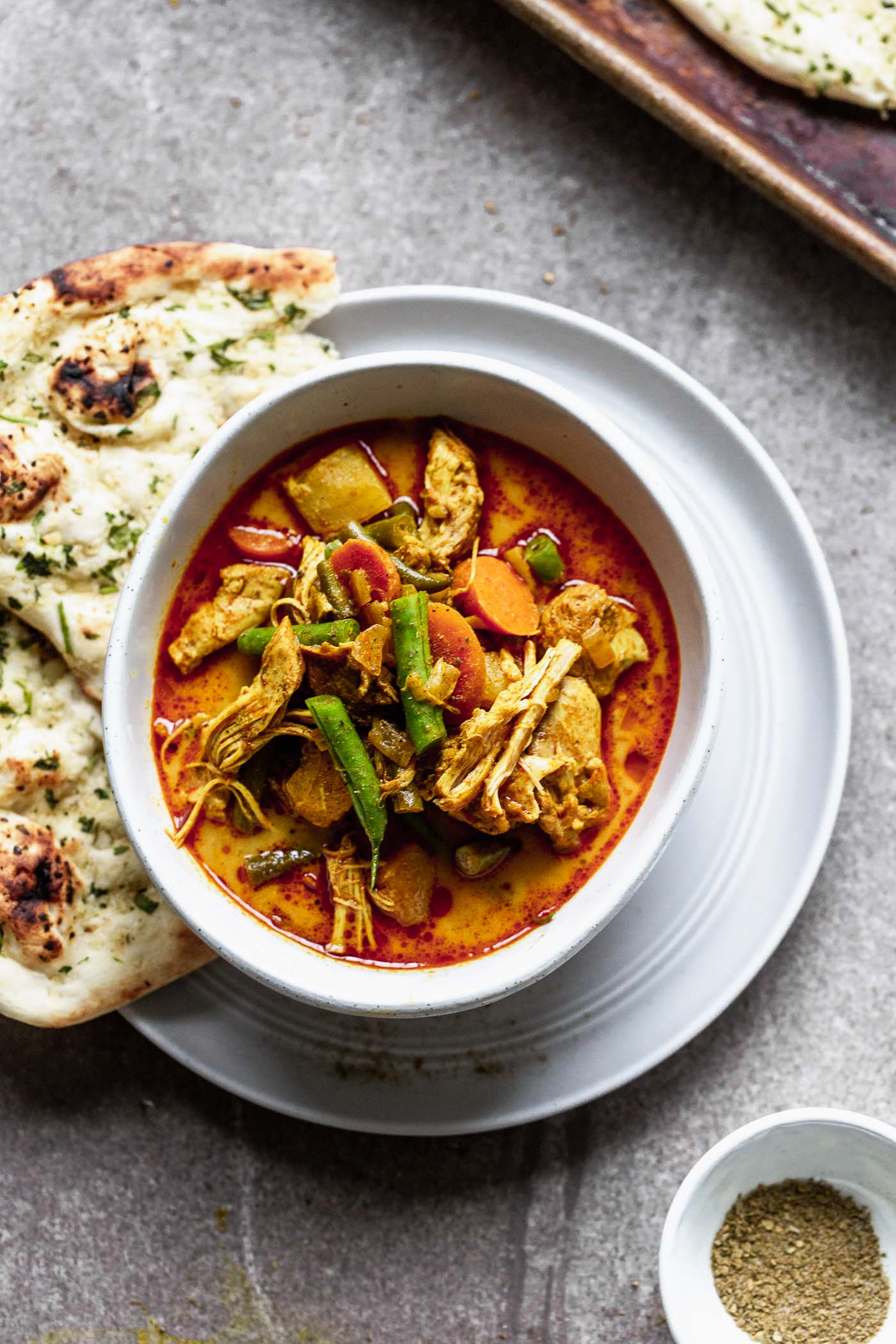 I'm embarrassed to admit that up until about a month ago we'd never ordered Indian takeout. Never! I can't say with a hundred percent certainty I'd even had authentic Indian food at any point in my life, anywhere. Yes, I've had packaged Naan more times than I can count like any other food-trend obsessed human. And I've popped some pre-frozen samosas from Trader Joe's in the oven a few times. But I think a true Indian food connoisseur wouldn't count it. I know I don't.
After one of our couple friends RAVED about a few good Indian places around town, I hightailed it to the closest location, ordered myself a feast, and inhaled every last bite. While the irresistibly crispy pakora and hearty meat samosas were out-of-this-world delicious, the true star of the show was the creamy, crazy flavorful chicken korma.
What is chicken korma?
If you're not familiar, here's a brief synopsis: Melt-in-your mouth pieces of chicken thigh are marinated in yogurt and spices, cooked, and then simmered in a bath of luxurious, spice-heavy cream sauce. Because the chicken is practically swimming in finger-licking sauce, it was served with some simple garlic rice and naan to soak it all up. I'm pretty sure I've never been happier.
Even Kevin thought I was quite the lunatic after proclaiming my undying devotion to Indian takeout from here to eternity for the hundredth time.
When I couldn't stop thinking about chicken korma the next week, I did what any sane food blogger does. Put my spin on it, and slap it on my website. Now here we are.
Of course, this isn't the traditional chicken korma I described prior. Because there are no less than a million recipes for chicken korma (literally, I looked) out there, and because I was craving soup like I do every day in the cooler months, I transformed it into a stew you can easily slurp. Because slurping is mandatory when it comes to this addictive sauce.
After a lot of research on what exactly is in chicken korma, most of my takeaways came from these two recipes. I liked that they had only one or two obscure ingredients like garam masala and turmeric powder, but a majority of familiar and easily-accessible ingredients like tomato paste, curry powder and cinnamon.
What's in Chicken Korma?
So many spices. Garam masala, curry powder , turmeric, paprika, ground cinnamon, and salt. Other recipes call for more, but this is what I went with.
Brown sugar, for a hint of sweetness.
Tomato paste, for depth of flavor and a tomato base.
Whole milk, plain yogurt. It's important you use plain, you don't want to add any additional sweetness.
Half and half. Another reason this soup is SO creamy and delicious.
So that's the gist of the base of the soup. From there, you can take it in a variety of directions when it comes to your protein or vegetables. Some people prefer all veggies, and some people prefer chicken. You could also go with lamb (a common protein in Indian cooking), or even shrimp if it you want it seafood based.
How to get the most tender chicken.
Since I loved the tender chicken that came with my first chicken korma order, that's what I went with. I just love how tender the chicken thighs get while soaking up the sauce, and they also soak up that flavorful broth beautifully.
The key to the most tender, melt-in-your mouth chicken is all in the marinade. And it's simple. A few hours (even just one hour works), the chicken thighs are massaged with the same whole milk plain yogurt we used in the base of the sauce. Garam masala, turmeric, and paprika are also added in and it's all left to hang out in a ziplock baggie in the fridge.
Once the base of the soup comes together, the marinated chicken along with the carrots, green beans and potatoes are thrown in, and it's gently simmered until the veggies are tender and the chicken is cooked through and shred easily.
Just before serving, the yogurt and half and half are stirred in, and it's ready to go.
Of course, I like to serve it with some warm naan bread, and am certain the very best store-bought kind can be found in the freezer section at Trader Joe's.
Substitutions:
If you have a hard time finding whole milk plain yogurt, you can sub out Greek.
Any vegetables will work! Parsnips would be nice. Baby corn. Peppers. Whatever!
Heavy cream can be substituted for the half and half. Milk can work in a pinch.
Can Chicken and Veggie Korma Stew Be Made Ahead?
Absolutely! We ate this for the better part of a week, and each time, it was just as good.
Pretty things/Tools used in today's post
StaubFrench Oven

Quarter Size Sheet Pan

Grey Dinner Plates
Pretty Soup Bowls (These are on the smaller side!)
Chicken and Veggie Korma Stew
Chicken Korma, a classic Indian dish is transformed into a spicy, creamy, DELICIOUS soup. All it needs is some garlicky Naan to soak up all the luscious broth!
Ingredients
1

lb

boneless, skinless chicken thighs

4 1/2

tsp

garam masala, divided

2 1/2

tsp

turmeric, divided

3

tsp

paprika, divided

1 1/4

cup

plain whole milk yogurt, divided

2

tbsp

unsalted butter

1/2

medium

onion, diced

4

large

garlic cloves, minced

2

tsp

minced ginger

3

tsp

curry powder

1 1/4

tsp

salt, divided

1/4

tsp

ground cardamom

1/2

tsp

ground cinnamon

1

tbsp + 1 tsp

packed brown sugar

2

tbsp

tomato paste

2

cups

low-sodium chicken stock

1

cup

sliced carrots

1

cup

chopped green beans

1

cup

chopped Yukon gold potatoes

1/4

cup

half and half

Naan for serving
Instructions
Add chicken, 3/4 cup yogurt, 2 teaspoons garam masala, 1/2 teaspoon turmeric, and 1 teaspoon paprika to a ziplock bag. Massage the yogurt and spices into the chicken until the spices and yogurt are evenly dispersed over the chicken. Marinate in the fridge for 1-2 hours.

Heat a large stock pot to a medium heat. Once the pot is hot, add butter. When butter melts, add onion, garlic and ginger. Sweat until fragrant and slightly softened, about 2-3 minutes. Add remaining garam masala, turmeric, and paprika, as well as the curry powder, , 1/4 teaspoon salt, cardamom and cinnamon. Cook another minute. Add brown sugar and tomato paste, cook another minute.

Add in remaining salt, chicken stock, carrots, green beans, potatoes and marinated chicken. Bring to a boil and reduce to a simmer. Cover and simmer for 20-30 minutes or until the vegetables and chicken are cooked. Remove the chicken thighs from the soup and shred with two forks. Put back into the soup.

Add remaining yogurt and half and half. Stir to combine. Season to taste with salt and pepper. Serve with Naan.
Nutrition Information
Serving:
1
g
,
Calories:
344
kcal
(17%)
,
Carbohydrates:
22
g
(7%)
,
Protein:
30
g
(60%)
,
Fat:
16
g
(25%)
,
Saturated Fat:
8
g
(50%)
,
Cholesterol:
139
mg
(46%)
,
Sodium:
998
mg
(43%)
,
Potassium:
958
mg
(27%)
,
Fiber:
4
g
(17%)
,
Sugar:
11
g
(12%)
,
Vitamin A:
6006
IU
(120%)
,
Vitamin C:
12
mg
(15%)
,
Calcium:
173
mg
(17%)
,
Iron:
4
mg
(22%)