This Chicken Enchilada Baked Ravioli Recipe is what casserole dreams are made of. You'll find cheesy ravioli layered with the most delicious homemade enchilada sauce, plenty of veggies, and of course, lot of cheese. Bake and serve!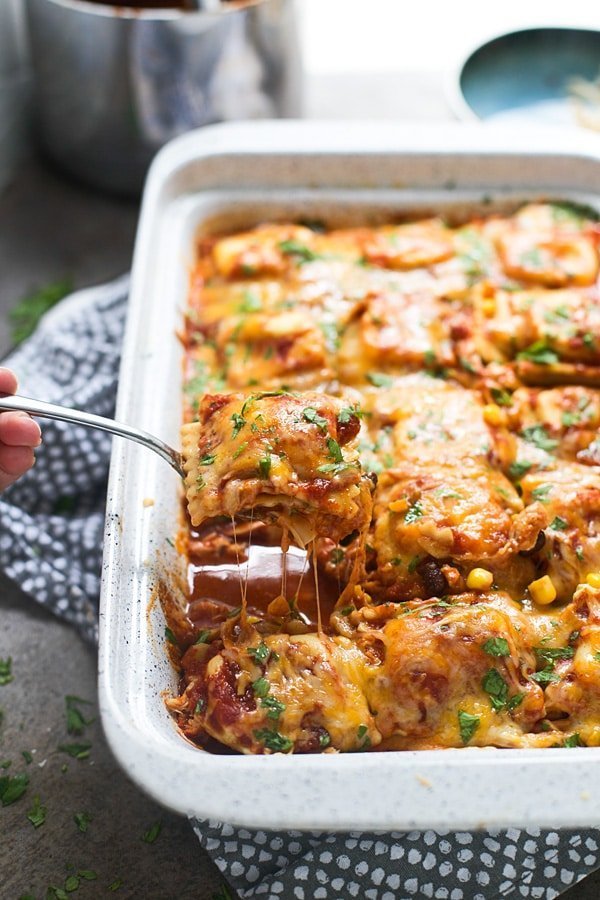 Chicken Enchilada Baked Ravioli Recipe
There are two kinds of meals in our house, Kevin meals, and Nicole meals. Kevin meals are full of meat, potatoes, and virtually no veggies.
Nicole meals are packed to the brim with greens, fancy ingredients, and depending on if it's a day where I care or don't care about the two pounds of lingering baby weight, almost always include a carb of some sort.
Is it still called baby weight if your baby is almost 10 months old, or is it just weight at that point? I keep telling myself it's the former, but deep down I know, it's just the hoppy beers, mac and cheese, and Chicken Enchilada Baked Ravioli I keep eating. 
This Chicken Enchilada Baked ravioli recipe is the ultimate easy all-in-one dish. 
With its heavy hand of cheese, carbs, and chicken, at first glance, this Chicken Enchilada Baked Ravioli recipe may scream "Kevin meal!" but it's equally a Nicole meal for its heavy hand of veggies, cheese-filled ravioli and tex-mex vibe. Heck, it's even a Teddy meal, confirmed as he scarfed down handfuls of it faster than he inhaled this spaghetti and meatballs last week.
This type of meal is something that seems to be on heavy rotation in our house as of late, because it's easy, quick, and provides plenty of leftovers for lunches that Kevin can heat up at work, and that I can gobble up while chasing around a little guy who seems to be gaining more mobility every single day.
I will say, that while this meal is indeed quick and easy, there is one shortcut I'm not willing to take, and that's making homemade enchilada sauce. I highly, highly recommend to forgo the store-bought stuff, and throw our super quick sauce together – I promise you won't regret it. (It's from these Best Ever Chicken Enchiladas.)
The ingredients are simple, and items most cooks have in their pantry at all times (and if you don't, fear not, they are CHEAP and readily available), plus from start to finish the sauce takes less than fifteen minutes to throw together, so there's really no excuse for you to skip it.
Ingredients in Chicken Enchilada Baked Ravioli Recipe
Enchilada Sauce
Olive oil and Aromatics. Onion and garlic. Always a must in homemade enchilada sauce.
Tomato Paste. This is what thickens the sauce and also gives you that concentrated tomato flavor essential in enchilada sauce. The reason we use tomato paste instead of canned tomatoes is the texture of tomato paste is smooth. 
Chicken Stock. Always low-sodium so you can control the amount of salt that goes into the recipe. You COULD use water if you don't have chicken stock, but chicken stock adds SO much flavor. 
Spices. Chili powder, cumin, and salt. 
Apple Cider Vinegar. Surprisingly, this is an essential ingredient in enchilada sauce. It gives the perfect hint of acidity that I love. 
The rest of ingredients
Cheese ravioli. Frozen or fresh. You could also use beef ravioli, spinach ravioli, whatever you want! 
Shredded chicken. Use rotisserie chicken, leftover chicken, whatever! 
Frozen Corn. I made this in the dead of winter, so frozen corn was all that was available. If you have fresh corn, by all means, use that!
Black Beans. Not necessary, but I love that it adds another element of protein and fiber. 
Colby jack cheese. I find this to be a cheese that melts beautifully and pairs perfectly with all tex-mix dishes. DO NOT buy the pre-shredded stuff. Take the time to shred it fresh.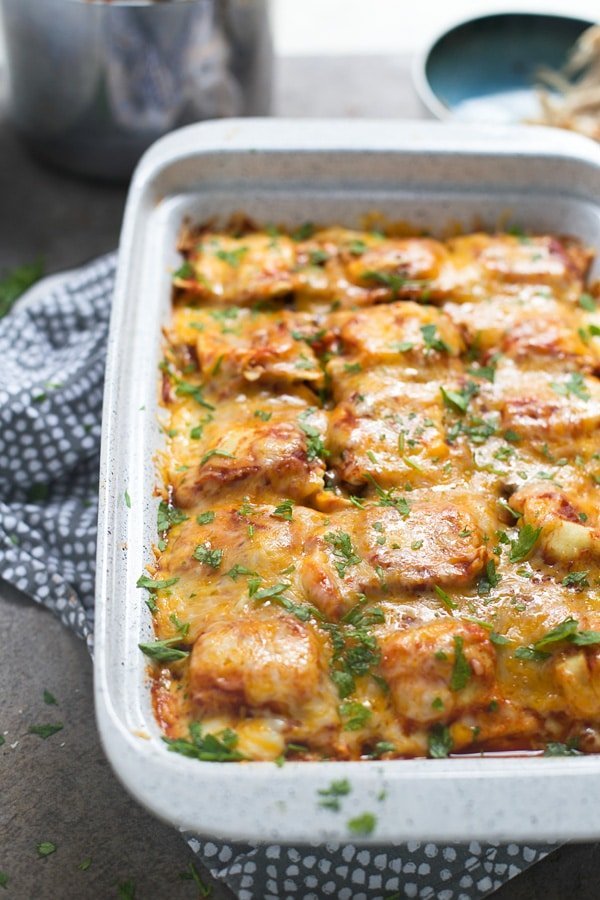 How to make Chicken Enchilada Baked Ravioli recipe. 
Make the enchilada sauce. Sauté the onions and garlic in olive oil. Add the tomato paste. Cook for a minuet or so.
Whisk in chicken stock, spices, apple cider vinegar and salt. Bring to a boil and reduce to a simmer. Simmer for 10 minutes. 
Cook the ravioli. Cook the ravioli while the enchilada sauce simmers. Make sure to season the cooking liquid with plenty of salt.
Assemble! Grease the bottom of a 9×12 baking dish. Spoon some of the sauce on the bottom of the pan. Top with a little bit of chicken, some black beans, and corn. Cover sauce followed by a little bit of cheese. 
Repeat the process one more time. For the final layer, add the rest of the ravioli, sauce, and cheese. Bake until bubbly and hot. 
Can I make Chicken Enchilada Baked Ravioli in advance? 
Yes! But cool ALL the warm ingredients (enchilada sauce, cooked ravioli) before assembling. Assemble as instructed. Cover with plastic wrap and store in the fridge for up to 24 hours before you bake. When you're ready to bake, pull it out of the fridge, and if you can, let it rest for 15 minutes at room temperature. Bake as instructed, but add 5-10 minutes. 
Does Chicken Enchilada Baked Ravioli freeze? 
I've never frozen it chicken enchilada baked ravioli, but I think that it would work just fine! 
Substitutions and Tips and Tricks for Recipe Success. 
Use spinach ravioli, meat ravioli, or whatever you want in place of cheese ravioli.
Swap out whatever vegetables you'd like. Sautéed bell peppers would also be delicious. 
If you don't have Colby jack cheese, you can use cheddar, or Monterrey jack. 
If you HAVE to, swap out store-bought enchilada sauce for homemade.
If you want your enchilada sauce on the spicy side, add in ground chipotle powder or cayenne. 
If you love this dish, be sure to check out these similar recipes! 
Best Ever Chicken Enchilada. These are a classic, and SO good. 
One Pot Turkey Mexican Pasta. Cheesy, easy, and all my in one pot! 
Cheesy Chicken Enchilada Soup with Tortellini. All the same flavors, but in a different form. 
Chicken Enchilada Baked Ravioli Recipe
This Chicken Enchilada Baked Ravioli Recipe is what casserole dreams are made of. You'll find cheesy ravioli layered with the most delicious homemade enchilada sauce, plenty of veggies, and of course, lot of cheese. Bake and serve! 
Chicken Enchilada Baked Ravioli
This cheesy casserole is the perfect tex-mex meets Italian weeknight dish. Cheese ravioli, shredded chicken, corn, and black beans are layered on top of each other and topped off with cheese, then baked until bubbly and gooey!
Author:
Nicole ~ Cooking for Keeps
Ingredients
1 tsp. olive oil
½ medium onion, grated
2 garlic cloves, grated
½ tsp salt
6 oz. tomato paste
18 oz. low-sodium chicken stock
2 Tlbs. chili powder
1 tsp. cumin
1 Tlbs. apple cider vinegar
1½ pounds frozen or fresh cheese ravioli (45 ravioli)
3 cups shredded chicken, divided (I used a rotisserie chicken)
1 cup frozen corn, divided
1 cup black beans, divided
8 oz. colby jack cheese, shredded and divided
Instructions
Bring a large pot of water to a rolling boil. Season liberally with salt, the water should be as salty as the sea. Preheat oven to 350 degrees.
While the water comes to a boil, heat a medium saucepan over a medium heat. Add olive oil and onion. Cook until slightly softened, 1-2 minutes. Add garlic and salt, cook another 1-2 minutes until fragrant and softened. Add tomato paste, cook 30 seconds.
Whisk in chicken stock, chili powder, cumin, and vinegar. Bring to a boil and reduce to a simmer. Simmer for 5 minutes. Set aside.
While the sauce simmers, cook the ravioli. Do NOT overcook the ravioli, they will continue to cook in the oven.
Ladle ¼ of the sauce in the bottom of a 9x12 baking pan. Line up ⅓ of the ravioli on the bottom of the pan. Top with half of the chicken, half of the black beans, and half of the corn (1/2 cup). Ladle ¼ more of the sauce on top. Cover in ¼ of the cheese. Repeat ravioli, followed by chicken, black beans, corn, sauce, and ¼ of the cheese. For the final layer, line up remaining ravioli, followed by remaining sauce, and cover in remaining cheese.
Bake uncovered for 20-25 minutes until cheese is melted and casserole is hot. Serve with chopped cilantro, green onions, and sour cream if desired.

If you love this recipe, check out these others!
Six Ingredient Spaghetti and Meatballs
Cream Sun-Dried Tomato, Mozzarella, and Turkey Italian Sausage Rigatoni