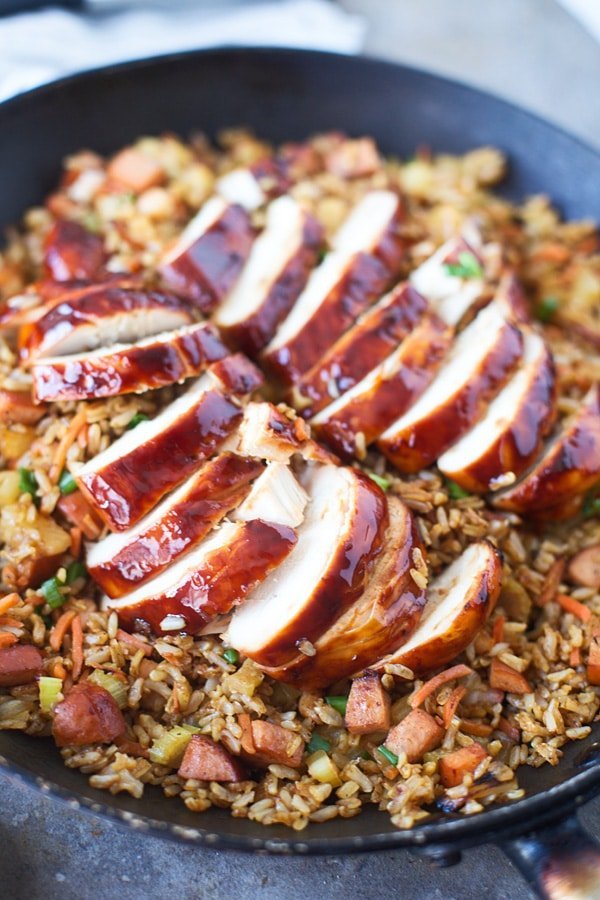 My child is definitely his mother's son. The kid loves food. He'll eat pretty much anything, unless it's bland, including, but not limited to: curry, spicy Mexican food, chili, red pepper-studded sausage, and dark chocolate mousse (A new favorite). I'm constantly astonished by the sheer quantity of food he inhales, because sometimes it's more than me – and I have quite the appetite for a 5-foot, 105 (ok 108) pound girl.
Before I knew Teddy was seriously in to flavor, I made the mistake of trying to serve him unseasoned grilled chicken (because ALL of the books say to start them out on bland, flavorless foods), so when he took one bite, made a squinty face and gave the chicken to the dog, I simply attested it the fact that he didn't like chicken. I tried again a few days later (because that's what they also say to do), and history repeated itself. I conceded to just give up on chicken, and settle on his protein coming solely from scrambled eggs and cottage cheese, but I happened to make this green chicken enchilada soup for a group of friends we were having over, and thought I'd try one more time to get him to eat chicken –he loved it.
That's when I realized, it's not chicken he detests, it's lack of flavor, which makes total sense, because why would anyone want bland, tasteless food?
It was one of my top-five proudest mommy moments. I have a kid that loves food, and not just grilled cheeses, mac and cheese and cheerios (although he loves those too), but real food, with real flavor, and spice even!
Since that day I've been making Teddy (and us) meals with maximum flavor potential, especially when it comes to chicken. I've made chicken ever which way you can think of, and his latest favorite is today's Easy Baked Hawaiian Chicken.
What I love most about this, is it could not be simpler to throw together, it's super healthy and pairs perfectly with Monday's Copycat Kona Fried Rice we're obsessed with.
It's going to take me about 2.5 seconds to explain this, so this post is going to be short and sweet. Throw chicken in a plastic bag. Pour in soy sauce, pineapple juice, brown sugar, and oyster sauce. Let marinate for 3-5 hours. Preheat oven to 375 degrees. Spray a baking dish with non-stick cooking spray. Put chicken in dish. Bake. Easy peasy.
While the chicken bakes, I pour the marinade in to a small saucepan and simmer it until it thickens and becomes safe to eat again, about 3 minutes or so. Halfway through baking, the sauce gets brushed on the chicken, and then again when it comes out. Slice on the diagonal, serve over aforementioned fried rice, or if you're really trying to be healthy, brown rice and steamed broccoli.
Watch your family (kids included) devour it.
Easy Baked Hawaiian Chicken
This easy hawaiian chicken only requires five ingredients, and the easiest preparation and cooking method.
Author:
Nicole ~ Cooking for Keeps
Serves:
4 chicken breasts
Ingredients
¼ cup soy sauce
2 Tlbs. oyster sauce
¼ cup. pineapple juice
2 Tlbs brown sugar
4 chicken breasts
Instructions
Preheat oven to 375 degrees.
Add chicken to a large ziplock baggie. Add in remaining ingredients, massage into chicken. Place in a shallow baking dish and let marinate for at least three hours.
Once the chicken has marinated, grease a 9x12 baking dish. Add chicken to dish. Bake for 12 minutes. Brush with marinade and then bake another 10-15 minutes until chicken is done cooking.
While the chicken finishing cooking, add remaining marinade to a small saucepan. Bring to a boil and reduce to a simmer. Simmer for 2-3 minutes until reduced.
When the chicken comes out of the oven, brush with remaining sauce. Slice on a bias and serve with this fried rice.