Remember that time when I joked about there being a tropical storm when I went to Mexico? Well, it's day three in beautiful Puerto Vallarta…and….it hasn't stopped raining. I've seen about three hours of sun, and the forecast is telling me I'm only going to get two glorious days of sun before I leave. I'm still pale as a ghost. I'm still aching to point my face towards the big bright light in the sky and fry to a crisp. It makes me feel even worse when all of the locals say, "It never rains in December, ever ever ever." Thanks I'm well aware of that. Now let me crawl into a ball in the corner and cry.
If you can't tell I'm a little bitter. You see, I'm kind of addicted to the sun; I could lie on a beach or by a pool for the rest of my life and be a blissful girl. I plan my vacations based on who has the littlest amount of average rainfall during that particular time of year. I live for the heat. I'm that crazy person that tries to get a tan in April when it's still 58 degrees outside. I get up the crack of dawn just to get an extra hour or two of bronzing time. You get the point. I love sun.
I know it shouldn't be that big of a deal, I mean, I am in a beautiful city, staying in a gorgeous condo, and eating and drinking like a queen. It's just that I get really disappointed when I'm let down – especially by the weather. BUT I'm going to try and put a smile on my face and make the best of it. It's going be hard, but I'm going to do it.
I'm going to go shopping, I'm going to go to the spa, get a nice long massage and facial. And I'm going to eat and drink my face off.
We've been really lucky with the food situation so far, never a bad meal. We like to eat Mexican pretty much every night when we're in Mexico (duh), so we've had tons of killer guacamole, fondita con chorizo, enchiladas, empanadas and some of the biggest shrimps I've ever seen in my life. The food life is a good life.
Being the considerate food blogger that I am, I thought of you before my trip to Mexico. So this week in honor of my "sun-filled" Mexican vacation I will be sharing all Mexican recipes. Today, we start with one of my favorite dishes I've made in a while.
Chicken Enchilada Empanadas.
I'm pretty head over heals for empanadas and enchiladas are my go-to order at any Mexican spot, so why not combine the two for an easy mess-free appetizer?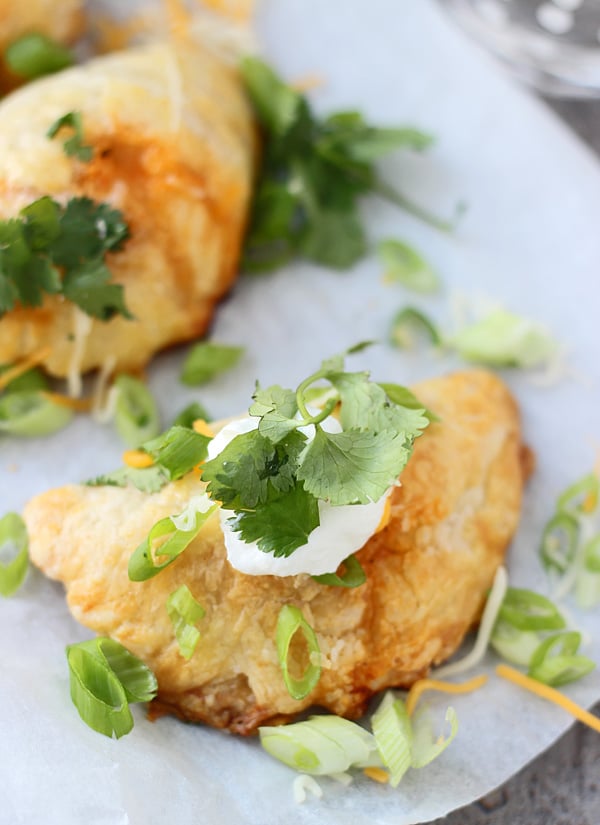 Pulled chicken meat is combined with some of my homemade enchilada sauce and plenty of cheese, stuffed into a puff pastry shell and baked until the cheese is bubbling out of the tops and the pastry is golden and crisp.
I like to serve them with extra enchilada sauce, plenty of sour cream, a handful of fresh cilantro and sprinkling of green onions. Extra cheese would also be a nice addition. Or a big bowl of your favorite spicy salsa for dipping.
You could also easily substitute cooked ground beef for the chicken, or use leftover pulled pork if you have it on hand. Because I have to eat everything I make, I served these for dinner, which it totally acceptable and I encourage you to do the same, but they'd also be perfect for game day appetizers, a Mexican fiesta, or random night in.
Sorry 90% of this post has been me complaining about the lack of sun and unwanted rain. I just had to vent, or I might spend the day crying and feeling sorry for myself. Thanks for listening.
Send sunny thoughts my way please!
Chicken Enchilada Empanadas
Author:
Nicole ~ Cooking for Keeps
Ingredients
2 sheets puff pastry, thawed
2 cups shredded chicken
½ cup enchilada sauce (store bought or homemade - recipe here), plus more for dipping
1 cup shredded Mexican blend cheese, plus more for sprinkling
1 egg + 1 tablespoon water mixed together in small bowl
Sour cream, cilantro, green onion for garnish
Instructions
Preheat oven to 375 degrees.
In a bowl, mix together chicken and enchilada sauce.
Roll out puff pastry sheet slightly and cut into 4-inch discs. (I used a mini tart pan as a guide) Roll scraps together and roll out again to make more discs. You should get about 15 discs.
Place two heaping tablespoons of chicken mixture in the middle of each disc and sprinkle with about a tablespoon of cheese.
Dot half of the disc with egg wash mixture and fold over, sealing edges. Place on a baking sheet lines with a silt pad or parchment paper to prevent sticking.
Using a fork, poke two sets of holes on top of each empanada to let steam escape while baking.
Brush with egg wash and sprinkle with cheese.
Bake about 20-25 minutes, until golden brown.
Serve with extra enchilada sauce, green onions, sour cream and cilantro.