The mere thought of Cinco de Mayo being two days away is currently making my stomach screech with hunger pains, an event that has occurred more times than I care to admit. I'm guessing these instantaneous noises coming from my stomach are attributed solely to the fact that I haven't had a Mexican fix in well over a month, three weeks longer than I typically go without an enchilada, taco, or some other delicious Mexican equivalent.
In honor of the holiday, and to put my growling stomach at ease, I decided to start celebrating a little bit early with one of my favorite deep-fried Mexican appetizers – the empanada.
Classically, an empanada is made with homemade dough and then deep-fried, but because I find myself grasping for more time in the day lately, my version omits both the homemade dough and the vat of hot oil. While a store-bought pie crust would suffice just fine in lieu of the typical dough, I happen to love the flakiness of puff pastry and how it sort of mimics the texture of something fried – which is a cheater baker's dream.
To ensure the pastry doesn't puff up too much, and to get as many empanadas as possible, I like to roll it out an inch or two further than it comes in the package, it's an added step, but an easy one since the dough is fairly easy to work with.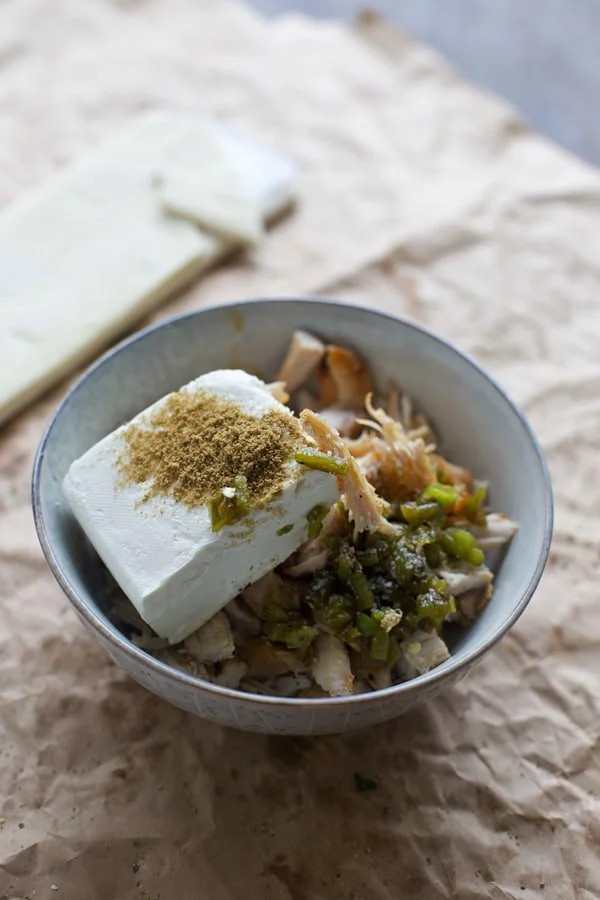 The filling, is just as simple as the exterior with only five ingredients – olive oil, chicken, cream cheese, jalapenos and cumin – and a super quick prep. In most cases I'd just use rotisserie chicken for a quick and easy filling, but because there are so little ingredients, I actually like to cook up my own chicken breasts in a little bit of olive oil to ensure maximum flavor.
While the chicken cooks, a jalapeno (or two if you like it super spicy) is roasted, diced and then mixed with softened cream cheese and a little bit of cumin. Once the chicken is done, it's diced or shredded and tossed with the mixture as well. Everything gets squished into the puff pastry, each one is sealed, brushed with egg wash and then popped into the oven until they're puffy, golden brown and perfectly crisp.
I serve them hot out of the oven with a little bit of salsa as an app, but a few of them with a side of rice and beans would be more than enough for a full meal.
Happy Cinco de Mayo!
Creamy Jalapeño Chicken Empanadas
Author:
Cooking for Keeps
Ingredients
2 sheets puff pastry
2 tsp. olive oil
1 ¼ lbs. chicken breast
1 jalapeno (2 if you like a lot of spice)
5 oz. light cream cheese
¼ tsp. salt
1 ½ tsp. cumin
1 egg
Salsa for serving
Instructions
Preheat oven to 400 degrees. Line a rimmed baking sheet with a silpat.
Place puff pastry sheets on a floured surface and use a floured rolling pin to roll out the dough until it's 1 inch longer horizontally and vertically. Use a 4-inch bowl to trace circles. Take scraps and roll out again. Make 9 circles.
Season chicken breasts with salt and pepper. Heat a medium non-stick pan over a medium heat. Add olive oil. Cook chicken breasts until golden brown on both sides and cooked through, about 4 minutes per side.
While the chicken cooks, roast the jalapeno over a gas flame (if you do not have a gas flame you can just roast under the broiler, just turn the oven back down to 400 when it's done.). Once the pepper is blackened and charred on all sides, place in a plastic baggie. Let it steam for 2-3 minutes until the skin is easily peeled off.
Remove the skin, seeds and membrane. If you like things spicy, keep the membrane or use two peppers. Finely chop.
Once chicken is done cooking, let cool slightly and then dice or shred (whichever you prefer).
Mix the chicken, peppers, cream cheese, salt and cumin together. Season to taste with salt and pepper.
Add egg to a small bowl along with 2 Tbsp. of water. Whisk to combine.
Add about 2 heaping tablespoons of the filling to each circle. Brush the bottom half of each circle with egg wash. Fold the other half over and seal. Use a fork to seal further. Brush the top with egg wash. Cut a slit in the top of each empanada.
Place on prepared baking sheet and baked for 20-25 minutes or until golden brown.
Serve with salsa.