This Chicken Gyro Salad with Crispy Pita combines all our favorite components of a classic Greek sandwich and transforms them in to a healthy salad. Every bit as delicious and satisfying as the original!
Oh hi! Is it Monday already?? How is it that each week flies by faster than the last? And more importantly, how is it the weekend flies by so quickly, it's merely a blur of a couple fleeting moments? I hosted a bridal shower yesterday, so the entire day I kept thinking it was Saturday and I had Sunday to recover, and as I sipped on my never-ending mimosa, I suddenly was hit with the epiphany that my weekend was about four hours shy of being a distant memory –reality sucks.
This weekend also marked an obscenely gluttonous two days, because when you make whipped ricotta, too many shortbread cookies and the most delicious pimento cheese and ham biscuit sammies, they must all be tested, multiple times, and at different times of day, to confirm they're suitable for public consumption. I have no excuse for the pizza, pizza rolls, popcorn, pasta salad, and copious amounts of bread that were also casualties…
The consequence to my excessive eating habits is a life full of smoothies, salads and hard-boiled eggs to fill the week ahead of me. Although, I'd hardly call this Chicken Gyro Salad with Crispy Pita, a consequence, it's the opposite in fact.
I've said it before and I'll say it again, for me, a salad cannot replace a meal, UNLESS, it's full of protein and enough accouterments to ensure I get full and stay full well until my next meal (or piece of chocolate) – this checks all of those boxes.
Thinly sliced gyro-seasoned chicken is tossed in an easy Greek-inspired vinaigrette, lots of crispy pita bread, roasted red peppers, red onion and plenty of crumbled feta cheese. It's a fairly easy salad to throw together, but does take a bit of prep and a light amount of stove and oven time. In short, it's not something you just chop and throw together, but it's also not something that's going to keep you in the kitchen for hours on end.
Also, keep in mind, you aren't confined to the toppings I listed above, chickpeas, kalamata olives, artichokes and tomatoes would also be perfect additions, but really, the sky is the limit.
The two non-negotiable items? The chicken and the crispy pita.
I am slightly obsessed with gyros, I love the way the meat is seasoned, and of course, I love the meat itself, but since it isn't exactly practical, or healthy to make at home, I just took all of the flavors – rosemary, oregano, garlic and onion – tossed them with some thinly sliced chicken, lemon juice and olive oil, marinated them for a few hours, and then threw them in a screaming hot pan until they were golden brown and almost crispy.
While the chicken marinates, some torn pieces of pita bread are seasoned, toasted in the oven until crisp and then everything is ready to be assembled.
I like to dress the leaves first, season and then add the remaining ingredients so the pita and the chicken don't get too saturated in the dressing. Once everything is tossed together, it gets dusted with feta cheese and it's ready for the table.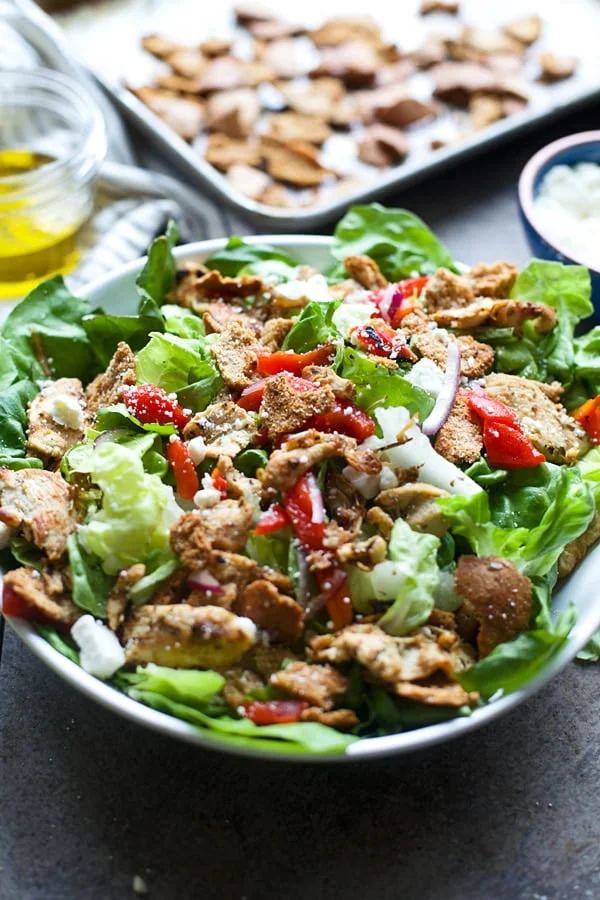 Chicken Gyro Salad with Crispy Pita
Author:
Nicole ~ Cooking for Keeps
Ingredients
1 large chicken breast, sliced very thin (see note)
½ tsp. lemon zest
1½ Tbsp. lemon juice
1 Tbsp. + 2 tsp. olive oil
½ tsp. salt, divided
½ tsp. dried rosemary
1 tsp. dried oregano
1 piece of whole-wheat pita bread, split in half and torn into bite-sized pieces (should be 2 cups)
½ tsp. garlic powder
½ tsp. onion powder
2 heads boston or butter lettuce, torn into bite-sized pieces (about 10 cups torn lettuce)
1 cup sliced roasted red pepper
1 cup crumbled feta
½ cup sliced red onion
Dressing
1 Tbsp. lemon juice
3 Tbsp. red wine vinegar
1 small garlic clove, grated
1 tsp. dijon mustard
⅓ cup olive oil
¼ tsp. oregano
½ tsp. salt
Instructions
Preheat oven to 350 degrees.
Add chicken, lemon zest, lemon juice, 2 tsp. olive oil, ¼ tsp. salt, rosemary and oregano to a large ziplock bag. Massage mixture into chicken. Let rest for 30 minutes and up to 2 hours.
While the chicken marinates, toss the pita with remaining olive oil, salt, garlic powder and onion powder. Spread on a baking sheet and bake for 10-12 minutes until crisp. Set aside. (This would also be a good time to make the dressing)
Once chicken has marinated, heat a medium non-stick skillet to a medium-high heat. Once the skillet is hot, add the chicken along with the marinade. Cook until chicken is golden brown and cooked through, about 5 minutes. Cool slightly.
Toss the lettuce with ¾ of the dressing. Taste and see if you need the rest (I used it all, but everyone is different!). Add the roasted red peppers, ¾ of the feta, red onion, chicken and crispy pita. Toss. Season to taste with salt and pepper.
Sprinkle with remaining feta.
For the dressing: Add all ingredients into a mason jar. Tightly secure the lid and shake until combined.
Notes
*Put the whole chicken breast in the freezer, until it firms up, but is not frozen, about 10-15 minutes. This will help you cut it super thinly!