Do you miss college?
I do, sometimes. There's the school aspect of it, and when I can't remember derivatives, forget the fundamentals of the econ classes I took and completely blank out on the various marketing methods studied, I miss learning. I feel like I've lost so much knowledge since the day I graduated, 70% of what I learned completely out the window. I shutter to think what I'd score if an impromptu exam was handed to me this very moment.
There's the social side I miss, the side where there were no plans and most Thursday through Saturdays (and some Mondays, Tuesdays and Wednesdays) were spent bar hopping from place to place, not having to worry about any impending responsibilities the next day.
Then there's the college town food. My favorite burger. My favorite chicken fingers. Favorite breakfast. Favorite tex-mex spot. Favorite coffee shop. All things I miss, but luckily all things I can quickly remedy with an hour and forty-five minute trip back to Manhattan, KS.
Every year my girlfriends and I plan a weekend to visit our college town – we get a hotel room, head up on Friday night for a nice dinner, then tailgate all day Saturday, go to a football game and hit the bar scene afterwards. We sluggishly wake up Sunday morning, and then remember exactly why we're actually grateful we're not in college anymore – it's tough work partying in a college town all weekend.
Of course, this year, things are a little different for me, being six months pregnant kind of puts a damper on reliving my college partying ways, so I decided to skip out on the whole weekend thing and just do an all day visit and head home late after the football game. For some reason or another all the other girls followed suit, but one thing isn't going to change. We will still hit up our favorite restaurant spots for the food we miss all year round.
First up Saturday, lunch at our favorite burger joint, but most of us don't go there just for the burgers, we go for a dip. A very special dip that's actually become quite infamous in the little town of Manhattan, KS – one that's already been replicated time and time again, but one that I wanted to put my own spin on.
Chipotle Raspberry and Black Bean Dip – a Manhattan, KS tradition.
I've been wanting to recreate this dip for years, but every knockoff recipe I found used a bottled sauce you had to buy, and I wanted to make it completely from scratch and after some trial and error, I think I finally created the perfect recipe to mimic the original.
Fresh raspberries, chipotles in adobo, onion, garlic and a little bit of water are cooked together until the berries break down, they're transferred to a blender and pureed until smooth. The sweet and spicy sauce is poured over a mixture of seasoned black beans and cream cheese, and then smothered in shredded mozzarella. The whole pan is popped into the oven until the cheese is melted, everything is bubbly, piping hot, and then it's served with blue corn tortilla chips (or whatever your little heart desires).
If anything can bring me back to college it's this dip….and I'd have no problem finishing the entire pan myself, although if the girls were joining in, I'd be more than happy to share…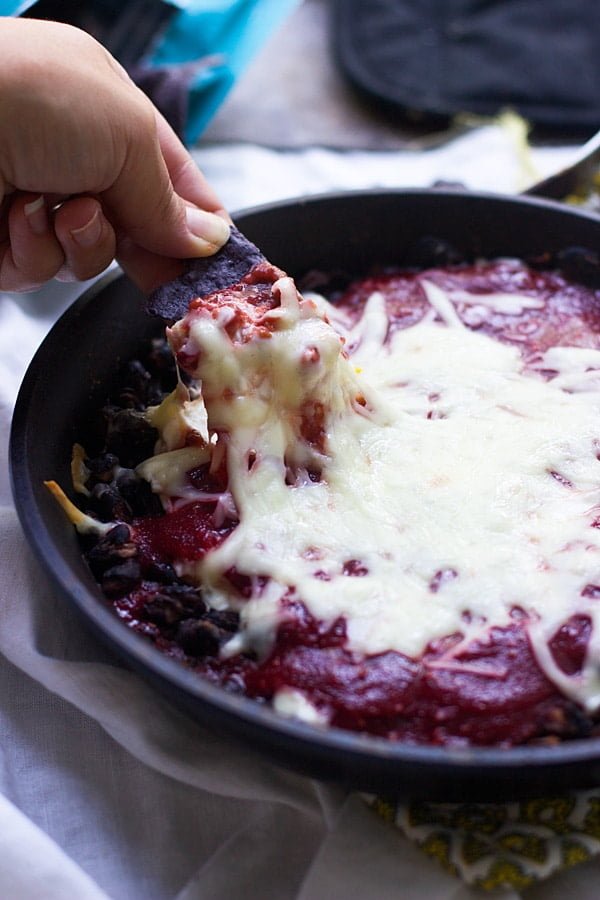 Chipotle Raspberry and Black Bean Dip
An infamous dip in the college town of Manhattan, KS!
Author:
Nicole - Cooking for Keeps
Serves:
4 appetizer portions
Ingredients
2 teaspoons olive oil, divided
½ cup diced onion
2 garlic cloves, minced and divided
10 ounces raspberries
¼ cup water
⅛ cup sugar
1 chipotle pepper in adobo sauce
1 teaspoon adobo sauce
1 14-ounce can black beans, rinsed and drained
¼ teaspoons chili powder
¼ teaspoon salt
8 ounces light cream cheese
½ cup shredded mozzarella cheese
Instructions
Preheat oven to 350 degrees.
Heat a medium saucepan to a medium heat. Add 1 teaspoon olive oil, onion and 1 garlic clove. Sweat onion until soft, about 1-2 minutes. Add raspberries, water, sugar, chipotle pepper and adobo sauce. Bring to a boil and reduce to a simmer. Cook until raspberries have broken down, stirring occasionally, about 5-7 minutes. Carefully transfer mixture to a blender. Blend until smooth. Set aside.
Heat a small (oven-proof) non-stick skillet to a medium heat. Add remaining olive oil and garlic. Cook garlic for 30 seconds. Add black beans, chili powder and salt. Cook for 1-2 minutes or until garlic is soft.
Push black beans to the sides of the pan. Add softened cream cheese to the center. Pour sauce over cream cheese and black beans. Sprinkle with shredded cheese. Bake for 15 minutes or until the cheese is melted and cream cheese is soft and hot.
Serve with chips.
(Visited 4,309 times, 1 visits today)