Because you're probably running around shopping for forgotten groceries, making last minute plans and acting like an all around basket case (or is this just me?), I'm going to try and make this post short and sweet. Keyword try. Because this pizza does require a little bit of explaining.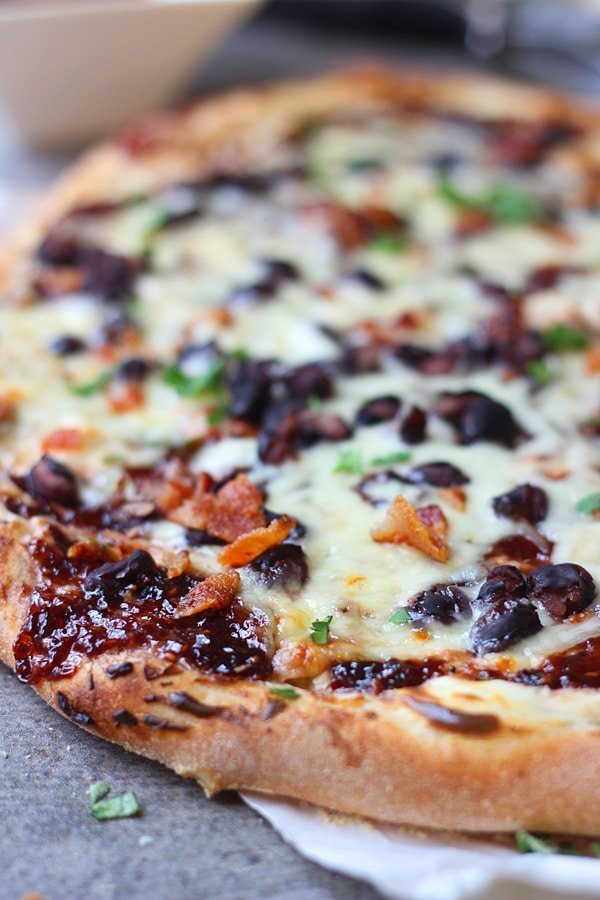 Here it is:
So there's this restaurant in my college town that serves the dip of all dips. The dip my friends and I demolished time after time in our college days – hello extra ten pounds. The dip that we still go back for each year. The dip that we dream about at night – ok not really, but I think about it A LOT.
The last time I went back for a girl's weekend, six girls got up at the crack of dawn, shared one shower, in one itsy bitsy (not to mention dumpy) hotel room to get ready in time for the doors to open at our favorite restaurant. I think our waitress must have thought we were just a little nuts when immediately after we sat down, before she could even take our drink orders, one of us erratically shouted, "We'll have two raspberry black bean dips, PRONTO!" She must have thought we hadn't eaten in years or had some form of Tourettes Syndrome.
When we spotted the dip headed our way, the excited chatter came to a halt, the table went silent, and all eyes were on the prize. Six girls then proceeded to inhale said dip within three minutes of the waitress carefully setting it down in front of out salivating faces – it's a wonder one of us didn't chew her arm right off in the process. In our defense, it was a horribly long night before with six grown girls sleeping in two full size beds that were pushed together for extra room – needless to say, we did not sleep well. Never again.


What's in it you ask?? Black beans, puddles of warm cream cheese, sweet but spicy raspberry chipotle sauce, and gooey Monterrey jack cheese. That's it. Seems simple, but it's so so perfect.
The other day I had an ah-ha moment! Raspberry black bean dip…on…a…pizza. Genius if do say so myself!
A homemade (or store-bought) crust is slathered liberally with softened goat cheese, spread with raspberry chipotle sauce and then covered in Monterrey jack cheese and black beans. Heaven on a pie.
Oh, and I threw on some crispy bacon for good measure, but ate it all of before we could eat it for dinner. Don't do that, it's rude.
K-State girls, can I get an amen?!
Luckily, I got the exact raspberry chipotle sauce as a gift for one of my bridal showers. You can find it here, they also sell it at Walmart and most grocery stores, if you can't find it, any raspberry chipotle sauce will work.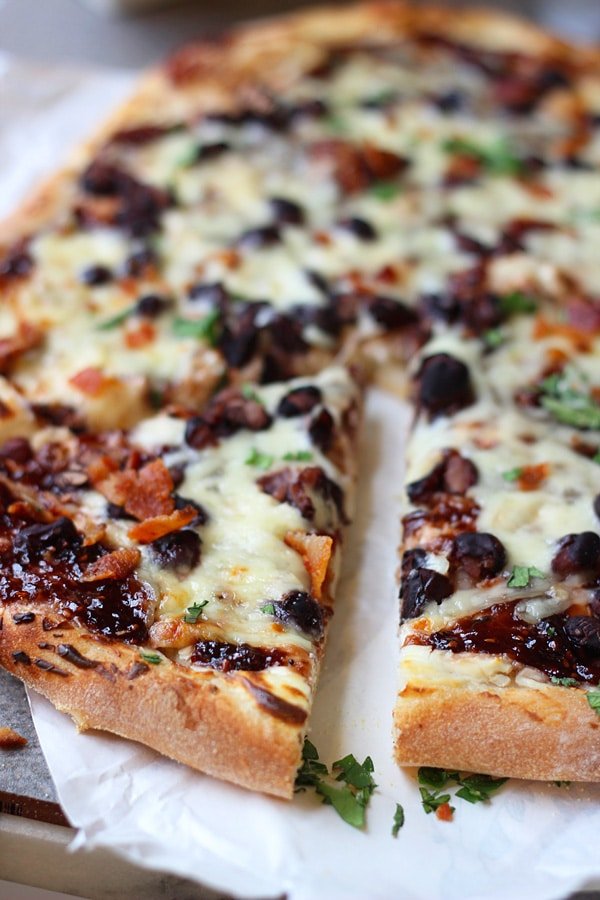 Chipotle Raspberry and Black Bean Pizza
Author:
Nicole ~ Cooking for Keeps
Ingredients
1 pizza crust
7 ounces softened cream cheese
Scant ½ cup chipotle raspberry sauce
½ small onion, chopped
1 cup shredded Monterrey jack cheese
1¼ cup black beans, drained and rinsed
3 slices bacon, cooked and crumbled
Instructions
Preheat oven to 550 degrees. Place pizza stone in oven. Heat for 30 minutes.
Roll dough out and spread with softened cream cheese. Season with salt and pepper.
Spread chipotle sauce on top of cream cheese.
Sprinkle with chopped onion
Sprinkle with cheese, then black beans and bacon.
Place into oven and bake until bubbly and brown, about 8 minutes.