Did you know that your taste buds evolve and change every seven years? Or at least that's what I've been told.  I tend to believe this wives tail because as a kid I loathed spicy foods; even the most mild spice would send my taste buds into shock and I'd immediately reach for a tall glass of water and vow to never try another spicy thing again.
One day I woke up and completely changed my tune, I decided in a split second that I had to have spice in my life… in the literal sense. It was the weirdest thing but I haven't looked back since and continue to like things hotter and hotter as I get older.
Since acquiring a taste for spice, I've tried to take some of my favorite things and incorporate spice into them. A majority of my favorites are things that I grew up eating and my Mom's sour cream enchiladas were one of them.
This particular recipe is derived from that family favorite. Like I said before I had a serious aversion to anything spicy so these enchiladas were very mild. I wanted to try to add some smoky and spicy chipotles to take it up a notch.
By the way, I hope that you are in on the not so secret, secret, of chipotles in adobo. It's one of the easiest ways to add heat and flavor to sauces and soups; I try to add it in anywhere I can.
Anyways, I digress. The addition of chipotle's was a complete success, but with or without them these enchiladas are to die for. They literally melt in your mouth and are a nice change from the traditional Mexican enchilada. Best of all, when reheated the next day.. or an hour later if you're me; they taste even better.
You'll need to start with some chopped onion and garlic..
Saute garlic, onion, ground cumin, and corriander with a little bit of butter until translucent.
It should look a little bit like this.
Add flour to the onion mixture. Cook a few minutes to make sure the flour taste has disappeared.
Slowly whisk in warm chicken stock or broth and chipotle puree so there are no lumps.  This is obviously after I added the chicken stock; I forgot to snap a picture.
Add green chili's. Simmer until thickened; about 8-10 minutes
and sour cream..Let thicken a few more minutes.
Take sauce off of the heat and add cheese.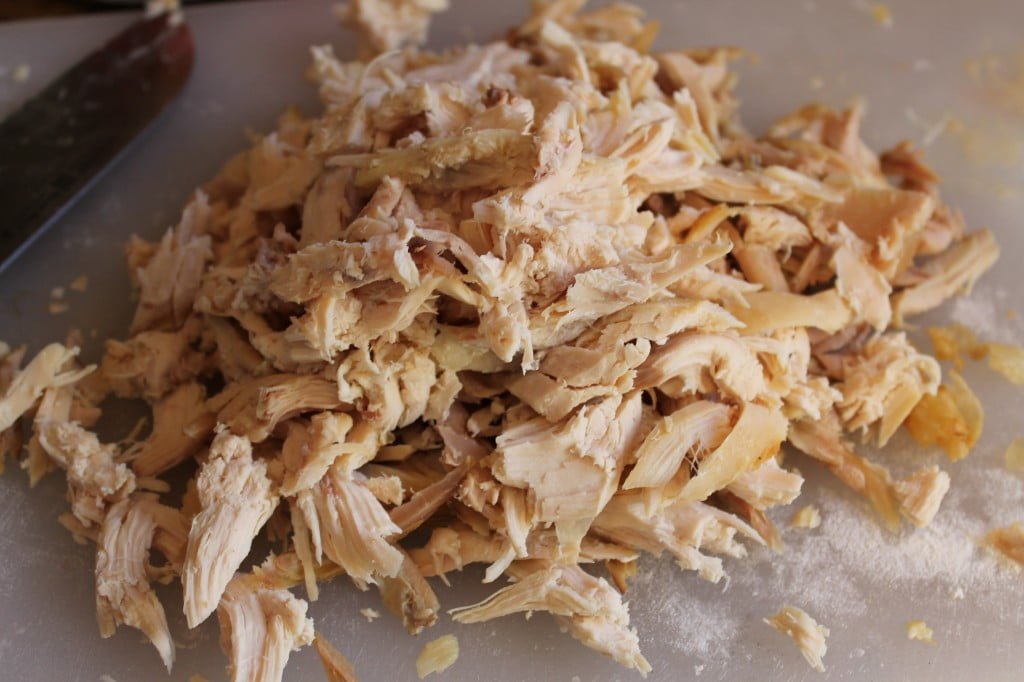 Shred some chicken..I cheat and usually buy a roasted chicken from the grocery store but you can also boil a couple of chicken breasts in chicken stock and a little bit of corriander.
Chop up some of those yummy chipotle's' I was talking about.
Add chopped chipotle's and 1/2 cup sauce to shredded chicken.
Ok! Finally we are ready to assemble.  Place about 1/4 cup of the chicken mixture in flour tortilla.
Coat the bottom of a greased baking dish with a little bit of the sauce. Start rolling up enchiladas and lining up.
Top with remaining sauce.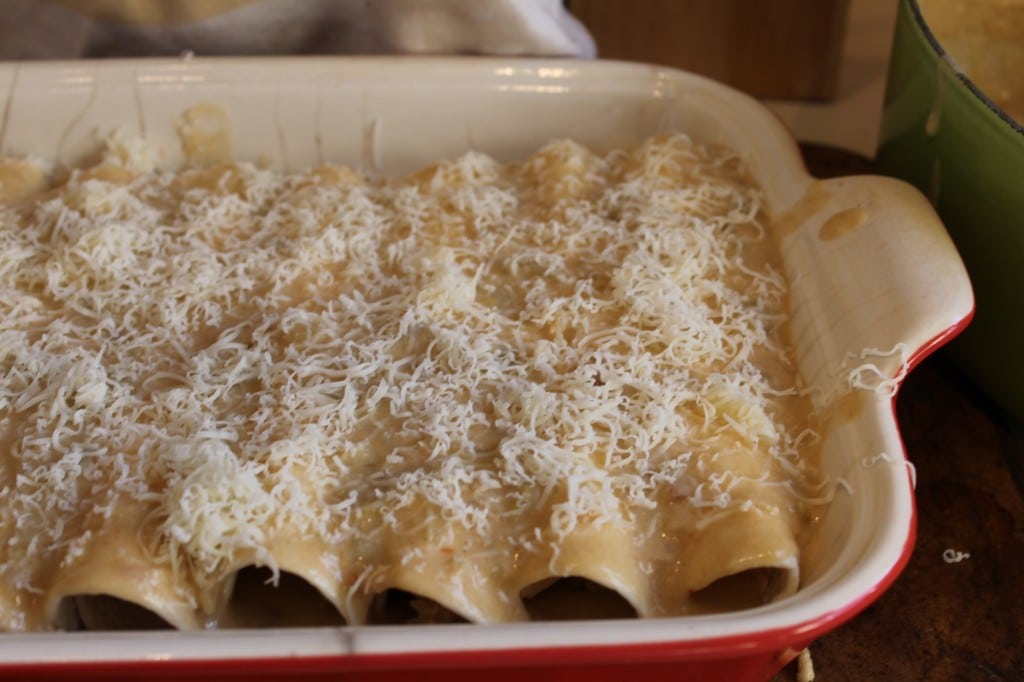 Top with more cheese…Bake in a 350 degree oven for about 30 minutes until slightly brown and bubbly.
Garnish with chopped tomato, green onion, cilantro, black olives, and of course more sour cream. Of course you get to pick what you garnish with but I'm a supreme kind of girl so I load them up.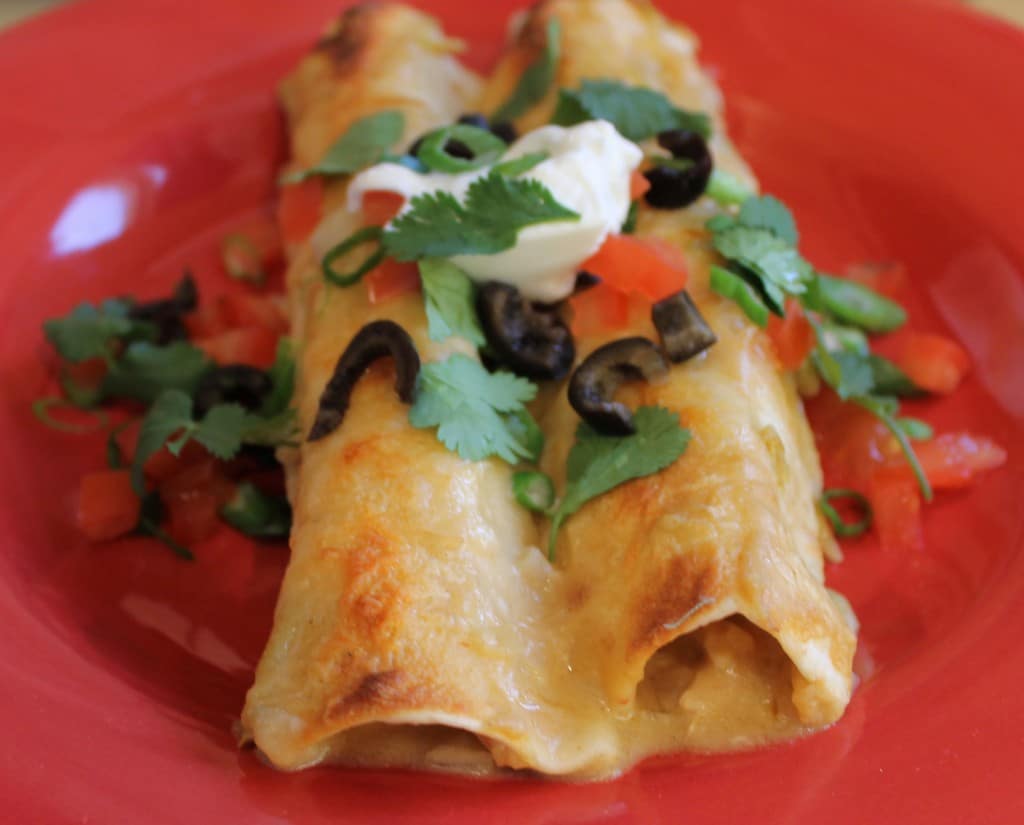 Creamy Chipotle Enchiladas
8 Flour Tortillas
1 small onion
5 cloves of garlic
¾ tsp ground coriander
¼ tsp ground cumin
¼ tsp ground pepper
1 tsp salt
2 tlbs butter
3 ½ tlbs flour
2 cups hot Chicken Stock
8 oz sour cream
1 ½ cups Monterrey Jack Cheese
2 cups shredded chicken
2-3 Chipotle in Adobo minced
2 tlbs Chipotle in Adobo Sauce
1 can diced green chilis
Preheat Oven to 350 Degrees
Sauce: Sauté onions, garlic, coriander, and cumin in butter until soft and translucent. Add flour, cook for 2 minutes. Take off heat and slowly whisk in chicken stock and chipotle puree and salt. Return to heat and bring to boil then reduce to simmer. Simmer 8-10 minutes until sauce has thickened.  Sauce should coat the back of a spoon.  Add sour cream and green chilies. Simmer five minutes longer. Remove from heat and add 1 cup of shredded cheese. Mix until cheese is melted.
Assembly: Add 1/2 cup of sauce and minced Chipotles to shredded chicken.  Coat the bottom of a greased casserole dish with 1/3 cup sauce.  Place about a ¼ cup of chicken mixture in tortilla. Roll jelly roll fashion. Place in casserole dish. Repeat with remaining tortillas. Cover enchiladas with remaining sauce then top with remaining cheese.
Bake for 30 min or until slighltly brown and bubbly. Serve with green onions, tomatoes, black olives, and sour cream.