Chopped Tuscan Salad (Made from the Salad Bar!) is our favorite go-to side salad in the warmer months (this kale salad is our favorite in the cooler months). Romaine lettuce is packed with chopped tomatoes, crispy bacon, blue cheese, parmesan cheese, red onion, grilled chicken and a creamy red wine vinegar dressing. 
This salad goes with EVERYTHING, but we especially love it with this Pizza Margherita Grilled Cheese, this Creamy Mushroom and Lemon Chicken, and this Five Ingredient Chicken Piccata. 
Chopped Tuscan Salad (Made from the Salad Bar!)
I know my local teeny tiny market like the back of my hand. Fancy eight-dollar crackers are tucked away near all the organic produce. Ready-to-go bags of peeled and deveined shrimp are hidden around a corner in the back of the store. Ice cream sundae goodies are away from their frozen section, and instead, on display near the registers. And the samples of freshly made tuscan salad are always, almost secretly, displayed on a tray of ice by the sushi and soups.
Every time I enter the grocery store around lunch time, I know the little salad snack will be waiting for me, and every time, I make a beeline towards the display. The salad is simple, but oh-so delicious. It's packed with crispy bacon, red onion, tons of tangy blue cheese, parmesan cheese, juicy diced tomatoes, and tender chicken. The greens are tossed in a creamy red wine vinaigrette that's light, and so flavorful. It's pretty much the best thing ever. 
The samples are of course, part of a bigger initiative to get customers to buy freshly made salads in bulk for their family dinners, but I find it hard to fork over $15 for a salad I could easily make myself. One day I had a lightbulb moment, and realized every ingredient in the salad came directly from their salad bar, so obviously I had to make it for myself. Plus, making my own allows me to add extra blue cheese if I want, which is a win in and of itself.
Why the salad bar is your best friend
Salad bars are such an underutilized part of the grocery store, probably because they're often associated with being kind of gross, with the food sitting out and all, but a good salad bar can be your best friend. I use mine not only for making small lunch-worthy salads, but for gathering veggies for stir-fry, adding spinach and mushrooms to my favorite cup o' noodles, or even as the cheese garnish on various dishes when I don't have the need for an entire block in my fridge.
How to make Chopped Tuscan Salad 
Grab romaine lettuce, bacon, chicken, diced tomatoes, red onion, blue cheese crumbled, and shredded parmesan cheese from the salad bar. 
Toss everything together in a big bowl. 
Season with salt and pepper. 
Whisk mayo, red wine vinegar, olive oil, dijon, salt and pepper together in a small bowl. 
Pour dressing over salad. Toss. Season with salt and pepper.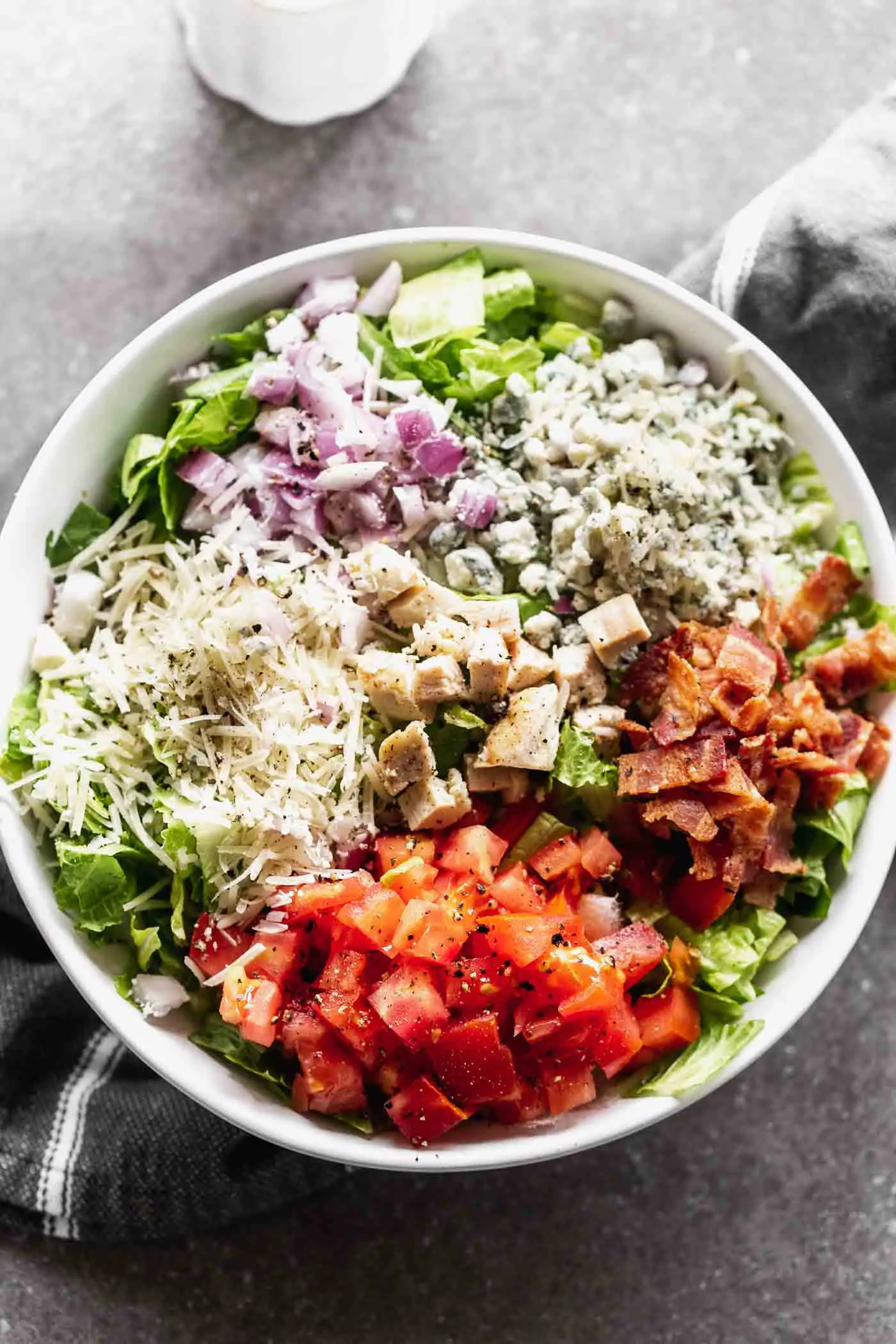 Substitutions and Tips and Tricks for Recipe Success
If your grilled chicken from the salad bar looks a little pre-packaged, you could use diced ham, crispy chicken fingers, or leave the protein out altogether, instead.
Not enough time to make your own dressingdsf, just pick up a low-fat creamy Italian dressing at the salad bar.  
Swap out the chicken for diced ham, turkey, or hard-boiled eggs.
If you're not a fan of blue cheese, use feta! 
Chopped Tuscan Salad (Made from the Salad Bar!)
Author:
Nicole ~ Cooking for Keeps
Ingredients
4 cups romaine lettuce, chopped
½ cup chopped tomatoes
½ cup chopped red onion
¼ cup crumbled blue cheese
¼ cup shredded parmesan cheese
½ cup chopped bacon bits
1 cup chopped, grilled chicken
2 Tlbs. light mayo
2 Tlbs. red wine vinegar
¼ tsp. salt
1 tsp. dijon mustard
½ tsp. onion powder
1 Tlbs olive oil
Instructions
In a large bowl, whisk mayo, vinegar, salt, onion powder, and dijon mustard. Slowly whisk in olive oil. Season to taste with salt and pepper.
Add lettuce, tomatoes, red onion, blue cheese, parmesan cheese, bacon, and grilled chicken together, toss until combined with dressing. Season with salt and pepper.