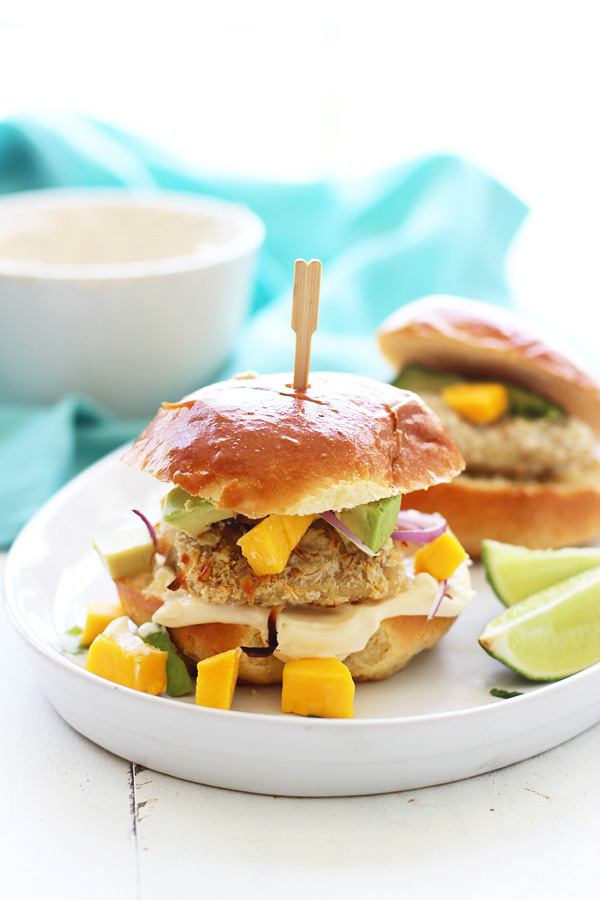 Hope everyone had a wonderful Easter weekend! Kev's parents were in town, and even though we had a wonderfully relaxing weekend, my brain is completely fried, so I'm going to make this post short and sweet – plus I really want to have a glass of pinot grigio as soon as possible and my brain just can't function after a drop of alcohol has entered my blood stream.
So…coconut crusted mahi mahi sliders? Ah-mazing.
And guess what? They're pretty darn healthy too.

The idea for these is derived from my two favorite beach foods – coconut shrimp and fried grouper sandwiches. Both of which come from my favorite beach restaurant of all time, Pompano Joes in beautiful, sunny Destin, Florida. Have you been there? Destin is kind of my home away from home, my family has been going there since I was a little girl, and even though I haven't been back in a couple years, it's still one of my favorite places on earth. Since I can't go to Pompano Joe's at the drop of a hat, I thought I'd bring it home to me.
Although instead of deep-fried shrimp and fish, I skipped the hot oil, and opted for a healthier, less messy route – baking.
Mahi mahi filets are coated in a light breading of sweetened, shredded coconut and panko bread crumbs and then baked until super crispy and golden brown. The crispy fish is sandwiched between two mini brioche buns (I got mine from Whole Foods, but mini egg rolls would also work perfectly if you can't find brioche) slathered with a (light) cumin lime aioli and topped off with a little bit of fresh mango and avocado making for the perfect tropical beach bite without the purchase of a plane ticket or fiery red sunburn – win-win.
Promise you'll love these guys! Ok, now I'm off…pouring a glass of wine this very second…..
Coconut Crusted Mahi Mahi Sliders with Avocado, Mango and Lime Aioli
These coconut crusted mahi mahi sliders will transport you to the warm weather and crystal blue waters of the beach!
Ingredients
1 pound center cut mahi mahi, cut into two ounce portions
2 egg whites
½ cup panko breadcrumbs
½ cup sweetened, shredded coconut
¾ teaspoon salt, divided, plus more for seasoning
8 tablespoons light mayo
8 teaspoons lime juice
¼ teaspoon cumin
1 garlic clove, grated
½ teaspoon sirracha
1 avocado, diced
1 mango, diced
8 mini brioche buns or any kind of mini bun or roll
Instructions
Preheat oven to 375 degrees.
Set a cookie cooling rack on top of a baking sheet and spray with non-stick cooking spray.
In a small bowl whisk egg whites until frothy.
On a large plate, mix panko, coconut and ½ teaspoon salt. Season with a little bit of freshly cracked black pepper.
Season fish portions with salt and pepper. Coat in egg mixture, making sure excess drips off, and then coat in coconut mixture, patting off any excess breading.
Place filets on cooking rack and back until golden brown and cooked through, about 20 minutes.
While fish is cooking, mix together remaining salt, mayo, lime juice, cumin, garlic and sirracha.
Toss mango and avocado together, season with a little bit of salt and pepper.
Slather buns with lime mayo, place filet on top and top with a little bit of diced mango and avocado.
https://www.cookingforkeeps.com/coconut-crusted-mahi-mahi-sliders-avocado-mango-lime-aioli/