This Coconut Curry Soup Wonton soup is a Thai-inspired dish meets classic Chinese soup, an amazing hodgepodge of two cuisines that I would to eat from now until eternity. Easy and so delicious!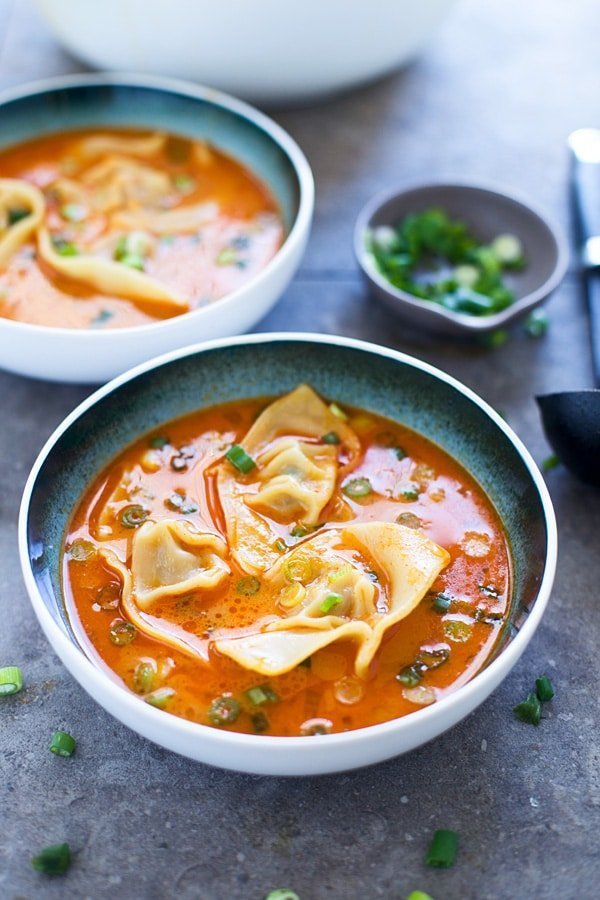 The fact that I'm sharing a soup recipe on an almost 70-degree day seems sort of backwards, but I'm guessing that unlike Kansas City, a majority of the country is still deep within the heart of winter. Plus whether it's 70 degrees or negative seven degrees, soup is still a very relevant option for me, since I could eat it for any meal, any day of the week, and be completely content.
I spend the better part of the initial months of winter slurping up bowls of the classics – chicken noodle, broccoli cheddar, chili, etc. – but once we're creeping towards spring, the classics sort of lose their luster, for me at least, and I want something unique and light, but still comforting.
This Coconut Curry Soup Wonton soup is just that. A ridiculously flavorful broth that's luxurious, but not heavy and absurdly simple to make; paired with wontons stuffed with pork, carrots, green onion and garlic. The combination of the two (the broth and the wontons) make this Thai-inspired dish meets classic Chinese soup, an amazing hodgepodge of two cuisines that I would to eat from now until eternity.
The broth is actually inspired by this soup I made a few years back as well as this How Sweet It Is coconut curry salmon recipe that we eat monthly (If you haven't tried either, DO IT). The simple combination of onion, garlic, red curry paste, coconut milk, and peanut butter is an irresistible arrangement of highly flavorful ingredients that allow for a less-is-more mentality to build the broth, which I love.
If you haven't cooked with curry paste yet, this recipe will make you a forever convert. It's subtly spicy, full of wonderful flavor, but not overwhelming. I add it to sauces, soups, and even stir fry or eggs every once in a while. It's always something I keep on hand, and at $2-$3 per jar, it's easy to do so as well.
The broth begins by sautéing a little bit of garlic and onion in coconut oil, and once they become fragrant and slightly softened, the rest of the ingredients get dumped into the pot, and simmered for just a few minutes until the wontons get dropped in.
If you are looking for a meal that takes 30 minutes or less, you could buy store-bought stuffed wontons or potstickers, but for an extra 20-30 minutes of effort, you can easily throw these guys together. Ground pork, finely chopped carrot, onion and garlic are mixed together with a simple seasoning of soy sauce and sesame oil, and stuffed in to store-bought wonton wrappers. If you're looking for a quick way to seal them, just place the filling in the middle and fold over one corner to make a triangle, but if you want to form them the traditional, which is what I did, you can follow this picture tutorial.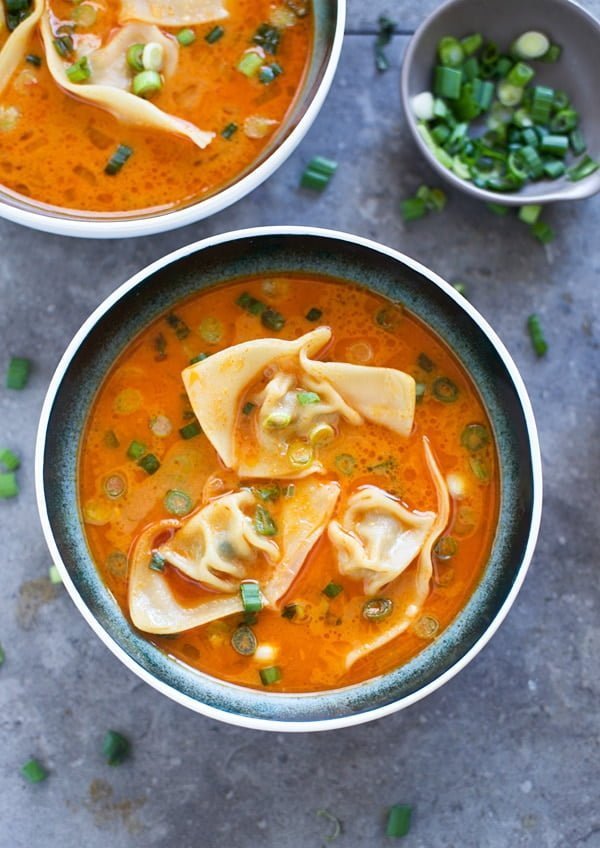 Once the wontons are formed, they get dropped in to the broth, and simmered for a few minutes until the pork is cooked through, and the wonton wrappers are soft.
I like to serve four or five wontons to a bowl, ladle the broth on top, and then garnish simple with plenty of sliced green onion.
Coconut Curry Wonton Soup
Author:
Nicole ~ Cooking for Keeps
Ingredients
Wontons
¼ lb. ground pork
2 Tlbs. minced carrot
2 green onions, finely slices
2 Tlbs. minced onion
1 large garlic clove, minced
2 tsp. soy sauce
½ tsp. sesame oil
20 wonton wrappers
Broth
1 Tlbs. coconut oil
½ cup finely chopped onion
2 large garlic cloves, minced
4½ Tlbs. red curry paste
4 cups chicken stock
1 (14.5 oz.) can coconut milk (do not use light)
2½ Tbsp. packed brown sugar
2½ Tbsp. creamy peanut butter
½ tsp. ground ginger
1½ tsp. salt
Instructions
In a small bowl, mix together pork, carrot, green onion, minced onion, garlic, soy sauce, and sesame oil.
Fill a small bowl with water. Place one (slightly over) teaspoon of filling in the middle of each wonton. Using your finger, wet the edges of the wonton. Fold the top half over the bottom half, to make a rectangle, seal edges and be sure to get all air bubbles out. Wet the bottom two corner edges. Fold the sides in and bring the bottom two edges together, seal. See this photo tutorial for a visual. You could also just fold each on in to a triangle, seal and then bring the bottom two edges in and seal again. Make sure to cover finished wontons with a towel.
For the broth.
Heat a dutch oven to a medium heat. Add coconut oil. Once hot, add onion and garlic. Cook for 1 minute until fragrant and slightly translucent. Season with salt. Add curry paste, cook 1 minute. Whisk in chicken stock, coconut milk, brown sugar, peanut butter, ginger and salt. Bring a boil and reduce to a simmer for 10 minutes.
After 10 minutes, add wontons, simmer until pork is cooked through and wonton wrapper are soft, about 5-6 minutes.
Spoon 3-5 wontons in the bottom of bowls and ladle broth on top. Garnish with green onion.

(Visited 21,419 times, 11 visits today)