This Thai Wonton Soup is Thai-inspired dish meets classic Chinese soup – an amazing hodgepodge of two cuisines that I would to eat from now until eternity.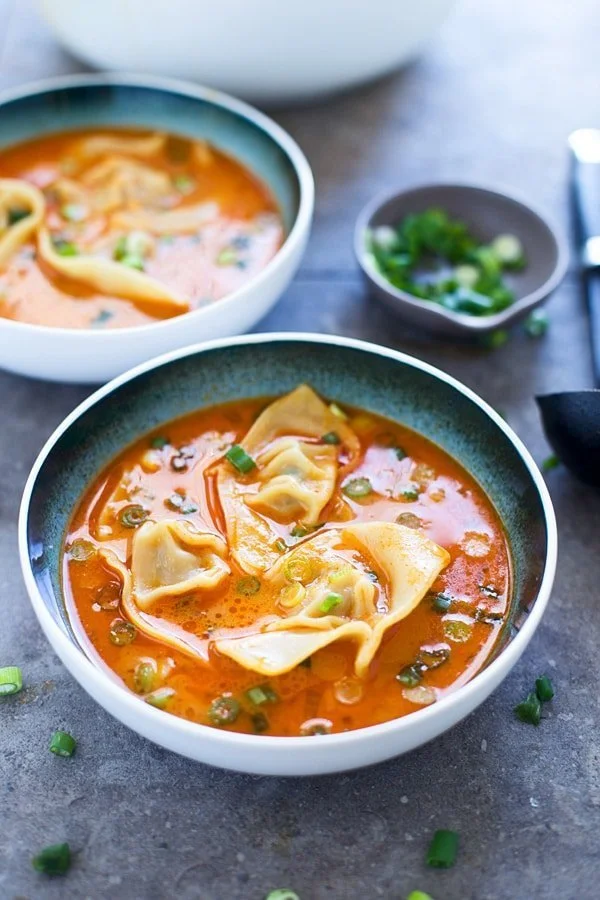 Thai Wonton Soup
The fact that I'm sharing a soup recipe on an almost 70-degree day seems sort of backwards, but I'm guessing that unlike Kansas City, a majority of the country is still deep within the heart of winter. Plus whether it's 70 degrees or negative seven degrees, soup is still a very relevant option for me, since I could eat it for any meal, any day of the week, and be completely content.
I spend the better part of the initial months of winter slurping up bowls of the classics – chicken noodle, broccoli cheddar, chili, etc. – but once we're creeping towards spring, the classics sort of lose their luster, for me at least, and I want something unique and light, but still comforting.
This Thai Wonton Soup is just that. A ridiculously flavorful broth that's luxurious, but not heavy and absurdly simple to make. It's paired with wontons stuffed with pork, carrots, green onion and garlic. The combination of the two (the broth and the wontons) make this Thai-inspired dish meets classic Chinese soup, an amazing hodgepodge of two cuisines that I would to eat from now until eternity.
Ingredients in Thai Wonton Soup
The broth is actually inspired by this soup I made a few years back as well as this How Sweet It Is coconut curry salmon recipe that we eat monthly (If you haven't tried either, DO IT). The simple combination of onion, garlic, red curry paste, coconut milk, and peanut butter is an irresistible arrangement of highly flavorful ingredients that allow for a less-is-more mentality to build the broth, which I love.
If you haven't cooked with curry paste yet, this recipe will make you a forever convert. It's subtly spicy, full of wonderful flavor, but not overwhelming. I add it to sauces, soups, and even stir fry or eggs every once in a while. It's always something I keep on hand, and at $2-$3 per jar, it's easy to do so as well. Here's everything you'll need:
The wontons
Ground pork.
Veggies. I use a combination of minced carrot, green onions or scallions, onion, and garlic.
Seasonings. Soy sauce or tamari and sesame oil is all you'll need for these simple wontons.
The broth
Coconut oil. In almost all of my coconut curry dishes, I like to use coconut oil, not only for added healthy benefits but also the compliment the flavor of the coconut milk.
If you don't have coconut milk, no big deal, just use extra sesame oil instead.
Onion and garlic.
Red curry paste. We are obsessed with red curry paste around here, it's full of chiles, red bell pepper, garlic, ginger, and has a nice round, robust flavor. It's slightly spicy, but because of the red bell peppers, it also has slightly sweet notes to it.
Chicken stock. Always use a good quality, low-sodium broth.
Coconut milk. You can use any kind of coconut milk here – full fat, lite, or even coconut cream. It all works.
Brown sugar. Brown sugar balances out the the spiciness in the red curry paste and is a nice compliment to the peanut butter.
Peanut butter. No need for any kind of fancy peanut butter here, creamy and processed works just fine.
Ginger. For just a hint of ginger, I like to add in a little bit of ground ginger, but if you have fresh on hand, you can also use that.
Make the wontons
If you are looking for a meal that takes 30 minutes or less, you could buy store-bought stuffed wontons or potstickers, but for an extra 20-30 minutes of effort, you can easily throw these guys together. Here's how we do it.
Mix the filling. Add ground pork, finely chopped carrot, onion and garlic to a medium bowl. Season simply with soy sauce, sesame oil, and a little bit of salt.
The quick fold. Stuff filling in to store-bought wonton wrappers. Wet the edges of the wonton wrapper. Place a heaping teaspoon of the filling in the middle and fold over one corner to make a triangle.
The hat fold. (See photo tutorial here.)
Place one wonton wrapper on a flat surface. The wrapper should have the corners facing up, down, left and right so you have a diamond.
Spoon a heaping teaspoon of the filling on to the middle of the wrapper. Use your finger to gently wet all the edges of the wrapper. Fold the top corner up so you have a triangle. Get any air bubbles out and seal.
Make sure the triangle's flat edge is on top. Use your fingers to pull the two corners together while gently foldings the wonton down. Overlap the corners and use your finger to wet the middle so the corners stay glued together. You should have a little hat shape.
Once the wontons are formed, they get dropped in to the broth, and simmered for a few minutes until the pork is cooked through, and the wonton wrappers are soft.
Make the broth
The broth begins by sautéing a little bit of garlic and onion in coconut oil, and once they become fragrant and slightly softened, the rest of the ingredients get dumped into the pot, and simmered for just a few minutes until the wontons get dropped in.
I like to serve four or five wontons to a bowl, ladle the broth on top, and then garnish simply with plenty of sliced green onion.
Substitutions and Tips and Tricks for Recipe Success
Eat the soup right away. Because wontons are so delicate, the longer they sit in liquid, the more mushy they will get and fall apart.
If you want to add veggies to the broth, bean sprouts, spinach or mushrooms would be a great addition.
Swap out pork for ground turkey or chicken for a lighter wonton.
In place of chicken stock, you can use veggie stock.
If you like a spicier soup, add a little bit more red curry paste or crushed red pepper flakes.
For More Coconut Curry Dishes, Check Out These Recipes
Thai Wonton Soup is a classic coconut curry meets wonton soup. It has a sweet and spicy coconut curry broth filled with pork wontons.
Ingredients
Wontons
1/3

lb

ground pork

2

tbsp.

minced carrot

2

green onions, minced

2

tbsp

minced onion

1

large

garlic clove, minced

2

tsp

soy sauce

1/2

tsp

sesame oil

1/4

tsp

kosher salt

20

wonton wrapper
Broth
1

tbsp

coconut oil

1/2

cup

finely chopped onion (about 1/2 small onion)

2

large

garlic cloved, minced

4 1/2

tbsp

red curry paste

4

cups

low-sodium chicken stock

14.5

oz

canned coconut milk

2 1/2

tbsp

packed brown sugar

2 1/2

tbsp

creamy peanut butter

1/2

tsp

ground ginger

optional

1 1/2

tsp

kosher salt, divided
Instructions
In a small bowl, mix together pork, carrot, green onion, minced onion, garlic, soy sauce, sesame oil, and salt.

Fill a small bowl with water. Place one heaping teaspoon of filling in the middle of each wonton. Using your finger, wet the edges of the wonton. Turn the wonton so that each corner is point up, down, left, and right. Fold the top corner down over the bottom half, to make a triangle, seal edges and be sure to get all air bubbles out. Wet the bottom two corner edges. Pull the corners in and bring the bottom two edges together, seal. You could also just fold each on in to a triangle, seal and then bring the bottom two edges in and seal again. Make sure to cover finished wontons with a towel.

Heat a dutch oven to a medium heat. Add coconut oil. Once hot, add onion and garlic. Cook for 1 minute until fragrant and slightly translucent. Season with a 1/4 teaspoon of salt. Add curry paste, cook 1 minute. Whisk in chicken stock, coconut milk, brown sugar, peanut butter, ginger and remaining salt. Bring to a boil and reduce to a simmer for 10 minutes.

After 10 minutes, add wontons, simmer until pork is cooked through and wonton wrappers are soft, about 5-6 minutes.

Spoon 3-4 wontons in the bottom of bowls and ladle broth on top. Garnish with green onion.
Nutrition Information
Serving:
1
serving
,
Calories:
418
kcal
(21%)
,
Carbohydrates:
28
g
(9%)
,
Protein:
13
g
(26%)
,
Fat:
30
g
(46%)
,
Saturated Fat:
20
g
(125%)
,
Cholesterol:
20
mg
(7%)
,
Sodium:
1037
mg
(45%)
,
Potassium:
458
mg
(13%)
,
Fiber:
3
g
(13%)
,
Sugar:
9
g
(10%)
,
Vitamin A:
1772
IU
(35%)
,
Vitamin C:
3
mg
(4%)
,
Calcium:
55
mg
(6%)
,
Iron:
3
mg
(17%)