Vegetable Coconut Curry Soup with Rice Noodles is sweet, slightly spicy, and a cinch to throw together. It's packed with tender mushrooms, sweet potatoes, red bell peppers, onions, and the most delicious coconut curry broth you'll want to drink with a straw. It's served with plenty of thin brown rice noodles for slurping.
Vegetable Coconut Curry Soup with Rice Noodles
I don't know what it is about winter that makes me want to sit down in front of a bowl of piping hot soup and slurp the entire thing up in about 2.5 seconds.
Oh wait. I do, it's freezing and I'll do anything to warm myself from the inside out. Duh.
Creamy chicken noodle soup and cheesy chicken enchilada soup are typically my go-tos when I'm craving something to do just that. Although I will say there's something about a slightly spicy broth intertwined with my favorite veggies and good-for-you brown rice noodles that really pulls me in when I want something little outside of the box.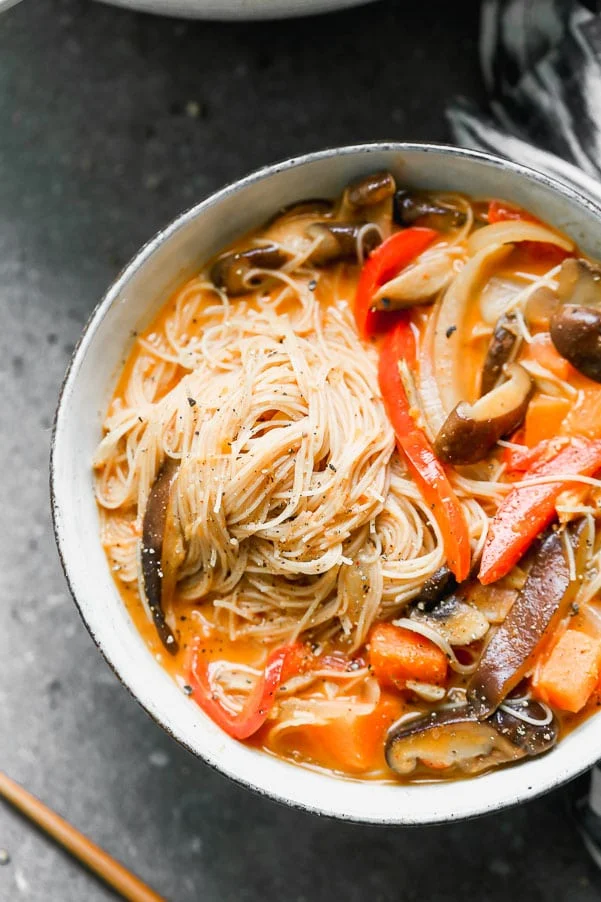 Everything about this vegetable coconut curry soup is all things good for you. A pletheora of healthy veggies – red bell peppers, onions, and an obscene amount of mushrooms. Fiber-rich brown rice noodles you'll want to slurp incessantly. Aromatic and anti-inflammatory ginger. Oh, and a coconut curry broth so addictive, you'll want to drink it with a straw.
I call this a coconut curry soup, but made as directed, it's actually more of a vegetable and curry rice noodle dish with an excessive amount of broth, because the bulk of coconut curry soup is the hearty veggies and tender brown rice noodles.
While this IS a vegetarian-based soup, it's completely customizable. So if vegetarian isn't your thing, feel free to slide in some thinly sliced chicken, raw shrimp, or if you want to live life on the edge, even a little bit of Italian sausage.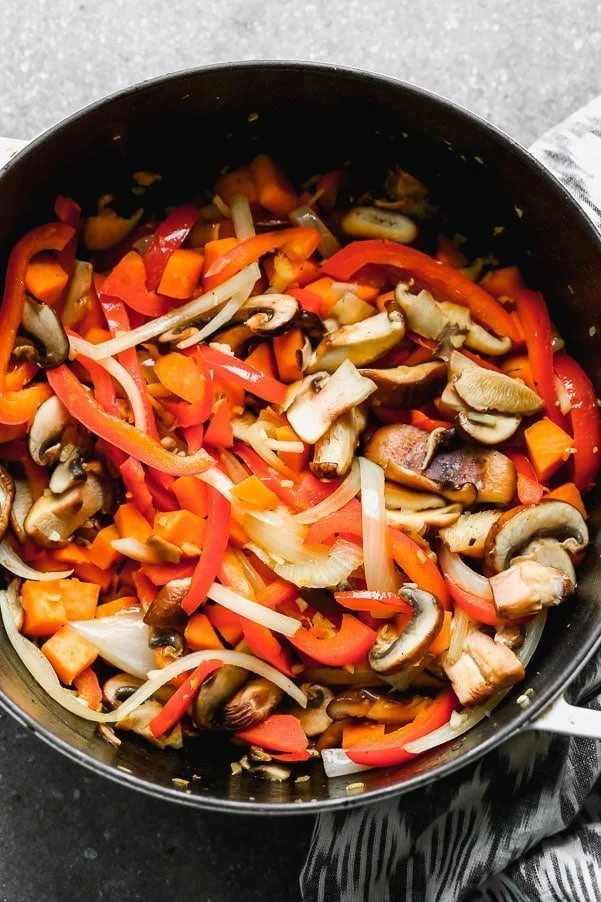 Ingredients in Vegetable Coconut Curry Soup
Coconut Oil. You could really use any type of oil here – peanut, canola, sesame – but I like to use coconut oil to compliment the coconut milk we add later on.
Veggies. Because there isn't any meat in coconut curry soup, I really up the vegetable factor. We include lots of sliced red bell peppers, sweet potato, sliced onion, and close to a pound of mixed mushrooms. My favorite mushrooms to use are an almost equal mix of shiitake mushrooms and sliced portabella, but you could use whatever your favorite is.
Aromatics. Lots of garlic and ginger are the key aromatics here. I buy a small piece of ginger at the grocery store and carefully slice off the skin and then mince it. If garlic is your thing, up the garlic factor by a couple cloves. In my opinion, you can never have too much garlic, so go for it if you wish.
Red curry paste. This is what makes vegetable coconut curry soup so delicious! What is red curry paste? Red curry paste is the perfect mix of red bell pepper, red chilies, garlic, ginger and shallots. You might also find hints of turmeric, cumin, coriander, or even lime.
I think when people think of red curry paste, they automatically think it's this fiery, hotter-than-hot ingredient that's hard to work with. But because of the red bell pepper, it's actually slightly sweet with a pop of spice that's the perfect heat level for me. It's basically like ten ingredients in one teeny tiny package, so it adds an intense layer of flavor that's just wonderful.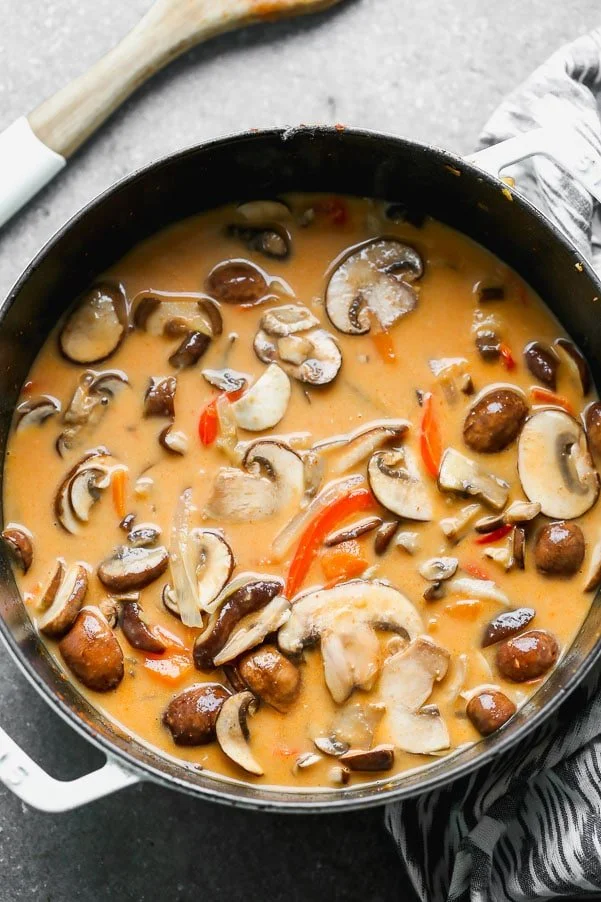 Coconut milk. Red Chile paste naturally pairs really well with coconut milk, so that's what I use here. If you've never had this combination before, you're in for a treat. Again, we touch on the sweet and spicy element that's so delicious in a coconut curry soup.
Chicken stock. Use a good-quality low-sodium chicken stock. The reason I like to use low-sodium is so that I can control the amount of salt that goes into the soup.
Peanut butter. Much like these Coconut Curry Meatballs, I adore the sweet, creamy element peanut butter adds to this coconut curry soup. It's a super subtle addition that really makes the soup.
Brown sugar. Again, we're playing with a sweet and spicy element. I love to use brown sugar to balance out the spiciness of the red curry paste. The combination of coconut milk, red curry, peanut butter, garlic, and brown sugar is just out of this world delicious.
Brown rice noodles. This is definitely a noodle-heavy soup. As mentioned before, this could actually sort of be called coconut curry rice noodles instead of coconut curry soup. If you want a little bit less noodles and a little more broth, half the amount of noodles and add in an extra splash or two of chicken stock.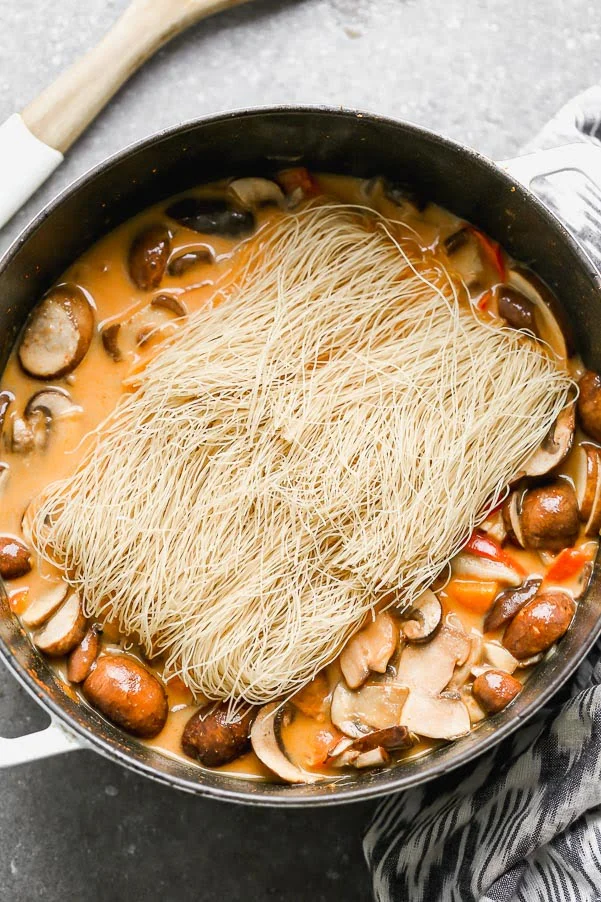 How to make Vegetable Coconut Curry Soup
Sweat the veggies. Start off by sweating the red bell peppers, sweet potatoes, and onions. I like to start off with these two, because they take longer to cook than the mushrooms, garlic, and ginger. If you add the mushrooms too soon, they'll finish cooking before the peppers and onions, and basically shrink down to nothing after they simmer in the soup. d
I like to sweat the red peppers and onions until they start to bend and soften up a bit. It usually takes about 5 minutes or so.
Cook the rest of the veggies and aromatics. When the onion and peppers are softened just a bit, add the mushrooms, ginger and garlic. I know it looks like A LOT of mushrooms, and it is. Trust me, they will cook down.
Stir in the curry paste. I like to stir the red curry paste into the vegetables and let them all cook together for a few minutes before adding the liquids. It's kind of the same idea as cooking the raw taste out of flour before you add the milk for a béchamel. Cooking the curry paste with the veggies before hand, in my onion, deepens the curry flavor just a bit more than if you were to add it straight to the broth.
Add the liquids. Pour in coconut milk, chicken broth, and just a touch more salt. Bring the mixture to a boil and then reduce it to a simmer.
Simmer the rice noodles. Gently add in the rice noodles. Use tongs to toss the noodles with the veggies and broth. After about two to three minutes, the noodles will start to become pliable. Use the tongs to gently separate the noodles. Let the noodles cook for another 2-3 minutes until they are cooked through.
Season to taste. Add little bit of salt and pepper to taste.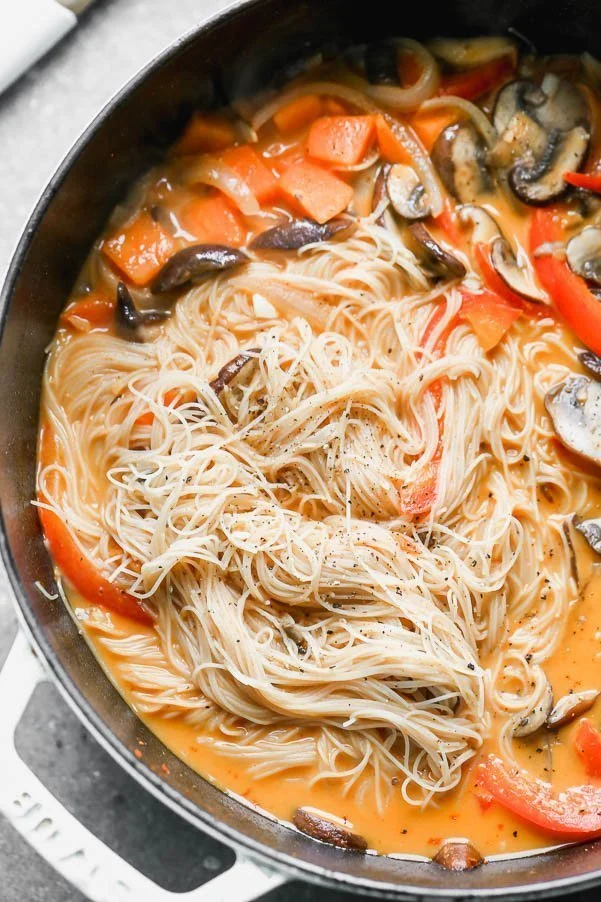 Do I have to use chicken stock?
Absolutely not, if you want this strictly vegetarian, swap out the chicken stock for vegetable stock, no problem.
Can I make Vegetable Coconut Curry Soup in advance?
Yes and no. You can absolutely make the veggies and broth in advance. I wouldn't however, recommend adding the noodles in until just before serving. If you do want to make it from start to finish ahead of time, just know that the longer the noodles sit in the soup, the more they will soak up the broth, leaving you less broth in the end.
Can I eat this leftover?
Yes! Again, the longer the noodles sit, the more they will soak up the broth. I like to heat the soup up for leftovers and then add in a splash or two of chicken broth to increase the amount of broth.
Substitutions and Tips and Tricks for Recipe Success
If you want a more brothy soup, cut the amount of noodles in half and add in 1/2 cup more of chicken stock. Be sure to season with an adequate amount of salt and pepper.
You don't have to use brown-rice noodles, feel free to swap out regular brown rice noodles, pad Thai noodles or long stranded pasta. Angel hair would mimic the thickness and texture of rice noodles perfectly.
If you want your soup a little bit on the spicier side, add another 2-3 teaspoons of red curry paste.
On the other end, if you want your soup and noodles on the sweeter side, add a little bit more brown sugar.
Swap out the veggies for your favorite variety.
If you want to add meat, cut the amount of mushrooms down by half and add in a half pound of sliced chicken or shrimp.
What should I serve with Vegetable Coconut Curry Soup?
You could start the meal off with these roasted shishito peppers. They're salty, slightly spicy and so addictive.
Even though this Everyday Kale Salad isn't Asian-inspired, it does go with EVERYTHING.
These Easy Dumplings are a favorite app of ours. They make a HUGE amount, and freeze wonderfully.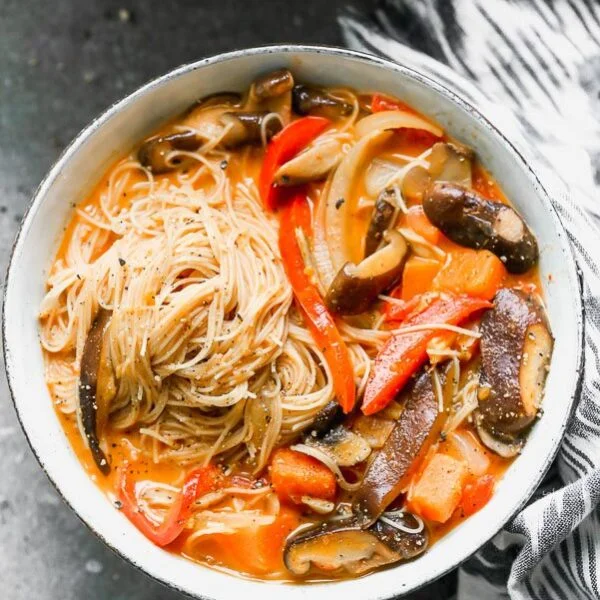 Vegetable Coconut Curry Soup with Rice Noodles 
Vegetable Coconut Curry Soup with Rice Noodles is sweet, slightly spicy, and a cinch to throw together. It's packed with tender mushrooms, red bell peppers, onion, and the most delicious coconut curry broth you'll want to drink. It's served with plenty of thin brown rice noodles to slurp! 
Ingredients
2

tsp

coconut oil

2

cups

diced sweet potato

1

medium

red bell pepper, sliced (about 1 cup)

1 1/4

tsp

kosher salt, divided

1/2

medium

onion, sliced

1

tbsp

minced ginger

3

large

garlic cloves

5

oz

shiitake mushrooms, sliced

8

oz

cremini mushrooms, sliced

2 1/2

tbsp

red curry paste

14

oz

light coconut milk

2 1/2

cups

low-sodium chicken stock

2

tbsp

creamy peanut butter

2

tbsp

packed brown sugar

4

oz

brown rice noodles
Instructions
Heat a large pot to a medium heat. Add coconut oil. Once the oil is hot, add sweet potatoes, peppers, onions, and 1/4 teaspoon salt. Saute the veggies until everything is slightly softened, about 5 minutes.

Add garlic, ginger, mushrooms and another 1/4 teaspoon salt. Toss with a wooden spoon. Continue to cook the veggies, while stirring occassionally until the mushrooms are softened, another 4-5 minutes.

Stir in red curry paste. Cook for 1-2 minutes. Stir in coocnut milk, chicken stock, peanut butter, brown sugar, and remaining 3/4 teaspoon salt. Bring to a boil and reduce to a simmer. Simmer until the sweet potatoes are completely cooked through, another 2-3 minutes.

Add the rice noodles to the veggies and broth. Use tons to seperate the noodles. Simmer the noodles until the are cooked through, about 4 minutes. Season to taste with salt and pepper.

To serve. Use tongs to evenly divide the noodles between all the bowls. (You sould get six smaller portions or four large.) Spoon the vegetables and broth around the noodles. Serve.
Nutrition Information
Serving:
1
serving
,
Calories:
271
kcal
(14%)
,
Carbohydrates:
39
g
(13%)
,
Protein:
7
g
(14%)
,
Fat:
10
g
(15%)
,
Saturated Fat:
7
g
(44%)
,
Sodium:
629
mg
(27%)
,
Potassium:
571
mg
(16%)
,
Fiber:
5
g
(21%)
,
Sugar:
10
g
(11%)
,
Vitamin A:
7895
IU
(158%)
,
Vitamin C:
28
mg
(34%)
,
Calcium:
43
mg
(4%)
,
Iron:
1
mg
(6%)