I, of course, admire ALL food bloggers, cooks and chefs, but I especially admire food bloggers like Ashley from Baker by Nature, Sally from Sally's Baking Addiction and Stephanie from Girl Versus Dough among many other master bakers for their unwavering passion and creativity for baked goods and sweets – something I severely lack. While I do occasionally enjoy candy and desserts, I gravitate more towards the savory side of food – in my cravings and in my recipe developing. I'm not saying I hate to bake, because I don't at all, I just find more solace in chopping onions and cranking out slow-cooked Italian sauces than finding the perfect balance between buttermilk and baking soda. I don't know if it's the fact that I just don't have the patience to smile through four failed cake attempts or if I'm just too lazy to actually measure every single ingredient…
BUT every once in a while I get the bug. The dessert/baked/candy bug – and it comes on strong. I'll go weeks without even thinking about dessert, and then all of sudden it's like I have to have that brownie, and that cookie, and oooo, is that bread pudding???
Much like some of the collegiate fans in Kansas City, I guess you could describe me as a fair-weathered baker – sometimes I love it, and will gladly spend the time to let a yeast dough rise for soft-pillowy rolls or figure out the perfect balance between dry to wet ingredients in a three-tier cake.
After I had a month long hiatas from heavy duty baking, my friend Karen from The Food Charlatan posted these Nutella Stuffed Brown Butter Blondies, and I was back on the bandwagon again. I mean, if you haven't clicked on that link yet, DO IT; those are some of the most insanely delicious looking blondies I've ever seen in my life.
Needless to say, I was totally inspired to get back in the kitchen and back to baking. Thanks Karen!
Of course, as an ode to Karen, I wanted to go with a blondie, and I have no idea why, but those cookies and cream candy bars popped into my head – are they even around anymore?? They were the one candy bar I went completely gaga over as a kid, so I thought I'd take on the challenge and try to make a blondie taste just like it.
The candy "bar" if you will is a white chocolate blondie base slightly adapted from this recipe – upping the salt content, and skipping the double boiler to melt the butter and the chocolate were the only significant changes I made. The batter is simple; butter, white chocolate, eggs, sugar, vanilla, flour and a little bit of salt; it's poured into a square baking sheet and dotted with double stuffed oreos, baked and drizzled with white chocolate once it's cooled.
The texture in this is a little more cake-like than I'm used, but it didn't bother me in the slightest, they were so good, and totally achieved my goal – to make them taste just like the candy bars I used to love so much.
Now, the only question is, what should I bake next????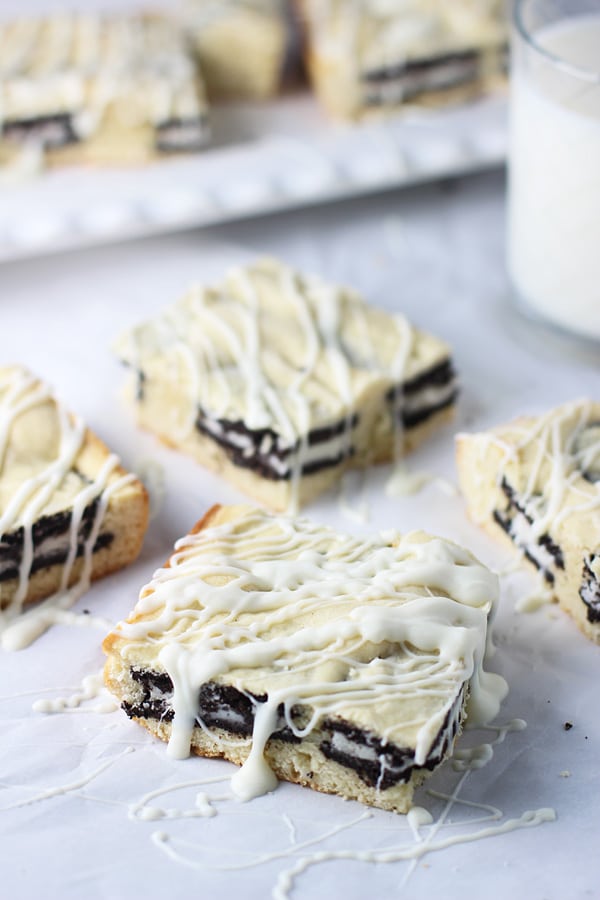 Cookies and Cream White Chocolate Blondies
Author:
Nicole ~ Cooking for Keeps
Ingredients
12 ounces white chocolate, divided
1 stick unsalted butter
2 eggs
⅓ cup sugar
1 teaspoon vanilla
1 ¼ cup flour
1 teaspoon salt
16 double stuffed oreos
½ teaspoon coconut oil or canola oil
Instructions
Preheat oven to 350 degrees. Line an 8x8 baking pan with parchment paper. Spray with non-stick cooking spray.
In a microwave safe bowl, add butter and 8 ounces white chocolate. Microwave in 15 second intervals, stirring in between each, until completely melted. Set aside.
Add eggs to the bottom of a stand mixer. Beat on high until frothy, about two minutes. Add in sugar and vanilla, mix until combined.
Turn the mixer on a medium speed and drizzle in melted butter and white chocolate. Mix until combined.
Turn mixer on low and slowly add in flour. Add in salt halfway through adding flour. Mix just until combined.
Pour into dish. Place cookies four across, four down on bather. Push cookies into batter. Smooth bather over cookies.
Bake 20 minutes. Cool for five minutes before cutting.
While blondies are cooking, combine remaining white chocolate chips and coconut oil in a microwave safe bowl. Microwave in 15 seconds intervals, stirring in between each until completely melted.
Cute blondies into squares, remove from pan. Drizzle with white chocolate.
*Blondie base adapted from
All Recipes