In the realm of easy, delicious meals, this Creamy Lemon & Mushroom Chicken reigns supreme. It requires very few ingredients (only seven!), takes under 30 minutes to throw together and packs some pretty serious flavor.
In fact, it's quickly become my new favorite way to prepare chicken, which says a lot since I'm in the you-can-never-have-too-many-chicken-recipes camp. Meaning: I cook A LOT of chicken.
Evidenced here, here and here. (If you want ALL of my chicken recipe, check out this archive.)
Why? Well, it's cheap for one. Two, its versatility is infinitely appealing. Three, it's quick cooking, so I can get dinner on the table in under 30 minutes with just about any recipe.
To start, all I did was season the chicken breasts liberally on both sides with salt and pepper. And when I say liberally, I mean it. I think one of the biggest mistakes people make when it comes to cooking is under seasoning. Chicken while great, is ridiculously bland if its not seasoned well, so a generous coating of salt and pepper is mandatory. Don't be shy! For every pound of chicken you have, you want to use about one teaspoon of salt. I go much more conservatively with the pepper, just a dusting will do.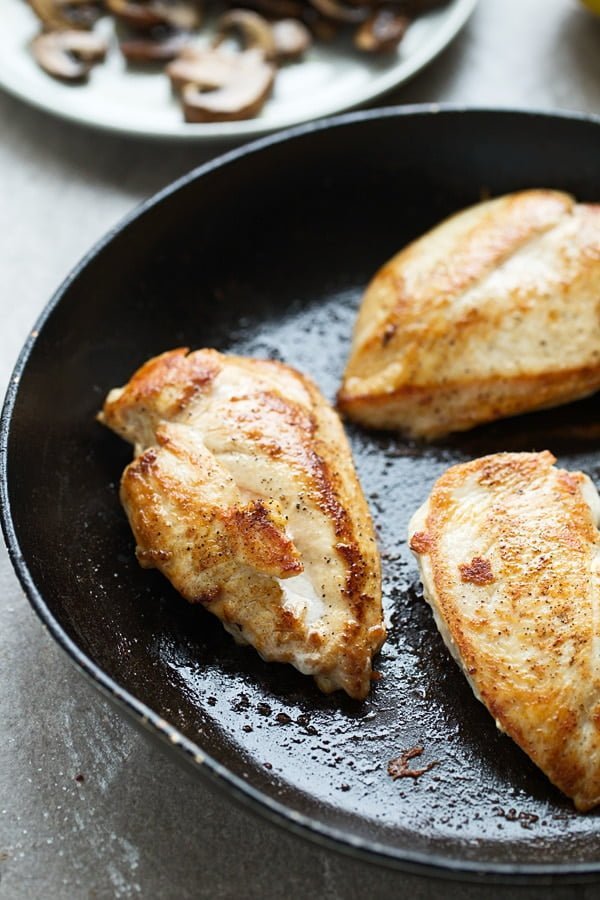 After the chicken is seasoned, it gets seared in a little bit of butter until both sides are crusty and golden brown. The cooking of each chicken breast is really important for a successful outcome in this recipe. Here are a couple of tips (and these can work for any seared chicken recipes):
1. Make sure your chicken is dry before seasoning.
2. Make sure your pan is HOT before adding any fat or the chicken
3. Once the pan is completely heated to a medium-high heat, add the butter. Once the butter melts add the chicken.
4. Don't move the chicken breasts around too much! To get that crusty exterior, you want to set the chicken down and not flip it until it releases on its own.
Once the chicken breasts are seared, you remove them from the pan, and then all of those brown bits left at the bottom of the pan become the base flavor of the sauce. This is why it's important to sear the chicken properly, because with only a few ingredients in the sauce, the recipe really relies on the brown bits left from the chicken to add another layer of flavor in the finished product.
But! I got so caught up on explaining the importance of cooking the chicken properly, I totally forgot to mention the mushrooms. So before, you sear the chicken breasts, you want to cook the mushrooms in the same pan. A touch of butter is all you need, and because salt hinders mushrooms from browning, you want to hold off on it until all the mushrooms are cooked and brown.
So after the mushrooms are browned and after the chicken is seared, next, while the pan is still hot, it's hit with a ½ cup of good-quality (I get mine at a legit liquor store, not the grocery store) dry sherry, and while the sherry reduces, all of the brown bits of flavor are scraped up with a wooden spoon.
From there, you're pretty much done. Lemon juice, cream and spinach are stirred in until the spinach starts to wilt and then the chicken and mushrooms are added back in and everything is simmered until the chicken finished cooking and the sauce is thickened. A final seasoning check happens and it's ready to go.
Creamy Lemon and Mushroom Chicken
This Creamy Lemon & Mushroom Chicken takes 30 minutes to prepare and with just a few ingredients is SO flavorful!
Ingredients
4

chicken breasts (about 3/4 pound total)

1 1/2

tbsp

unsalted butter, divided

8

oz

cremini mushrooms, sliced

1/4

tsp

salt

1/2

cup

dry sherry

1/4

cup

lemon juice

1/2

cup

heavy cream

2 1/2

cups

baby spinach
Instructions
Season chicken on both sides with kosher salt and black pepper.

Heat a large non-stick skillet to a medium-high heat. Add butter. Once butter is melted, add sliced mushrooms, toss in butter, then leave alone until mushrooms are browned. Stir and brown on the other side. Add 1/4 teaspoon salt, stir. Remove from pan.

Turn the heat down to medium and add remaining butter to the same pan. Once the butter melts, add chicken. Cook chicken until brown on both sides, about 4-5 minutes per side. Remove chicken to a plate and cover with foil.

Add sherry to the pan and simmer until reduce by half. Add lemon, cream and spinach to the pan. Stir until the spinach starts to wilt, then add chicken and cooked mushrooms back into the pan. Simmer for 3-4 minutes until sauce has thickened, spinach has wilted and chicken is cooked all the way through. Season to taste with salt and pepper.
Nutrition Information
Serving:
1
chicken breast plus sauce
,
Calories:
443
kcal
(22%)
,
Carbohydrates:
6
g
(2%)
,
Protein:
51
g
(102%)
,
Fat:
21
g
(32%)
,
Saturated Fat:
11
g
(69%)
,
Cholesterol:
197
mg
(66%)
,
Sodium:
439
mg
(19%)
,
Potassium:
1254
mg
(36%)
,
Fiber:
1
g
(4%)
,
Sugar:
2
g
(2%)
,
Vitamin A:
2396
IU
(48%)
,
Vitamin C:
14
mg
(17%)
,
Calcium:
62
mg
(6%)
,
Iron:
2
mg
(11%)