These Crispy Baked Potato Chips with Garlic are coated in olive oil, baked and then covered in garlic, thyme and lots of parmesan for the perfect lightened-up snack! Easy and delicious.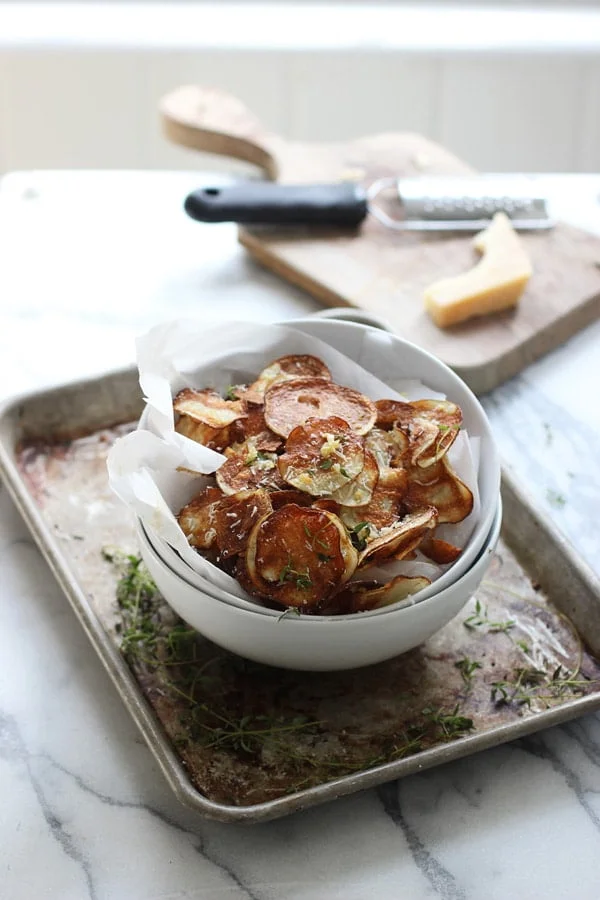 I'll do anything to elongate a fancy dinner experience. Peruse the menu for 20 minutes. Methodically wait to order my entrée until every last morsel of an appetizer has disappeared. Linger at the table with an after-dinner drink.
I'm sure all of my waiters loathe me.
But perhaps my favorite way to extend the meal experience is to book a late reservation, arrive at the restaurant about 30-45 minutes early to snag a seat at the bar and sip on a craft cocktail and snack of some sort until our table is ready. Much to my delight, in the last couple of years, I've noticed the rising trend of restaurants coming up with affordable and creative "snack" menus for people just like myself. Instead of setting out boring bowls of salty peanuts or pretzels, some of these new snack menus include fun foods like thai roasted nuts, fancy deviled eggs and (my fav!) tiny little arancini.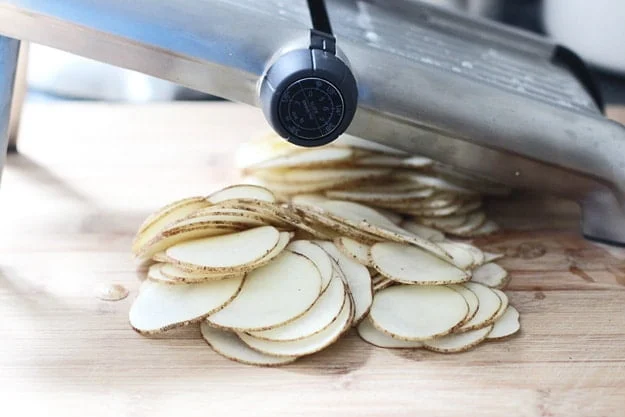 A few years back, at a bachelorette party in Miami, while some of the ladies were recovering from a rather long night of drinking, the rest of us decided to venture off to a super fancy dinner at Scott Conant's restaurant Scarpetta. What was a seriously life-changing meal (the truffled polenta is a MUST), started with a little pre-dinner cocktail and snack attack in the lounge area of the restaurant. We ordered a bunch of items off the "snack" menu, but the one that has stuck out in my mind ever since, was a simple bowl of homemade potato chips, sprinkled with a combination of fried rosemary and parmesan cheese.
What initially appeared to be just a boring and humble bowl of the most common snack on the face of the planet, ended up being one of the most surprisingly addictive and flavorful bites of the whole night. If I wasn't sharing with five other girls, I would have inhaled the whole bowl in about 2.5 seconds myself with no problem whatsoever.
It's weird because chips have never been at the top of my snacking list. I can bypass the chip isle at the grocery without batting an eyelash. When there's an open bag of chips (which there often is) at work, I have no problem saying no. I'll even occasionally reach for a crudités instead of a chip when it comes to dipping. Thankfully, it's just never been my thing. BUT! Give me a fancy chip, and I'll cave in a heartbeat.
These baked potato chips literally take me back to that meal at Scarpetta. And while I can totally see myself sipping a dirty martini in their fancy bar area while popping these in my mouth, one after the other, I can also just as easily see myself at home, in front of the TV, drinking a beer and snacking on theme while watching football. They're fancy enough for the fanciest of restaurants, but let's be honest, they're still just an unassuming potato chip, so there's no need for red lipstick and high heels when reaching for one.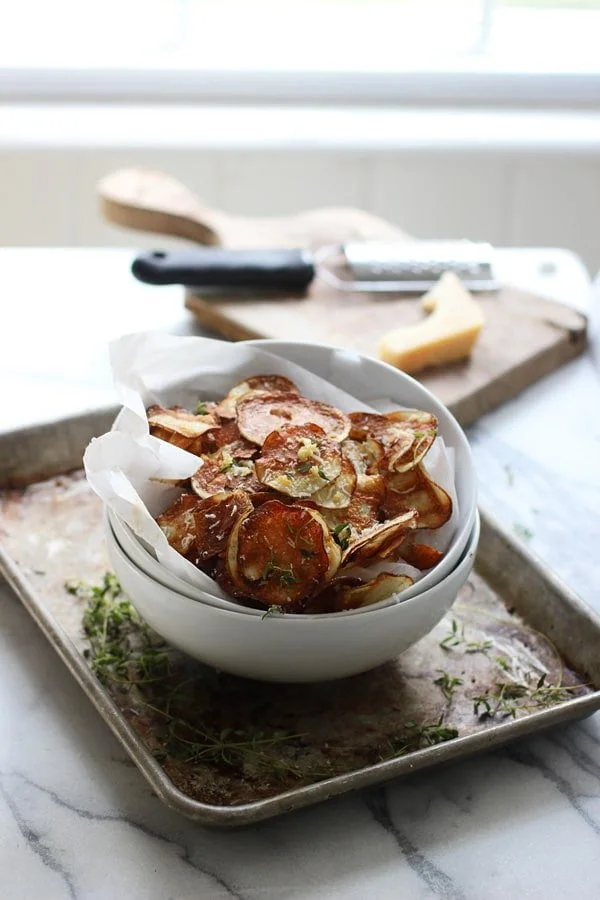 Now, of course, the key to all potato chips is the crunch, so I tried out two different cooking methods in order to achieve that perfect crunchy exterior, and here's what I found out:
1. Soak the cut potatoes in water to get rid of any excess starch
2. Thoroughly dry the potatoes after soaking – a dry potato will yield a crispy chip!
3. Evenly spread potatoes out on a cookie cooling rack set on top of a baking sheet. This will allow the air to fully circulate the chips, making sure crispiness is 360 degrees around.
I found that some chips crisp up faster than others, so you really have to keep an eye on them, especially if you cut them paper thin as I did. Each time I saw a few chips getting brown, I'd take them out and put the pan back in while the others crisped up.
Of course at this point, you can eat them as is, but I was trying to replicate the chips at Scarpetta, so while the chips were doing their thing in the oven, I softened five or six minced garlic cloves in a little bit of olive oil, then threw in a handful of thyme and sprinkled the mixture over the chips after they were done cooling off. A last touch was a dusting of grated parmesan cheese.
Now, it's your choice – will you be eating these before a fancy dinner sipping on a dirty martini, or on a Sunday afternoon in your sweats with a beer in hand??
Crispy Baked Potato Chips with Garlic
Crispy baked potato chips with garlic are coated in olive oil, baked and then covered in garlic, thyme and lots of parmesan for the perfect lightened-up snack!
Ingredients
2

large

russet potatoes

1

tbsp

canola oil

1

tbsp + 1 tsp

olive oil

1/4

tsp

kosher salt

5

large

garlic cloves, minced

4

thyme springs, leaves removed

1/4

cup

grated parmesan
Instructions
On a mandolin, slice potatoes very thinly (about 1/16 inch thick). Soak sliced potatoes in water for 1-2 hours. Drain, and pat dry with paper towels. 

Preheat oven to 400 degrees. 

Toss potatoes with canola oil and 1 tablespoons of olive oil. Sprinle salt over, toss to combine. 

Line two baking sheets with a cookie cooling rack. Place the potatoes in an even layer on the rack. 

Bake in oven until golden brown and crisp, turning pan every five minutes. Because some will brown faster than others, keep a close on them and remove chips as they brown. Be sure to not let them get too brown, some white is fine, once they cool, they will crisp up. The whole process should take 15-25 minutes. Once the potato chips come out of the oven, sprinkle with salt. Let cool. 

While the potatoes are in the oven, heat the remaining olive oil in a small skillet or saucepan over a low heat. Add garlic, and sweat until garlic is cooked and softened, about 3 minutes. Be careful to not brown the garlic. At the last second at thyme in. 

Sprinkle the garlic, thyme and parmesan over chips. Serve.
Nutrition Information
Serving:
1
serving
,
Calories:
242
kcal
(12%)
,
Carbohydrates:
35
g
(12%)
,
Protein:
7
g
(14%)
,
Fat:
9
g
(14%)
,
Saturated Fat:
2
g
(13%)
,
Cholesterol:
6
mg
(2%)
,
Sodium:
251
mg
(11%)
,
Potassium:
784
mg
(22%)
,
Fiber:
2
g
(8%)
,
Sugar:
1
g
(1%)
,
Vitamin A:
54
IU
(1%)
,
Vitamin C:
12
mg
(15%)
,
Calcium:
100
mg
(10%)
,
Iron:
2
mg
(11%)