Crab cakes are one of my all-time favorite foods – along with mac and cheese… and fettuccine alfredo… and bagels… and enchiladas…and bacon….and…about a million other things.
I've had a major thing for them since I tried the most perfect crab cake when I was eight or nine at this adorable little restaurant in an adorable little town on the outskirts of Kansas City. I still vividly remember being astounded by how much I loved the taste of the sweet, briny crab – I loved it so much in fact, that I made my whole family make the 40 minute trek out to the very same restaurant for my next three birthdays.
Crab cakes were even one of the very first dishes I made for my first "grown up" dinner party…at age ten…
No, I did not throw my very first dinner party at 10. I'd always help my Mom make the food for her dinner parties when I was a kid, and that particular year I decided to take on mini crab cakes all by myself – about 50 of them to be exact. I took my job very seriously, so when the oil was too hot at one point and the crab cakes started to get a little more black than the "golden" crispy exterior I was going for, I immediately became flustered and declared my crab cakes a failure, even though everyone assured me otherwise – my mom still swears to this day they were nothing short of fabulous. It's funny how my neurotic food related tendencies have lingered over the years — even then I was a crazy perfectionist when it came to cooking.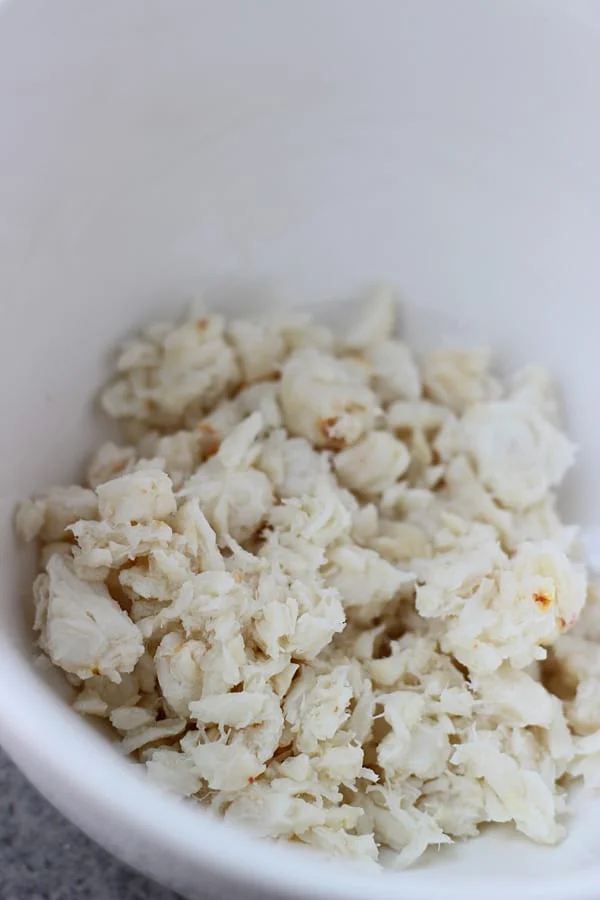 The thing about crab cakes is they're finicky and a little hard to perfect. You wouldn't think they would be, after all, it's just an unassuming cake, but you'd be surprised how many times I've had a so-so crab cake. Over the years, there are a couple critical lessons and tricks I've learned that will yield crab cake perfection:
1. You must only use lump crab meat. Leg meat, claw meat, back fin meat will not suffice. ONLY lump. If it doesn't say lump on the package, don't buy it. You'll thank me later. Or wish you listened to me when you open up a can of "white" crab meat that looks about as appealing as a can of tuna.
2. You must use as little breading as possible, otherwise the crab will not shine through – hands down, my biggest pet peeve is when a crab cake comes out and it's pretty much all bread and no crab.
3. You must mix all the other ingredients, and then very very gently fold in the crab –I prefer my crab to stay in lump form.
4. When the cakes are formed, you must also very gently form them, making sure to not break up the meat, again we want the meat to stay as in tact as possible
I like to keep my crab cakes relatively uncomplicated, and instead of stuffing them with a million ingredients, they're simply made of just a little mayo, Dijon, breadcrumbs, green onion and egg. The way I really dress them up is with the sauce or garnish, and in this case I went with a pomegranate salsa similar to this one. I first saw it on a Cooking Light food calendar my mother-in-law gives me each year (LOVE those!), that just looked so pretty and festive, and I knew it'd be a perfect accoutrement to my simple crab cakes.
We had these as our meal the other night, but you could also make them mini and serve them at your holiday party. Word to the wise, make them up beforehand and keep them warm in the oven. You don't want to be like my ten-year-old self and be frantically cooking up crab cakes made to order…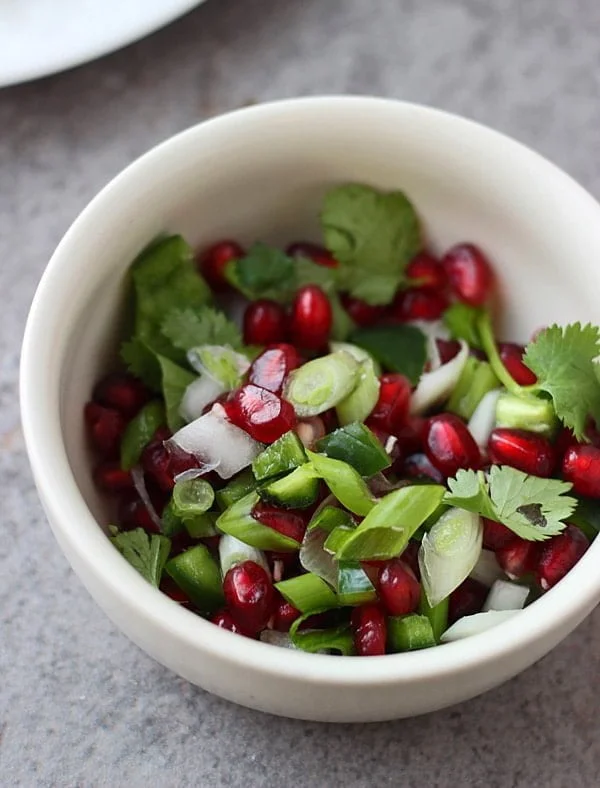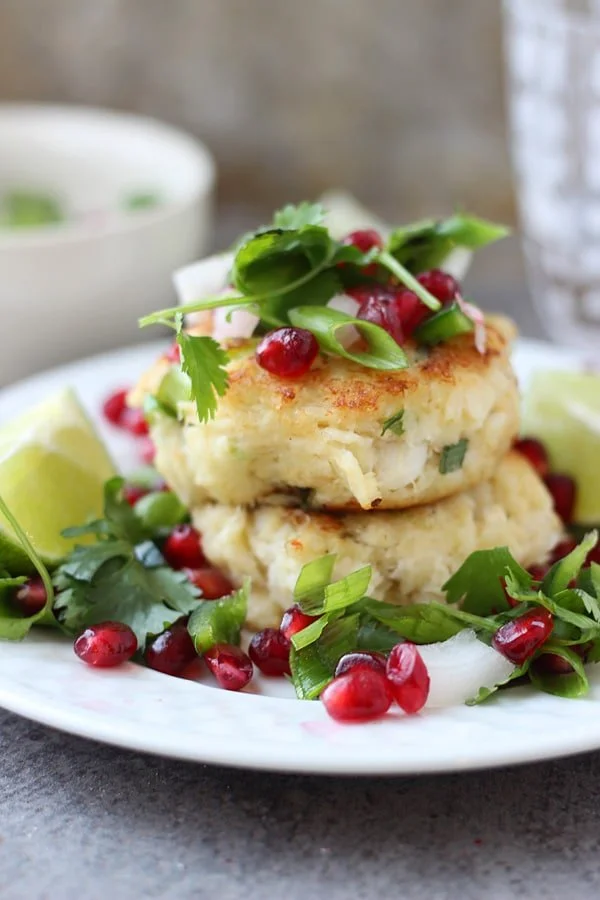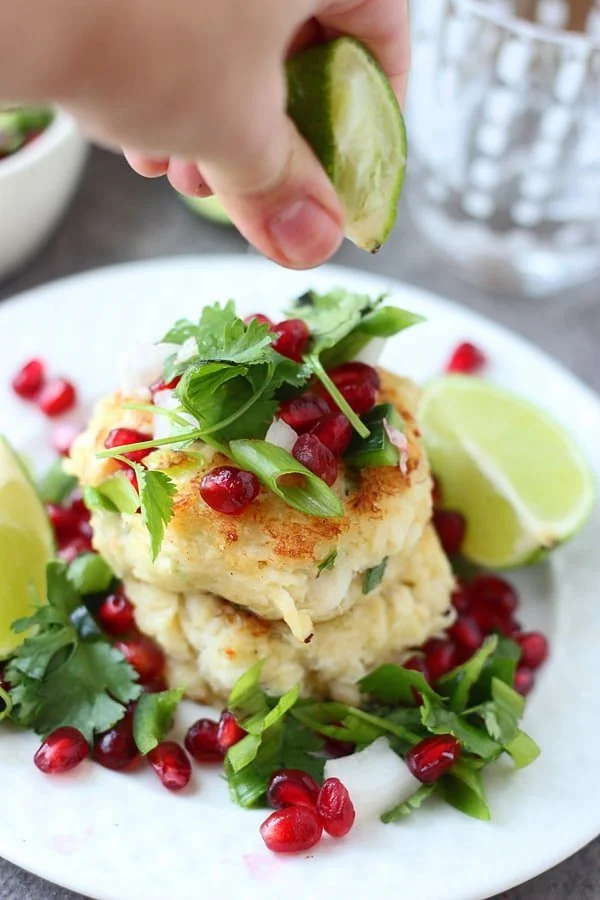 Crispy Crab Cakes with Pomegranate Salsa
Author:
Nicole ~ Cooking for Keeps
Ingredients
. 12 ounces lump crab meat
¼ cup light mayo
1 ½ teaspoons Dijon mustard
¼ teaspoon salt
Juice of ½ lime + 1 teaspoon
7 tablespoons breadcrumbs
3 green onions, sliced thinly and divided
1 egg
½ teaspoon to 1 teaspoon sirracha depending on taste
1 cup pomegranate arils or 1 pomegranate, arils removed
¼ cup cilantro, roughly chopped
¼ cup diced yellow onion
1 serrano pepper, minced
Salt and Pepper to taste
1 teaspoon olive oil + more for frying
Instructions
In a medium bowl, stir together, mayo, mustard, salt 1 teaspoon lime juice, two green onions, breadcrumbs, egg and sirracha. Season to taste with salt, pepper, sirracha and lime juice. Gently fold in crab with a spatula.
Gently form into four cakes. Chill for 15 minutes if you have time.
While the cakes are chilling, stir together, remaining green onion, lime juice, cilantro, yellow onion and one teaspoon olive oil. Season to taste with salt and pepper.
Heat a large non-stick skillet over a medium high heat. Add enough olive to barely cover the bottom the pan, about two tablespoons. Pan-fry cakes, until golden brown on each side, about 2-3 minutes per side.
Serve with pomegranate salsa and fresh lime