These Crispy Greek Smashed Potatoes are easy to make, so delicious and the perfect small bite to serve at a party. The crispy potatoes are topped with a lemon, garlic Greek yogurt, chopped kalamata olives and diced tomato for the perfect Mediterranean twist on a classic side dish.
Potatoes aren't typically my jam. When it comes to mashed, of course I'll eat them on holidays where they're practically a requisite, like Thanksgiving and Christmas, or when I'm eating at our favorite fried chicken joint (although I mostly just eat the gravy if we're being honest), other that, they don't make a regular appearance in my meals.
With that said, there are a few instances where I obligingly inhale the starchy veggie. First, if they're in any type of fritter form, this includes a classic latke, a mashed potato cake or any type of croquette. Second, in a French fry – no explanation required there. Third, basically in any crispy type of preparation, which includes, but is not limited to, roasted potatoes, hash browns, home fries and crispy smashed potatoes.
He loves them for their crispy, golden brown edges, and soft, buttery inside, and I love them for their versatility and practically hands-off preparation.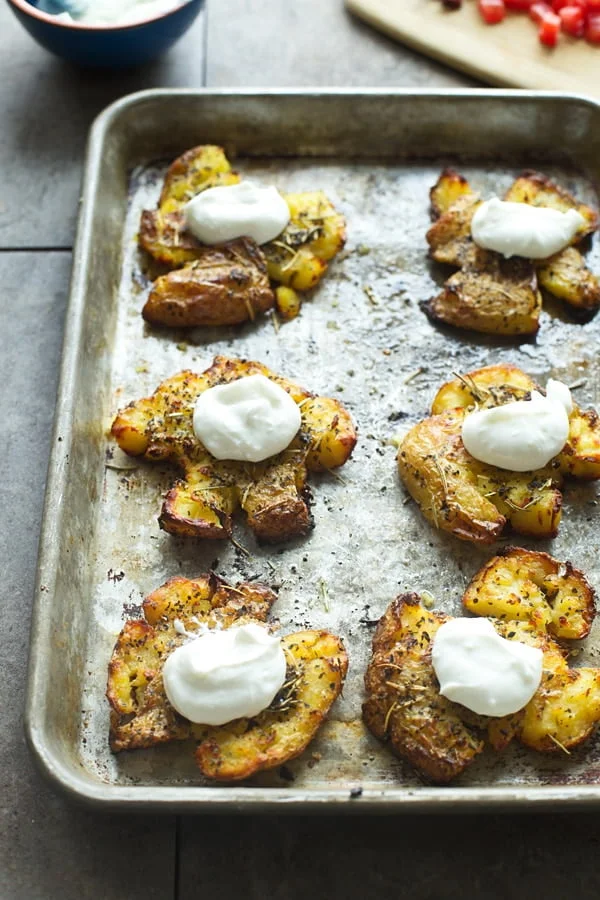 I wish I could take credit for the initial idea and methodology, but I actually saw it years ago on a Food Network show called Five Ingredient Fix with Claire Robinson. She made a version with parmesan cheese I fell in love with, and have since altered in to a handful of other versions I've equally adored. My latest adaption of it, Crispy Greek Smashed Potatoes, may be the most creative yet, and has consequently lit the fire in my recipe-developing brain for a few other versions I'll likely be sharing here.
The process is easy, and I promise, yields crispy potatoes that rival any restaurant. First, you add the whole potatoes (I use small Yukon Golds) to a rimmed baking sheet, fill it with a quarter inch of water, cover it and basically steam them in a screaming hot oven. Once they're fork-tender, they're tossed in olive oil, dried rosemary, garlic powder, salt and oregano, gently smashed with a potato masher, drizzled with even more olive oil and popped back into the oven, uncovered and on the top rack.
Once they start to crisp up, they go from the top rack to the bottom rack to finish up, and then they're ready to be covered in toppings.
Before we get the toppings, I want to note, that these are phenomenal as is, and don't require anything additional whatsoever, especially if you're serving them as a side. I thought it would be fun to treat these as sort of a finger food or appetizer, so in this case, the toppings transform a simple side in to a appetizer worthy of a fancy cocktail party
Here, I dressed them sort of like a Greek salad with a garlicky lemon yogurt, plenty of chopped kalamata olives, diced tomatoes and flat-leaf parsley. Crumbled feta cheese and chopped roasted red peppers would also be great additions, and further solidifies my thoughts that these are about as versatile as you can get.
Stay tuned for a few other dinner-party worthy ways to serve these up in the future!

Crispy Greek Smashed Potatoes
Author:
Nicole ~ Cooking for Keeps
Ingredients
8 medium (round) yukon gold potatoes
4 Tbsp. olive oil
1 tsp. dried rosemary
1 tsp. dried oregano
¾ tsp. kosher salt, divided
1 tsp. garlic powder
¼ cup plain Greek yogurt
2 Tbsp. lemon juice
1 garlic clove, grated
⅛ tsp black pepper '
⅛ cup chopped kalamata olives
¼ cup diced tomato
1 Tbsp. chopped parsley
Instructions
Preheat oven to 450 degrees F.
Place potatoes in a rimmed baking sheet, add ¼-inch of water to the pan. Cover tightly with foil and bake in the oven for 30 minutes. Remove foil and drain water and potatoes. Dry baking sheet. Let potatoes cool slightly. Move the racks in the oven to the uppermost part of the oven and also the lowest part of the oven.
Mix rosemary, oregano, ½ tsp. salt, and garlic powder together in a small dish.
Toss potatoes in 1 tablespoon of olive oil along with half of the spice mixture. Grease the same baking sheet with non-stick cooking spray. Add potatoes to the pan and evenly spread them out. Use a potato masher to gently flatten the potatoes to about ¼-inch thickness. Sprinkle remaining spice mixture evenly over the tops of the potatoes. Evenly drizzle the remaining olive oil over the tops of the potatoes.
Place the potatoes back in the oven on the top rack of the oven. Roast for 20 minutes. Transfer to the bottom rack of the oven and roast another 20 minutes or until the potatoes are golden brown and very crispy.
While the potatoes cook, whisk Greek yogurt, lemon juice, grated garlic and pepper with remaining salt. Season to taste with salt and pepper.
Top potatoes with a dollop of greek yogurt, chopped olives, tomatoes and parsley. Serve immediately.
Recipe adapted from
Claire Robinson of Food Network