After you peruse through Pinterest and finally hone in on what's for dinner, we find ourselves left with another burning question – What are we going to serve it with? The answer: Crispy Parmesan Roasted Potatoes and Mushrooms, always. We roast buttery yukon gold potatoes and woodsy shiitake mushrooms until they're irresistibly crispy and golden, then toss them with nutty parmesan cheese and fresh thyme. Simple, but so delicious.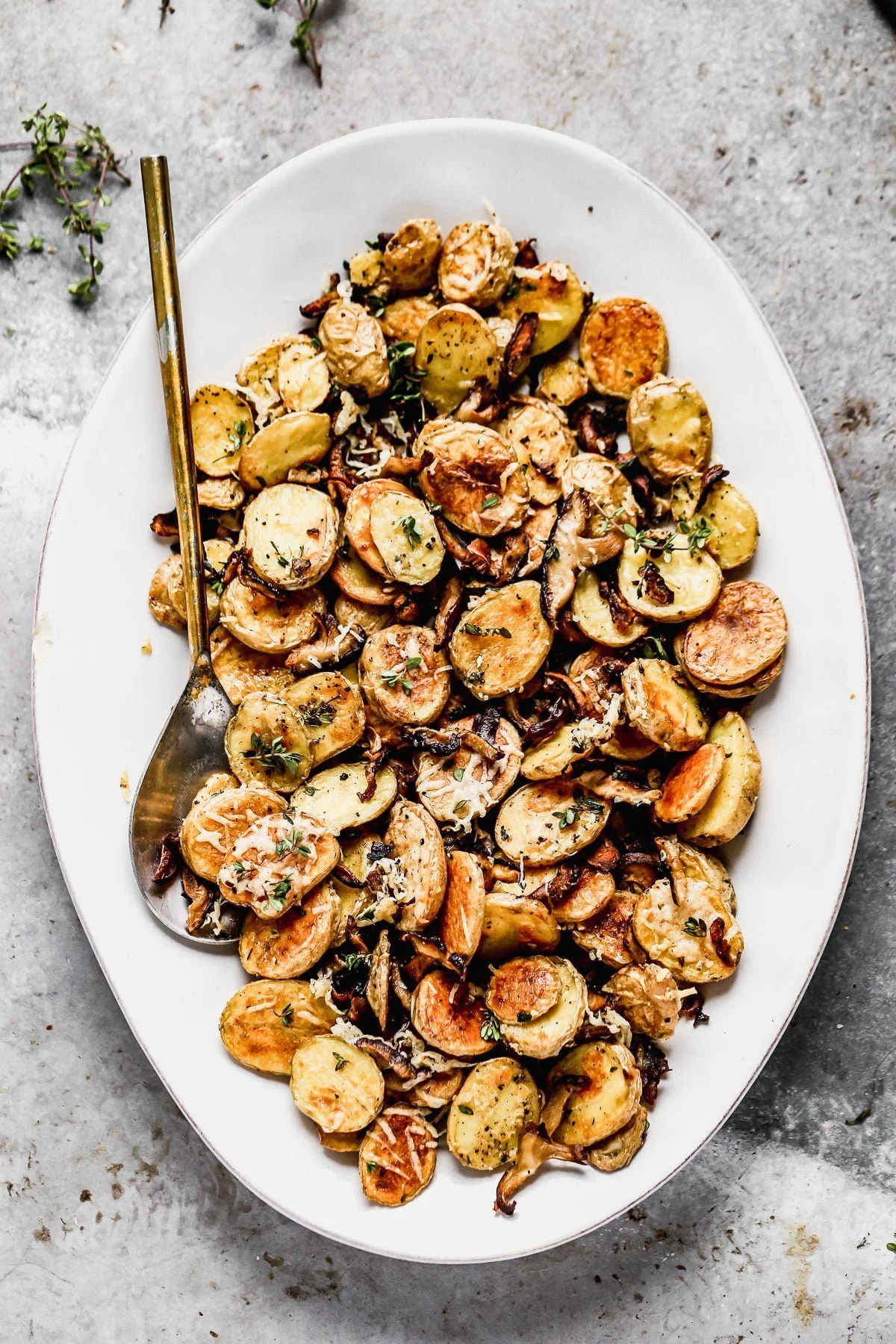 Crispy Parmesan Roasted Potatoes and Mushrooms
The only thing better than ultra crispy roasted potatoes are ultra crispy roasted potatoes paired with ultra crispy roasted mushrooms. Top those crispy jewels with nutty parmesan cheese and hints of fresh thyme, and my version of the ultimate side dish is complete.
The pairing of roasted potatoes and mushrooms has always seemed like a natural combination to me. They both have that rustic, from-the-ground vibe about them, they both crisp up to perfection, and they both shine in their versatility when it comes to additional ingredients.
Even though the base of this recipe, crispy roasted potatoes, is nothing novel or out-of-the-box, pairing them with mushrooms, hints of lemony thyme, and nutty parmesan gives them a fresher, next-level look.
Perfect served alongside roast chicken, our chicken saltimbocca, or juicy pork chops.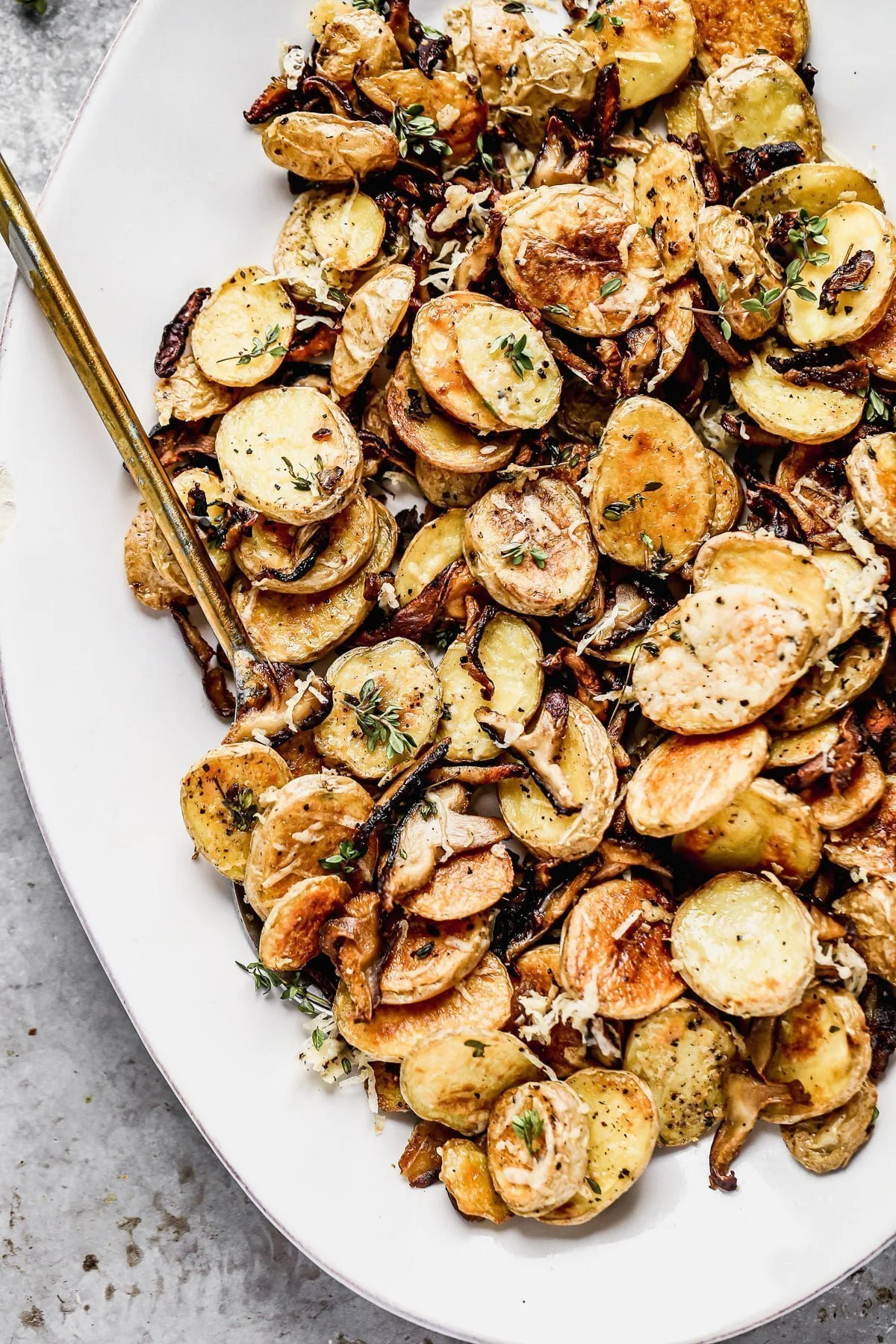 Ingredients
Potatoes. We like to use tiny baby blonde potatoes which are basically just a smaller version of Yukon gold potatoes. They're buttery and crisp up nicely, plus I love how cute and petite they are. If you can't find them at your local grocery store, just use regular Yukon golds.
I cut them into 1/4-inch slices, which I find to be the perfect width for a crispy exterior to soft interior ratio.
Mushrooms. Not all mushrooms are created equal. While I love portobellos for their meaty, hearty texture and buttons mushrooms for their more delicate flavor, these varieties don't crisp up very well.
Shiitake mushrooms while still hearty, are thinner, and tend to crisp up when roasted at a high temperature. We slice them a similar size to the potatoes so they blend together well.
Olive oil. I prefer to use olive oil here both for the high smoke point and the flavor. You don't need to use extra virgin, but if that's all you have, it will work fine.
Salt and Pepper. Honestly the key to perfectly crispy potatoes and mushrooms is in the salt. You do not want to skimp on salt or you risk very bland potatoes and mushrooms, especially with our minimal ingredient list.
We use 3/4 teaspoon for the potatoes and 1/2 teaspoon for the mushrooms.
Parmesan. Freshly grated parmigiano reggiano is what we used, and it's what you should use too. It's irresistibly nutty and I love the way it clings to the roasted potatoes and mushrooms.
Thyme. I'm kind of obsessed with fresh thyme, especially when paired with mushrooms (these mushroom melts are one of my favorite recipes of all time). It's woodsy, similar to mushrooms, but has a lovely lemon essence that matches up well not only with the mushrooms, but with the potatoes as well.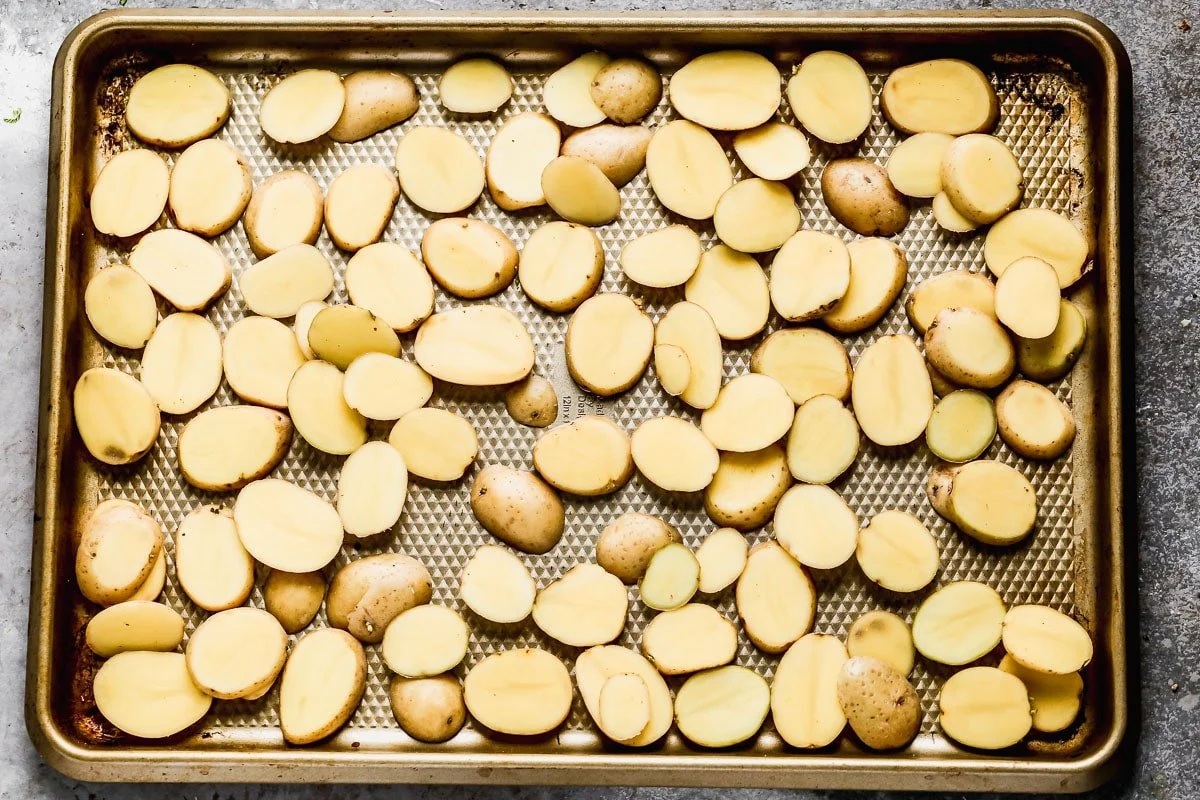 Let's make Roasted Potatoes and Mushrooms!
Start by adding the potatoes to a large baking sheet. Drizzle with olive oil and sprinkle with salt. Use your hands to coat every surface of the potatoes.
Spread the potatoes out on a large rimmed baking sheet, making sure they aren't too crowded.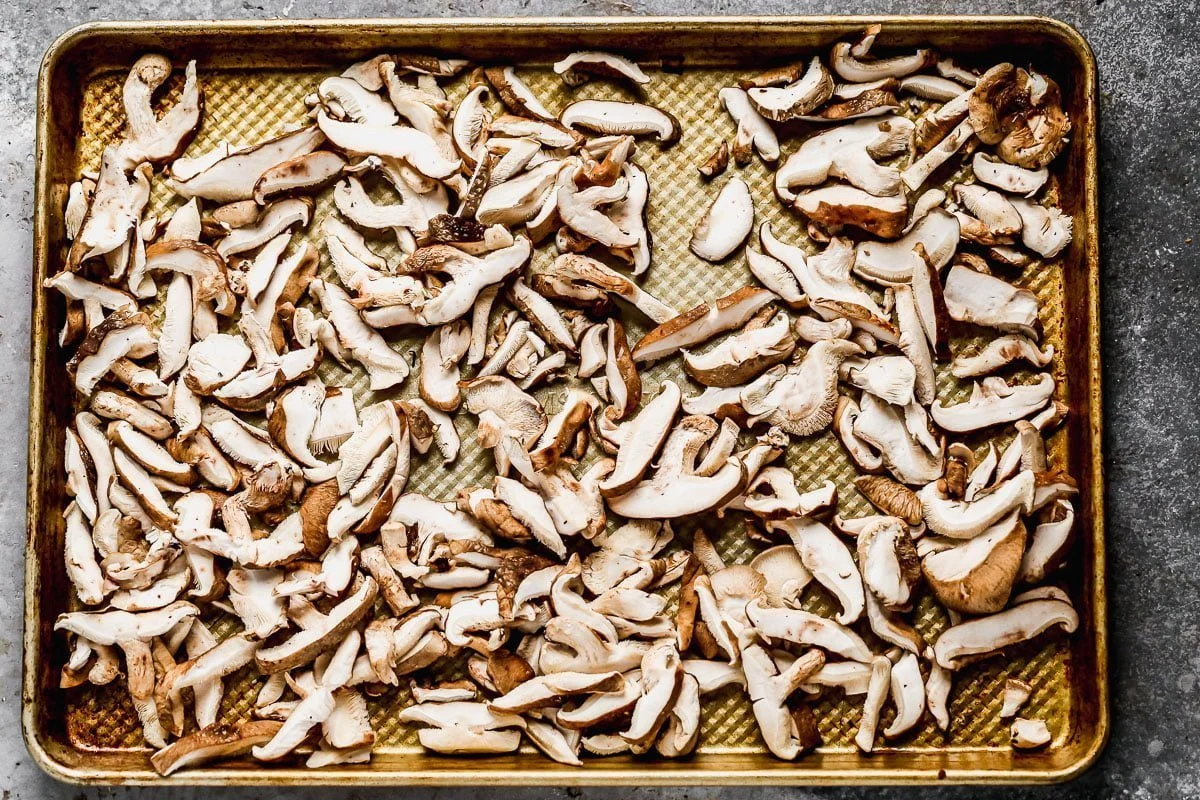 Add the mushrooms to another large rimmed baking sheet. Sprinkle with salt and then drizzle with olive oil. Use your hands to coat the mushrooms.
You'll need to work quickly as mushrooms soak up moisture the second they feel it, which means your oil will disappear if you don't toss them quickly.
Pop both the potatoes and mushrooms into a super hot 425 degree oven. Roast the mushrooms for 15 minutes. Pull them out and sprinkle with thyme and parmesan. Toss and then place back in the oven another 5-10 minutes until crispy and brown.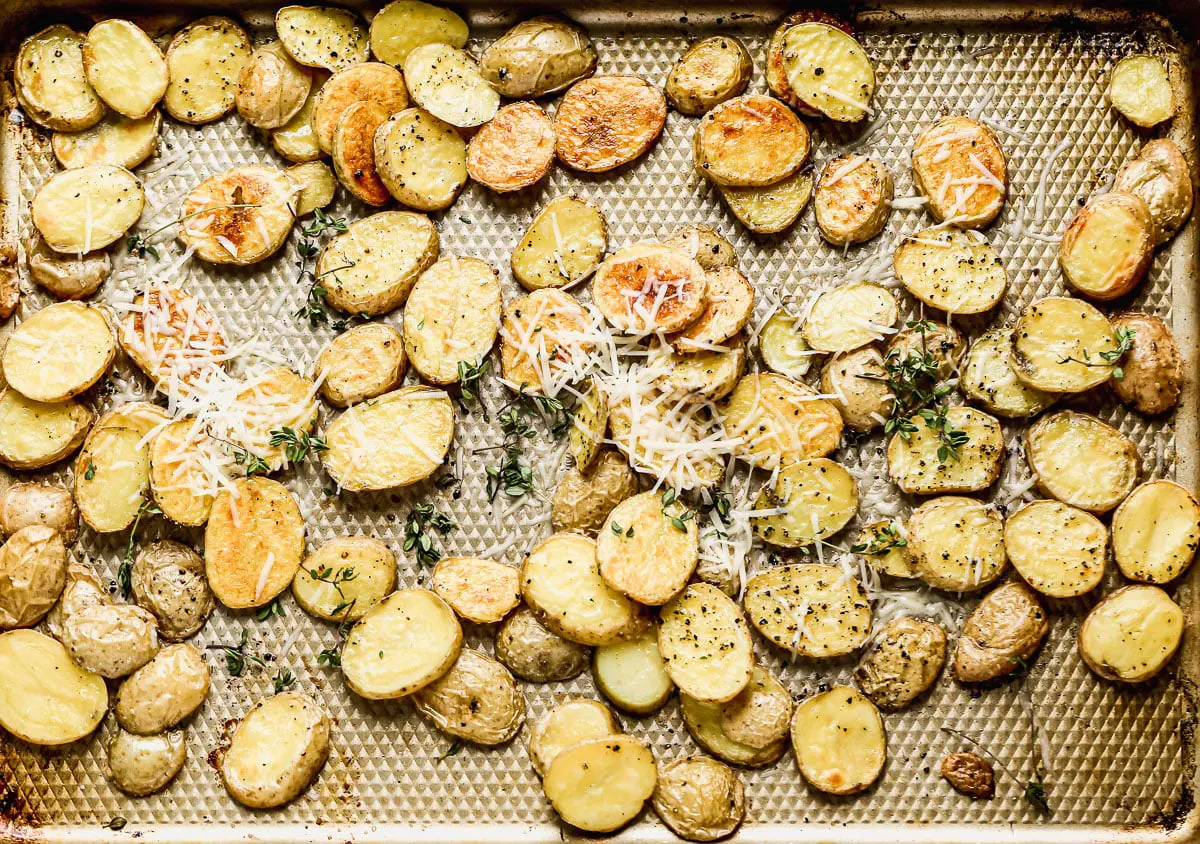 After 20 minutes of cooking, pull the potatoes out. Give them a toss and then sprinkle with parmesan cheese and thyme. I like to flip each one over to ensure golden brown crispiness on each and every potato, but you don't have to be that meticulous.
Put them back in the oven and cook another 15 minutes or until the potatoes are crispy and golden.
Once the mushrooms and the potatoes are both crispy and brown, add them all to the same sheet pan and toss together. Add extra parmesan cheese and fresh thyme.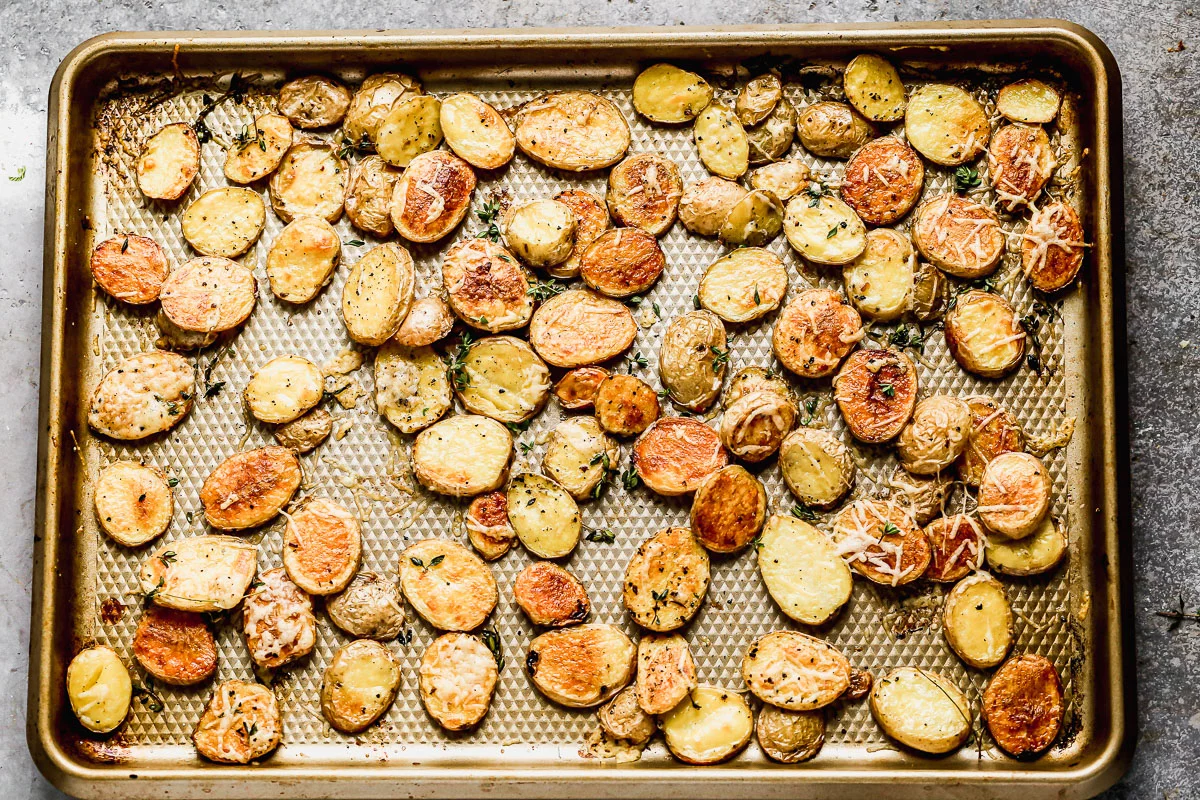 Why cook the potatoes and mushrooms separately?
Because we need ample room for the potatoes and the mushrooms to roast and not steam, it's really important to use two separate sheet pans. Plus, mushrooms and potatoes cook at different speeds, so it would only be a hassle to keep them on the same sheet pan.
Why don't you add the cheese and thyme at the beginning?
To achieve perfect roasted potatoes and mushrooms, you need the oven to be at a very high temperature. If you add the thyme and the cheese at the beginning they will both burn before the potatoes and mushrooms finish cooking.
Adding them halfway though cooking ensures the cheese melts and crisps up around the same time the veggies finish cooking.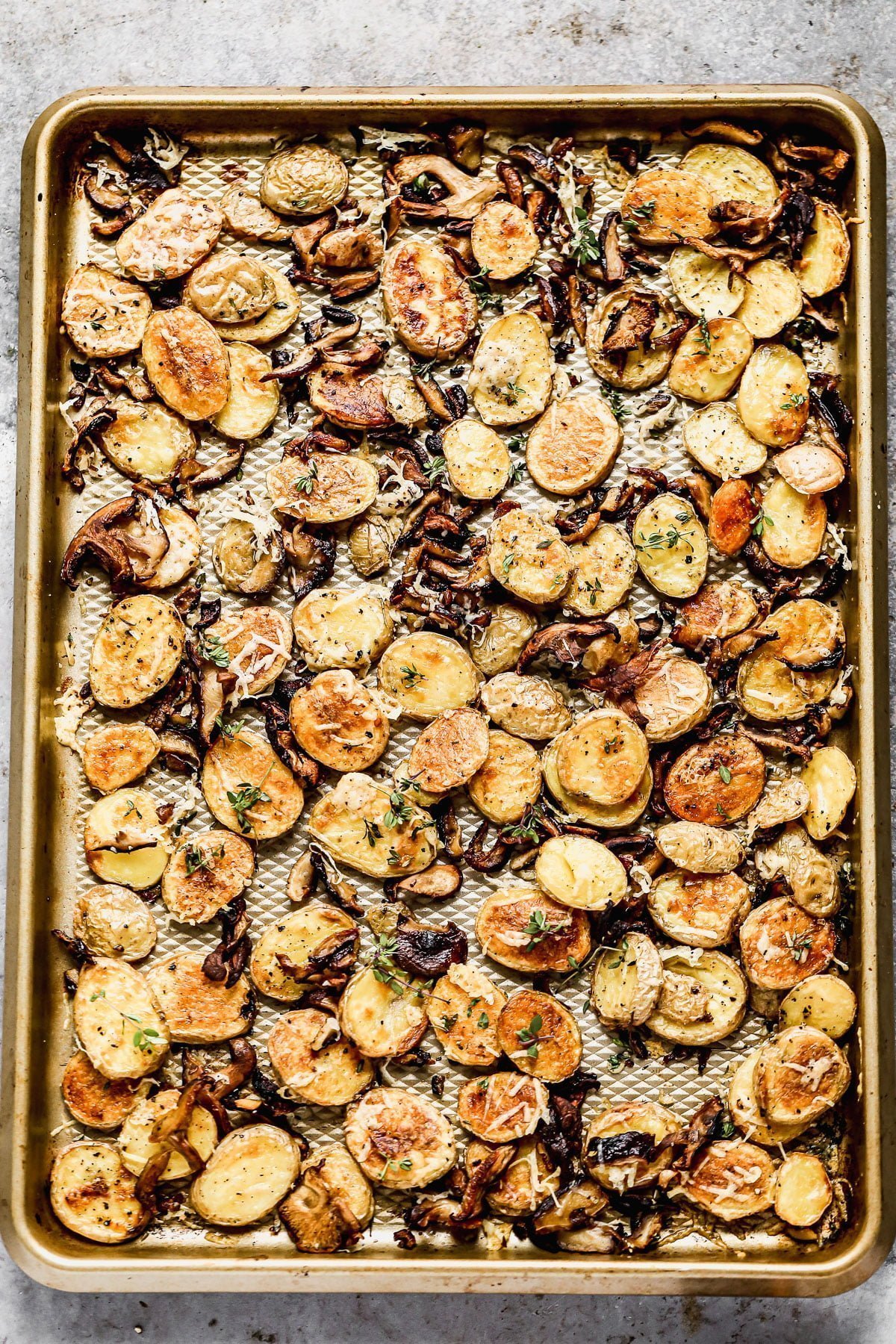 Substitutions and Tips and Tricks for Recipe Success
-As tempting as it is, don't check on the potatoes or mushrooms while they are cooking. You need the oven temperature to stay up and if you open the door too much, it could slow the process down.
-Feel free to swap out parmesan for pecorino or asiago cheese.
-Don't be afraid of salt! 3/4 teaspoon and 1/2 teaspoon salt for the potatoes and mushrooms may seem aggressive, but it's what you need to adequately season them.
– A drizzle of truffle oil would really take these roasted potatoes and mushrooms over the edge!
More of our favorite potato side dishes!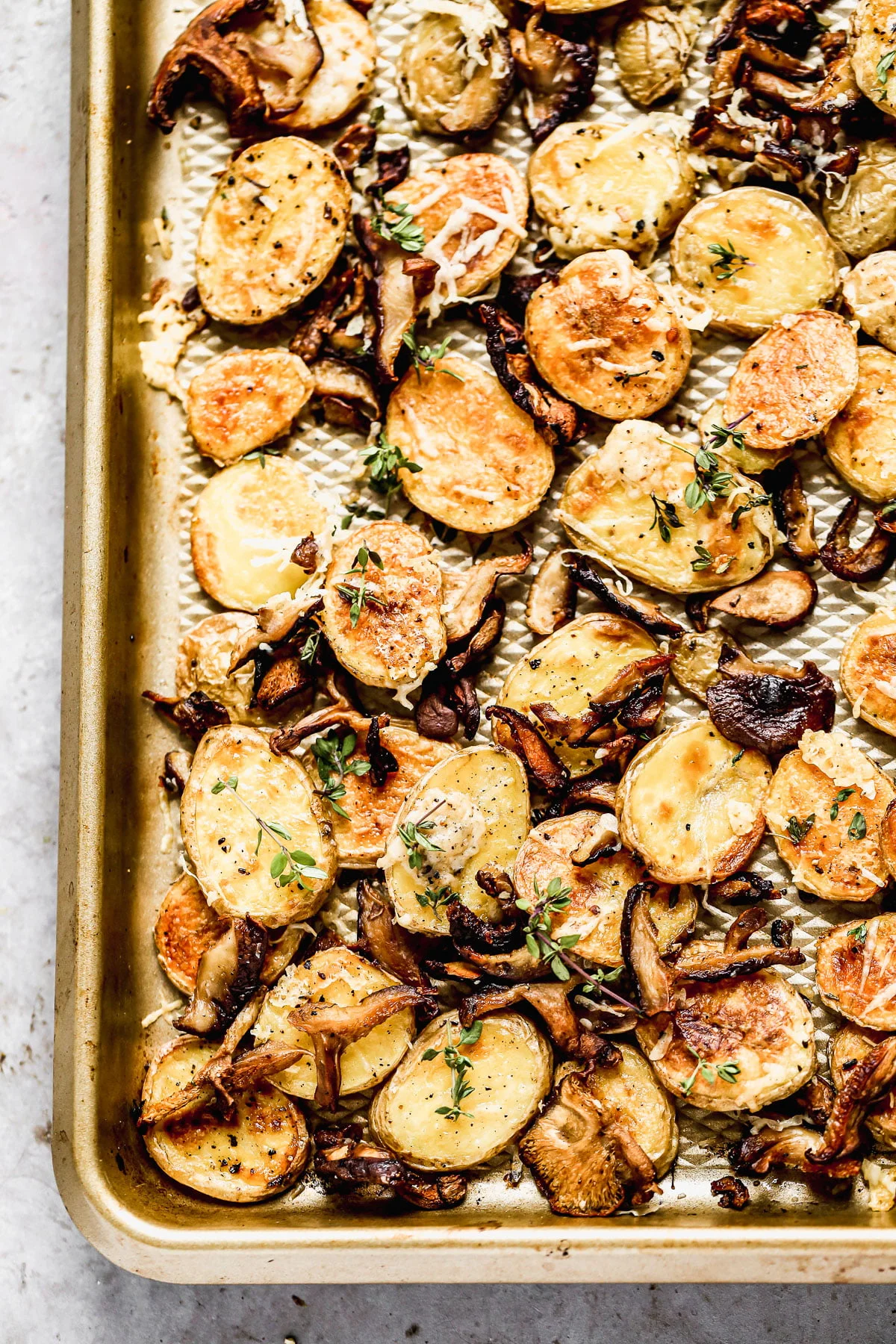 Crispy Roasted Potatoes and Mushrooms
Ingredients
1 3/4

lbs

honey gold or yukon gold potatoes cut in 1/4-inch slices

10

oz

sliced shiitake mushrooms

1/4

cup +2 tbsp

olive oil

1 1/4

tsp

kosher salt, divided

1/2

tsp

black pepper

8

sprigs

thyme, plus more for garnish

1/3

cup + 3 tbsp

shredded parmigiano reggiano

lemon juice (optional)
Instructions
Preheat oven to 425 degrees.

Add potatoes to a large rimmed baking sheet. Drizzle with three tablespoons olive oil and sprinkle with half teaspoon salt and black pepper. Use hands to evenly coat the potatoes with oil, salt, and pepper. Spread evenly on the baking sheet. Pop in the oven and set the timer for 20 minutes.

After you put the potatoes in the oven, add mushrooms to another large rimmed baking sheet. Drizzle with remaining 3 tablespoons olive oil, sprinkle with 1/2 teaspoon salt. Use hands to evenly coat the mushrooms with the oil and salt. Spread evenly on the baking sheet and place 4 thyme sprigs on top. Place in the oven with the potatoes.

When the 20 minutes are up, pull both the rack with the potatoes out. Take the mushrooms out of the oven completely, they should be golden brown and crispy at this point. If they aren't, put them back in for 2-3 minutes. Use a spatula to toss the potatoes Sprinkle the potatoes with 4 sprigs of thyme and 1/3 cup of parmesan cheese. Toss one more time. Place back in the oven and roast until cheese is melted and potatoes are golden brown and crisp, another 10-15 minutes.

Sprinkle the hot mushrooms with 3 tablespoons parmesan. Toss one time, set aside until potatoes are done.

When the potatoes are done, add the mushrooms to the same pan as the potatoes and toss everything together. Remove the thyme stems.

Garnish with fresh thyme leaves. If desired, squeeze a little lemon juice on top.
Nutrition Information
Serving:
1
serving
,
Calories:
247
kcal
(12%)
,
Carbohydrates:
20
g
(7%)
,
Protein:
8
g
(16%)
,
Fat:
15
g
(23%)
,
Saturated Fat:
4
g
(25%)
,
Cholesterol:
10
mg
(3%)
,
Sodium:
619
mg
(27%)
,
Potassium:
541
mg
(15%)
,
Fiber:
3
g
(13%)
,
Sugar:
2
g
(2%)
,
Vitamin A:
123
IU
(2%)
,
Vitamin C:
20
mg
(24%)
,
Calcium:
196
mg
(20%)
,
Iron:
1
mg
(6%)