Crispy Lemon Chicken with Brown Butter Greens and White Beans is the perfect, healthy-ish meal for busy weeknights. It's versatile (switch out the kale for swiss chard, the white beans for chickpeas, etc.), easy to throw together, and something the whole family will love.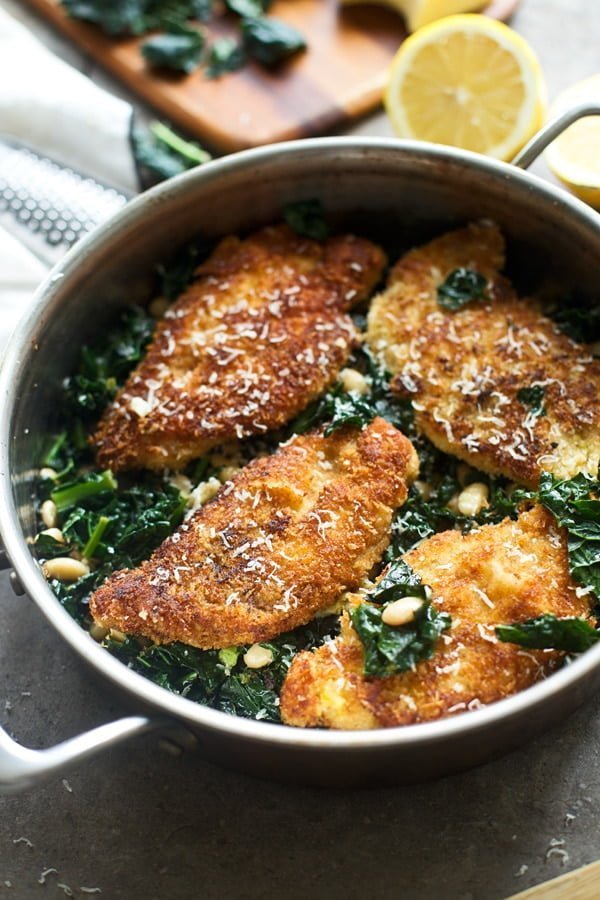 It came, it went.
The weekend that is.
Weekends are all too fleeting for our family these days, as January marks the month that I venture into parenthood and life in general, mostly solo. Kevin works in public accounting, so he's a slave to spreadsheets, client meetings, and all things tax, Monday through Saturday, 12, sometimes 13 hours a day. The beginning days always seem insurmountably daunting, but come April 18th, I always look back and think it went relatively quickly, as time tends to – Kevin, on the other hand, doesn't usually share my same sentiment, go figure.
On Tuesdays and Thursdays, his firm provides dinner for the entire office, which more often than not consists of cold pizza or lackluster turkey sandwiches, so on the days he is home for dinner, I make sure to have a warm meal for us that doesn't resemble either of the aforementioned whatsoever.
A lot of times, I'll throw caution – and my diet – to the wind and whip up one of his favorite pastas, but after a whirlwind month of travel, which consequently left me sick and rundown, I'm trying to regularly put together healthy-ish meals (the focus of Bon Appetit's January cover) the whole family will love – this Crispy Lemon Chicken is one of them.
Crispy chicken is a staple in our house for many reasons. First, it's easy, obviously. Season the chicken, dredge in flour, dip in egg, cover in breadcrumbs, fry or bake, serve with roasted veggies, and you've got yourself a complete meal.
Second, it's incredibly versatile. In the fall, you can add parmesan cheese, cover it in red sauce, mozzarella and call it chicken parmesan.
Top it with an easy arugula salad dressed with lemon, olive oil, and parmesan cheese for a light and airy spring meal.
Slide it between two pieces of mayo-slathered ciabatta, some lettuce, tomato and bacon, and you've got yourself a fancy BLT.
Or, you could do as I have today and add a little shredded asiago cheese and lemon zest to the breading and then serve it over a bed of brown butter greens and white beans.
Healthy-ish at its finest.
Happy Monday all.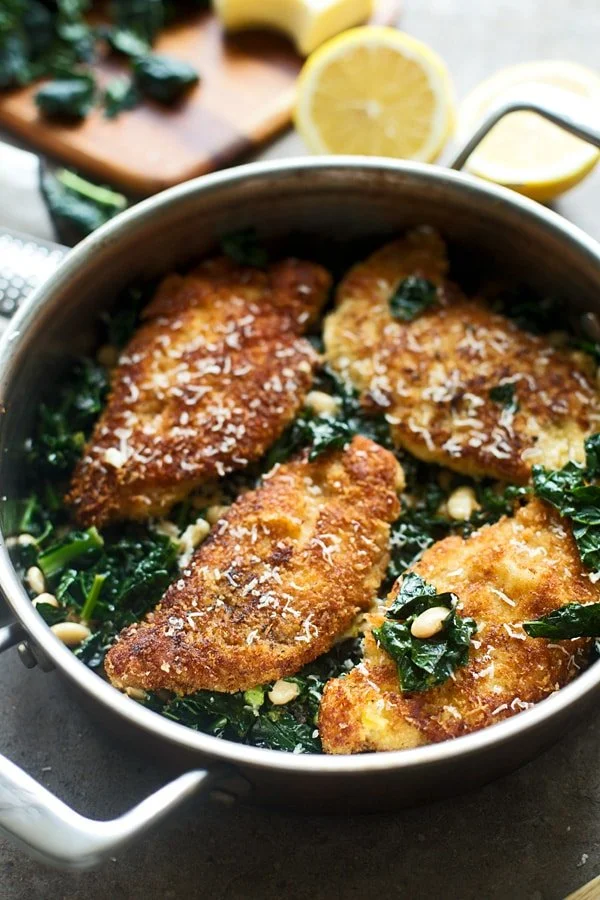 Crispy Lemon Chicken with Brown Butter Greens and White Beans
Author:
Nicole ~ Cooking for Keeps
Ingredients
1 lb chicken, 4 thin cutlets
¼ cup flour
¼ cup panko breadcrumbs
¼ plain breadcrumbs
¼ cup grated asiago cheese
½ tsp. garlic powder
½ tsp. salt
Zest of 1 lemon (about 1 tsp.)
1 egg + 2 Tlbs water
3 + Tlbs. + 2 tsp. unsalted butter, divided
2 Tlbs. olive oil
4 cups roughly chopped kale (massaged)
1 (14 oz) can white beans, rinsed and drained
1 large garlic clove, minced
¼ tsp. salt
½ cup white wine
1 Tlbs. lemon juice
Instructions
Preheat the oven to 325 degrees. Season chicken on both sides with salt and pepper.
Add flour to a medium plate. Add panko, plain breadcrumbs, and cheese to another medium plate. Add ¼ tsp. of garlic powder and salt to each plate. Use a fork or whisk to combine. Add eggs and water to a shallow bowl. Whisk to combine.
Dredge chicken in flour. Pat off excess. Dip in egg, let excess drip off. Dredge in panko mixture. Repeat with remaining chicken. Line up on a baking sheet.
Heat a large non-stick skillet to a medium heat. Add 2 tablespoons butter and 1 tablespoon olive oil. Once the butter has melted, add chicken breasts to pan. Cook until golden brown on both sides, about 3 minutes per side.
Once cooked, transfer to a baking sheet lined with a cookie cooling rack and place in the oven while you cook the greens and beans.
Raise the heat to medium-high. Add 1 tablespoon butter to pan. Once the butter begins to brown swirl the pan. Keep swirling the pan until the butter is golden brown and smells nutty. Reduce the heat to medium, and add kale, beans and garlic. Sauté until greens have started to wilt, about 3-4 minutes. Add salt. Stir to combine. Add white wine and lemon juice. Reduce heat to a simmer. Simmer until the wine and lemon juice have reduced by half. Turn the heat to low and add remaining butter. Season to taste with salt and pepper.
Serve chicken on top of greens. Spoon sauce on top.