There's this tree in the front of our house I have a love/hate relationship with. During the summer, it's scraggly branches and full set of leaves block a large chunk of one of our cute cape cod dormers, and at the end of every summer, I debate tearing it down completely. During the winter, the leafless twigs look sort of sad and droopy, and again, I wonder if we would even miss it. But then, right around mid-March, tiny pink flowers sprout from every bare branch, and I remember why I decide to keep it year after year. It's the first tree on our entire street to bloom, and for me, it's a sign that spring is officially upon us.
A week or so ago, those pretty pink flowers made an appearance, and I've been sort of giddy ever since.
The first blooms of the season start a sort of ripple effect of excitement, because next comes the warm weather, and after that, fresh spring produce. While I love my fair share of comfort-driven winter foods like chicken pot pie, spaghetti and meatballs, and hearty soups, they get a little old come spring. Once March hits I want all the fresh green produce I can get my hands on.
Today is my ode to the start of spring. Clean and simple – the way spring meals should be.
Asparagus, artichokes, carrots, and Brussels sprouts are all roasted in stages based on their cooking times. First the artichokes, then the carrots, followed by the asparagus and brussels sprouts. Once they come out of the oven they're all nestled on top of creamy, buttery polenta. (Because what else would we nestle them on??) There's crispy skin-on chicken thighs in there too, an optional, but not mandatory ingredient.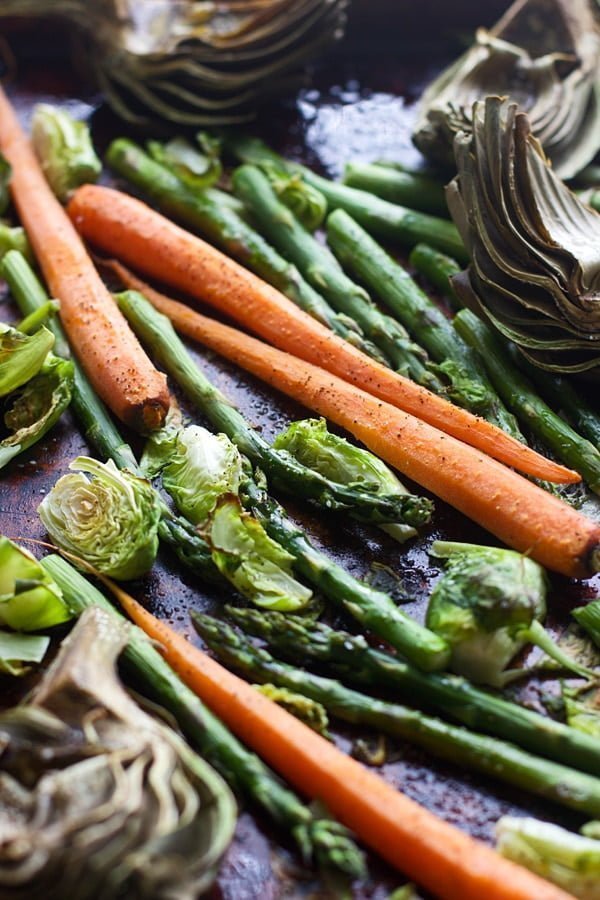 Of course, the veggies, polenta, and crispy chicken are just fine on their own, but a drizzle of lemon-infused brown butter over the surface makes this inaugural spring dish extra special.
Now please bring the warm weather to stay…
Roast Spring Veggies and Chicken with Creamy Polenta and Lemon Brown Butter
Spring veggies are simply roasted and served with a crispy chicken thigh, creamy polenta, and a nutty lemon brown butter.
Ingredients
1 artichoke, trimmed and quartered
8 asparagus spears, halved
6 brussels sprouts, halved if small, quartered if large
3 carrots, peeled and cut into large pieces
3 teaspoons canola oil
4 skin-on chicken thighs
3 tablespoons unsalted butter
1 teaspoon lemon juice, plus more for garnish
Polenta
3 cups water
1½ cups whole milk
1 teaspoons salt
1 cup yellow cornmeal
2 tablespoons butter
Instructions
Preheat oven to 400 degrees. Rub artichokes with lemon to keep from browning.
In a bowl, toss veggies with canola oil. Sprinkle liberally with salt and pepper.
Place artichokes and on a large rimmed baking sheet. Roast for 7 minutes. Add carrots, roast another 3 minutes. Add remaining veggies. Roast until veggies are slightly soft, but still have a bite, about 15 minutes.
While veggies roast, heat a large skillet over a medium heat. Sprinkle chicken with salt and pepper. Add chicken thighs, skin-side down to pan. Cook until skin is crisp, about 5 minutes, flip and continue to cook until meat is cooked through, about 3-4 minutes. Set aside.
Heat a small skillet to a medium-high heat. Add butter. Let butter melt, and once it begins to brown, swirl pan until it becomes a deep brown and smells nutty. Pour into a small bowl or ramekin. Season with salt and add lemon juice.
Add water, one cup of milk and salt to a medium saucepan. Bring to a boil and reduce to a simmer. Slowly whisk in cornmeal, making sure there are no lumps. Cook the polenta for 7-8 minutes on a low heat, stirring frequently until the mixture is thick. Remove from heat and stir in remaining milk and 2 tablespoons butter. Season with salt and pepper.
Spoon polenta into serving dish. Top with a chicken thigh and some veggies. Drizzle with butter. Squeeze extra lemon juice if necessary.