Thank you to the National Pork Board for sponsoring the post for today's Pork Tenderloin Tacos. We flavor lean pork tenderloin in an easy soy sauce and lime marinade, crisp it up in a cast-iron skillet and then nestle it into charred corn tortillas with an easy corn salsa and zippy lime crema. Healthy, easy and so satisfying.
Crispy Pork Tenderloin Tacos with Corn Salsa
I'm going to go out on a limb here and say this: BEST tacos ever.
Crispy, tender pork glistening with caramelization, sweet and spicy corn salsa with just the right amount of a citrusy punch, and a smoky crema all nestled into perfectly charred tortillas are the makings of our best ever Pork Tenderloin Tacos.
And not only are they the best tacos I've ever made, they're also the healthiest. With lean pork tenderloin as the base, a protein-packed greek yogurt crema, and fresh salsa on top, every layer packs in a dose of wholesomeness and deliciousness.
We're always making a concerted effort to create more mindful, well-balanced meals, but that especially rings true this time of year as we're coming out of hibernation. Planning healthy meals at the beginning of the week using fresh in-season whole ingredients is so important, and the only way I'm able to make sure our whole family eats well every night.
So even though these pork tenderloin tacos can easily be made on a busy weeknight from start to finish, almost every component can be prepped in advance, ensuring more time to eat and enjoy with loved ones. Further down in the post we've listed how you can do just that, so be sure to check it out.
First, we marinate lean pork tenderloin in sweet and salty mixture made with soy sauce, lime juice, and honey. Which seems simple, and it is, but believe me, it packs a serious burst of flavor. From there, we cook the pork in a screaming hot cast iron skillet until it's crispy and caramelized and oh-so addictive. Finally, we nestle it into charred corn tortillas filled to the brim with spicy corn salsa and a zippy chipotle and lime crema.
With each drippy bite, you'll vow to make these your taco night go-to from here to eternity.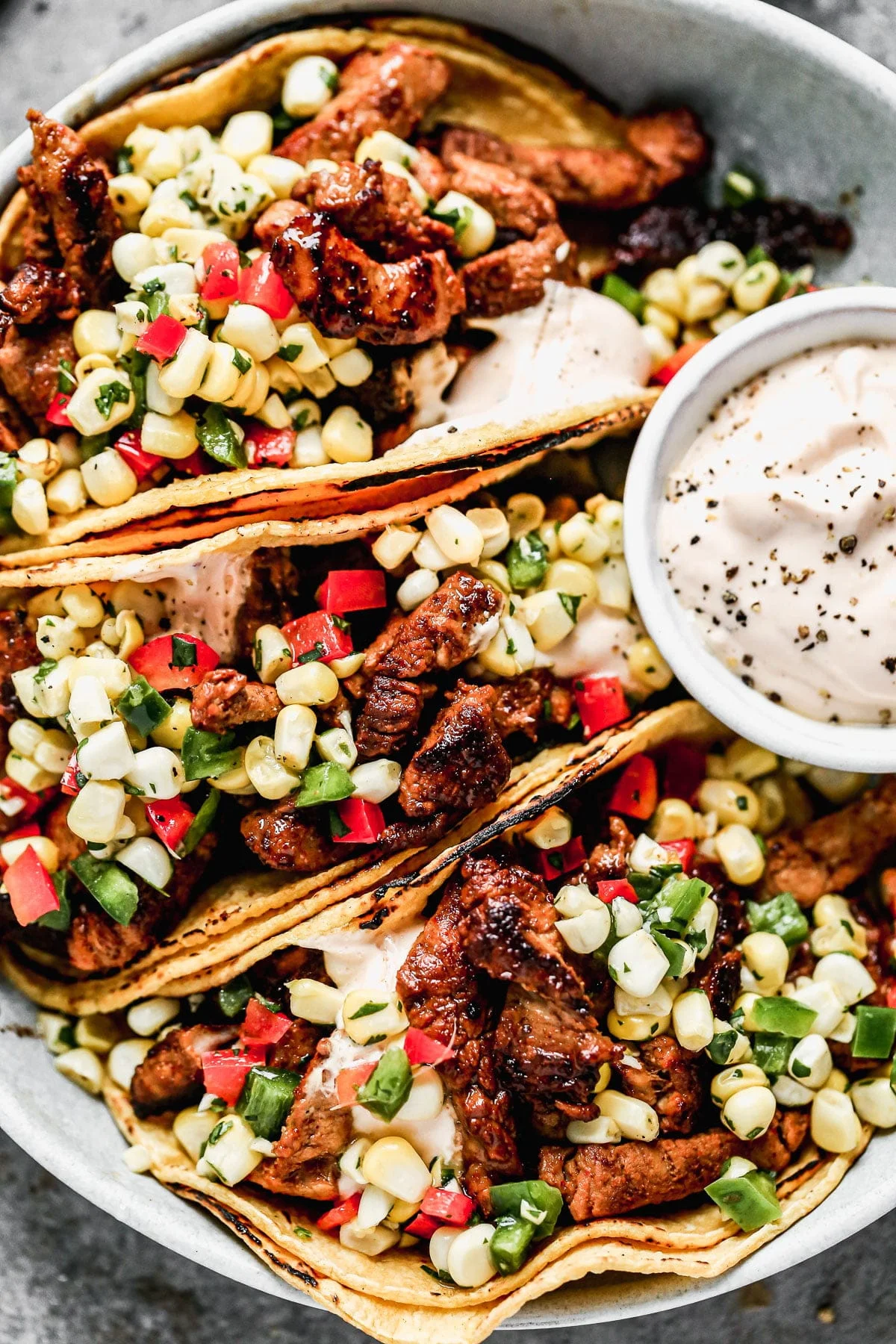 Ingredients
Pork tenderloin. When it comes to tacos, aside from carnitas made with pork butt, we often look over the leaner cuts of pork. But we shouldn't. Pork tenderloin is a wonderful lean protein with plenty of flavor that's perfect nestled into tacos.
In a 3-ounce portion of pork tenderloin you'll find a mere 122 calories and three grams of fat. Plus, it packs in 22 grams of protein and very little sodium and sugar.
Also, just as the name implies, it's cut from the tenderloin, so it's irresistibly tender and quick-cooking, making it a great option for busy weeknight dinners.
For more information on the health benefits of pork, be sure to check out the National Pork Board's website!
Soy sauce. Although soy sauce is commonly found in Asian recipes, it's actually a great way to add flavor to just about any marinade. We like to use low-sodium or tamari, but whatever you have on hand will work great.
Lime juice. If you've got it, fresh lime juice works best.
Honey. Like many recipes, you need to balance out the flavors with just a touch of sweetness. I like to use honey, but brown sugar or agave will work great as well.
Spices. Even though we use soy sauce, the flavors we're trying to pinpoint are still Tex-Mex so we throw in chili powder, cumin, and a little bit of granulated garlic.
Corn Salsa
Corn. We're already finding fresh corn in our grocery stores (spring is coming!), so if you can, grab that. If not, frozen, defrosted corn will work great as well.
Jalapeno. We like our food on the spicy side, so we use a whole jalapeño, seeds and all. If you want a milder salsa, skip the seeds and stems and use 1/2 the jalapeño.
Red bell pepper.
Garlic. I don't mind big pieces of garlic, but if you do, grate the garlic on a microplane to evenly distribute it.
Cilantro. We use a generous amount of cilantro, a full 1/4 cup chopped. Use less or more if you'd like.
Lime juice. Again, we like to use fresh lime juice if you've got it.
Salt. Because this corn salsa is so simple, it's important to season it properly. Use what we've called for and then add more if necessary.
Lime Crema
As we mentioned before, for me, when it comes to tacos, I need some sort of sauce to drizzle, spoon or slather on top. Most of the time it's in the form of something creamy and this oftentimes translates to sour cream. However, in trying to stay in line with our healthy mindful eating theme, we swap out the sour cream for protein-packed, but still creamy Greek yogurt. Low in fat, and high in creaminess, this easy swap in a no brainer. Here's what else you'll need:
Chipotle in adobo. We use this often in our recipes, so we always have some loitering around in our fridge or freezer. If you have to buy a can, throw it in a plastic baggie, and use it later down the road for this or this.
Lime juice
Garlic
Salt
Let's make Crispy Pork Tenderloin Tacos!
If you're making the pork tenderloin tacos all at once, before you prep any of the ingredients, start the process for marinating the pork! This is super important so you can everything done in a timely manner. If you're making everything ahead of time
Chop the pork
We take the entire pork tenderloin and cut it into 1/4-inch slices. Take those 1/4-inch slices and cut them into thin strips, about 1/8-1/4 inch thick. The thinner, the crispier they will get!
Marinate the pork tenderloin
We have dubbed this a weeknight dinner, and it is, but the pork tenderloin does need to marinate for a bit. Luckily you can do this first, then move on to cooking/prepping everything else.
Whisk the soy sauce, lime juice, honey, and spices together in a big bowl. Add the sliced pork tenderloin and toss to coat. Stir it every few minutes as you make the corn salsa and the crema.
Make the corn salsa
Chop the red pepper, jalapeño, garlic and cilantro. Add it all to a medium bowl. Squeeze the lime juice on top. Sprinkle with salt. Toss.
Make the crema
Add the Greek yogurt, chipotle sauce, lime juice, garlic, and salt to a small bowl. Mix to combine.
Dry the pork
This step is super important. When you add meat that's been saturated in marinate and remains very wet, it has a tendency to steam instead of crisp up as we'd like. To ensure the pork tenderloin sears properly. We remove the pork from the marinate with a slotted spoon and add it to the same cutting board you cut the meat on. Use paper towels to pat the pork dry.
It doesn't have to be perfectly dry, you just want to get most of the excess liquid off of it.
Cook the pork:
Heat a large cast-iron (we like this one) or skillet to a high heat. Drizzle it with olive oil to coat the pan.
When the oil is hot, sprinkle the pork with salt.
Working in two batches, add the pork to the pan.
Spread it out in an even layer to ensure the pork doesn't steam. Don't move it. You want it to get brown and crispy and if you move it, it won't sear properly.
After a few minutes, use tongs to flip the meat over. Sear on the other side and then remove from the pan.
Repeat with remaining pork tenderloin.
Char the tortillas. If you have a gas stove, place each corn tortilla on top of a low flame. Watch them carefully! When they start to char, flip over and char on the other side. Transfer to a plate or platter and cover with a kitchen towel while you cook the others.
Assemble! Nestle the pork into tortillas. Dollop with crema. Top with corn salsa.
Prep the tacos in advance
Here's what I'd do:
Marinate the pork up to a day or two in advance.
Make the corn salsa a day in advance.
Make the crema up to three days in advance.
The day you want to eat, you can simply cook the pork and char the tortillas.
Do they reheat well?
Yes! Pork tenderloin tacos reheat really well. We made them early in the day and re-heated them on the stove over a medium-low heat. They're also good the next day!
Substitutions and Tips and Tricks for Recipe Success
Slice and marinate the pork before you prep or cut any of the other ingredients.
The thinner you slice the pork, the crispier and faster it will cook.
For a spicier crema, add in extra chipotle sauce or chopped chipotles.
If you want a saucier pork with less crisp, you can skip drying off the pork. You can also deglaze the pan with a little bit of water before transferring the tacos into tortillas.
For a sturdier taco, use two corn tortillas.
Feel free to swap out the corn tortilla with flour or whole-wheat.
Don't miss some of our other favorite Tex-Mex recipes
Pork Tenderloin Tacos: We flavor lean pork tenderloin in an easy soy sauce and lime marinade, crisp it up in a cast-iron skillet and then nestle it into charred corn tortillas with an easy corn salsa and zippy lime crema. Healthy, easy and so satisfying. 
Ingredients
1

lb

pork tenderloin, trimmed

1/4

cup

soy sauce

3 1/2

tbsp

lime juice, divided

1

tbsp

honey

1

tsp

chili powder

1/2

tsp

garlic powder

1/2

tsp

ground cumin

1 1/2

cups

fresh corn (defrosted frozen corn works as well)

1/4

cup

cilantro, chopped

1

jalapeno

seeds and stems removed and finely diced

2

small

garlic cloves, minced and divided

1/4

cup

finely diced red pepper

1

tsp

kosher salt, divided

1/2

cup

plain low-fat Greek yogurt

1-2

tsp

adobo sauce

from canned chipotles in adobo sauce

1 1/2

tbsp

olive oil, divided
Instructions
Don't prep any of the ingredients until you marinate the pork. 

Using a sharp knife, cut pork tenderloin into ¼-inch slices. Cut slices into 1/8-1/4-inch strips. 

Add soy sauce, 2 tablespoons lime juice, honey, chili powder, garlic powder, and cumin to a large bowl. Whisk to combine. Add sliced pork. Use tongs to toss the pork in the marinade. 

Prep and chop the ingredients. 

Add corn, red pepper, jalapeno, one garlic clove, cilantro, 1 tablespoon lime juice, and ¼ teaspoon salt to a medium bowl. Toss to combine. Season to taste with salt and pepper.

After assembling salsa, give the pork a stir. 

Add Greek yogurt, chipotle in adobo, remaining 2 teaspoons lime juice, remaining garlic clove, and remaining ¼ teaspoon salt to a small bowl. Stir to combine. Season to taste with salt and pepper. 

If the pork hasn't marinated for at least 15 minutes, let it marinate until you reach 15 minutes. You can also marinate the pork tenderloin up to three days in advance in the refrigerator.

Drain the marinade from the pork and discard. Pat the pork dry with paper towels. This will help to sear the pork versus steam it. 

Heat a large cast iron skillet to medium-high heat. Once the skillet is very hot, add ¾ tablespoon of the oil, about 2 teaspoons to the skillet. Swirl to coat. Add half of the pork tenderloin. Make sure the pork is evenly spread out on the pan. Don't move it so it can sear properly. Cook for 2-3 minutes, flip and sear on the other side for another 1-2 minutes. Pork tenderloin cooks very quickly. Remove from the pan and repeat with remaining half of the pork.  

While the pork cooks, place corn tortillas in a kitchen towel. Heat for 35 seconds until warm and pliable. You can also char them over a gas stove flame. 

To assemble. Transfer pork to tortilla. Dollop with yogurt. Cover with corn salsa. Squeeze extra lime juice on top if desired.
Nutrition Information
Serving:
1
taco
,
Calories:
114
kcal
(6%)
,
Carbohydrates:
8
g
(3%)
,
Protein:
12
g
(24%)
,
Fat:
4
g
(6%)
,
Saturated Fat:
1
g
(6%)
,
Trans Fat:
1
g
,
Cholesterol:
30
mg
(10%)
,
Sodium:
673
mg
(29%)
,
Potassium:
265
mg
(8%)
,
Fiber:
1
g
(4%)
,
Sugar:
3
g
(3%)
,
Vitamin A:
124
IU
(2%)
,
Vitamin C:
1
mg
(1%)
,
Calcium:
18
mg
(2%)
,
Iron:
1
mg
(6%)