Classic falafels get a healthy spring update in our Lemony Baked Chickpea Cakes. Crispy on the outside and soft on the inside, these vegetarian cakes are full of lemon zest, lemon juice, sweet leeks and dijon mustard for a little zip. Perfect on top of a salad or served on their own with a touch of greek yogurt.
Lemony Baked Chickpea Cakes
Packed with hearty chickpeas, lemon zest, sweet leeks and tangy dijon mustard, our Crispy Chickpea Cakes are the perfect vegetarian option even for meat eaters. They're crispy on the outside, soft and tender on the outside and bursting with fresh, bright flavors. Easy to make and even easier to eat.
I'm not a vegetarian by any means, but I couldn't live without my leafy greens, roasted vegetables, and legumes – especially chickpeas. I've had an infatuation with chickpeas since I was a little girl, and as a young kid, I'd eat them straight from the can while making a game of peeling their razor-thin skins off the body before I popped them into my mouth like cracker jacks.
As I got older my love for chickpeas only intensified with the introduction of hummus, a dip that soared in popularity despite being smack dab in the middle of the Velveeta and cheese whiz era.
Later, after I fell in love with falafels, I realized just how versatile the chickpea is. With a bit of seasoning, they're the perfect addition to salads instead of chicken or shrimp. When baked in the oven until crisp, they make a wonderful snack or topping to pizza. They're also deliciously hearty in soups, and actually, this chickpea soup has become one of my favorites of all time, almost outshining my beloved broccoli cheddar.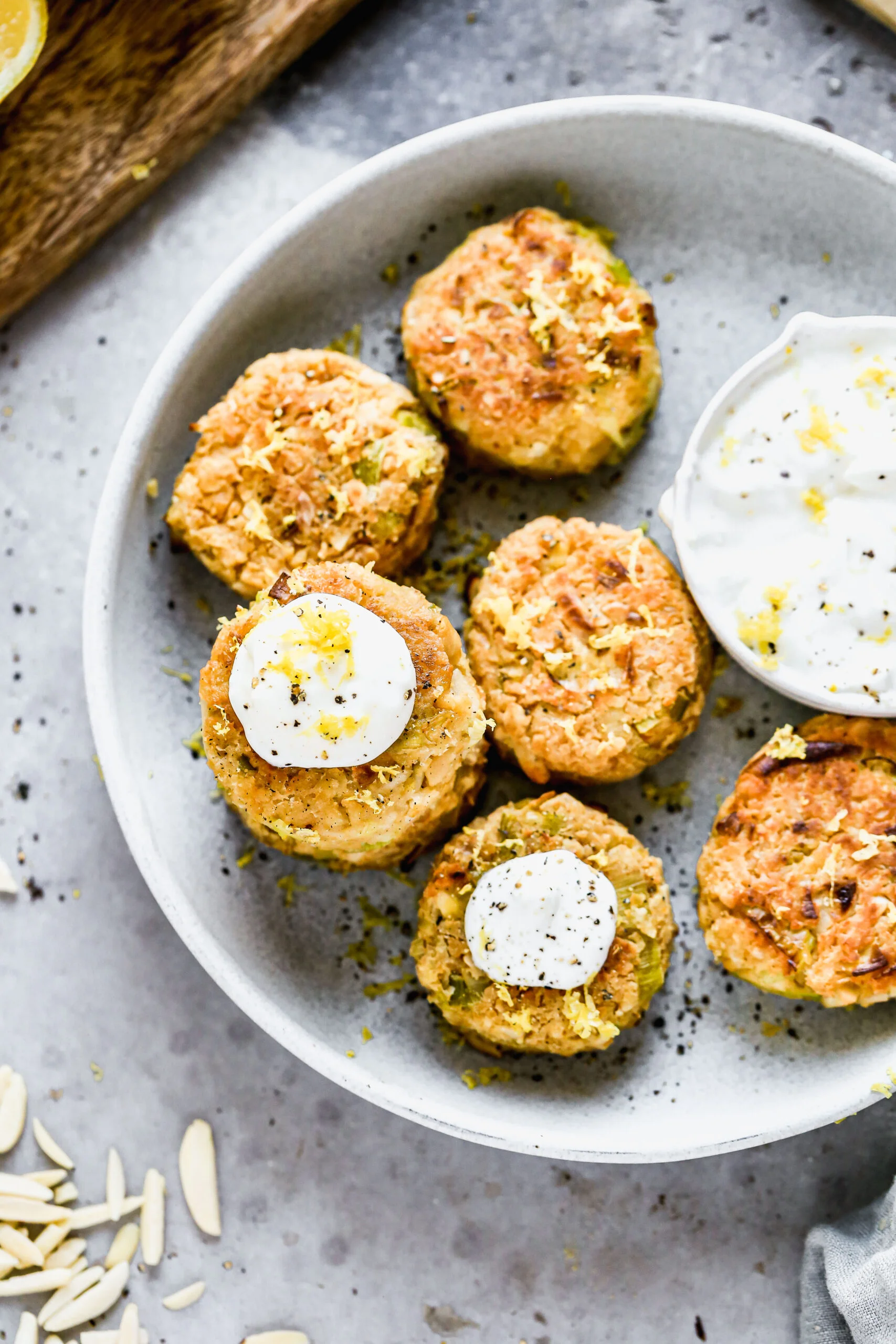 Ingredients in Crispy Chickpea Cakes
Chickpeas. Any canned chickpea will work great. Make sure to drain and rinse them.
Seasoning. Aside from the chickpeas and garlic, the herbs and ingredients are significantly different from a traditional falafel. Today's recipe definitely spotlights the chickpea in a spring/summer light, so I rely heavily on lemon zest and lemon juice as the key flavor.
Leeks. I love leeks for their mild onion taste, and when cooked down, how sweet they become. They're also a prominent fixture of spring, so they fit in with our seasonal approach to the chickpea cakes.
Dijon mustard. I always love the tangy, zippiness dijon mustard adds brings to dishes and today is no exception.
The binders. Similar to a crab cake or salmon cakes, you need a few binding ingredients. Here, we use panko breadcrumbs and one egg.
Pine nuts. Between the smashed chickpeas and the cooked leeks, we lose a little bit of texture, so I add it back in with a handful of toasted pine nuts for a little bit of crunch. If you don't have them on hand, or they're too expensive, the recipe won't suffer without them.
How to make the Chickpea Cakes
Sauté the leeks. Add a little bit of olive oil to a small skillet over a medium heat. Add the chopped leeks. Gently cook for 3-4 minutes until they're softened. Transfer them to a medium bowl.
Toast the pine nuts. Wipe the same skillet clean and add the pine nuts. Toast them over a medium heat until they become fragrant and ever-so-slightly toasted. Cool.
Smash the chickpeas. Add the drained and rinsed chickpeas to a food processor. Pulse the chickpeas until they resemble large granules of sand with some smaller pieces as well. You want there to be plenty of texture still.
Toss everything. Add the chickpeas to the bowl with the leeks. Add in the pine nuts, egg, lemon juice, lemon zest, dijon, breadcrumbs, salt and pepper. Toss everything just until it comes together.
Form the patties. Use a small ice cream scoop or measuring cup to portion the patties out. Each patty should be about 1/4 cup. Use your hands to form them into patties.
Tip! I like to gently wet my hands with COLD water before forming each patty. This will keep the chickpea mixture from sticking to your hands and help them come together.
Cook the chickpea cakes
You can cook the chickpea cakes one of two ways:
Bake the chickpea cakes
Instead of traditionally deep-frying the cakes as you would in a falafel, I used the same method as this Sheet Pan Chicken Parmesan to bake the patties in a way that mimics a deep-fried texture. I don't know why I hadn't thought of it before for other pan-fried items like chicken piccata, crab cakes or even latkes. Putting the baking sheet in the oven while the oven is preheating allows for the pan to essentially act as a skillet but you get to use a fraction of the oil, and the best part? Oil doesn't splatter across your entire kitchen.
Preheat the oven to 400 degrees. Place a medium baking sheet in the oven to also preheat.
While the and and oven preheat, form the patties.
Drizzle olive oil over the hot baking sheet making sure the whole pan is coated. Quickly add the chickpea cakes to the pan and place in the oven.
Bake for 12-15 minutes or until the chickpea cake is golden brown and crispy. Flip over and bake another five to seven minutes until they are golden and crisp on the other side.
Pan-fry the chickpea cakes
This is a quicker method, but you do have to use a bit more olive oil and it's a little bit messier than baking them in the oven.
Heat a large non-stick pan to a medium heat. When the pan is hot, add a few tablespoons of olive oil.
Add the chickpeas, sauté until the chickpea cakes are golden brown and crisp, about 3-4 minutes.
Flip each chickpea cake over and cook for another 2-3 minutes until the other side is also crisp and golden brown.
Can I make Chickpea Cakes in advance?
Yes! While they are best served fresh, you can do a few things. First, you can make them up until baking, wrap them in plastic and store in the fridge for a day or two until you're ready to bake. Keep in mind, you may need to cook them longer since they will be cold.
You could also make the chickpea cakes from start to finish. Cool completely and then store in an airtight container in the fridge. When you want to eat, reheat them in a 375 degree oven or in a skillet.
Keep in mind, they will dry out a bit if you reheat them, but they will still be delicious.
Can I freeze Chickpea Cakes?
While I haven't tried to freeze them, I find no reason why they shouldn't be able to be frozen for up to a month. Reheat in a 375 degree oven.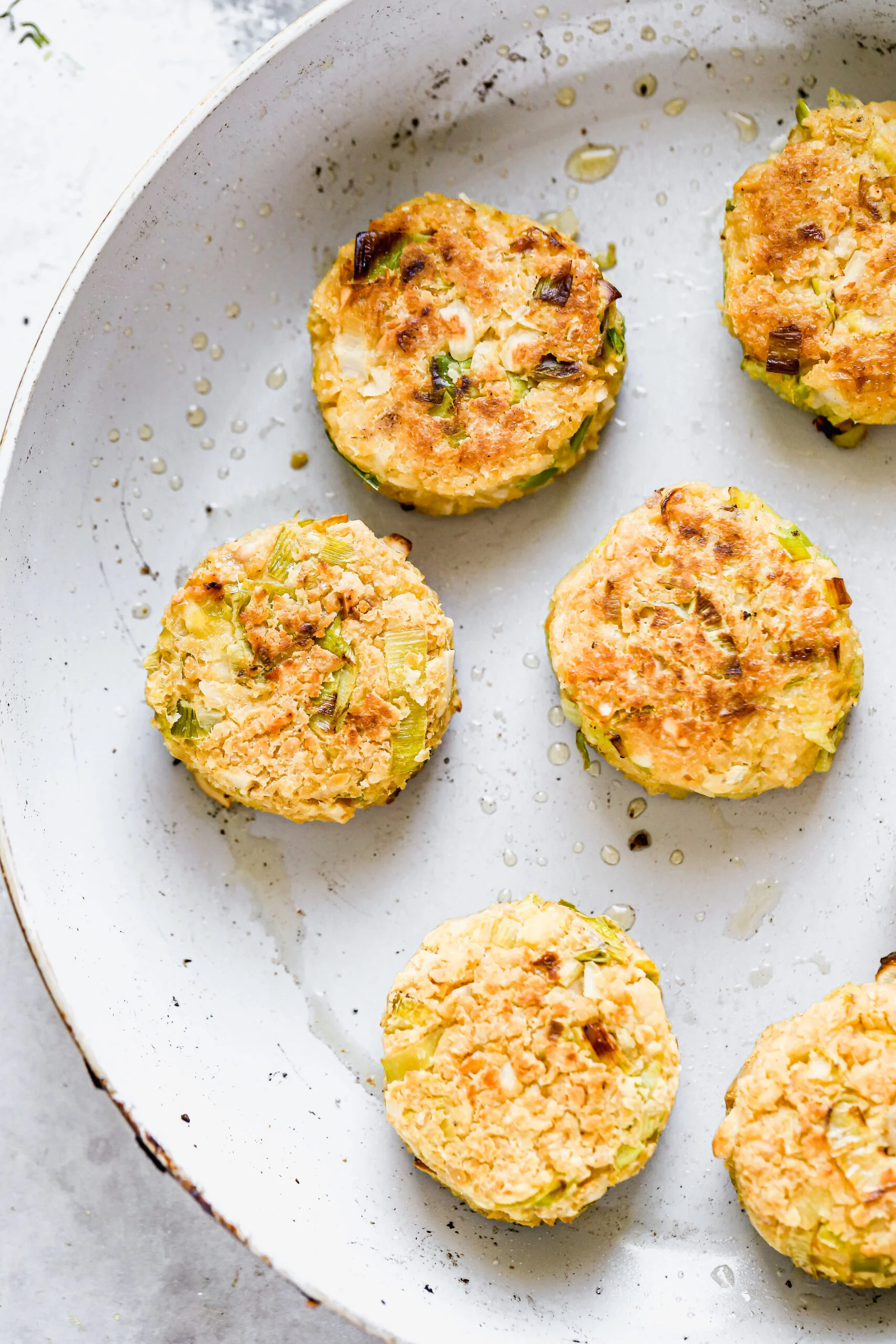 Substitutions and Tips and Tricks for Recipe Success
Use slivered almonds instead of pine nuts to save a few bucks
Don't over mix.
The chickpea cakes can get too brown if you don't watch the heat on the stove. You don't ever want it to get too hot.
Add in 1/4 cup freshly grated Parmesan cheese
Other Similar Recipes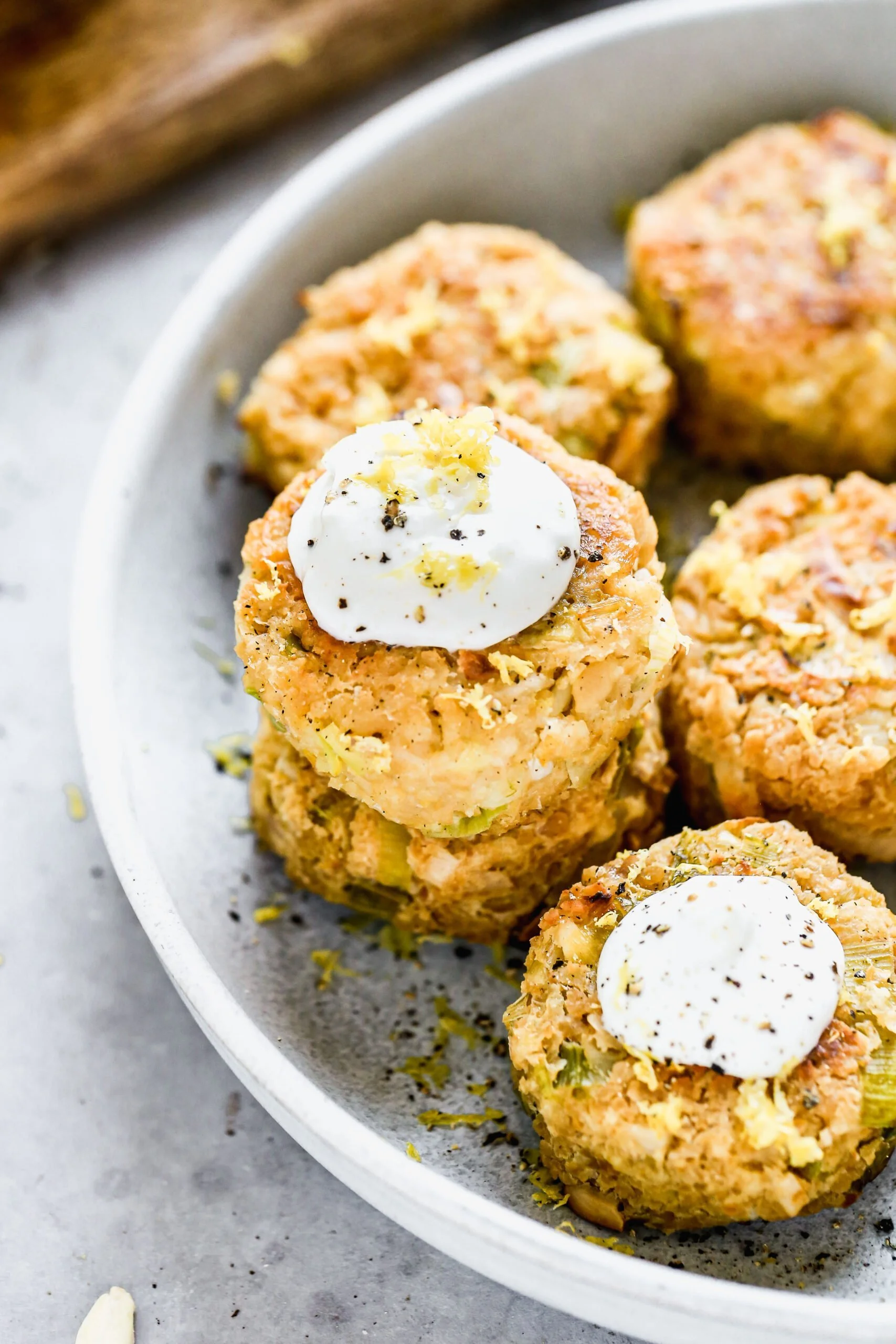 Classic falafels get a healthy spring update in our Crispy Baked Lemon Chickpea Cakes. Instead of frying, we use an oven-baked method that makes them crispy on the outside and soft one the inside. We pack them full of lemon zest, lemon juice, sweet leeks and dijon mustard for a zippy kick. Perfect on top of a salad or served on their own with a touch of greek yogurt.
Ingredients
3

tbsp

olive oil

1

leek

halved and sliced

1/2

tsp

kosher salt, divided

2

large

garlic cloves, minced

1/4

cup

pine nuts

15

oz

can chickpeas, drained and rinsed

1

large

egg

2

tsp

lemon zest

1

tbsp

lemon juice

1

tbsp

dijon mustard

1/4

cup

plain breadcrumbs
Yogurt Sauce
1/2

cup

plain Greek yogurt

1

small

garlic clove, minced

1/8

tsp

kosher salt

1

tsp

lemon juice

2

tsp

olive oil
Equipment
Non-stick skillet

Mixing bowl
Instructions
Heat a small non-stick skillet to a medium heat. Add 1 tablespoon oil. Add leeks and ¼ teaspoon salt. and garlic. Saute until leek have softened, about 3-4 minutes. You don't want them to brown, so if they start to crisp up, turn the heat downn to medium low. Once they've softened, add garlic. Cook another minute. Transfer leeks and garlic to a large bowl and cool.

Wipe pan clean and toast pine nuts over a medium-low flame. They are done when they smell nutty, be careful to not burn. Transfer to the bowl with the leeks and garlic.

Add chickpeas to the bottom of a food processor, pulse until the chickpeas are in tiny pieces, but not pureed. They should look a little bigger than grains of sand, with some bigger pieces as well, you still want a bit of texture. Transfer chickpeas to the bowl with the leeks, garlic and pine nuts.

Add egg, lemon zest, juice, Dijon, breadcrumbs and remaining salt. Toss until combined. Use a small ice cream scoop or 1/4 cup measure to portion out 7-8 fritters. Rinse hands with a little bit of cold water and form into compact patties.

Heat the same skillet you cooked the leeks in to a medium heat. Add remaining two tablespoons olive oil. Whenn the oil is hot, swirl the pan to coat. Add chickpea cakes and cook until crisp and brown, about 3-4 minutes. Flip and cook another 2-3. minutes until crips and brown on the other siide. Serve with yogurt sauce.
Yogurt Sauce
Add all ingredients to a small bowl, mix to combine. Season to taste with salt and pepper.
Nutrition Information
Serving:
1
chickpea cake
,
Calories:
189
kcal
(9%)
,
Carbohydrates:
18
g
(6%)
,
Protein:
7
g
(14%)
,
Fat:
11
g
(17%)
,
Saturated Fat:
1
g
(6%)
,
Trans Fat:
1
g
,
Cholesterol:
1
mg
,
Sodium:
225
mg
(10%)
,
Potassium:
210
mg
(6%)
,
Fiber:
4
g
(17%)
,
Sugar:
3
g
(3%)
,
Vitamin A:
18
IU
,
Vitamin C:
3
mg
(4%)
,
Calcium:
47
mg
(5%)
,
Iron:
2
mg
(11%)