If you're looking for a fresh twist on a classic baked ziti, then this Easy Sun-Dried Tomato and Mozzarella Pasta is for you. It's quick, easy, and perfect for a busy weeknight!
I'm fairly certain there's an infinite amount of ways to make pasta, and for that, I'm eternally grateful. Because while I could undoubtedly eat Beer and Balsamic Braised Pork Cavatappi or Spaghetti Carbonara for Two every single day for the rest of eternity, sometimes it's nice to change things up a bit.
Our pasta consumption is typically based on what season it is, so when it's winter, we're craving something hearty, cheesy, and almost always red-based when it comes to sauce. I also tend to gravitate towards preparations that are relatively quick and easy, so most of the time it results in something similar to an easy baked ziti with sausage or rigatoni with eggplant – nothing too fancy for my simple husband.
Today's Easy Sun-dried Tomato and Mozzarella Pasta, is just a short departure from my go-to. Packed with salty bacon, a sun-dried tomato-laced red sauce, and plenty of gooey mozzarella cheese, this easy weeknight dinner comes together in a decent amount of time, and couldn't be easier to throw together.
It's pretty simple, but that's what I love about it, as I'm sure all you out there will appreciate as well.
Before I go on, I want to note, that when I'm making simple dishes like this, I try to use only the best ingredients to maximize flavor. For instance, in this recipe, I used only high-quality San Marzano tomatoes, and my very favorite brand of imported rotini. Now, I'm not saying that if you use whatever brand of crushed tomatoes you grocery store happens to have on special, and a box of generic rotini that your dish won't be delicious (it will), I just feel like the quality is upped a touch when I use the best ingredients I can find.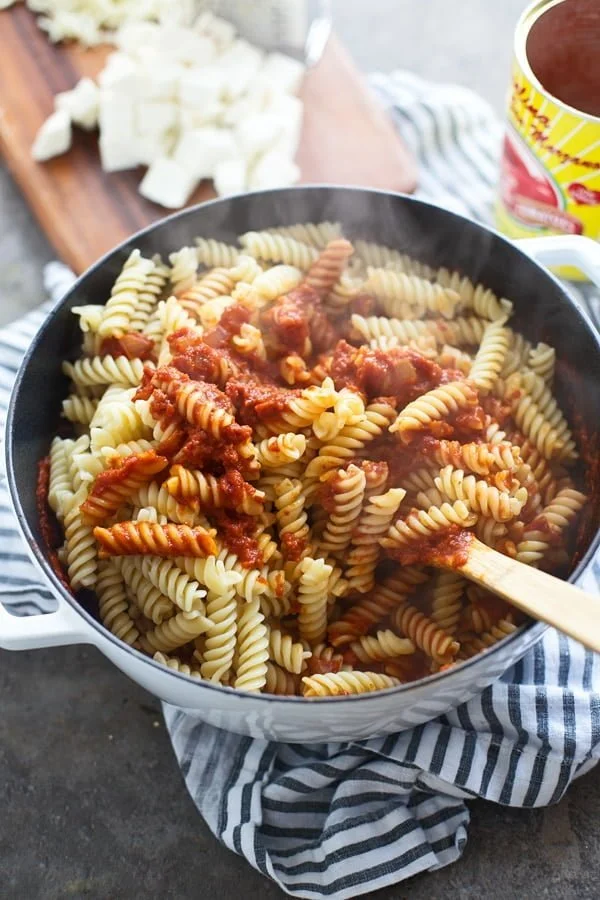 The base of the pasta sauce begins with the rendering of a copious amount of bacon – as most good things do – which is removed once crisp, and set aside until the pasta is just shy of reaching the dinner table. Some onion and garlic are then sautéed in the lingering bacon fat, and once they're soft, a good amount of red wine goes in – whatever you happen to be drinking at the moment will work great, although this is not the time to use your $75 bottle of pinot noir you've been saving for a special occasion.
While the wine reduces, the tomatoes and sun-dried tomatoes go in to a blender, and are pureed until smooth. The mixture then goes in with the wine and veggies, and a little bit of sugar, salt, and balsamic vinegar are tossed in as well.
The sauce is brought to a boil, reduced to a simmer, covered, and left to bubbly away for a few minutes while the pasta cooks.
From there, everything comes together pretty quickly. The (just under aldente) pasta goes in along with a fair amount of starchy cooking liquid (my favorite non-ingredient in pasta recipes) until it soaks up the sauce, and then the final ingredient of fresh mozzarella is tossed in until it starts to melt.
I like to pop the whole thing in the oven for a few minutes to melt the cheese on top, and then garnish it with freshly grated parmesan cheese just before serving.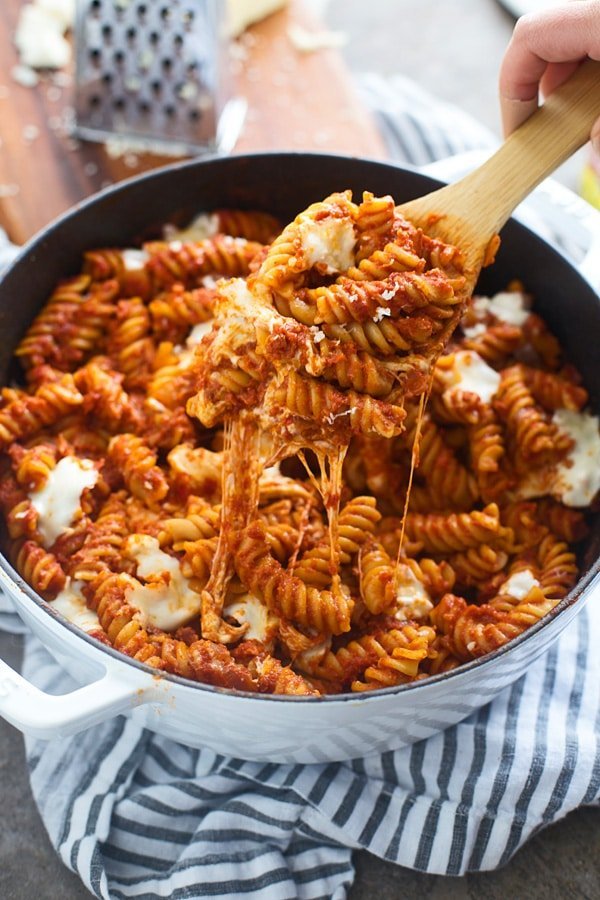 Easy Sun-Dried Tomato and Mozzarella Pasta
Author:
Nicole ~ Cooking for Keeps
Ingredients
5 slices bacon
1 (28 oz.) can san marzano tomatoes
8 oz. sun-dried tomatoes packed in olive oil and drained
½ cup finely chopped onion
2 large garlic cloves, minced
1 tsp. salt, divided
½ cup red wine
1 tsp. sugar
1 Tlbs. balsamic vinegar
17.5 oz. rotini pasta
16 oz. fresh mozzarella
½ cup parmesan cheese for garnish.
Instructions
Preheat oven to 350 degrees.
Bring a large pot of water to a rolling boil. Season liberally with salt. It should taste as salty as the sea.
In a large dutch oven, render all of the fat out of the bacon over a medium heat until crisp, about 5 minutes. While the bacon cooks, add whole tomatoes and sun-dried tomatoes to a blender. Blend until smooth. Set aside. Remove bacon from grease, and drain all but 2 Tlbs. bacon grease.
Add onion, garlic, and ¼ tsp. salt to the pan. Sauté until translucent, about 3-4 minutes.
Add red wine, bring to a boil and reduce to a simmer until reduced by half. Add pureed tomatoes, remaining salt, sugar and balsamic vinegar to the onions and garlic. Cover and simmer while you cook the pasta.
Add pasta to boiling water. Cook until just UNDER aldente. (The noodles will finish cooking in the sauce)
Once the pasta is just under aldente, Use a slotted spoon or sieve to transfer the pasta to the tomato sauce, and reduce the heat to low. Be sure to save the starchy cooking liquid. Add about ½ cup of cooking liquid to the pasta and the reserved bacon.
Stir gently until sauce has coated pasta. If needed (and you probably will) add another ½ cup of starchy cooking liquid to loosen the sauce up. Repeat process until desired consistency is reached.
Season to taste with salt and pepper.
Add ¾ of the mozzarella to the pasta and stir until cheese begins to melt. Dot the top with remaining mozzarella, cover and pop in the oven for 5-6 minutes to melt the cheese.
Garnish with parmesan cheese.