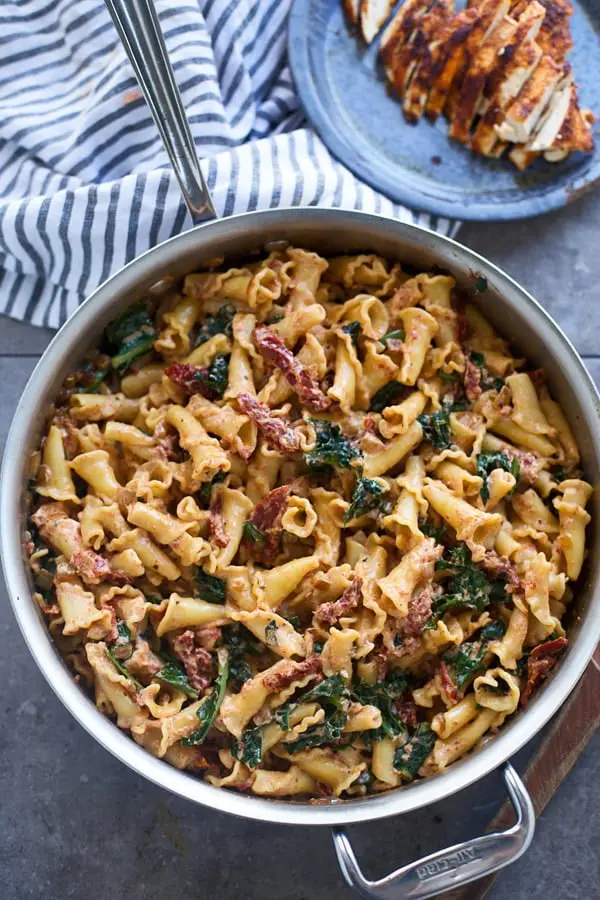 I'm one pound away from my pre-baby weight. ONE POUND.
The scale has been obnoxiously taunting me the past six months, because I've been stuck at the same weight for what seems like an eternity. Granted, it was just a few pounds above where I needed to be, but when you're five-foot nothing, every bit counts. As much as I wanted to get back to where I started, I reluctantly became content to live out the rest of my days a bit heavier than I'd like. However, I was taken by surprise when I stepped on the scale a few mornings ago, and I was just one pound shy of where I started at. I was elated.
And then…I made this pasta, and now I'm avoiding stepping on the scale for fear I might have to shed a few tears of sadness when I see the number creep in to my vision.
Luckily, ignorance is bliss. Plus, a life without pasta, isn't a life I want to live.
This Sun-Dried Tomato and Goat Cheese Campenelle in particular, has all of the qualities I love in a pasta. It's creamy, packed full of protein and veggies, and has an infinite amount of flavor, much like this Creamy Marsala Rigatoni.
The key ingredient here, sun-dried tomatoes packed in olive oil, provide triple duty first as the fat to sauté the chicken and veggies, second as the underlying flavor in a goat cheese-based sauce, and lastly it stands on its own when it's tossed with the pasta in the very end.
While there are a few extra steps than just throwing everything in to a pot, if you time it right (as I've instructed below), everything comes together relatively quickly and smoothly, making this a pasta that's fairly easy to throw together on any given day.
As far as the pasta goes, I used campanelle because I love it's fun shape and how the creamy sauce gets trapped in every little nook and cranny of the flower shape, but if you want to substitute out a fusilli or cellentani (another favorite shape), feel free to do so.
Also, as most of my pasta recipes go, be sure to save a generous amount of starchy cooking liquid to thin out the sauce just it touch. I needed about 3/4 of a cup, but you may need more or less depending on your personal preference, just remember, you can always add more, but you can't take anything away, so be careful!
Season to taste with salt and pepper and this creamy family favorite, is ready to go.
Creamy Goat Cheese and Sun-Dried Tomato Pasta
Author:
Nicole ~ Cooking for Keeps
Ingredients
½ tsp. garlic powder
½ tsp. onion powder
½ tsp. paprika
1¼ tsp. salt, divided
1 large chicken breast (about ½ lb.), cut in half lengthwise
12 oz. campanelle (or something similar)
1 (8.5 oz) jar sliced sun-dried tomatoes in olive oil, divided
½ cup half & half
5 oz. goat cheese
½ cup diced onion
2 garlic cloves, minced
2 cups chopped kale
Instructions
Bring a large pot of water to a rolling boil. Season liberally with salt.
In a small ramekin or bowl, mix garlic powder, onion powder, paprika, and salt. Season all sides of the chicken with with seasoning.
Heat a large skillet to a medium-high heat. Take 2 teaspoons of oil out of sun-dried tomatoes and add to pan. Sear chicken breasts until cooked through, about 3 minutes per side. Let rest for a few minutes and then slice or chop into bite-size pieces.
While chicken cooks, dump pasta in boiling water and stir. Cook until aldente.
While the pasta cooks, add another 2 tsp. of oil from sun-dried tomatoes to the same skillet you cooked the chicken in. Add onion, garlic, kale and ¼ tsp salt. Sauté until softened, 4-5 minutes.
Add ¼ cup of sun-dried tomatoes (drained of liquid), goat cheese, and half and half to a blender. Blend until smooth.
Once pasta is aldente, reserve 1 cup of cooking liquid and then drain. Add pasta, goat cheese mixture and ½ cup of starchy cooking liquid to onion, garlic and kale. Toss until combined and cheese has melted. Add chicken and remaining sun-dried tomatoes (drained), toss to combine. If necessary, add more starchy cooking liquid to loosen the sauce up.
Season to taste with salt and pepper.