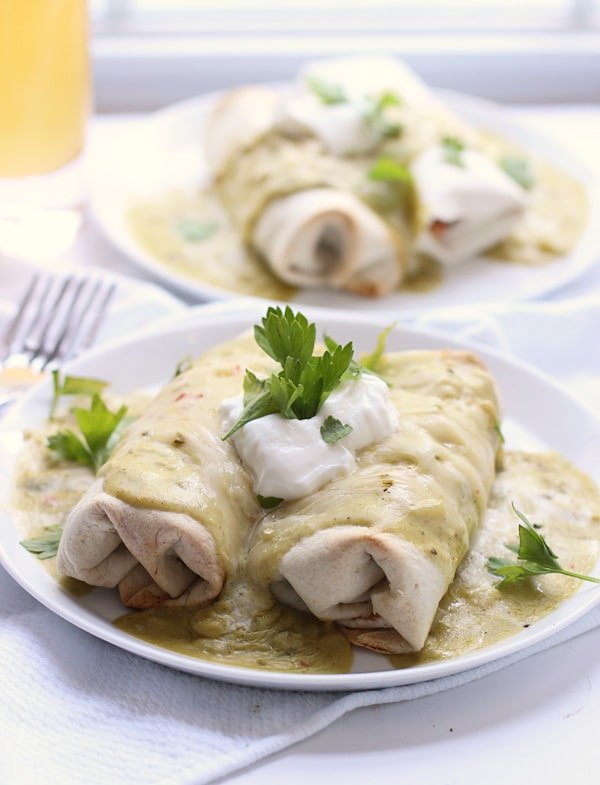 Why must getting back to real life after a vacation be so hard to adjust to? I know I'm not the only one, but this particular time, I'm having an even more difficult time than usual. It could be that this last trip was the ultimate week of relaxation; we had no obligations, no plans to be made, easy travel routes – all equaling a seriously stress-free and calm Nicole. I read books. I jumped waves. I pointed my face towards the sun. I ate. I drank. I played with Kevin's niece and nephew. I held babies. I snuck away for some obligatory fried seafood. I slept with the sand between my toes and the waves crashing at my feet.
In short, it was vacation perfection.
And now…it's back to real life.
Back to work. Back to home projects. Back to working out.
Admittedly, I do actually enjoy coming home after a long period of being away, there's really nothing like the comfort of your own bed, a little bit of day-to-day structure and my favorite part – being able to cook in my own kitchen.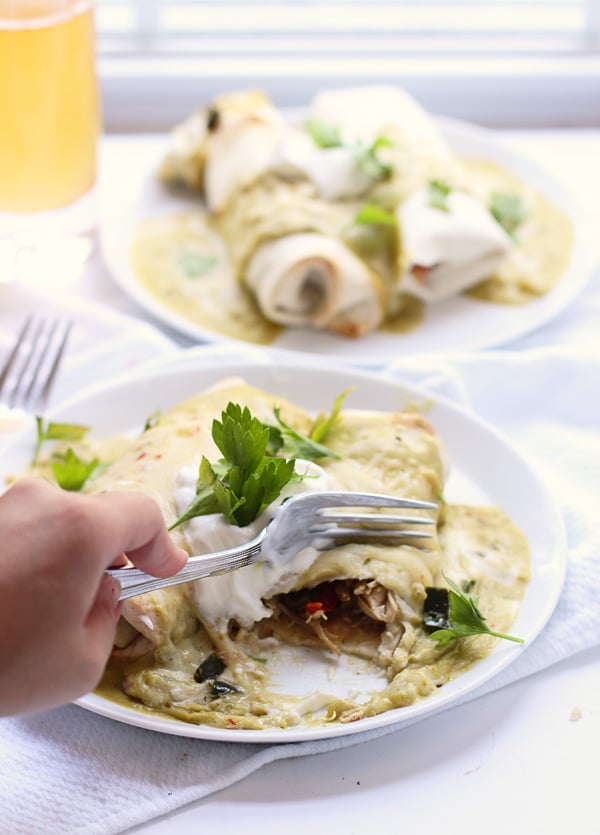 Now, when I said that Kevin and I had no obligation on our beach trip, I left out our only obligation while we were there – cook one dinner for the entire bunch. And by bunch, I mean about 30 people. It actually works out quite nicely, each person is responsible for providing a dinner or lunch for the entire group, that way everyone can enjoy as much beach time as possible – music to my ears, the more beach time for me, the better.
My meal of choice was of course, enchiladas, seeing as they're my favorite food in the entire world and perfect for feeding a crowd. The recipe was actually derived from the burritos I'm sharing with you today – a riff of these sour cream enchiladas I posted about a million years ago which happen to be a serious crowd pleaser. People go absolutely gaga over those babies, and rightfully so, they're creamy, a little bit spicy and literally just melt into your mouth.
Here, I took a rotisserie chicken and combined it with a bunch of sautéed onion, garlic, green pepper and red pepper for a hearty fajita-like filling. I stuffed the mixture into burrito-sized tortillas and popped them in the oven to crisp up.
Once the burritos are crispy and slightly golden brown, I take them out of the oven, turn the heat to broiler, smother them with cheese and sauce and pop them back in the oven for just a minute or until the cheese is melted and the sauce has conformed to the burrito.
But before we can talk about anything else, we must talk about the sauce, which has now trumped my long-standing favorite sour cream sauce. Roasted poblano (shocking, I know) peppers are pulverized in the blender with a little bit of chicken stock and poured into a mixture of sautéed onion and garlic. I then combined a little bit of sour cream with flour to aid in thickening the sauce, threw that into the poblano mixture and then hit it with a couple cans of chopped green chilies. Once the mixture has thickened (it takes about five minutes), I pull the entire pot off the stove and stir in a handful of jalapeno cheddar cheese. Sauce complete. And it will be the most delicious tex-mex sauce you've ever had the pleasure of tasting – I kid you not.
Just like there's nothing cozier than being in your own bed, home from a vacation, there's also nothing cozier than a little spice, cooking in your own kitchen and the most delicious batch of burritos…Life is good.
Fajita Burritos with Poblano Jalapeño Cheedar and Green Chile Sour Cream Sauce
Ingredients
Burritos
1 rotisserie chicken, shredded
1 tablespoon olive oil
1 medium onion, sliced thin
1 green pepper, sliced thin
1 red pepper, sliced thin
2 garlic cloves minced
1 teaspoon cumin
¾ teaspoon salt
½ teaspoon chili powder
¼ cup chicken stock
1 cup jalapeno cheddar cheese, shredded
6 burrito tortillas
Sauce:
1 teaspoon olive oil
¼ cup chopped onion
2 garlic cloves, minced
1 poblano pepper, roasted and roughly chopped
1 cup chicken broth
¾ cup sour cream
2 tablespoons flour
½ teaspoon salt
1 4 ounce can green chilies
1 cup jalapeño cheddar cheese, shredded
Instructions
For the burritos:
Turn the oven to 375 degrees.
In a large sauté pan, add olive oil. Heat to medium. Add onion, garlic, peppers and spices. Saute until veggies are soft, about ten minutes. Add chicken and chicken stock, cook for another 3-4 minutes.
Put filling in tortillas and wrap, burritos style. Place on a grease baking sheet, seam side down. Bake for about 15-20 minutes until crispy and golden brown.
Remove from oven and turn to broil.
For the sauce:
In a blender, puree poblano peppers with chicken stock.
In a sauce pan, heat olive over a medium heat. Add onion and garlic. Saute until onon and garlic are soft, about 3 minutes. Add poblano pepper mixture and green chilies.
In a small bowl, whisk together flour and sour cream. Whisk into chicken stock. Add salt. Let mixture boil until thicken, about five minutes. Remove from heat and add shredded cheese.
Smother the burritos with the sauce and then top with remaining cheese.
Pop until the broiler until cheese is melted, about two minutes.
Serve with sour cream and cilantro.