This Grilled Prosciutto Chicken with Pesto Cream Sauce is the perfect way to get out of your burger and brat grilling rut. It's easy to throw together, required minimal ingredients and is destined to be your new favorite summer meal.
After a year-long hiatus with our gas grill, thanks to a faulty something or other, Kevin has made it possible to use again due to a little bit of YouTube and novice electrician work. The sudden revival was just in time to serve over 30 hungry guests their Fourth of July brats and burgers, which actually might have been the sole reason for the sudden interest in fixing it in the first place. Had the grill not been fixed, Kevin would have had to result to grilling on the charcoal grill we've relied on since the breakdown, which could have easily taken him all day.
While I love the taste and char a charcoal grill gives to food, I am in no way equipped to operate that sucker, so as much as the fix saved Kevin, I'm equally as relieved since I can now grill whatever I want without having to wait for Kevin to get home from work. Because the grilling couldn't end with burgers and brats on the Fourth of July, I quickly got to work on a few grilling idea for the blog, and this super easy Grilled Prosciutto Chicken with Pesto Cream Sauce was the first item in line.
This is basically a riff off of one of my favorite grilled chicken dinners my Mom makes in the summer. She takes store-bought pesto, slathers it on raw marinated chicken breasts, covers it in a slice of prosciutto and a few basil leaves, then rolls the whole thing up before grilling the packages until they're slightly charred. She serves it with a super easy fresh basil cream sauce, and it's pretty much the most delicious, moist chicken you'll ever have in your entire life.
Now, when it comes to chicken, especially the breast, the grill has an uncanny ability to suck every bit of moisture out of an already dry-prone cut of meat, but because the chicken is marinated in plenty of citrus and is basically protected by a layer of fat, the moisture stays in tact flawlessly.
To keep the marinating time down, I like to take two larger chicken breasts and cut them in half lengthwise, so they're thin enough for the acid to penetrate the flesh quicker. Plus it makes for a cook time well under 15 minutes, which is just enough time to throw together the easiest pesto cream sauce on the planet.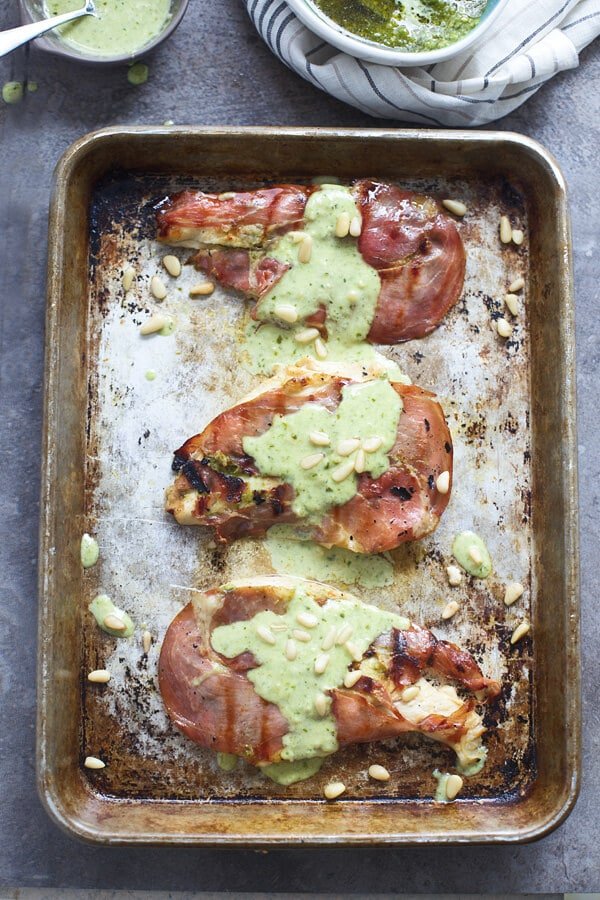 The pesto cream sauce is just that. Pesto + cream. Well, plus cheese, because to me, no cream sauce is complete without a little bit of parmigiano reggiano. First, the cream is simmered until it's slightly thicker than it was cold out of the fridge, then a handful of cheese is whisked in followed by a good amount of store-bought pesto. The three-ingredient process couldn't be simpler, and the entire sauce comes together before the chicken even needs to come off the grill.
Once the chicken is slightly charred and the prosciutto is crisp, I spoon a little bit of the sauce over each portion, sprinkle with a few toasted pine nuts and it's ready for the table.
As far as sides go, I actually like to double or triple the sauce, and toss what I don't use on the chicken with a little bit of cooked angel hair pasta, but you could easily serve it with some grilled asparagus or broccolini if you want to keep things on the heathier side.
Either way, this is the perfect way to keep your grill going long after you're sick of burgers and brats.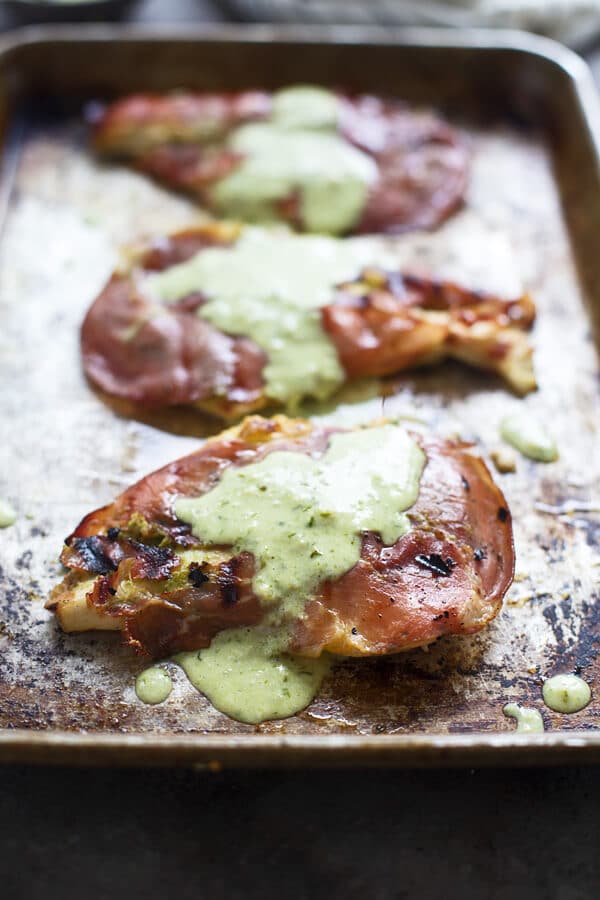 Grilled Prosciutto Chicken with Pesto Cream Sauce
Grilled Prosciutto Chicken with Pesto Cream Sauce is the perfect summer dish! Chicken breasts are mariniated in garlic, lemon juice, and olive oil, then wrapped in prosciutto and grilled. It's served with an easy pesto cream sauce, and a little bit of fresh basil. Great for entertaining!
Ingredients
1

lb

chicken breasts (2 large breasts or 4 small)

1/3

cup

lemon juice

1

tbsp

olive oil

2

large

garlic cloves, grated

1/4

cup

pesto

1/2

cup

heavy cream

1/4

cup

grated parmigiano reggiano

2

tbsp

toasted pine nuts
Instructions
If using two chicken breasts, cut chicken in half lengthwise, so you have two thing portions. Use a mallet to slightly flatten the chicken. If using four small breasts, use a mallet to slightly flatten chicken.

Add chicken to a large plastic ziplock bag. Add in lemon juice, olive oil and garlic. Place in a shallow dish and marinate in the fridge for at least 30 minutes and up to two hours.

Once chicken is marinated, preheat grill. Dry chicken off, and sprinkle both sides with salt and pepper. Spread a teaspoon of pesto on top each chicken breast. Cover with a slice of prosciutto. Use two toothpicks to secure the prosciutto to the chicken.

Grill, prosciutto side-down until prosciutto is crisp, about 3 minutes. Flip and cook another 3-4 minutes or until chicken is cooked through.

While the chicken cooks, add heavy cream to a small saucepan.Bring to a boil and reduce to a simmer until slightly thickened, about 2 minutes. Turn the heat off and whisk in cheese. Once cheese is incorporated whisk in remaining pesto. Season to taste with salt and pepper

Serve grilled chicken with pesto cream sauce and sprinkle with toasted pine nuts.
Tips
I like to double the pesto cream sauce and toss half with a 1/4 pound of cooked angel hair pasta. 
Nutrition Information
Serving:
1
chicken breast with sauce
,
Calories:
385
kcal
(19%)
,
Carbohydrates:
4
g
(1%)
,
Protein:
28
g
(56%)
,
Fat:
28
g
(43%)
,
Saturated Fat:
10
g
(63%)
,
Cholesterol:
119
mg
(40%)
,
Sodium:
388
mg
(17%)
,
Potassium:
493
mg
(14%)
,
Fiber:
1
g
(4%)
,
Sugar:
1
g
(1%)
,
Vitamin A:
833
IU
(17%)
,
Vitamin C:
9
mg
(11%)
,
Calcium:
124
mg
(12%)
,
Iron:
1
mg
(6%)