This Fresh Spaghetti with Triple Truffle Cream Sauce is the perfect way to make Valentine's Day a little extra special! Homemade spaghetti is twirled with heavy cream, and not one, not two, but three different forms of truffle – truffle butter, truffle gouda cheese and truffle salt.

Have I told you how much I love Valentine's Day??
I do, a lot.
And it's not just because I'm married and my husband is basically obligated to take me to dinner and buy me a gorgeous arrangement of flowers, although that doesn't hurt.
I love it because it's an excuse to wear obnoxious amounts of red and pink unapologetically.
I love it because I can eat an entire carton of chocolate and feel no guilt.
I love it because I can dress Teddy up in a red shirt that says heartbreaker on it, and Kevin can't argue that he doesn't look "manly" enough.
But most of all, I love it because I get to spoil my family with the most decadent meal, that is basically a compilation of ALL the things we shouldn't or wouldn't eat in our daily lives.
Ladies and gentlemen, may I introduce Fresh Spaghetti with Triple Truffle Cream Sauce, which includes what I deem the four deadly food sins – heavy cream, butter, cheese and all things truffle.
Now, at first glance, admittedly, this appears to be just an ordinary bowl of fettuccine alfredo, but if your were to take a bite, you'd see it's anything but. Homemade spaghetti is twirled with heavy cream, and not one, not two, but three different forms of truffle – truffle butter, truffle gouda cheese and truffle salt.
It's basically everything I dream about and more when it comes to pasta and comfort.
So, first things first, fresh spaghetti. Before Teddy was born, I made homemade pasta all the time, and while it's not too terribly difficult or time consuming, I haven't found the time to make it since he has been born, which makes me incredibly sad. So! I decided I needed to stop making excuses, and find the time, because there is nothing on this earth that makes me happier than eating a big bowl of fresh pasta I've made myself. Since Valentine's Day is all about extravagance and putting a little bit of extra effort, it posed the perfect opportunity to get back to making fresh pasta, and to try out the new pasta attachment my mother-in-law gifted me with on my birthday.
The recipe for the pasta dough, is sort of a hodgepodge between a Lidia's Bastianich recipe from this cookbook (which is one of my favorites BTW) and the recipe that comes with the attachment. I prefer my pasta to be more on the egg-y side, so I used four whole eggs, plus two egg yolks, a little bit of olive oil, and if necessary, just a touch of water (although I try not to add much if any at all). If I have the time, I do like to mix everything by hand, but it's SO much easier to just throw it in the food processor. For one, it takes way less time, and two, it's much easier to clean up.
First, the flour and salt go in to the processor, and then the eggs and olive oil are slowly drizzled in. Once everything is completely incorporated, a dough should pull together, although if it doesn't appear to, I like to grab a handful to double check the texture, if it comes together and you can form a ball, it's ready, if it's still a touch crumbly even after firmly pressing the dough together, it needs a little bit of water.
From there it rests for at least 30 minutes (I like an hour), and then goes straight in to the attachment. This was the first time I've used and attachment, I have to say, I don't think I'm every going back to the hand-cranked version, it was SO easy.  All you do is feed walnut-sized pieces of dough through the feed, and let the machine work it's magic.  Pasta in minutes.
Obviously you don't have to make your own, since there are plenty of fresh versions out there that are wonderful, but there's something so rewarding about making your own pasta, and for Valentine's Day, it's the ultimate way to do something super special.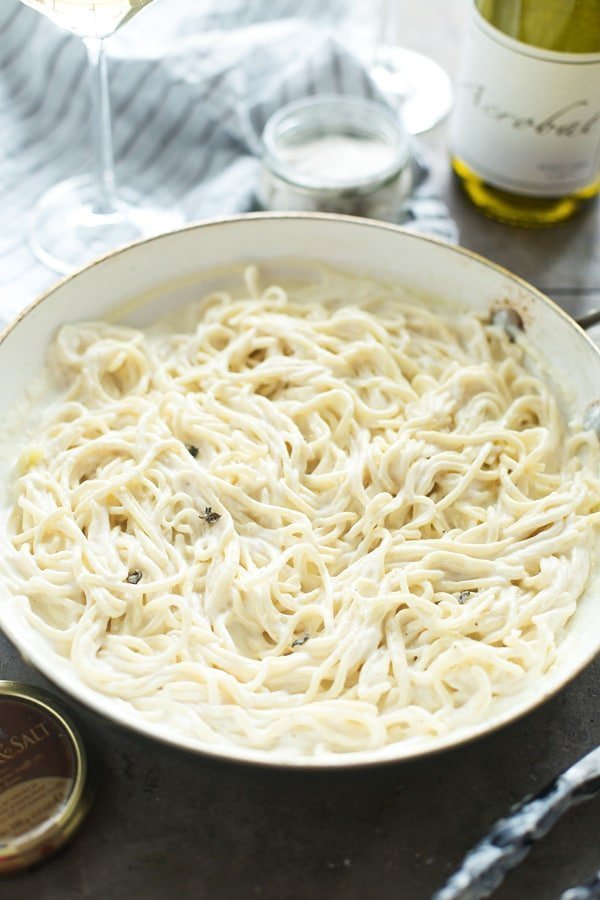 Now, the sauce. Oh my gosh, the sauce. Basically, I like to call this an Alfredo sauce on steroids. It has all the components of a classic Alfredo, but it's taken up a thousand notches. It first starts out with truffle butter, which you can find pretty easily these days, but if you can't, there's always good Amazon
to come through for you.
The melted truffle butter is simmered with heavy cream, shredded truffled gouda cheese, and parmesan. Once the mixture has thickened and reduced a bit, I season it with truffle salt, throw the spaghetti in, and it's ready to hit the table.
A couple of notes on the truffle aspects of the dish. First, for the truffle butter, you can use black or white truffle-infused butter, I used black here, but I've used white before and it's just as delicious. Second, you could really use any sharp-ish truffle cheese, it doesn't necessarily have to be gouda, although that's what I prefer. Anything that's aged a bit with a strong flavor should work nicely. Lastly, Truffle Salt
can be super salty. I know, it's salt, it's supposed to be, but it's kind of like table salt in the sense that it's just way saltier that kosher salt, so you need to use it conservatively, and taste after every addition!
I realize this is not an every-day dish, it's artery-clogging, ridiculously decadent, and isn't cheap to make, but for a special occasion, it's totally appropriate.
Happy early V-day!
Fresh Spaghetti with Triple Truffle Cream Sauce
Author:
Nicole ~ Cooking for Keeps
Ingredients
Spagetti
3½ cups all-purpose flour
1 tsp. salt
4 eggs + 2 egg yolks
1 Tlbs. olive oil
3-4 tsp. water if necessary
Sauce
3 ounces truffle butter (black or white)
2 cups heavy cream
8 oz. truffle gouda cheese, shredded
4 oz. shredded parmesan cheese
¼ tsp. truffle salt, plus more for seasoning
Instructions
Add flour and salt to the bottom of a food processor. Turn on for 20 seconds to "sift" the flour.
Add eggs and olive oil to a small bowl or liquid measuring cup. Turn the mixure on, and slowly drizzle wet ingredients down the feeding tub of the processor. Once all the liquid is combine, take the lid off and grab a small handful of dough, try to squeeze together, if the dough comes together, it's at the right consistency. If it is still very crumbly, add 2 tsp. of water, mix, and then check again. If necessary, add another teaspoon. You really shouldn't need to add much more than a tablespoon.
Once the dough comes together dump on to a very lightly floured surface. Knead by hand for 5-6 minutes. Don't be afraid to put plenty of pressure on the dough, you really can't overhead the dough, so the more the better! Form into a ball and wrap and plastic wrap. Let sit at room temperature for at least 30 minutes and up to an hour.
Once the dough has rested, attach the spaghetti extruder to the stand mixer. Add walnut size pieces of the dough to the mixer. Cut off where you prefer (I like my spaghetti about 10-12 inch long. Lightly dust each batch with flour to prevent the strands from sticking together and lay out on a large baking sheet.
Once all the pasta is formed, bring a large stock pot of water to a rolling boil. Season liberally with salt, it should be almost as salty as the sea.
Add pasta in batches and cook for about 4 minutes. Transfer pasta to sauce.
For the sauce.
Add truffle butter to a large saute pan. Turn the heat on medium. Once the butter has melted, add heavy creamy, whisk to combine. Once the mixture is hot, slowly whisk in cheeses. Let the mixture simmer for 2-3 minutes until it's thickened, stir occasionally. Add in truffle salt. Season to taste with salt and pepper and reduce the heat to low.
Add spaghetti to pasta, toss until coated. If necessary, add a little bit of the starchy cooking liquid to loosen the sauce up. Season to taste with salt and pepper.
(Visited 22,297 times, 2 visits today)