This Truffle Pasta with Triple Truffle Cream Sauce is the perfect way to make Valentine's Day (or any day!) a little extra special! Homemade spaghetti is twirled with heavy cream, and not one, not two, but three different forms of truffle – truffle butter, truffle gouda cheese and truffle salt.
Truffle Pasta with Triple Truffle Cream Sauce
Have I told you how much I love Valentine's Day??
I do, a lot.
And it's not just because I'm married and my husband is basically obligated to take me to dinner and buy me a gorgeous arrangement of flowers, although that doesn't hurt.
I love it because it's an excuse to wear obnoxious amounts of red and pink unapologetically.
I love it because I can dress Teddy up in a red shirt that says heartbreaker on it, and Kevin can't argue that he doesn't look "manly" enough.
But most of all, I love it because I get to spoil my family with the most decadent meal, and this year, that's this Truffle Pasta with Triple Truffle Cream Sauce. We have:
Our version of truffle pasta includes not one, not two, but three different forms of truffle goodness. It's all wrapped up in a luxurious cream sauce, a little bit of butter and the most perfect chewy homemade spaghetti noodles.
Guys, if heaven were ever on a plate. It would be this.
How to make homemade spaghetti
So, first things first, fresh spaghetti. Before my first was born, I made homemade pasta all the time, and while it's not too terribly difficult or time consuming, I haven't made it nearly as much since he's been born. So! I decided I needed to stop making excuses, and find the time, because there is nothing on this earth that makes me happier than eating a big bowl of fresh pasta I've made myself.
Obviously is you want to skip making your own pasta, you can do that.
The recipe for the pasta dough, is sort of a hodgepodge between a Lidia's Bastianich recipe from this cookbook (which is one of my favorites BTW) and the recipe that comes with the attachment.
Add flour to a food processor. Pulse a few times.
Whisk eggs and olive oil together in a liquid measuring cup. Also, I prefer my pasta to be more on the egg-y side, so I used four whole eggs, plus two egg yolks, instead of Lidia's direct recipe.
Once everything is completely incorporated, a dough should pull together. If it doesn't appear to, I like to grab a handful to double check the texture, if it comes together and you can form a ball, it's ready, if it's still a touch crumbly even after firmly pressing the dough together, it needs a little bit of water.
Wrap the dough in plastic wrap and let it rest or at least 30 minutes (I like an hour).
If you have a pasta attachment for the kitchen aid, just follow the instructions and go to town!
Ingredients in Truffle Pasta with Truffle Cream Sauce
Now, the sauce. Oh my gosh, the sauce. Basically, I like to call our truffle cream sauce is an Alfredo sauce on steroids. It has all the components of a classic Alfredo, but it's taken up a thousand notches. It first starts out with truffle butter, which you can find pretty easily these days, but if you can't, there's always good Amazon
to come through for you. You'll need:
Spaghetti. As noted, we make our own spaghetti for our truffle pasta, but you could also buy refrigerated fresh spaghetti or dried spaghetti. Just note that the fresh spaghetti has a much softer texture to it than dried spaghetti and for this particular recipe, I prefer the fresh pasta.
Truffle butter. You can use black or white truffle-infused butter, I used black here, but I've used white before and it's just as delicious. It's pretty easily accessible these days and actually pretty affordable. My favorite place to get it is at Whole Foods, but I believe Trader Joe's also sells it.
Heavy cream. An essential ingredient to a true cream sauce.
Truffle cheese. There are a variety of different truffle cheeses out there these, days, but I really like to use a truffle gouda. An truffle cheddar will also work great.
Parmesan. Because a soft truffle gouda doesn't have a super sharp flavor (unless it's aged for a long time), I like to add in a little bit of parmesan as well.
Truffle salt. Like truffle butter, this is pretty easily accessible these days. We use it to do add another layer of truffle to the finished product. Keep in mind, that it is typically VERY salty, so use sparingly and then add more as needed.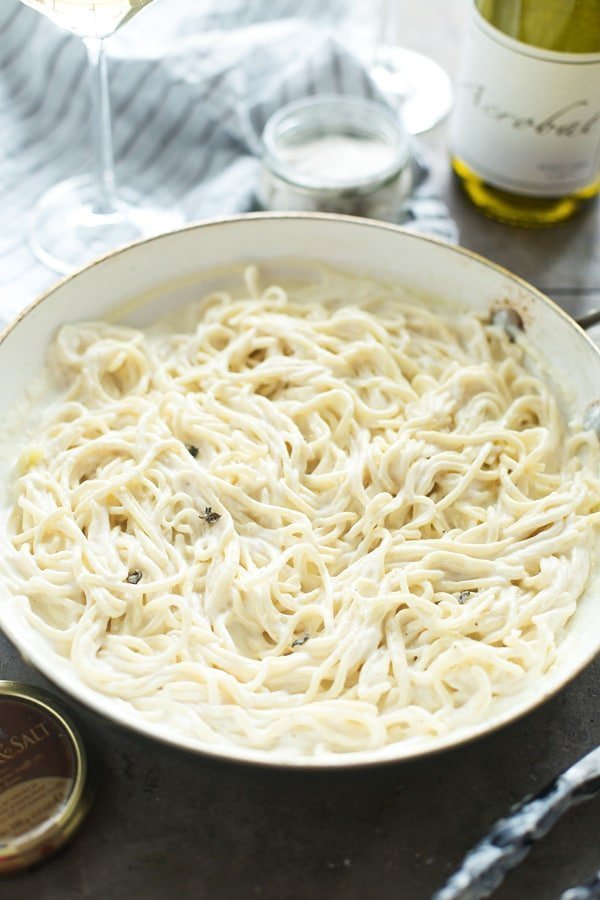 Let's make Truffle Pasta!
Cook the pasta. We've already talked about making, the pasta, but what you'll need to do next is cook. Bring a large pot of water to a rolling boil. Season with salt. If you're using fresh pasta, you'll only need to cook it for 3-4. minutes.
While the pasta water comes to a boil, but before adding the pasta, make the sauce. Melt truffle butter over a low heat and then whisk in cream. Bring to a boil and reduce to a simmer until thickened.
Slowly whisk in the cheeses, continue to whisk until the cheese has melted. Simmer until thickened, about 5 minutes.
Toss the pasta and truffle cream sauce together. Once the pasta cooks, use tongs to transfer the pasta to the sauce. Add truffle salt. Toss to combine. Season with more truffle salt and black pepper.
Substitutions and Tips and Tricks for Recipe Success
You can really use any sharp-ish truffle cheese, it doesn't necessarily have to be gouda, although that's what I prefer. Anything that's aged a bit with a strong flavor should work nicely. So a truffle cheddar or parmesan would also work.
If you can't find truffle cheese, you can use all parmesan.
This is the Truffle Salt we use, but beware, it can be super salty.
If you don't want to make your own pasta, you can swap our fresh pasta from the refrigerated section or use dried spaghetti noodles.
What to serve with truffle pasta
Truffle Pasta with Triple Truffle Cream Sauce
This Fresh Spaghetti with Triple Truffle Cream Sauce is the perfect way to make Valentine's Day a little extra special! Homemade spaghetti is twirled with heavy cream, and not one, not two, but three different forms of truffle – truffle butter, truffle gouda cheese and truffle salt.
Ingredients
Spaghetti
3 1/2

cups

all-purpose flour

1

tsp

kosher salt

4

large

eggs

2

large

egg yolks

1

tbsp

olive oil

2-4

tsp

water if necessary
Sauce
3

oz

truffle butter

2

cups

heavy cream

8

oz

truffle gouda or cheddar, shredded

4

oz

grated parmesan

1/4

tsp

truffle salt, plus more for seasoning
Equipment
Pasta machine

large pot

Skillet
Instructions
Add flour and salt to the bottom of a food processor. Turn on for 20 seconds to "sift" the flour.

Add eggs and olive oil to a small bowl or liquid measuring cup. Turn the mixure on, and slowly drizzle wet ingredients down the feeding tub of the processor. Once all the liquid is combine, take the lid off and grab a small handful of dough, try to squeeze together, if the dough comes together, it's at the right consistency. If it is still very crumbly, add 2 tsp. of water, mix, and then check again. If necessary, add another teaspoon. You really shouldn't need to add much more than a tablespoon.

Once the dough comes together dump on to a very lightly floured surface. Knead by hand for 5-6 minutes. Don't be afraid to put plenty of pressure on the dough, you really can't overhead the dough, so the more the better! Form into a ball and wrap and plastic wrap. Let sit at room temperature for at least 30 minutes and up to an hour.

Once the dough has rested, attach the spaghetti extruder to the stand mixer. Add walnut size pieces of the dough to the mixer. Cut off where you prefer (I like my spaghetti about 10-12 inch long. Lightly dust each batch with flour to prevent the strands from sticking together and lay out on a large baking sheet.

Once all the pasta is formed, bring a large stock pot of water to a rolling boil. Season liberally with salt, it should be almost as salty as the sea.

Add pasta in batches and cook for about 4 minutes. Transfer pasta to sauce.
The sauce
Add truffle butter to a large saute pan. Turn the heat on medium. Once the butter has melted, add heavy creamy, whisk to combine. 

Once the mixture is hot, slowly whisk in cheeses. Let the mixture simmer for 2-3 minutes until it's thickened, stir occasionally. 

Add in truffle salt. Season to taste with salt and pepper and reduce the heat to low.

Add spaghetti to pasta, toss until coated. If necessary, add a little bit of the starchy cooking liquid to loosen the sauce up. Season to taste with salt and pepper.
Nutrition Information
Serving:
1
serving
,
Calories:
1415
kcal
(71%)
,
Carbohydrates:
90
g
(30%)
,
Protein:
47
g
(94%)
,
Fat:
96
g
(148%)
,
Saturated Fat:
49
g
(306%)
,
Cholesterol:
531
mg
(177%)
,
Sodium:
1802
mg
(78%)
,
Potassium:
398
mg
(11%)
,
Fiber:
3
g
(13%)
,
Sugar:
2
g
(2%)
,
Vitamin A:
3467
IU
(69%)
,
Vitamin C:
1
mg
(1%)
,
Calcium:
850
mg
(85%)
,
Iron:
7
mg
(39%)