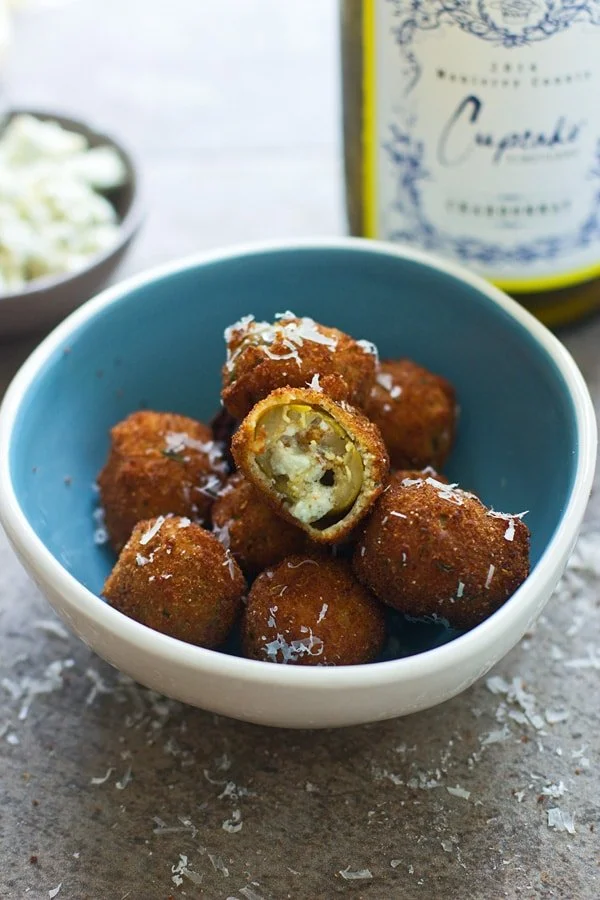 I have a terrible memory that gets progressively worse the older I get. I can't remember a single plan I make unless I write it down in my planner. I struggle to recollect details of my childhood days that my other long-term friends remember vividly. Sometimes, I can't even recall all the places I've lived over the years, although in my defense, I moved practically every year from college until my mid 20s.
However, when it comes to food, I remember EVERYTHING. I could tell you the last fifty meals I've had out at restaurants. I can tell Kevin that last fifty meals he's had out at restaurants. I can remember where I went for my sixteenth birthday and what I ordered. I can remember exactly what was in the TV dinners my Grandmother served my brother and me when we spent the night at her house. I can even remember what food was served at every single Fourth of July block party from the age of seven and up.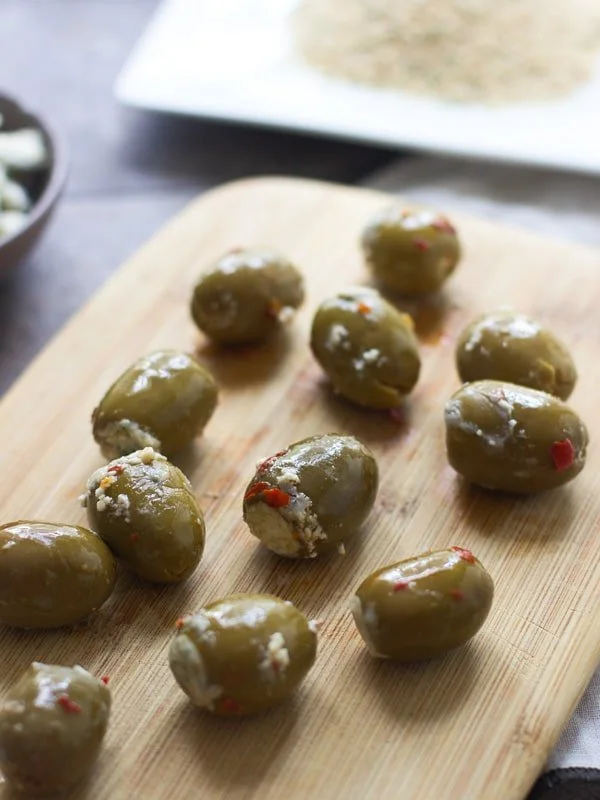 I've had so many memorable meals and foods over the years, but obviously there are some that stand out more than most. One in particular, that has consistently stood up to the test of time, was a basket of perfectly fried and stuffed olives from a favorite restaurant that has since closed down.
They were listed in the appetizer section, but for me, it was the perfect meal, and if I been of drinking age at the time, I imagine a slightly dirty martini would have complimented them perfectly. In the almost never ending bucket, there were an array of green and black olives – the green stuffed with blue cheese, and the black stuffed with some sort of cheddar and pimento combo. It's been about ten years since I've had them, so I thought it was high time to recreate them at home.
With only five ingredients (not including the oil), these guys are super easy to throw together, and make for the perfect cocktail nibble. I like to use gorgonzola cheese, since it's soft and a more mild blue cheese, but any kind would work. If all blue cheese varieties are too strong for you, goat cheese or even boursin would also be delicious.
For the olives, you want to make sure to splurge on a large, pitted green olive. The small ones are just too difficult to stuff, and if they're not pitted, already, well, you're going to spend way too much time on these. Most grocery stores have an olive bar these days, and that's where I picked up mine. I actually ended up finding really large, pitted green olives that had been soaked in olive oil and red pepper flakes, which added another layer of flavor without having to use extra ingredients.
Once the olives get stuffed, they're coated in a standard flour, egg, and breadcrumb mixture, then dumped into a vat of hot oil until they're golden brown and crisp. I toyed around with baking them, but really wanted that super crisp and golden brown exterior, if you want to lighten them up a bit, just pop them into a 425 degree oven instead, they'll crisp up nicely, but they just won't get that deep brown color, which is totally fine.
Transfer them to a pretty bowl, serve with a straight-up dirty martini, and happy hour is complete.
Fried Blue Cheese Stuffed Olives
These blue cheese stuffed olives are crispy, briny, and the perfect cocktail snack!
Author:
Nicole ~ Cooking for Keeps
Ingredients
1 dozen large, pitted green olives
3 oz. crumbled gorgonzola cheese, room temperature
¼ cup all-purpose flour
1 egg + 1 Tlbs. water
½ cup Italian seasoned bread crumbs
Canola oil for frying
Instructions
Stuff olives with blue cheese.
Set up three small bowls. Fill first bowl with flour, second with egg and water, third with breadcrumbs. Season flour with salt and pepper. Whisk egg and water together until combined. Season breadcrumbs with salt.
Coat olives in flour, pat off excess. Dip in egg, then coat in breadcrumbs. Dip each olive in egg again, followed by breadcrumbs.
Add enough oil to a small pot to go up about two inches. Heat oil to 350 degrees. Once oil comes to temperature, fry olives in batches until golden brown on all sides, about 1 minute. Do not overcrowd the pot, you should do about four olives per batch.
Drain on paper towels.