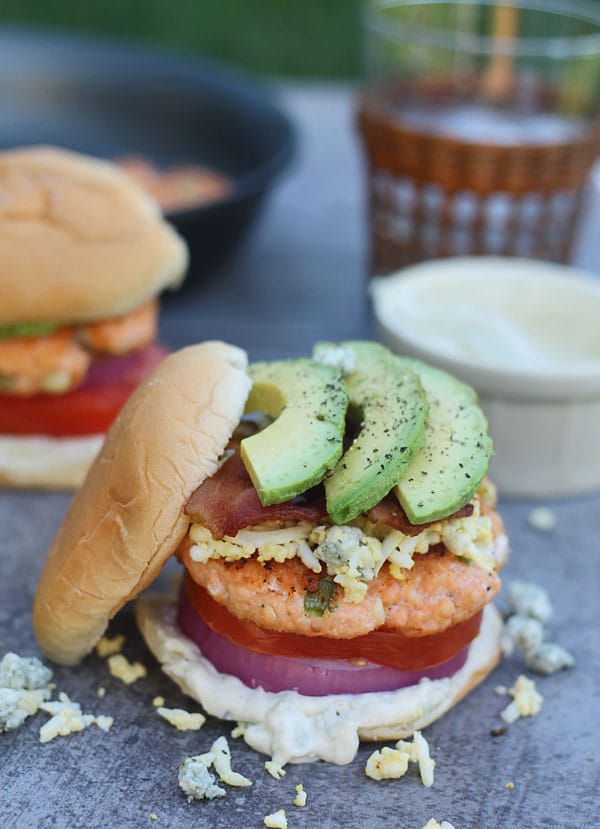 Remember the Sustainable Seafood Project I signed up to be a partner of a few months back? The one where we talked about sustainable seafood, what it is, why it's important and how you and I both can do our part in promoting it? Well, Jessie at Life Is a Strawberry, the founder of the project, has been hard at work, spreading the word and has rounded up a whole other group of awesome bloggers that are spreading the word with us. Today, these blogs are posting sustainable seafood recipes, so be sure to check them all out!
Along with all the aforementioned lovely bloggers, yours truly has decided to join in on the fun and post my own seafood recipe today as well. I mean, I can never get enough seafood anyways, so if I get the opportunity to support other bloggers and post a recipe I'm crazy about while I'm at it, I'm in.


I'm allll about the burger lately, whether it be a beef burger, turkey burger, chicken burger or seafood burger. I just can't get enough. Now that summer is officially over I'm desperately clinging to all the fresh summer produce still lingering around. Avocados and tomatoes are still at their prime around here, so when thoughts of a cobb salad inspired salmon burger danced in my head during my last visit to the produce isle, I knew I needed to sneak at least one more summer dish in.
This has everything I love about a cobb salad: bacon, egg, avocado, tomato, red onion and blue cheese. What's not to love about those ingredients? The salmon patty is simply put together with a little bit of lemon, Dijon, garlic and green onion,, pan-seared, then stacked tall with the cobb-esque components. In each bite you get a little bit of salmon, creamy avocado, salty bacon, tomato, red onion, egg and blue cheese mayo — the ultimate bite.
Let's soak up the summer veggies while we still can!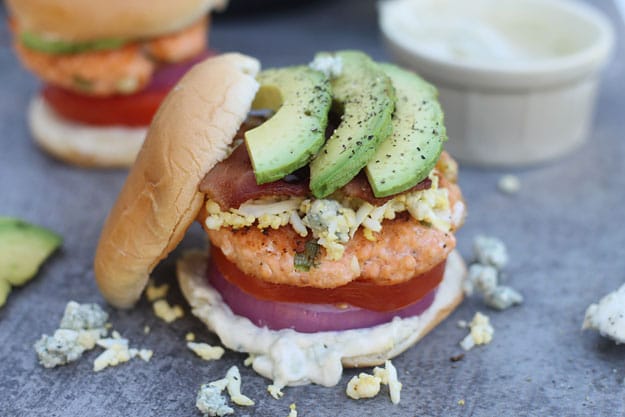 Cobb Salad Salmon Burgers with Blue Cheese Mayo
Author:
Nicole-Cooking for Keeps
Ingredients
1 pound salmon, skin removed and cut into smaller pieces
1 garlic clove, grated
2 green onions, finely sliced
Juice of one lemon
Heaping ¼ teaspoon salt
⅛ teaspoon black pepper
2 tablespoons bread crumbs
¼ cup light mayo
¼ creamy blue cheese
4 slices bacon, cooked
1 avocado, sliced
1 tomato, sliced
1 small red onion, sliced
2 hard-boiled eggs, finely chopped
4 hamburger buns
Instructions
In a food processor, pulse salmon until finely chopped. Remove blade and stir in garlic, onions, lemon juice, salt and bread crumbs. Form into four patties. Heat a large non-stick skillet with a tablespoon of olive oil over a medium-high flame. Cook burgers until golden brown and cooked though on both sides, about 2-3 minutes per side.
In a small bowl, combine mayo and blue cheese.
Build burger. Spread blue cheese mayo on the bottom of bun, top with a slice of tomato (season with a little bit of salt and pepper) and red onion, followed by salmon patty, then chopped egg bacon and avocado. Season avocado with salt and pepper.