I long for the days when I had no expenses and my biggests decisions in life were what I was going to wear to school tomorrow, or which pool I was going to park my butt at all day. Although I've always been a very anxious and stressed-out person by nature, the things I worried about then seriously make me laugh today.
Not being able to stay out past my 11:30 p.m. curfew? My world was over.
Having to go to church on Sundays? Meanest parents ever.
Who was going to drive me to school so I didn't have to take the bus? Panic-inducing
The one thing in my life then, that was actually a somewhat more real forecast of my grown-up life yet to come, was my job as an acrobat teacher. I had real responsibilities and made real money – kids depended on me and looked up to me. Looking back I can't believe I scored the job, and that my boss and owner of the company, Miss Maria trusted a 16-year old with her students. I think maybe I was a bit immature to have that kind of responsibility at such a young age, but heck, when I was 12 years old I acted like I was 18 – I always wanted to be grown up, so having a job that really held me accountable was something I relished.
I made pretty good money for a teenager at the time, and because my parents provided me with shelter, food and clothing, I always had oodles of money leftover to spend on whatever my little heart desired. (Well, if felt like oodles at the time.) I always tried to save half of it (thanks Dad!), but the rest was spent solely on eating out.
I'm not sure who I thought I was back then, because while most teenagers were stuffing their faces with Big Macs or Hot & Ready pizzas, my girlfriends and I were going to nice restaurants and ordering $25 steaks with the full shebang — appetizers, entree and dessert. One time, we even went to Ruth's Chris Steakhouse for our Christmas gift exchange and pretended like we belonged in the sea of businessmen and couples twice our age, when in reality we were just four children who weren't even old enough to order a drink.
Even with the plethora of disposable income, I still wonder how on earth we afforded it all.
Anyways, when I wasn't ordering filet mignons, crab legs, or being generally ridiculous, one of my very favorite things to get were fried pickles — lots and lots of fried pickles.
Another testament to my older age — I can no longer consume a bucketful of fried pickles as my teenage self once did.
BUT, I can eat baked "fried" pickles by the bucketful.
I can, and I will.
So I did.


When I made these sweet potato chips the other day, it sparked a little bit of a craving for more lightened up football fare, and then my mind immediately went to my beloved fried pickles.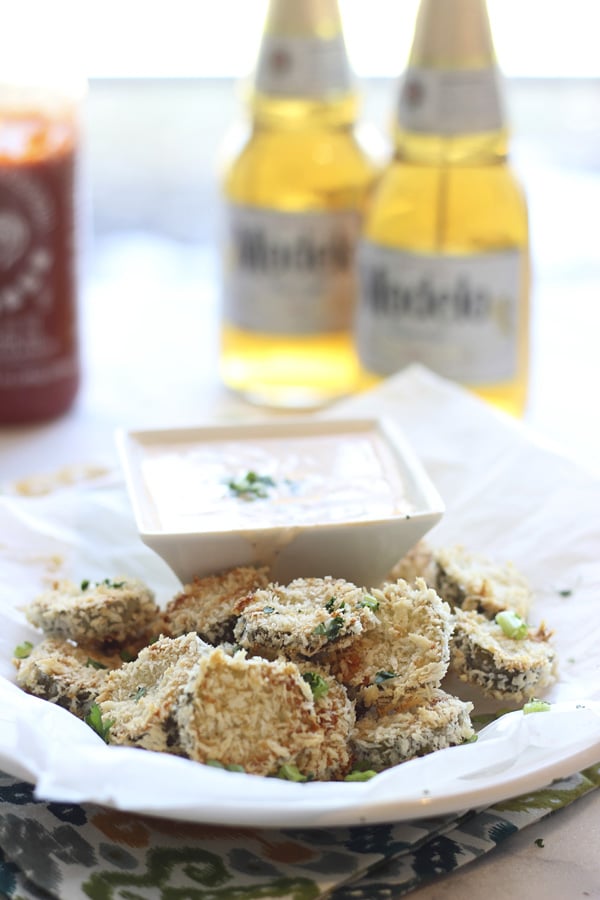 These could seriously not be any easier.
First off, I use Claussen pickles — always. I prefer this brand over any pickle I've ever tried, and, no, this is not a sponsored post, I just truly love these.
I sliced whole pickles into about 1/8 inch slices and then coated them in a little bit of flour to soak up the moisture, then into some egg white and finally into a little seasoned panko. The key to making these super crispy, is a screaming hot oven, and to place the breaded pickles on a greased cooling rack on top of a cookie sheet. I spray them with a little bit of olive oil spray and then bake until golden brown and super crispy.
Of course with any fried food, you have to have a dipping sauce, right? I prefer a ranch based sauce with my fried pickles, but wanted a little spice to contrast the salty pickle flavor, so i just fussed up my homemade ranch recipe (sorry for the terrible pictures!) with a little bit of sriracha.
Simple, easy and so perfect for football watching.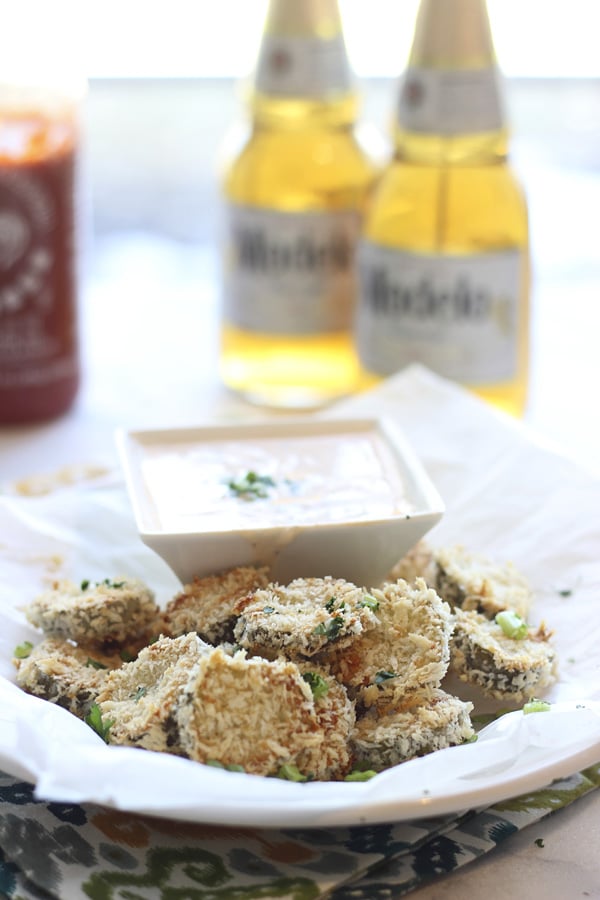 "Fried" Pickles with Homemade Sirracha Ranch
*This makes A LOT of ranch, you can either double the pickle recipe or had the ranch recipe OR save the extra sirracha ranch for something else! (This is what I did)
Author:
Nicole ~ Cooking for Keeps
Serves:
Makes about 36 pickles
Ingredients
Pickles:
3 pickles, sliced in ⅛ inch slices
1 cup panko bread crumbs
1 teaspoon garlic powder
1 teaspoon onion powder
½ cup flour
1 egg white + 1 tablespoon water
Sirracha Ranch:
½ cup buttermilk
¼ cup light sour cream
¼ cup + ⅛ cup low fat mayo (I found that for my taste ½ cup was too much and ¼ was too little, start with a ¼ cup and see how you like the consistency; add more if needed)
1½ tablespoons minced green onion
½ tablespoon minced flat leaf parsley
1 very small garlic clove grated (if cloves are large only use half)
¼ teaspoon + ⅛ teaspoon garlic powder
1 teaspoon onion powder
¼ teaspoon salt plus more to taste
¼ teaspoon + ⅛ teaspoon dill weed
Pinch of Black Pepper
2 teaspoons sriracha
Instructions
Pickles
Preheat oven to 450 degrees. Line a a baking sheet with a cooling rack and spray with olive oil spray.
On a plate, combine panko, garlic powder and onion powder. Place flour on another plate. In a shallow bowl whisk together egg white and water.
Coat pickles in flour,remove excess, then dunk in egg white mixture and then into the panko. Place on cooling rack.
Spray pickles with olive oil spray and bake for about 15 minutes or until golden brown and crispy.
Sirracha Ranch
Whisk all ingredients together. Chill.