Listen, I'm not above the freezer section. In fact, I'm a serious sucker for philly cheesesteak Lean Pockets, Trader Joe's tiny tacos and of course, Tostino's pizza rolls.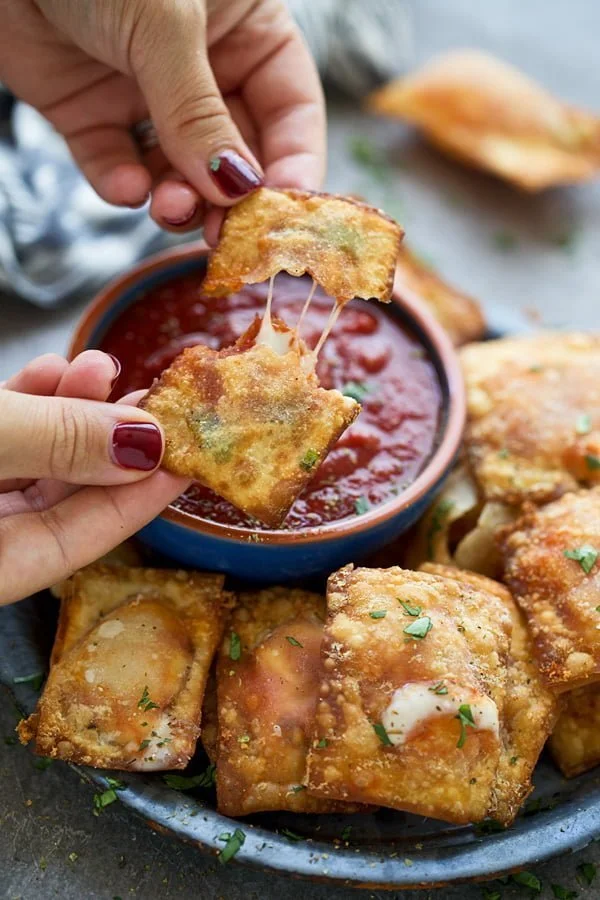 Aside from Martha Stewart and Goop equivalents, I'm guessing the majority of people out there share my guilty pleasures. I will clarify however, that while I, myself will consume said products and occasionally serve them to my husband, I wouldn't be caught dead breaking them out for entertaining.
Entertaining for me is not the time to peruse the freezer section. Even with as little as an hour's notice I can think of a handful of easy recipes (like this corn dip, these pizza poppers, or this cheesy onion and artichoke dip) to whip up with a quick trip to the grocery store. While these homemade pizza rolls aren't in the five-minute prep category, they do require very little ingredients and basically no kitchen skills whatsoever.
I'm not sure what the crispy exterior is on the original pizza rolls, but I find that egg roll wrappers mimic the texture pretty closely. Each wrapper is cut into four strips, brushed with water and then piled high with finely diced mozzarella cheese, pepperoni and green peppers.
If you're like me and think you're making a straight line when in actuality the line is completely crooked, I'd err on the side of caution and use a ruler to keep your lines straight. It takes a few more minutes, but even edges make the sealing process much for efficient and quick.
Once each pocket is sealed, they're dumped into a vat of hot oil until crispy and golden brown and served with a super easy homemade pizza sauce, which happens to be my go-to for all pizzas.
Serve them right away or fry before guests arrive and pop in the oven for a few minutes just before serving.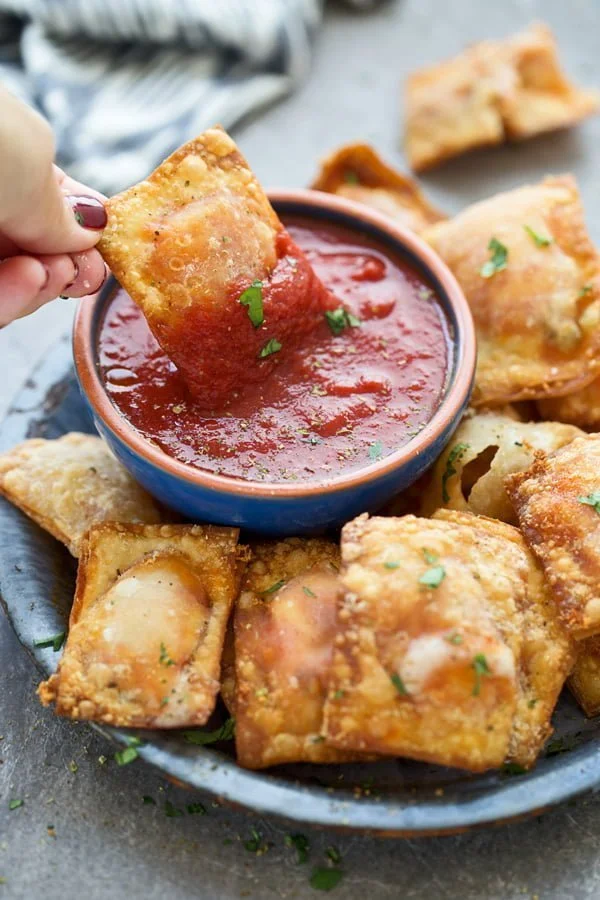 Homemade Pepperoni Pizza Rolls
Homemade Pepperoni Pizza Rolls are perfect for a crowd, and completely addictive! Serve with pizza sauce for the perfect Game Day bite!
Ingredients
canola oil for frying

1/2

cup

tomato paste

3/4

cup

water

1/4

tsp

garlic powder

1/4

tsp

salt

1/4

tsp

sugar

1/4

tsp

oregano

15

egg roll wrappers

6

oz

low-moisture mozzarella cheese, finely diced

1/2

cup

finely diced pepperoni

1/4

cup

finely diced green pepper
Instructions
Fill a heavy-bottomed pot with thee inches of oil. Bring up to 350 degrees.

Whisk tomato paste, water, garlic, salt, sugar and oregano in a small bowl.

Use a pizza cutter to cut each egg roll wrapper into four equal rectangles, they should be x by x.

Toss mozzarella, pepperoni and green pepper together in a small bowl. Working with four rectangles at a time, brush each with water and two teaspoons of the cheese, pepperoni and pepper in the middle of the bottom half of each wrapper, followed by a 1/2 teaspoon of pepperoni and a few pieces of green pepper. Fold over and seal edges, making sure there are no air bubbles.

Once all the pizza rolls are formed, work in batches to fry until golden brown, about 1 minute per side. Drain on paper towels. Serve with leftover marinara.