These Bolognese Turkey Meatball Subs are the perfect all-in-one meal. Melt-in-your-mouth turkey meatballs studded with carrots, celery, and some super secret ingredients are stuffed in crispy garlic butter rolls and covered in gooey mozzarella cheese. Heaven!
Bolognese Turkey Meatball Subs
This post is from the archives – we've updated it with new photos and some great new tips!
Kevin took the day off today, so we're soaking up Teddy's second Halloween with breakfast at one of our favorite local bakeries, play time at the park and trick-or-treating at the shops just outside our neighborhood.
We're capping the night off by having a bunch of friends over for post-trick-or-treating chili, cornbread, cupcakes and spiked apple cider.
It's going to be a lovely day.
However, we're here to talk about meatball subs. Bolognese turkey meatball subs! Quite a mouthful, both in the name itself and the finished product, but I promise you, this is the BEST meatball sub recipe you'll come across.
Both the meatball and sauce recipe are a slight riff from my Mom's spaghetti and meatballs, which also happens to be the best spaghetti and meatballs you'll ever have in your life. Don't believe me? Just look at the comment section, it's one of Cooking for Keep's most popular recipes to date for a reason, and a must-make for these cold winter days.
We transfer most of the ingredients in our famous meatballs to this recipe, but swap out lower fat ground turkey for the ground beef and Italian sausage. We also add in a good amount of finely chopped carrots and celery for a riff on a classic bolognese sauce.
The meatballs simmer in a white wine-laced marinara sauce and then we nestle them into crispy hoagies smothered with butter and garlic. Of course a meatball sub is nothing without a generous amount of cheese, so we cover them them with shredded mozzarella before baking them until they're perfectly hot and melty.
Ingredients in Turkey Meatball Subs
The meatballs
Turkey. Normally when we make meatballs, we use a combination of ground beef and sweet Italian sausage. However, I was trying to be a little bit healthier so we swapped both of those out for ground turkey. I use 90% lean ground turkey opposed to ground turkey breast to ensure the meatballs are moist.
The veggies. Seeing as these are BOLOGNESE turkey meatball subs, we need to add in plenty of veggies. Diced onion, carrots, celery, and garlic is what you'll need.
Egg. Every meatball recipe needs an egg to bind everything together and add moisture.
Saltine crackers. This is what makes our meatballs different. We crush up salted saltine crackers instead of using traditional breadcrumbs. It's something my Mom has always done and I swear by it!
Milk. Milk may seem like a strange ingredient in meatballs, but I pour a little bit over the crushed saltine crackers to soften them up a little bit. It's just another reason our meatballs are so tender.
The seasoning. We kept these simple with just Italian seasoning and salt.
The sauce
Olive oil, garlic, onion. The base starts off with a sauté of garlic and onion – a classic beginning to any good marinara sauce.
Tomato paste. While a lot of recipes use crushed tomatoes or fresh tomatoes (If you're looking for either, check out our Creamy Tomato Pasta or our Fresh Tomato Pasta.), almost all of our spaghetti and meatball recipes use tomato paste. I love the concentrated flavor of tomato paste, plus it makes for a smoother sauce.
White wine. You can use any dry white wine here.
Water. Because tomato paste is so concentrated, you need quite a bit of water to make it a sauce consistency.
The seasoning. A little bit of sugar to balance out the acidity, salty, and Italian seasoning. That's it! Pretty simple.
Everything else.
Hoagies. I like to use a pretty hearty hoagie, but anything you like will work as well. You could even make mini sliders, like these, for an individualized portion.
Mozzarella cheese. Sometimes I'll use fresh mozzarella for this turkey meatball sub, but I only had block mozzarella cheese in the fridge, so that's what I used here. Either works.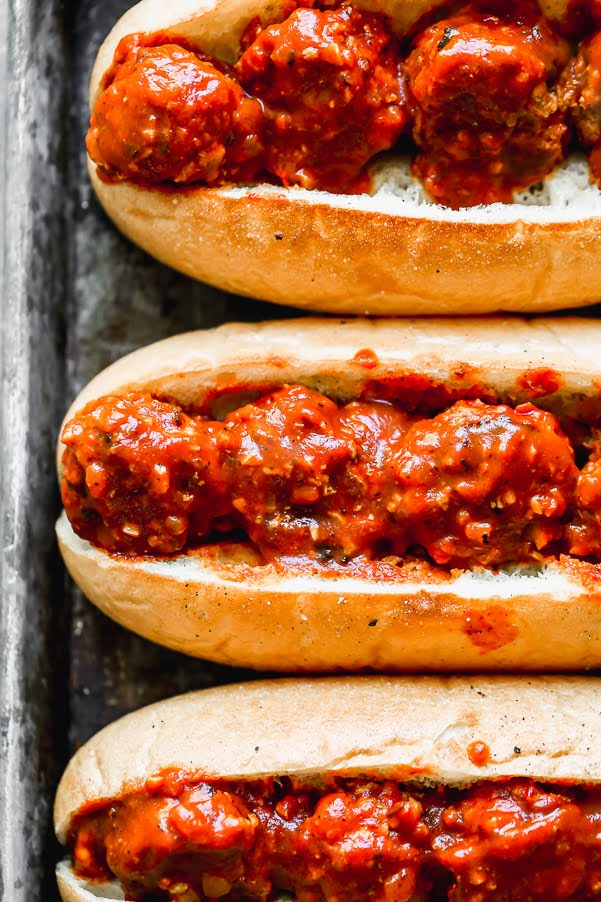 Let's make Bolognese Turkey Meatball Subs!
Saute the veggies. Because the veggies won't have time to completely cook when we sear and simmer the meatballs, you want to give them a little bit of a head start. Start by heating a little bit of olive oil in your skillet. Add the onion, carrots, celery, and garlic and sauce for 2-3 minutes until barely softened. Turn the heat off and let cool slightly.
Mix everything together. Add the turkey, egg, saltine crackers, seasoning, and parmesan to a large bowl. Pour the milk over the breadcrumbs. Spoon the veggies on top. Use your hands to GENTLY mix everything together.
Form the meatballs. Use a small cookie scoop (I use two scoops) to form the meatballs. You want them to be just under a 1/4 cup.
Sear the meatballs. Add olive oil to the same large skillet you cooked the veggies in. Sear the meatballs until brown and crisp on all sides. Transfer to a plate.
The sauce
Add the remaining onion and garlic to the pan. Sauté until slightly softened. Pour in the white wine and scrape up all those awesome brown bits at the bottom of the pan. Whisk in the water and seasoning. Bring to a boil, reduce to a simmer and add the meatballs back in.
Assembly!
Once the meatballs are cooked through, nestle them into middle-split hoagies, sprinkle with lots of mozzarella cheese and bake!
Can I make turkey meatball subs in advance?
Absolutely! Make the meatballs up to three or four days in advance. These turkey meatball subs are also a great use for leftover meatballs!
Substitutions and Tips and Tricks for Recipe Success
Don't over mix the meatball mixture! If you're too hard on the mixture, it could result in tough meatballs.
When searing the meatballs, don't move them until they easily release from the pan.
For a shortcut, feel free to use your favorite store-bought marinara sauce.
If ground turkey isn't your thing, you could use ground sirloin, ground beef, Italian sausage, or even ground chicken.
Use fresh mozzarella or block mozzarella cheese.
Bolognese Turkey Meatball Subs
These Bolognese Turkey Meatball Subs are the perfect all-in-one meal. Melt-in-your-mouth turkey meatballs studded with carrots, celery, and some super secret ingredients are stuffed in crispy garlic butter rolls and covered in gooey mozzarella cheese. Heaven!
Ingredients
6

hard hoagies

2

tbsp

softened or melted butter

2

tbsp + 2 tsp

olive oil

3/4

cup

finely diced onion, divided

3/4

cup

finely diced carrot

1/2

cup

finely diced celery

3

large

garlic cloves, minced

2

tsp

kosher salt, divided

1

lb

ground turkey

1

large

egg

1/4

cup

grated parmesan cheese, plus more for garnish

1/2

cup

crushed saltine crackers

2

tbsp

milk

1 1/2

tsp

italian seasoning, divided

1/2

cup

white wine

6

oz

tomato paste

15

oz

water

1

tsp

sugar

8

oz

shredded mozzarella cheese
Instructions
Preheat oven to 375 degrees.

Heat a large cast-iron skillet to a medium heat. Add 2 teaspoon oil, let heat for 30 seconds. Add onion, carrot, celery and ½ teaspoon salt. Sauté until slightly softened, about 3 minutes, add garlic and cook another minute. Set aside and let cool slightly.

In a medium bowl, add turkey, egg, parmesan cheese, cracker crumbs, 1 teaspoon Italian seasoning, 1 teaspoon salt, veggie mixture. Pour milk over cracker crumbs. Use your hands to combine the mixture, do not over mix. Use a ¼ cup measure to form mixture into meatballs.

Heat remaining oil in the same cast-iron skillet over a medium-high heat. Sear meatballs until brown and crisp on all sides. If needed, work in batches. Once all the meatballs are brown, remove from pan and cover with foil. Reduce heat to a medium-low and add onion and garlic. Saute for 2 minutes until softened. Add wine. Reduce for 30 seconds.

Add remaining salt, Italian seasoning, tomato paste, water and sugar to the pan. Bring to a boil and reduce to a simmer. Add all the meatballs back to the pan, along with any accumulated juices. Simmer until meatballs are cooked through, another 7-10 minutes.

Whilte the meatballs simmer, use a serrated knife, cut a V in the center of each hoagie so you have a place to nestle meat balls. If you're using a regular sub roll, you don't have to do this. Brush the inside of the hoagies with butter. Sprinkle with salt and pepper. Pop in the oven and bake until crisp, about 10 minutes.

Once meatballs are cooked though, fill the hoagies with 3 meatballs. Top with cheese and put on a large baking sheet. Repeat with remaining meatballs and buns. Bake until cheese is melted, about 10 minutes. Garnish with more grated parmesan cheese.
Nutrition Information
Serving:
1
sub
,
Calories:
550
kcal
(28%)
,
Carbohydrates:
45
g
(15%)
,
Protein:
36
g
(72%)
,
Fat:
24
g
(37%)
,
Saturated Fat:
8
g
(50%)
,
Cholesterol:
106
mg
(35%)
,
Sodium:
1763
mg
(77%)
,
Potassium:
609
mg
(17%)
,
Fiber:
3
g
(13%)
,
Sugar:
10
g
(11%)
,
Vitamin A:
989
IU
(20%)
,
Vitamin C:
7
mg
(8%)
,
Calcium:
279
mg
(28%)
,
Iron:
13
mg
(72%)