These Garlic Bread Bolognese Meatball Subs are the perfect all-in-one meal. Melt-in-your-mouth meatballs stuffed in garlic butter rolls and covered in gooey mozzarella cheese. Heaven!
Happy Halloween!
Kevin took the day off today, so we're soaking up Teddy's second Halloween with breakfast at one of our favorite local bakeries, play time at the park and trick-or-treating at the shops just outside our neighborhood.
We're capping the night off by having a bunch of friends over for post-trick-or-treating chili, cornbread, cupcakes and spiked apple cider.
It's going to be a lovely day.
I first posted this recipe two years ago, when I was about 40 weeks pregnant, and I thought it was time to give it a little bit more love, plus I'm guessing a lot of you are wrapped up in your own Halloween festivities!
They say patience is a virtue.
Yeah right.
You see, I'm 39+ 4 weeks pregnant and beyond ready for this child to make his/her appearance. I know I could be 40+ 4 weeks pregnant, or even 41 or 42 weeks pregnant, but my patience has about run out. The clothes are washed, the nursery is complete, the house is clean, presents are wrapped, my eyebrows are waxed, and I've about exhausted any other "to-do" I can think of at the moment. According to my doctor we won't see it to our due date on Sunday, but I have a sneaking suspicion she's full of it.
So you know what I do to bide the time?? I bake. And I eat. A lot.
Today, I plan on making a giant batch of these M&M cookies that are pretty much the best thing I've discovered all year (and my husband would agree), I'm whipping up a batch of gingerbread blondies that I hope turn out as gooey and spicy as I imagine in my head, and I'm also headed over to my Mom's house to finish dipping about 200 peanut butter balls in chocolate.
I wonder how much weight I'll gain in sugar by the end of the day??
Prior to the smorgasbord of baking and my acquired sugar addiction, I made these melt-in-your-mouth-perfect-for-winter garlic meatball subs for you guys, and aside from the M&M cookie discovery, these might be the best darn things I've made all year. Tender, flavorful meatballs, drowned in white-wine laced sauce, covered in cheese and nestled in garlic bread hoagies – these are what winter was made for.
Both the meatball and sauce recipe are a slight riff from my Mom's spaghetti and meatballs, which also happens to be the best spaghetti and meatballs you'll ever have in your life. Don't believe me? Just look at the comment section, it's one of Cooking for Keep's most popular recipes to date for a reason, and a must-make for these cold winter days.
To make the meatballs:
In today's recipe, I took all of the ingredients of her meatballs – ground beef, Italian sausage, saltine crackers (The secret ingredient!), grated onion (another secret ingredient), diced onion, garlic, parmesan, and Italian seasoning – and added in a handful of diced celery and carrot for a Bolognese-style meatball.
Once all the meatballs are gently formed, they're cooked up in a bit of olive oil until brown and crusty on all sides, removed from the pan, and set aside. Don't worry about cooking them all the way through, they'll finish up later in the process.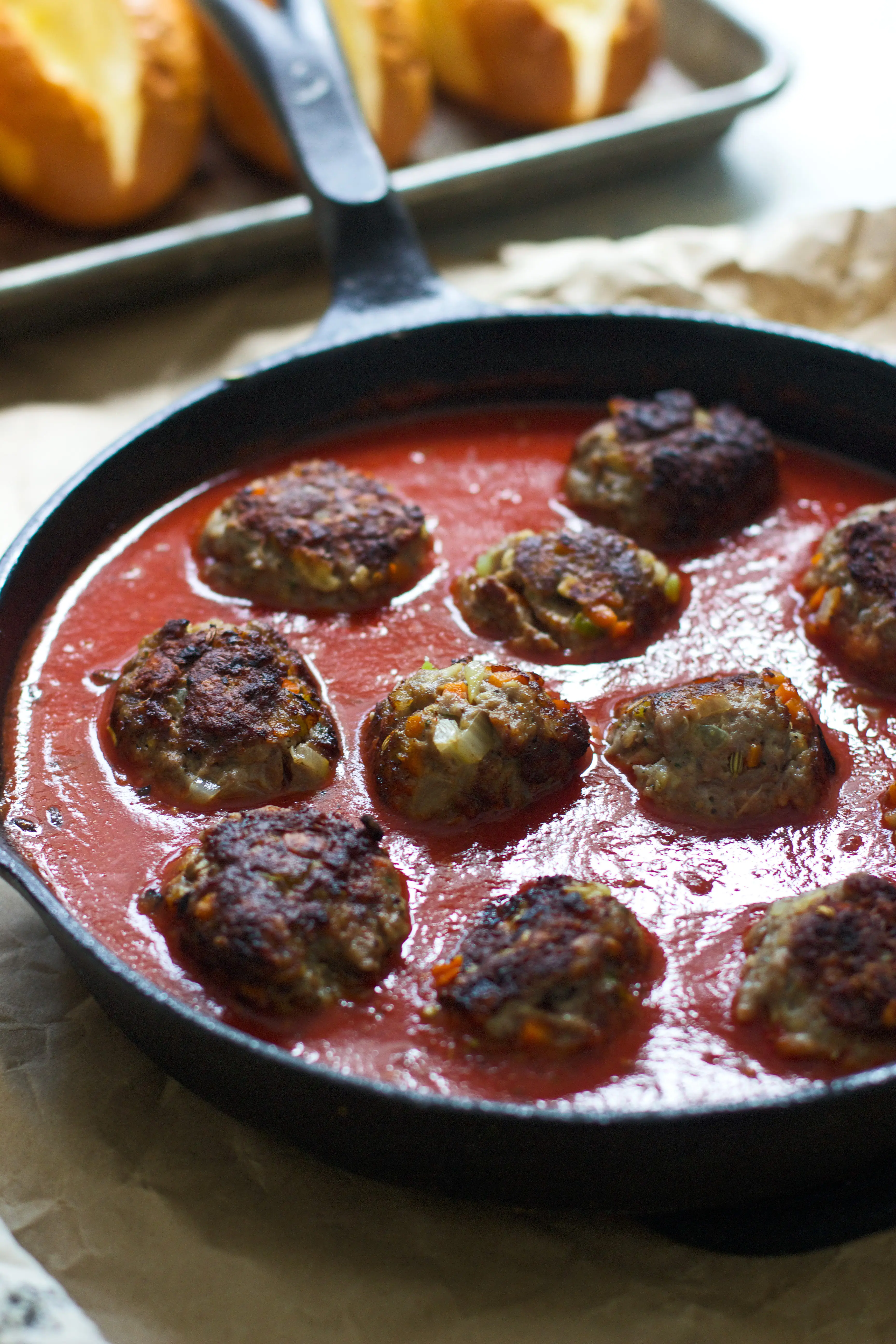 To make the sauce:
The sauce is quickly prepared with a splash of white wine to deglaze the pan, a can of tomato paste, just a touch of sugar, and some water. The meatballs are added back to the pan, simmered until cooked through, and then they're tucked into hoagies that have been slathered on the inside and outside with butter and garlic.
Fresh mozzarella is nestled on top, they're popped in the oven until the cheese is melted, and they're ready for the dinner table.
Serve with a big, fat Italian sausage, and you've got yourself the perfect fall meal.
Garlic Bread Meatball Subs
Author:
Nicole - Cooking for Keeps
Ingredients
6 hoagies
2 tablespoons butter
3½ teaspoons garlic, divided (2½ teaspoons in butter)
2 tablespoons + 1 teaspoon olive oil
½ cup finely diced onion
¾ cup finely diced carrot
½ cup finely diced celery
2 teaspoons salt, divided (1/2 teaspoon in carrot onion mixture, 1 teaspoon in meat and ½ teaspoon in sauce)
2 italian sausage links
1 pound ground sirloin
1 egg
½ cup crushed saltine crackers
1½ teaspoons italian seasoning, divided (1 teaspoon in meatballs)
½ cup white wine
6 ounces tomato paste
15 ounces water
1 teaspoon sugar
8 ounces fresh mozzarella, sliced thinly
Instructions
Preheat oven to 350 degrees.
Using a serrated knife, cut a small part of the sides of each hoagie off so that you have a flat surface to brush garlic butter. Cut a V in the center of each hoagie so you have a place to nestle meat balls.
In a small saucepan, add butter and 2½ teaspoons of garlic. Turn the heat on medium-low and let garlic steep in the butter for 5-7 minutes.Brush the outsides of each hoagie with butter, then brush insides with remaining butter and sprinkle garlic with garlic. Do not get any pieces of garlic on the outside of the hoagie, only the inside. Bake for 10 minutes or until slightly crisp. Remove from oven and set aside.
Heat a large cast-iron skillet to a medium heat. Add 1 teaspoon oil, let heat for 30 seconds. Add remaining garlic, onion, carrot, celery and ½ teaspoon salt. Sauté until slightly softened, about 5 minutes, Set aside.
In a medium bowl, add sausage, sirloin, egg, cracker crumbs, 1 teaspoons Italian seasoning, 1 teaspoon salt and veggie mixture. Use your hands to combine the mixture, do not over mix. Use a ¼ cup measure to form mixture into meatballs.
Heat remaining oil in the same cast-iron skillet over a medium-high heat. Brown meat balls on all sides. If needed, work in batches. Once all the meatballs are brown, remove from pan and cover with foil. Reduce heat to a medium-low and add wine. Reduce for 30 seconds. Add remaining salt, Italian seasoning, tomato paste, water and sugar. Bring to a boil and reduce to a simmer. Add all the meatballs back to the pan, along with any accumulated juices. Simmer until meatballs are cooked through, another 7-10 minutes.
Once meatballs are cooked though, fill the hoagies with 3 meatballs. Top with a couple sliced of cheese and put on a large baking sheet. Repeat with remaining meatballs and buns.
Bake until cheese is melted, about 5 minutes.
(Visited 15,137 times, 1 visits today)