Healthy Turkey and Mushroom Bolognese is the perfect way to get your winter comfort fix while cutting out fat and calories for healthier eating.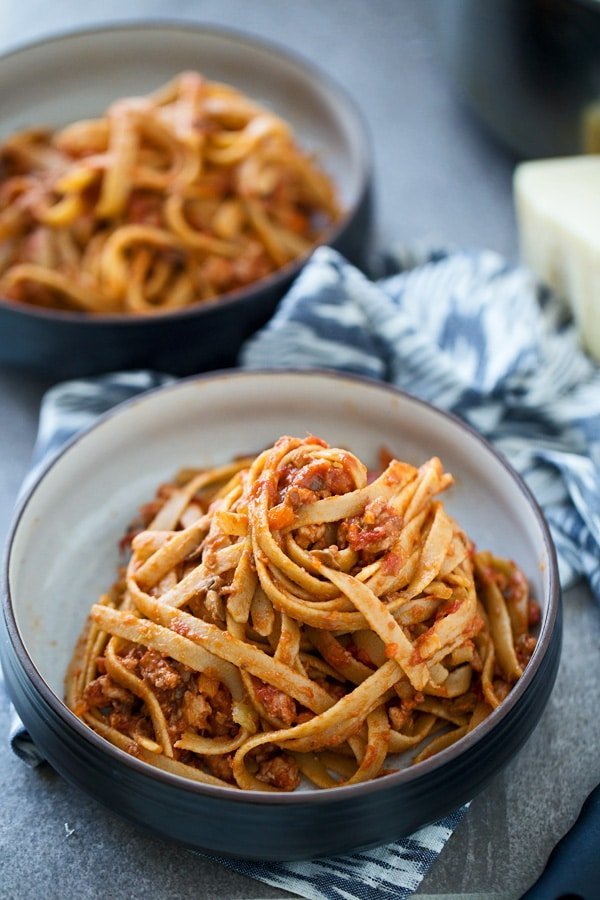 Ok, it's January, it's cold, and all you want is comfort food. Something to keep you warm, something to make you feel good. But on the other hand, it's January, you've spent the last two months eating your weight in pies, fancy appetizers and stuffing, so you want something light, something that just may facilitate in taking off those extra few pounds you packed on in recent weeks.
What a conundrum.
Luckily, I have a solution: Healthy Turkey & Mushroom Bolognese.
All of the comfort of a classic beef-based Bolognese without all the fat and calories. Oh, and I also used whole-wheat fettuccine, so rest-assured the pasta portion is packed full of fiber and whole-grain goodness.
Admittedly, red sauce isn't typically my first choice when it comes to pasta, I'm much more partial to a cream-based sauce or something light and garlicky, but I always make an exception for Bolognese. There's just something about the slow-cooked meat sauce that screams comfort to me, and honestly, I can't get enough of the stuff.
My favorite version is this Short Rib Bolognese I made a few years back that's been wildly popular. It's rich and so delicious, but obviously it's not waist-friendly, so this version is kind of the healthy counterpart to that. Aside from the short ribs, I used a lot of the same ingredients, so the flavors are somewhat reminiscent of each other.
Here, I used ground turkey breast, lots of hearty cremini mushrooms and tons of vegetables. I toyed around with the idea of using regular ground turkey breast, but the fat content is actually about the same as ground sirloin, and I really wanted to par down that aspect of the dish, so I went with breast meat instead. I was worried it would be too dry and not mimic the texture of beef enough, but since the sauce is slow-cooked for a lengthy period of time, you really can't tell much of a difference.
Just like my other version begins, this one starts by sweating plenty of onion, carrot, celery and garlic in some olive oil. Typically I'll pop all the veggies in the food processor to chop them up into almost a paste, but here, I wanted to retain a little bit more texture from the vegetables, so I chopped them as finely as I could by hand.
Once the veggies are slightly softened and fragrant, the mushrooms and turkey breast go in and a wooden spoon is used to break up the turkey into teeny tiny pieces, again, you want the texture to be reminiscent of ground beef, without any big chunks of turkey.
When all of the meat is broken up and cooked through, tomato paste goes in, followed by a good amount of dry red wine, canned tomatoes, a few parmesan cheese rinds, sugar and water. I also add in just a tiny bit of cinnamon because I love the warmth and unqiue flavor it gives red sauces. If you're a little weary of adding it in, just start with an 1/8 teaspoon, then add more to suit your taste.
Also, I recently had someone ask if you could just add parmesan cheese instead of the rind, and while you could do that, it doesn't infuse the same flavor into the sauce that a parmesan cheese rind does. So if you can, stick with the rind.
Once everything simmers for a good 35 minutes, a little bit of skim milk is added, again to cut out some of the fat, and it's simmered another 15 minutes or so.
Everything is seasoned with salt and pepper to taste, then tossed with the cooked noodles until the sauce is absorbed.
Garnish with chopped parsley and parmesan cheese.
Winter comfort meet January healthy.
Healthy Turkey and Mushroom Bolognese
Healthy Turkey and Mushroom Bolognese is the perfect way to get your winter comfort fix while cutting out fat and calories for healthier eating.

Ingredients
1

tbsp

olive oil

1

cup

finely chopped onion (1 medium onion)

1

cup

finely chopped celery (3 celery stalks)

1

cup

finely chopped carrot (2 large carrots)

3

large

garlic cloves, minced

10

oz

cremini mushrooms, finely chopped

2 1/2

tsp

kosher salt, divided

1

lb

ground turkey breast

3

tbsp

tomato paste

1

cup

dry red wine

28

oz

canned, crushed tomatoes

2

parmesan cheese rinds

1/2

tsp

ground cinnamon

2

tsp

sugar

1/2

cup

water

1/2

cup

low-fat milk

1

lb

whole-wheat fettuccine
Instructions
Heat a large pot to a medium heat. Add olive oil. Once oil is hot, add onion, celery, carrots, and 1 teaspoon salt, stir and saute veggies until slightly softened, about 2-3 minutes. Add garlic, continue to cook another minute.

Add mushrooms, ground turkey breast and another teaspoon of salt. Use a wooden spoon to break up the turkey breast while it cooks. You want the meat to be chopped as fine as the vegetables. Continue to cook and use the wooden spoon to break up the meat until it's cooked all the way through, about 7-8 minutes.

Stir in tomato paste, cook 1 minute. Add in red wine and bring to a boil. Reduce to a simmer until almost evaporated. Add in remaining salt, crushed tomatoes, parmesan rinds, cinnamon, sugar and water. Bring to a boil, reduce to a simmer and cover with a lid. Simmer for 35 minutes, stirring occasionally.

Once the sauce has simmered for 35 minutes, season to taste with salt and then add milk. Continue to simmer for another 15 minutes. Remove rinds and then season to taste with salt and pepper. Reduce the heat to low.

While the sauce finishes cooking, bring a large pot of water to a rolling boil. Season liberally with salt. Add fettuccine and cook until just under aldente, about 8-10 minutes.

Use tongs to transfer pasta to the sauce. Toss in sauce until some of it has absorbed into the pasta and the pasta is aldente. Serve with grated parmesan cheese.
Nutrition Information
Serving:
1
serving
,
Calories:
477
kcal
(24%)
,
Carbohydrates:
74
g
(25%)
,
Protein:
33
g
(66%)
,
Fat:
5
g
(8%)
,
Saturated Fat:
1
g
(6%)
,
Cholesterol:
43
mg
(14%)
,
Sodium:
1308
mg
(57%)
,
Potassium:
1108
mg
(32%)
,
Fiber:
3
g
(13%)
,
Sugar:
10
g
(11%)
,
Vitamin A:
3974
IU
(79%)
,
Vitamin C:
18
mg
(22%)
,
Calcium:
132
mg
(13%)
,
Iron:
5
mg
(28%)