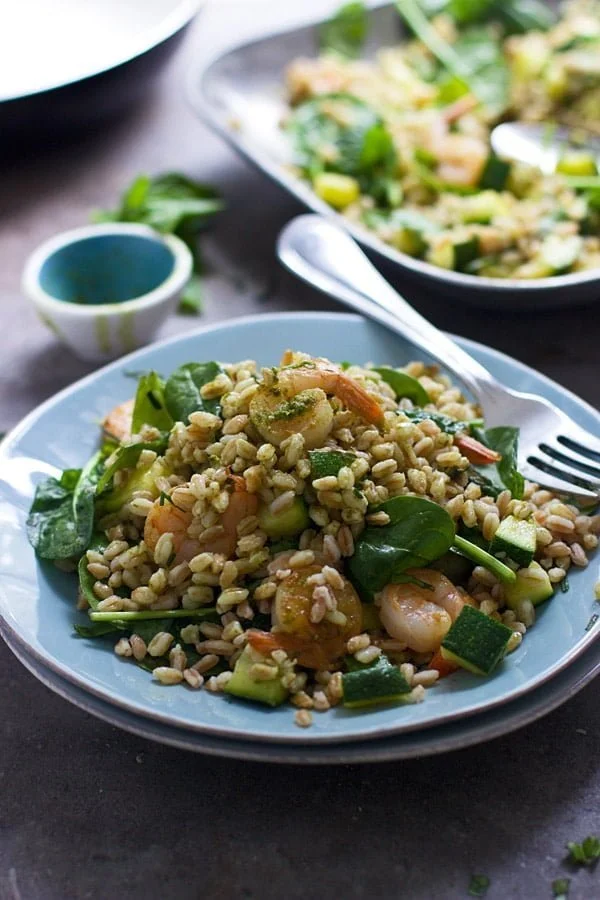 I'm seven and half months into motherhood, and I still haven't lost all my baby weight. I thought for sure, by now, I'd be just like a lot of the other moms out there who are slimmer post-baby, but I've had no such luck. Granted, I still stuff myself with pasta, nightly desserts, and hoppy beers, so that could be part of the reason the weight isn't just falling off, but honestly, I figured it would just kind of melt away without any effort whatsoever. It sounds sort of ridiculous when you say it aloud, doesn't it?
Because I'm still mostly nursing (we started incorporating a little bit of formula a few weeks ago for various reasons), I can't really diet hardcore like I want to, so instead, I'm going to try my hand at eating super healthy, filling, meals during the week, and then still let myself go wild on the weekend – because eating healthy a hundred percent of the time, just isn't for me, even if the scale tells me otherwise.
We're from the Midwest, so Kevin has a sort of meat-and-potatoes mentality. I mimic those thoughts somewhat, except for me, it's more of an I-need-starch-in-every-meal mentality. While I also love a roasted potato or side of pasta, lately (as in the last year or two), my go-to healthy starch has been farro. I adore it's nutty taste and chewy texture, and I often throw it in salads or swap it out for quinoa in various recipes, but I rarely have it as a complete meal. However, if you throw a horde of summer veggies and sautéed shrimp in the mix, I can definitely get on board with it sufficing for a complete meal.
I settled on describing the recipe as green goddess, because, well, there's quite a bit of green sprinkled throughout, but also because the vinaigrette everything is tossed in, is sort of reminiscent of the classic green dressing, sans the mayo and sour cream. Fresh basil, chives, garlic, and lemon juice are pureed in the bottom of a blender, and then a little bit of olive oil is drizzled in to emulsify the acid with the fat. A touch of salt and pepper complete the easy dressing, and it's ready to be tossed with the remaining ingredients.
While the farro boils, the zucchini, garlic, and shrimp get cooked in a little bit of olive oil, and seasoned again, with some salt and pepper. While everything is still piping hot, it all gets tossed in the vinaigrette. You could serve it hot, or, let it cool to room temperature, either way, it won't last long…
Green Goddess Shrimp and Farro Bowls
Sauteed shrimp, zucchini, and spinach are combined with nutty farro and tossed in an easy green goddess vinaigrette. A super easy and flavorful meal that will keep you satisfied!
Author:
Nicole ~ Cooking for Keeps
Ingredients
8 ounces quick-cooking farro (I used Trader Joe's 10-minute farro)
3 tsp. olive oil, divided
3 cups diced zucchini
¾ tsp salt, divided
1 lb 41-50 ct. shrimp, peeled and deveined
2 large cloves garlic, minced
3 cups baby spinach
Vinaigrette
⅓ cup lemon juice
3 tsp. dijon mustard
½ cup roughly chopped basil
¼ cup roughly chopped chives
3 Tlbs. olive oil
Instructions
Add farro to a medium pot. Fill with water. Bring to a boil and reduce to a simmer until farro is cooked, about 10 minutes. Drain.
While farro cooks, add olive oil to a large non-stick skillet. Turn flame on to a medium-high heat. Add zucchini, season with ½ tsp salt. Cook until slightly softened, about 2-3 minutes. Season shrimp with remaining ¼ tsp. salt. Add shrimp and garlic to pan, sauté until shrimp is pink, zucchini is soft, and garlic is soft, another 1-2 minutes.
Add spinach, zucchini, garlic, and shrimp to warm farro. Pour vinaigrette on top. Toss until combined. Season with salt and pepper.
Vinaigrette:
Add lemon juice, mustard, basil, chives, and salt to the bottom of blender. Blend until pureed, scraping down sides as needed. With the mixer on, slowly drizzle in olive oil. Season to taste with salt and pepper.