You know how some people say a dish is too pretty to eat?
Key word. Some people…
I don't say that. Nothing is too pretty for me to eat. Nothing.
BUT, if there ever were a dish I'd say was too pretty to eat, it'd be this one.
I wasn't even expecting this to be anything special, I've made similar grilled potato salads like this a million times, but the combination of the tomatoes, mozzarella cheese, red onions and basil is just so beautiful – and delicious too.
Dressing the ingredients while the potatoes are still hot infuses SO much flavor into the starchy flesh of the potato, while also slightly wilting the onions, softening the tomatoes and melting the cheese.
This is best served warm, but room temperature works great too. Enjoy!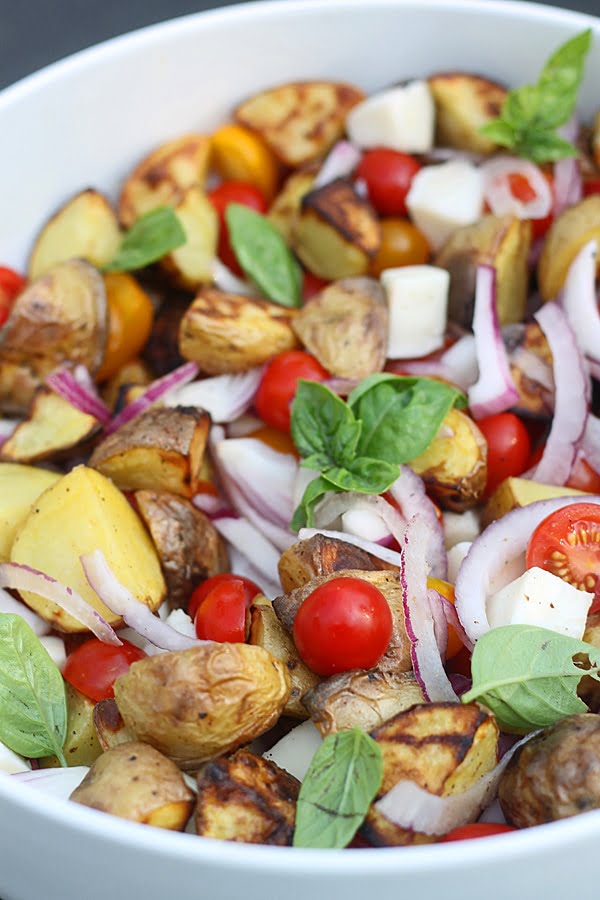 Grilled Caprese Potato Salad with Honey Balsamic Vinaigrette
Author:
Nicole-Cooking for Keeps
Ingredients
1 pound Yukon gold potatoes, quartered
1 tablespoon olive oil
Salt and pepper to taste
8 ounces fresh mozzarella cheese
3 cups cherry tomatoes, halved
½ cup basil, roughly chopped
½ small red onion, thinly sliced
1 small garlic, grated
¼ cup balsamic vinegar
1 tablespoon honey
1 tablespoon Dijon mustard
¼ teaspoon salt
¼ cup olive oil
Instructions
Coat potatoes in one tablespoon olive oil. Season liberally with salt and pepper. Grill or roast potatoes until charred and cooked through.
In a small bowl. Whisk garlic, vinegar, honey, Dijon and salt. Slowly whisky in olive oil. Season to taste with salt and pepper.
Combine warm potatoes, tomatoes, cheese, basil, onion and dressing together in a large bowl. Season to taste with salt and pepper. Garnish with fresh basil.