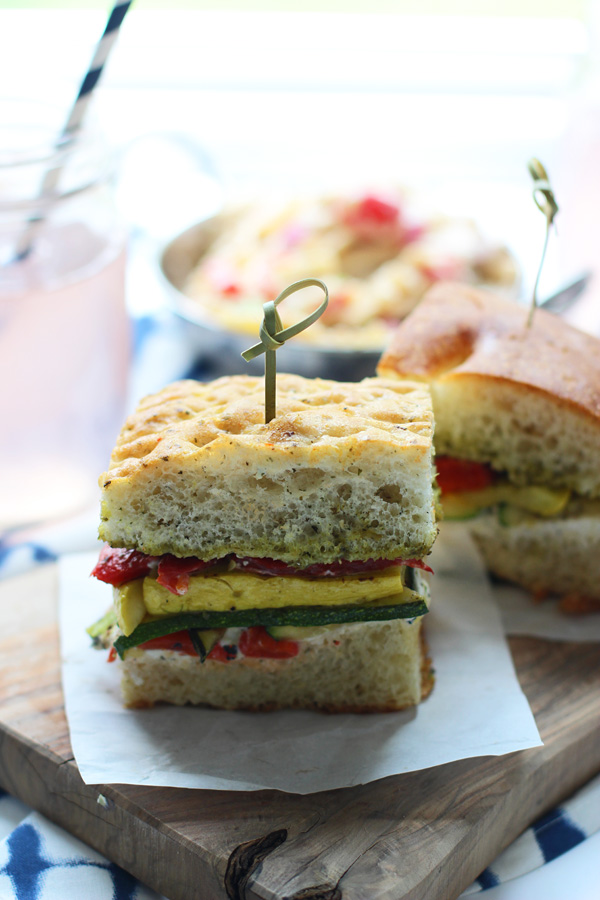 I have some non-negotiable requirements when it comes to eating certain foods. Fries must be crispy. Pasta must be aldente. Poached eggs must be gelled. There must be plenty of salt – on everything. Cheese must never come pre-shredded. Sandwiches mustn't be dull.
Although there are rare exceptions to a few of these requirements – like caving and buying pre-shredded cheese when I photographed five different recipes in a day – there's nothing I hate more than a boring sandwich with slimy pre-packaged deli meat and cheese.
Chicken salad? Love.
Turkey (freshly sliced) with bacon, lettuce, tomato and mayo – classic.
Medium-rare roast beef with sharp cheddar – always!
Cheesy, gooey ham and cheese sliders – uh yeah!
Melty mozzarella with tomato and basil – in love.
There are so many different ways to take a sandwich from boring and monotonous to something exciting and delicious. For instance, today's Grilled Veggie Sandwiches. These babies are anything but boring, and bursting with flavor from a tri-fecta of veggies, pillow-y focaccia bread, herbed cream cheese and pesto. As Monday's post also was, these were part of the baby shower I helped throw my BFF Angie. I wanted all of the food to be approachable, yet interesting and with the growing amount of vegetarians around us, I also wanted a couple items that were completely meat-free.
While I do admit there are quite a bit of components to this sandwich, making it a touch more time-consuming to put together than the average sandy, the minimal (and I do mean minimal) extra effort is completely worth it – plus I take quite a bit of help from the grocery store…
Zucchini and squash are sliced lengthwise into about 1/8 to ¼ inch long planks, hit with a good dousing of olive oil, salt and pepper and then grilled until they're pliable, and slightly charred and ready for sandwich building.
The base of the sandwich is a hearty, but light rosemary focaccia. I like the focaccia for obvious flavor reasons, but I also love that the entire sandwich can be built directly on the whole loaf of bread and sliced later. If you can't find focaccia, any sturdy bread (like ciabatta) will do.
The bottom piece of the sandwich is slathered with an herbed cream cheese I quickly put together with some reduce-fat cream cheese and Penzey's sandwich sprinkle. I'm assuming most of you don't keep sandwich sprinkle in your pantry so you could also throw in a bit of dried dill, basil, garlic powder and salt – or whatever your spice preference is!
Next up, the layering of the vegetables. First  – roasted red peppers (store-bought), grilled squash, followed by the grilled zucchini. The top layer of bread is slathered with pesto (again, store-bought), and the whole thing is smooshed together, wrapped in plastic and chilled for 30 minutes to an hour. Once you're ready to serve, just pop those cute little food picks in the middle of each sandwich (a normal loaf of focaccia should make six, large sandwiches) and use a serrated knife to cut them into individual servings.
Sandwiches have never tasted better!
Grilled Veggie Sandwiches with Herbed Cream Cheese and Pesto
The grilled veggie sandwiches are a stunner, and so easy to make!
Ingredients
1 medium zucchini
1 medium squash
1 tablespoon olive oil
1 8 ounce jar of roasted red peppers
8 ounces light cream cheese, softened
½ teaspoon Penzey's sandwich sprinkle or ¼ teaspoon dried dill, ¼ teaspoon dried basil, 1//8 teaspoon salt, ⅛ teaspoon garlic powder
½ cup store-bought pesto
1 loaf of Focaccia
Instructions
Heat a grill or grill pan to medium-high. Slice zucchini and squash, lengthwise into planks about ⅛ to ¼ inch thick. Toss in olive oil. Season with salt and pepper.
Grill until slightly charred and pliable, about 3-4 minutes per side.
In a small bowl, mix cream cheese and spices. Season with salt and pepper.
To assemble sandwiches. Slice the top of the focaccia. Spread herbed cream cheese on the bottom. Top with roasted red peppers, followed by squash and then zucchini. Slather the top half of the sandwich with pesto.
Wrap in plastic and chill for 30 minutes.
Place six food picks evenly into the sandwich. Cut into six servings.