Soo…I had a baby! As I'm sure you can imagine, I'm sleep deprived, a ball of emotions and in a constant state of worriedness. (And apparently full of typos after re-reading this post.)But I'm also hopelessly, recklessly in love with this little munchkin…Theodore (Teddy) Thomas Leggio. Teddy was born December 18th, five days after his due date and he could not be more perfect. I mean, look at that face!
I promise to share more about little Teddy in the coming months, along with a look into his super adorable neutral nursery (we did not find out the sex before), but in the meantime, I've built up a whole slew of recipes to share with you while I take a little bit of time off from recipe developing and photographing to focus on our little guy. Instead of three recipes per week, I'll just be sharing two, but look forward to three posts per week again starting in March or April.
Now, on to skinny spaghetti and meatballs…
…chicken meatballs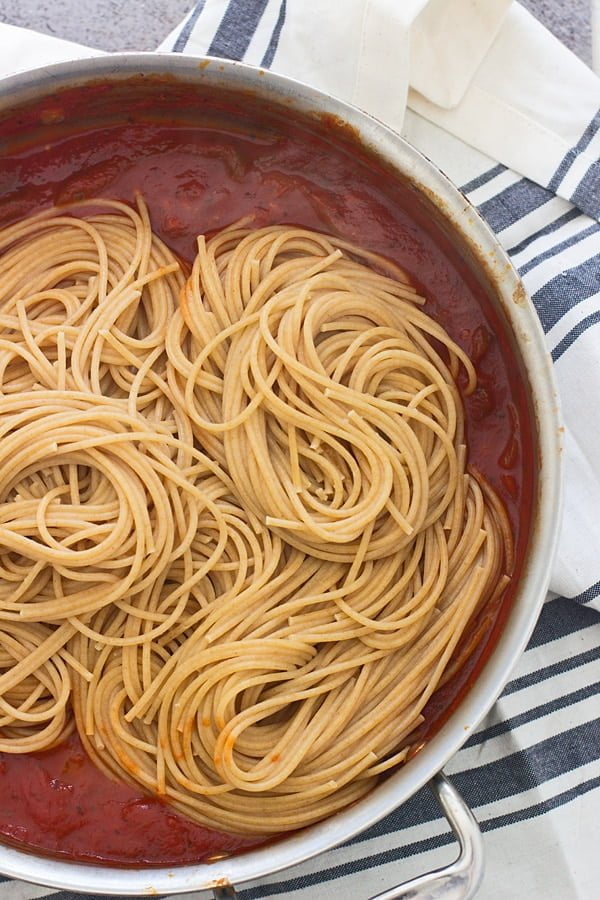 With winter comes the incessant need for comfort food, but now that the holidays have come and gone, we're all focusing on trying to get those holiday (BABY) pounds off, right? Although, I don't know about you, but my craving for comfort doesn't just dissipate because I need to shed some extra pounds. If anything, the sheer thought that winter only technically started a few weeks ago has me reaching for obscene amounts of chocolate just to cope.
These lightened-up spaghetti and meatballs are my compromise — comfort food meets healthy.
Ground chicken, garlic, onion, italian seasoning, and plenty of parmesan make up the base of the meatball, while an egg and a little bit of panko breadcrumbs act as binders to hold everything together.
Instead of browning the meatballs in olive on the stove, I line them up on a sheet pan and bake them in a super hot oven to reduce the fat, but retain the crusty exterior I love in my meatballs.
The sauce is basically a copy from my Mom's spaghetti and meatballs — tomato paste, water, plenty of red wine, sugar and italian seasoning — and really the only way you need to make red sauce…ever.
Toss everything with nutty whole-wheat spaghetti and this comfort classic turned healthy is finished…
Now, sorry to cut this short, but I have a two-week-old Teddy begging to be fed…Enjoy!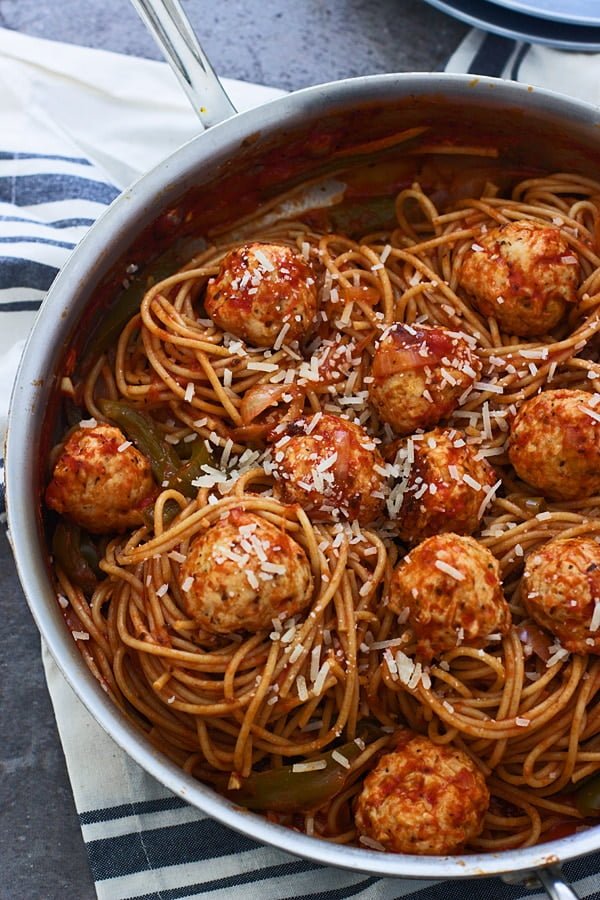 Lighter Spaghetti and Chicken Meatballs
Traditional spaghetti and meatballs is given a healthy twist with ground chicken breast instead of beef nutty whole-wheat noodles
Ingredients
Meatballs
½ pound ground chicken breast
1 small onion, ¼ grated and remaining sliced thin + 2 tablespoons finely chopped onion
4 garlic cloves, divided
1¾ teaspoons Italian seasoning, divided
1¾ teaspoons salt, divided
1 tablespoon grated parmesan cheese, plus more for garnish.
½ egg, slightly scrambled
¼ cup panko breadcrumbs
¾ pound whole-wheat spaghetti
1 teaspoon olive oil
1 small green pepper, roughly chopped
½ cup red wine
6 ounces tomato paste
18 ounces water
1 teaspoon sugar
Instructions
Preheat oven to 425 degrees. Line a baking sheet with parchment paper.
In a bowl, combine chicken, grated onion, 2 tablespoons chopped onion, 2 garlic cloves, 1 teaspoon Italian seasoning, ¾ salt, parmesan, egg and panko with your hands. Form into 1-inch meatballs and line up on baking sheet. Bake until golden brown and cooked through, about 10-12 minutes.
Cook spaghetti until slightly under aldente.
While the meatballs are cooking make the sauce and cook the noodles. In a large sauté pan, heat olive oil over a medium heat. Add remaining sliced onion, garlic, green peppers and ½ teaspoon salt. Sauté until slightly softened, about 3-4 minutes. Add red wine, reduce for 1 minute. Add tomato paste, cook 1 one minute. Add remaining salt, water, Italian seasoning and sugar. Bring to a boil and reduce to a simmer until the veggies are softened, about 10 minutes.
Add spaghetti to sauce, toss to combine and finish cooking the noodles until they are aldente. Serve with meatballs and garnish with more parmesan cheese.