This One Pot Short Rib Bolognese is exactly what what I want to eat every snowy winter night from now until eternity. It's rich, hearty, and the perfect meal to cook low and slow all day long.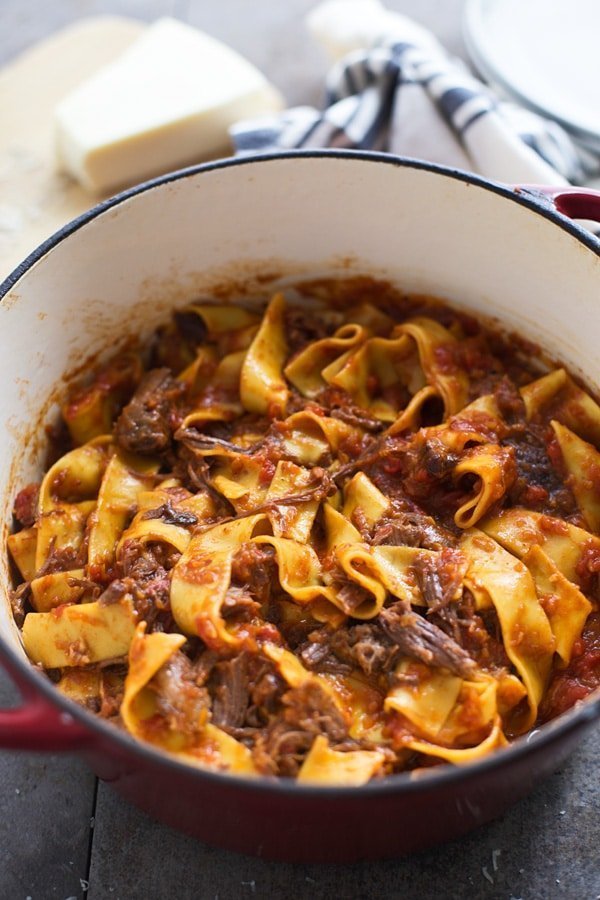 I'm not normally a heavy, meat- sauce kind of gal when it comes to pasta. On the contrary actually, I prefer a creamy white sauce bathing my noodles most of the time, but once winter hits, give me all the spaghetti & meatballs, all the pork ragu, and all the hearty meat-based, red-sauced pastas you can.
There's something about a slow-cooked ragu or braised meat that to me, screams winter. And much like a bowl of soup, can bring back that warm glow the blistering air seems to steal away. Both as I'm cooking it and while I'm inhaling it.
Bolognese is one of my favorite meat sauces to cook on a day where I don't feel like leaving the house, since it cooks nice and slow and gives me a reason to stay huddled near the stove. Buuut I also love the texture of a braised cut of beef or pork, so I thought I'd join the two forces together for the perfect Bolognese braised hybrid.
What is Bolognese Sauce??
In short, a meat sauce. Typically it's slow-cooked over a very long period of time, anywhere from three to four hours. It usually has some type  of red or white wine in it, and it almost always has some sort form of dairy to finish it off. Most recipes call for whole milk, but I actually just skipped it in this version. You could definitely add it at the end if you want to stay closer to a true bolognese.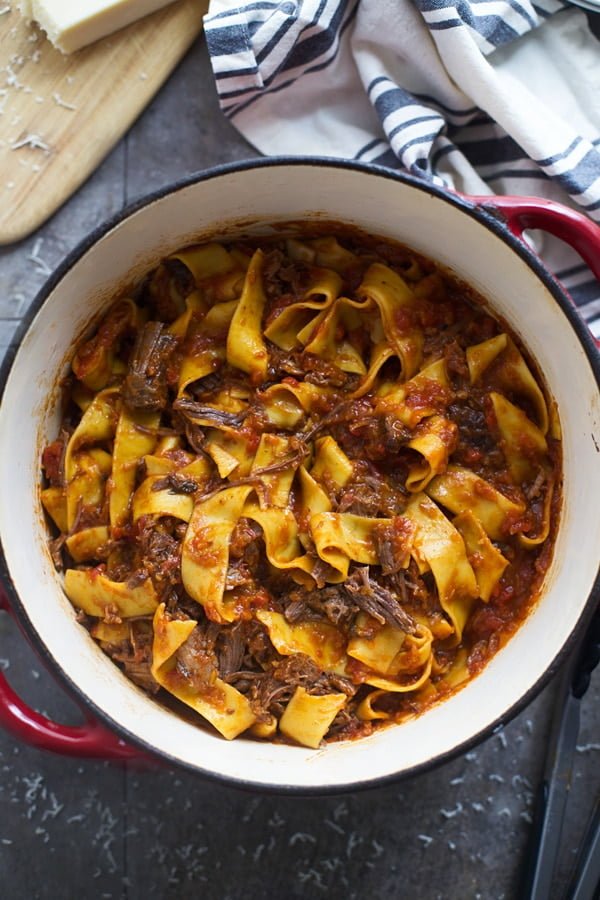 It's also chock-full of aromatic veggies such as chopped carrot, celery, onion and garlic, and then it's slow cooked with the wine of your choice, canned tomatoes, and a few other seasonings. Basically it's simmered on a low heat until it's reduced, thick, and not only permeating your entire house, but basically your neighbor's house as well. It's that intoxicating.
Why Short Ribs?
Typically it's made with ground beef or pork, but I just adore the richness of short ribs and  associate them with this time of year, so it made perfect sense to swap out the ground beef and pork for them. Plus, it's just a little fancier than ground beef or ground pork.
Here, the short ribs are first cooked up in a touch of butter and olive oil until they're super brown and crusty. From that point, things are pretty standard. The meat comes out, the veggies go in, and they get sautéed until softened. A heavy hand of white wine is poured in, reduced,  and then tomato paste, crushed tomatoes, and seasoning goes in. It's all cooked low and slow until the meat is falling off the bone, and PERFECT.
And the secret ingredient…
Also, I almost forgot, I like to throw in a parmesan cheese rind or two in to the mix — this step is a must! It adds this luscious, nutty and buttery underlying flavor that I just can't get enough of. I always stash a few in the freezer when my parmesan cheese runs out and then pull it out as needed.
Finish it off!
You know it's done when the meat is melt-in-your-mouth tender, all of the short ribs come out, a little bit of liquid is added in, and the egg papparadelle goes directly in to the pot to cook while you shred the beef.  Before serving, the beef goes back in to the pot with the pasta, it's seasoned with salt and pepper, covered in parmesan cheese, and it's ready to go.
Keep in mind, you may or may not need more liquid as you go. Depending on the moisture level in the air, you might need to add a little bit more water if you see the sauce is drying up. You can also use beef broth if you have it on hand.
For more one dish, check out these posts!
Pretty things/Tools Used in Today's Post!
Le Creuset Dutch Oven

Similar, less expensive Dutch Oven
One Pot Short Rib Bolognese
This One Pot Short Rib Bolognese is exactly what what I want to eat every snowy winter night from now until eternity. It's rich, hearty, and the perfect meal to cook low and slow all day long.
Author:
Nicole - Cooking for Keeps
Ingredients
2½ lbs beef short ribs
1 Tlbs unsalted butter
1 Tlbs olive oil
12 baby carrots
2 celery stalks
1 medium onion
2 garlic cloves
1½ tsp. salt, divided
1 Tlbs. tomato paste
1½ cups dry white wine
1 (28 oz.) can san marzano peeled whole tomatoes
2 tsp. sugar
½ tsp. cinnamon
⅛ tsp. nutmeg
1 parmesan cheese rind
10 oz. egg papparadelle (I use Trader Joe's)
⅔ cup water
Instructions
Season short ribs liberally with salt and pepper.
Heat a large dutch oven to a medium-high heat. Add butter and olive oil. Once butter melts, add beef. Cook beef until brown and crusty on all sides, about 10-15 minutes.
While beef browns, add carrots, celery, onion and garlic to a food processor. Pulse until finely chopped.
After beef browns, remove from pot. Drain all but 2 tablespoons of fat, and add carrot and celery mixture along with ½ tsp. salt. Reduce heat to medium and sauté until softened, about 3-4 minutes. Add tomato paste. Cook for one minute.
Pour white wine in to pan. Simmer until reduced by half, about 3-4 minutes. Throw in remaining salt, canned tomatoes, sugar, cinnamon, nutmeg and parmesan cheese rind. Stir until combined.
Put short ribs back in the pot. Bring to a boil and reduce heat to low. Cover with a lid and cook on low for 5 hours or until meat is fork-tender and falling off the bone.
Remove short ribs and parmesan rind from pot. Stir in water. Bring to a simmer and add in pasta. Again cover and simmer until pasta is cooked, about 10 minutes. If needed stir once or twice to prevent pasta from sticking to bottom of the pot.
As pasta cooks, shred beef.
Once pasta has cooked, add beef back in to the pot. Toss together. If necessary, add a bit more water to thin out the sauce.
Season to taste with salt and pepper. Garnish with parmesan cheese.
(Visited 138,334 times, 161 visits today)