rThis One Pot Short Rib Bolognese is exactly what what I want to eat every snowy winter night from now until eternity. It's rich, hearty, and the perfect meal to cook low and slow all day long. We slow-cook beef short ribs in a rich tomato and veggie-packed sauce. After the beef is fork-tender, we simmer chewy pappardelle noodles in the same pot and then toss everything together. So cozy.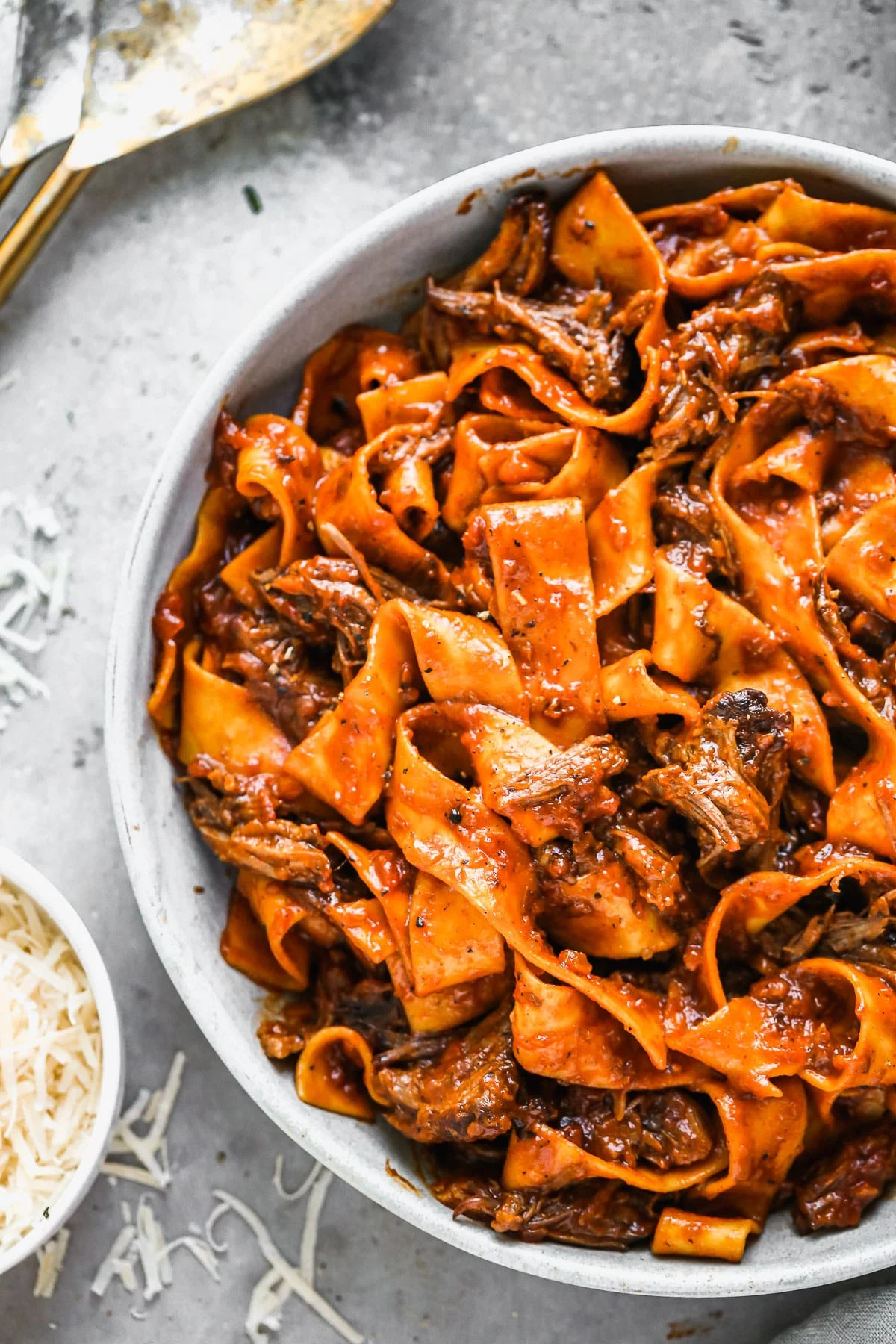 One Pot Short Rib Bolognese
I'm not normally a heavy, meat- sauce kind of gal when it comes to pasta. Normally I prefer a creamy white sauce bathing my noodles, but once winter hits, give me all the spaghetti & meatballs, all the pork ragu, and all the One Pot Short Rib Bolognese.
There's something about a slow-cooked ragu or braised meat that to me, screams winter. And much like a bowl of soup, as I take bite after glorious bite, it seems to bring back that warm glow the blistering air seems to steal away.
Here's what's happening: Basically we take all the cozy classics of a bolognese sauce – tomatoes, vegetables, parmesan – and slow cook it with rich short ribs until the meat is fork-tender, buttery and practically falling off the bone. We also include hints of warm cinnamon, nutty parmesan cheese, and acidic white wine to enrich the flavors of the tomatoes and beef.
Once the short ribs reach their ultimate shreddable state, we pull the short ribs out, and while we shred there, let  our favorite egg pappardelle cook in the tomato sauce. It's the best kind of one pot meal.
What is Bolognese Sauce??
Bolognese is one of my favorite meat sauces to cook on a day where I don't feel like leaving the house, since it cooks nice and slow and gives me a reason to stay huddled near the stove. Buuut I also love the texture of a braised cut of beef or pork, so I thought I'd join the two forces together for the perfect Bolognese braised hybrid.
In short, a classic Bolognese is essentially a meat sauce. Typically it's slow-cooked over a very long period of time, anywhere from three to four hours. It usually has some type of red or white wine in it, and uses some form of dairy to finish it off – whole milk or heavy cream in most cases.
It's also full of aromatic veggies such as chopped carrot, celery, onion and garlic, and slow-cooked with the wine of your choice, canned tomatoes, and a few other seasonings. Basically it's simmered on a low heat until it's reduced, thick, and not only permeating your entire house, but basically your neighbor's house as well. It's that intoxicating.
Ingredients in Short Rib Bolognese
Short ribs. A bolognese is usually made with ground beef or pork, but I just adore the richness of short ribs and  associate them with this time of year, so it made perfect sense to swap out the ground beef and pork for them. Plus, it's just a little fancier than ground beef or ground pork.
When purchasing short ribs, look for ribs that have plenty of meat on them and don't have a super thick layer of fat. Beef short ribs ARE fatty, so a little fat is fine and needed to keep the meat moist and flavorful, just be careful and don't let your butcher had you a short rib that's 80% fat and 20% meat.
Veggies. We stick to all the classic vegetables you'll find in a bolognese sauce. This means there's plenty of onion, garlic, carrot, and celery.
Wine. Normally when making a short rib ragu or short rib bolognese, you'd use red wine, which I do love. However, because short ribs are so rich, sometimes I like to use a lighter dry white wine instead. The choice of wine does change the entire flavor profile of the dish, so keep that in mind.
Tomato paste. I like to use just a touch of tomato paste to add a more concentrated tomato flavor to the bolognese sauce.
Tomatoes. I am a big believer in good-quality tomatoes. For this recipe, you're going to want to use whole peeled tomatoes. I usually purchase San Marzano tomato for something like this, but I also love Red Gold as well.
Spices. We keep things pretty simple when it comes to spices, just a little bit of salt, sugar, and a touch of cinnamon to warm the dish up. If cinnamon in savory dishes isn't your thing, you can absolutely leave it out.
Parmesan cheese rind. This is our secret ingredient! I like to throw in a parmesan cheese rind or two in to the mix. It adds a luscious, nutty and buttery underlying flavor I just can't get enough of. I always stash a few in the freezer when my parmesan cheese runs out and then pull it out as needed.
Pasta. Any quick-cooking pasta will work nicely, but I'm partially partial to an egg pappardelle. I get mine at Trader Joe's.
Red Wine Vinegar. I find the end product needs a splash of acid and red wine vinegar is the perfect ingredient to do just that.
How to make Short Rib Bolognese
Cook the short ribs. We use a combination of butter and olive oil to cook the short ribs. Sear the short ribs on all sides until they're super brown and crusty.
Chop the veggies. I don't like to have little bits of carrot and celery in the sauce, I like for everything to sort of melt together. To do that, while the short ribs sear, we pulse the veggies in the food process until they VERY finely chopped
Cook the veggies. Take the short ribs out and throw in the carrots, celery, onion, and garlic. Sauté until they're soft and fragrant, about 5-6 minutes.
Add in your other ingredients! Pour in a good amount of white wine, stir in tomato paste, crushed tomatoes, and seasoning. Add the short ribs back and cook low and slow until the meat is falling off the bone, and PERFECT.
Shred the meat and cook the pasta. When the short ribs are done, remove them from the pot and add in a cup or so of water along with the pasta. Cover and simmer the pasta until aldente. While the pasta cooks, shred the short ribs.
Toss. Add the shredded meat back to the pot along with milk and a little bit of red wine vinegar. Toss and if needed, add more water to loosen the sauce up.

Substitutions and Tips and Tricks for Recipe Success
When browning the short ribs, don't move them until they release from the pan easily. When they're brown, they'll release.
Season the short ribs with plenty of salt!
Feel free to swap out red wine for the white wine.
Keep in mind, you may or may not need more liquid as you go. Depending on the moisture level in the air and how much fat is on your short ribs, you might need to add a little bit more water if you see the sauce is drying up. You can also use beef broth if you have it on hand.
Also the cooking time is dependent on how large or small your short ribs are and how your stove conduct heat. You may seem them fall about after about three hours so keep an eye on them.
You can also slow-cook them in the oven if you don't want to keep the stove on. After the short ribs and sauce come to a simmer, cover with a lid and place in a 325-degree oven.
Keep an eye on the pasta while it cooks, if needed, add more water.
For more one pot dish, check out these posts!
Pretty things/Tools Used in Today's Post!
Le Creuset Dutch Oven

Similar, less expensive Dutch Oven
One Pot Short Rib Bolognese
This One Pot Short Rib Bolognese is exactly what what I want to eat every snowy winter night from now until eternity. It's rich, hearty, and the perfect meal to cook low and slow all day long.
Ingredients
2 1/2

lbs

bone-in beef short ribs

1

tbsp

unsalted butter

1

tbsp

olive oil

3/4

cup

diced carrot

2

celery stalks, diced

1

medium

onion, diced

2

large

garlic cloves, minced

1 1/2

tsp

kosher salt, divided

1

tbsp

tomato paste

1 1/2

cups

dry white wine

28

oz

san marzano peeled whole tomatoes

2

tsp

sugar

1/2

tsp

ground cinnamon

1

parmesan cheese rind

10

oz

egg papparadelle

1

cup

water (or more) or beef broth

1/3

cup

whole milk

1

tbsp

red wine vinegar
Instructions
Season short ribs liberally with salt and pepper. You'll need about two teaspoons,

Heat a large dutch oven to a medium-high heat. Add butter and olive oil, Once the butter melts, add short ribs. Cook short ribs until brown and crusty on all sides, about 10-15 minutes.

While the short ribs brown, add carrots, celery, onion, and garlic to a food processor. Pulse until VERY finely chopped. If you don't want to get the food processor out, you can also do this by hand, just make sure to chop them very finely.

After short ribs brown, remove from the pot, Drain all but 2 tablespoons of fat. Add carrot and celelry mixture, along with 1/2 tsp salt. Reduce heat to medium and saute mixture until slightly softened, about 3-4 minutes. Add tomato paste, cook 1 minute. Add in wine, simmer until reduced, about 2-3 minutes. Stir in remaining salt, canned tomatoes, sugar, cinnamon, and parmesan cheese rind. Stir to combine.

Put the short ribs back in the pot. Bring the mixture to a boil, and reduce to low. Cover with a lid and cook on low for 3-4hours or until the meat is fork-tender and falling off the bone. The amount of time your short ribs take to cook depends on how large they are. Check around three hours, and see if they can be shredded. If not, continue to cook until they can be. Also, if you notice the sauce is getting too thick and the short ribs are sticking to the bottom of the pan, add a few splashes of water to loosen the sauce up.

Once the meat is cooked, remove them from the pot along with the parmesan cheese rind. Stir in water. Bring to a simmer and add in pasta. Cover and simmer until pasta is cooked, about 8-10 minutes. If needed, stir once or twice to prevent pasta from sticking to the bottom of the pan.

As pasta cooks, shred beef.

Once pasta has cooked, add beef back to the pot along with vinegar and milk. Toss together. If necessary, add more water to thin out the sauce.

Season to taste with salt and pepper. Garnish with parmesan cheese.
Nutrition Information
Serving:
1
serving
,
Calories:
566
kcal
(28%)
,
Carbohydrates:
49
g
(16%)
,
Protein:
36
g
(72%)
,
Fat:
21
g
(32%)
,
Saturated Fat:
8
g
(50%)
,
Cholesterol:
126
mg
(42%)
,
Sodium:
893
mg
(39%)
,
Potassium:
1116
mg
(32%)
,
Fiber:
5
g
(21%)
,
Sugar:
10
g
(11%)
,
Vitamin A:
3087
IU
(62%)
,
Vitamin C:
14
mg
(17%)
,
Calcium:
87
mg
(9%)
,
Iron:
6
mg
(33%)