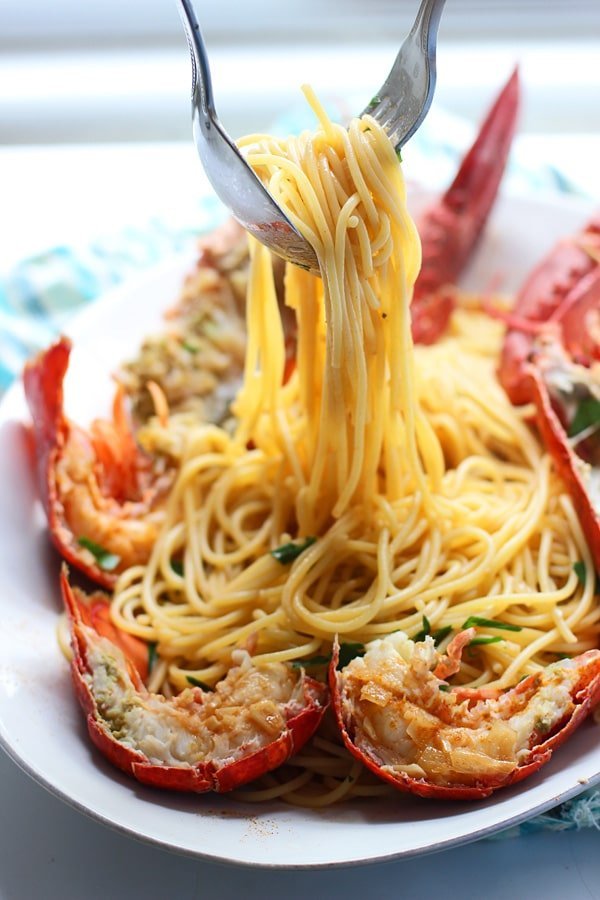 Today is very exciting for a couple of reasons – one, the lovely Chelsea at Chelsea's Messy Apron has rounded up a bunch of our blogging friends, and we've pooled together to give you guys a $300 Amazon gift card, you know, just because it's summer and all. Two, I finally tried my hand at recreating this lobster spaghetti aka the best lobster I've ever had that Kevin and I ordered on our last day in Santorini. I kind of touched on it before, but basically I'd been told time and time again, by local after local, website after website, that an absolute must food-wise, was to go down to Amoudi Bay and have lobster spaghetti at one of the taverns on the water. After copious amounts of research, surveying cabbies and restaurant reviews, we finally settled on Taverna Katina, said to have some of the freshest seafood in all of Santorini.
We arrived pretty early by island standards, about 11:30am so we initially had the place solely to ourselves. After we sat down, what I would guess is the owner or manager took us back into the kitchen where he proceeded to explain how ordering works. The seafood is priced per kilo, all of which is on display for diners to see. You pick out which fish you want, how you want it prepared, and then mosey on back to your table where you can see most of it being prepared from a giant outdoor grill just steps away from all of the tables.
In our case, the lobster spaghetti was actually prepared back in the kitchen where diners cannot see, apparently the preparation and ingredients it a top secret family recipe, shared with no one. The only information I could muster out of them was, 1. It was steamed 2. The sauce was made from lobster juices 3. Garlic and butter were two of the other ingredients. Nothing else.
After a 30 minute wait (everything is made fresh), our lobster spaghetti for two arrived, in what looked like enough food to feed a family of six nonetheless – bring it on.
We immediately dug in.
And we.could.not.stop.eating.
There was almost a deafening silence (in between inaudible sounds of mmmmm and OMG) as we carefully plucked out each and every single piece of lobster meat we could forage – we would leave nothing behind. In between tender bites of lobster, we twirled piles of spaghetti onto our forks, and what I though was going to be just afterthought of pasta, was equally as delicious and addictive as the lobster itself. The sauce was unlike anything I'd tasted before – it was light, tremendously flavorful and had just a touch of underlying lobster essence that wasn't overpowering in the least.
Best lobster I've ever had.
I literally still daydream about it, but because they wouldn't share their recipe, in my recreation, all I could go off of was my taste buds.
While my version is very similar in taste to the one we had that day, it isn't identical which I was a little disappointed about at first, but you know what? I've realized I'm ok with that, because of course, some recipes are meant to stay exactly where they are.
Lobster Spaghetti (Santorini Style)
Lobsters are steamed, and bathed in a sauce of butter garlic and vermouth, then tossed with al dente spaghetti for a seriously decadent seafood extravaganza.
Author:
Nicole - Cooking for Keeps
Ingredients
2 whole live lobsters
½ pound spaghetti
4 tablespoons butter, divided
2 garlic cloves
½ small onion, finely chopped
⅓ cup sweet vermouth
2 teaspoons tomato paste
Pinch of red pepper flakes
2 teaspoons honey
½ teaspoon paprika
2 whole cloves
Pinch of cinnamon
Salt to taste.
Instructions
Before steaming, take a very large knife and cut right behind the lobster's eyes straight back. Place lobsters in a large pot filled with about an inch and a half of water. Bring to a boil and reduce to a medium heat. Steam for 7-8 minutes (for a 1 ½ pound lobster). Remove and reserve cooking liquid. Split lobster in half lengthwise. You
In the same pot you cooked the lobsters in, fill with water and bring to a boil. Season with plenty of salt, it should taste like the sea. Add spaghetti. Cook until just under al dente. Reserve at least 1 ½ cups of cooking liquid. Drain, but do not rinse.(You want it to be under, because it will cook to aldente later in the sauce).
In another large pot, melt 1 tablespoon butter over a medium heat. Add onion and garlic. Cook until softened, about 3 minutes. Season with salt. Add tomato paste, honey and red pepper flakes, cook 1 minute. Add vermouth, cook until reduced by half, about 2 minutes . Add reserved lobster cooking liquid, paprika, cloves and pinch of cinnamon. Simmer 2-3 minutes. Add in remaining butter.
Place lobster back into sauce, spoon some of the sauce on the lobster, you just want the lobster to re-heat. Remove, and cover with a foil tent.
Add spaghetti to sauce, along with about ¼ cup of reserved pasta cooking liquid, toss to coat in sauce (the heat should still be on medium). Add more reserved pasta cooking liquid if needed. Cook until sauce is thickened and pasta is aldente. Season to taste with salt and pepper.
Place spaghetti on a big platter, and top with lobster pieces.
Dig in!
Nutrition Information
Serving size:
1 lobster with ¼ spaghetti
Giveaway: Eligible to one (1) winner residing in one of the 48 contiguous states. Must be 18 years of age to enter giveaway. Starts 12 am 7/14/2014 (EST time) and ends 12 am 7/21/2014 (EST time). To enter the giveaway, you must participate in at minimum, one of the listed entries in the widget and an email address must be provided. Winner will be announced via email and must respond within 24 hours of deliverance. Failure to respond will forfeit your chance in winning and a new winner will be chosen. Please be advised items may appear different from the photo shown. The persons participating in this giveaway are not held responsible for missing/broken items received by the winner. Good luck and thank you for your entries.