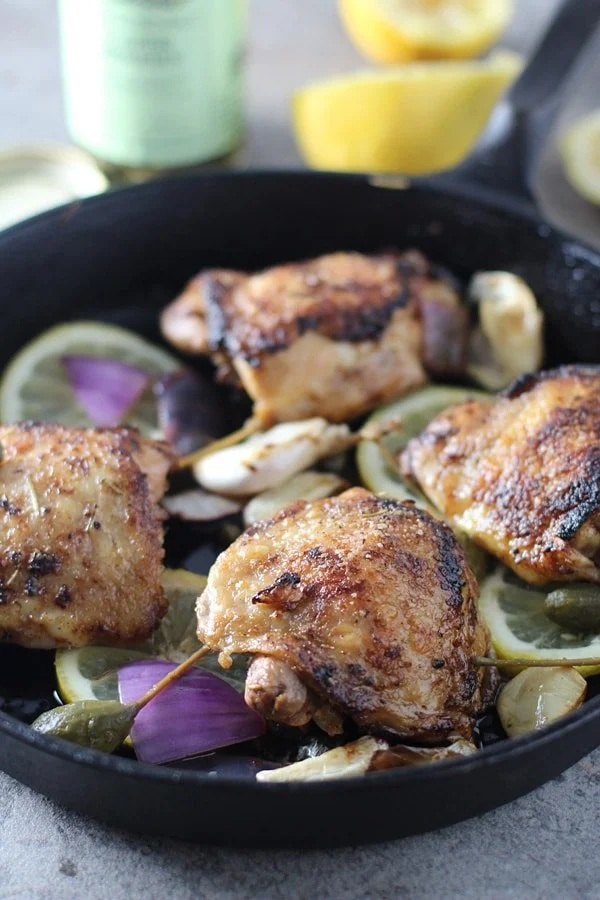 It's been a long, stressful week, and I couldn't think of anything better than ending it with this chicken (and of course a glass of crisp white wine), which may sound a little strange, but I kid you not, this is one of the best chicken dishes you'll ever make.
While I adore the salty crispy skin, lemony scented meat, briny capers and roasted garlic, it's the combination of everything that makes this so incredibly delicious. Each ingredient compliments the others perfectly.
The flavors of this recipe are based off one of my favorite roast chickens in Kansas City, but I've skipped roasting a whole chicken, and instead opted for fast cooking, but eternally moist chicken thighs.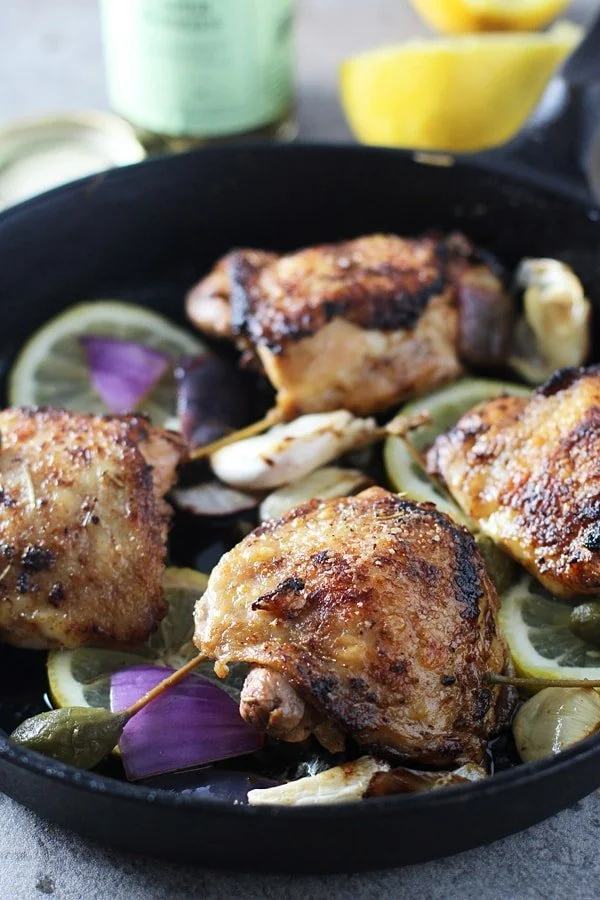 The chicken is marinated in lemon juice, garlic and olive oil for a few hours, dried off and then cooked in a cast iron skillet until the skin is golden brown and crispy, it's then transported to the oven to finish cooking, along with some whole garlic cloves and red onions.
Once the chicken is fully cooked through, it's transferred to a plate to rest while a quick pan sauce is made by returning the skillet back to the stove and hitting it with a little bit of chicken stock, a squeeze of fresh lemon juice and just a teensy bit of butter – briny caper berries are thrown in for a final touch.
This was a weeknight meal for us last night, but it's definitely fancy enough for a nice quiet weekend night at home.
Hope you all have a wonderful weekend. Talk to you next week!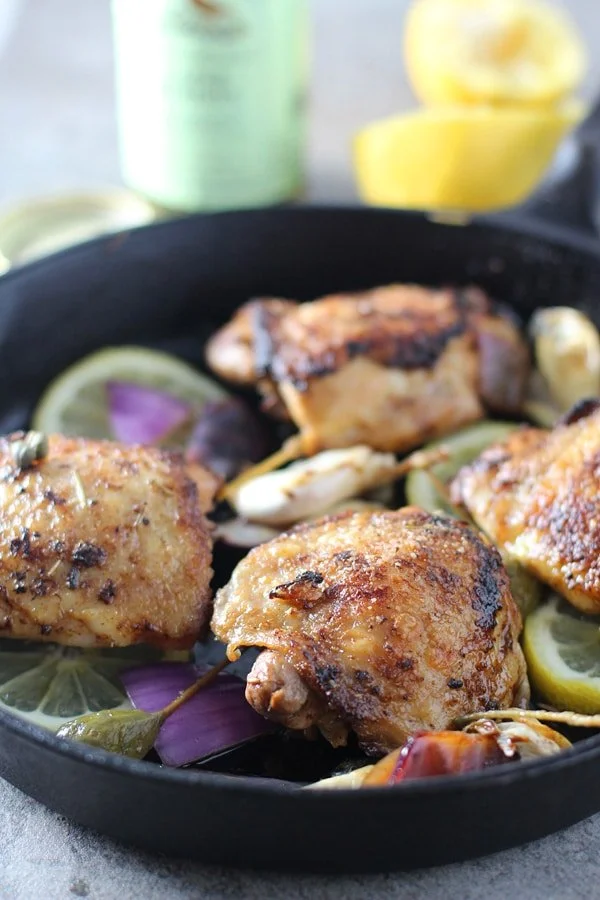 Pan Roasted Chicken with Lemon Caper Berries and Roasted Garlic
Ingredients
8 chicken thighs
½ cup lemon juice (about two large lemons)
4 tablespoons olive oil, divided
2 teaspoons dried rosemary, crushed between your fingers
1 medium red onion, cut into large pieces
1 head of garlic, divided (leave the skin on all cloves but three)
½ cup caper berries or ¼ cup capers
red pepper flake (optional)
½ cup chicken stock
1 teaspoon butter
Instructions
In a large ziplock bag, add chicken thighs, ½ cup lemon juice, crushed rosemary, three cloves of the garlic (grate this garlic) and two tablespoons olive oil. Let marinate for two hours.
Preheat oven to 425 degrees.
Dry chicken completely. Season with salt and pepper.
Heat a large seasoned cast iron skillet over a medium heat. Add two tablespoons of olive oil. Brown chicken, skin side down, until skin is golden brown and crisp, flip over. Do not crowd pan, if you don't have enough room in the pan to brown all the thighs at once, work in batches to brown, and then return all the chicken back to the skillet to roast. (They will shrink once browned.)
Turn the heat off, and throw in garlic cloves (skin on) and red onion.
Transfer skillet to the oven, and cook until chicken is cooked through and garlic is softened. About 15 minutes.
When chicken is done cooking, remove from oven. Transfer chicken and veggies to a plate. Tent with foil. Remove any grease that has accumulated in pan, but leave juices. Return pan to stove and turn on a medium heat. Add chicken stock. Simmer until slightly reduced, about 1-2 minutes. Season with a little bit of lemon, salt, pepper and red pepper flake . Swirl in butter.
Return chicken and veggies back to pan, along with caper berries.
Spoon sauce over chicken.