Our Pasta Fazool Recipe is packed with hearty Italian sausage, creamy white beans, loads of veggies, and a parmesan-infused broth you'll fall in love with. We stir in a handful of hearty kale and garnish this easy soup with as much parmesan cheese as much as our hearts desire.
Pasta Fazool Recipe
We're diving head-first into fall today, and we're doing it in a very delicious, rustic way with our Pasta Fazool. This super easy white bean and pasta stew is one of those classically Italian dishes that will forever remind me of less complex times when all you had to cook with were a few simple ingredients and a wood-burning stove.
Oh, and I also picture a cute little grandma stirring this until it's irresistibly creamy and spooning it into perfectly imperfect handmade bowls.
I have absolutely no authority on if that's the case, but in my head, it's how it was derived.
However, today, we are in modern times, and so there are a few modern ingredients strew throughout the base of white beans, garlic, carrots, celery and pasta. While this could easily be a primarily vegetarian dish, we upped the heartiness with a little bit of mild Italian sausage, and upped the veggie factor with a handful of leafy green kale.
But what gives our pasta fazool it's nutty flavor and extra push of creaminess is a parmesan cheese rind. In many Italian sauces and soups, it's the secret ingredient that adds a cheesy, nutty bite to the broth without actually adding any cheese. (Although we will add LOTS of cheese at the end.)
But wait is pasta fazool and fagioli the same thing?
Technically, yes. Pasta Fazool is the americanized version of pasta fagioli, so that's what we're going to call it. Because as I mentioned before, I am not an authority on generations-old Italian cooking. This is our version, and it may not look like the old school Italian version.
Ingredients in Pasta Fazool
Sausage. My kids are big on spice, so we used a sweet Italian sausage in our pasta fazool. I bought three links from the deli counter and squeezed all the meat out of the casing. You could also use mild, hot or even turkey Italian sausage.
Aromatics. The aromatics are simple – a little bit of onion, carrot, celery, and garlic. I like to chop them into about an 1/8-inch dice. You want everything to be approximately the same size.
Thyme. Fresh thyme is one of my favorite ingredients to use, it's woodsy, but bright and fresh at the same time. If you don't have fresh on hand or your grocery store doesn't have it, you can use a teaspoon or so of dried thyme.
White beans. This is the star ingredient of our show. We use two cans. Half of the can is thrown in whole, the other half is gently mashed to add texture and to thicken the stew.
Canned tomatoes. I wanted a lighter broth, and I love whole pieces of tomato, so we used canned diced tomatoes in garlic and basil. If you don't want whole pieces of tomato, you could also use tomato puree.
Tomato paste. I often use tomato paste in sauce and stews when working with tomatoes. Not only does it have a lovely concentrated tomato flavor, but like the white beans, it aids in thickening up the broth,
Chicken broth. We want to use low-sodium chicken broth or stock.
Parmesan cheese rind. We touched on this a little bit above, but I highly recommend splurging on a wedge of parmigiano reggiano . Cut off the rind and throw it into the soup – we use the rest of it later to garnish the pasta fazool. What happens when you nestle the rind into the soup is the remaining cheese slowly melts into the pasta fazool which adds SO MUCH FLAVOR and helps to thicken the soup. (It's a favorite ingredient in this One Pot Creamy Tomato Pasta Sauce and Meatballs.)
Pasta. You could use any small pasta, but pasta fazool is classically made with ditalini – a small tube-shaped pasta.
Leafy greens. We use kale here, but any leafy green will work great.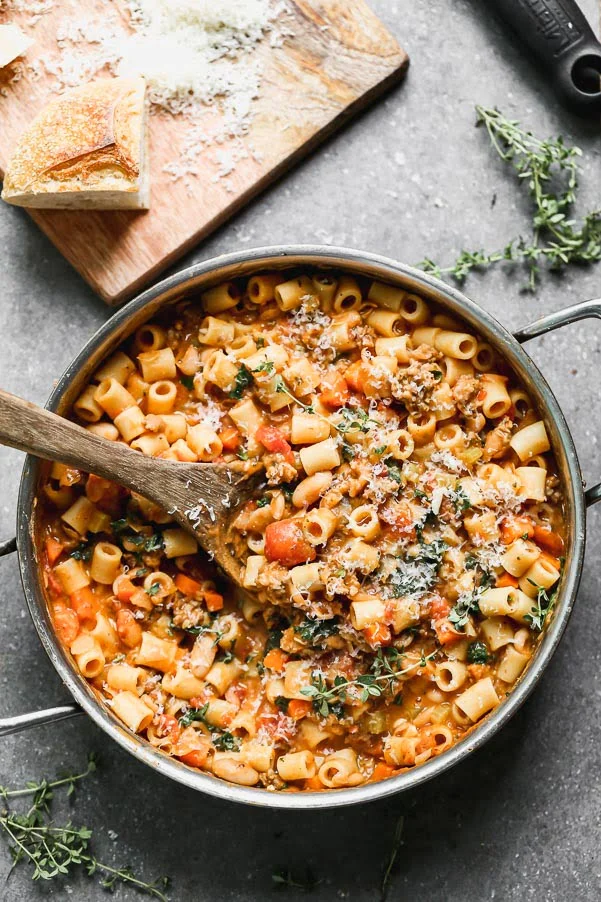 Let's make pasta fazool!
Cook the sausage. Add just a touch of olive oil to a large skillet. Cook the sausage until brown, breaking it up with a wooden spoon as you go.
Add the aromatics. Once the sausage is cooked, add the carrots, onion, celery, and garlic, as well as a little bit of salt. You only need to cook the veggies for a two minutes or so because we want them to retain a little bit of bite at the end.
Dump everything in. Pour in the white beans, tomatoes, parmesan cheese rind, thyme, and salt. Bring everything up to a boil and then reduce to a simmer. Simmer until the beans are soft and the parmesan cheese starts to melt, about 8 minutes.
Cook the pasta. Add in the pasta and continue to simmer until aldente.
Stir in the kale. Throw in the kale and stir until it's wilted. Season to taste with salt and pepper.
Serve! Garnish with fresh thyme and LOTS of fresh grated parmesan.
Can I make this ahead of time?
Absolutely! In fact, the longer this sits, the better it gets. Just keep in mind, you will need to add more broth and I would only cook the noodles until just UNDER aldente. Because there's pasta in the pasta fazool, it has a tendency to soak up all the liquid the longer it sits. Here's what I would do:
Make it through adding the pasta, cook the pasta until under aldente and then pull it off the stove to cool.
Add another cup of broth and store until you're ready to serve. If I'm serving in the next day or two, I'll just keep it in the pot I made it in and store in the fridge.
When you're ready to serve, bring it up to a boil, reduce to a simmer and add the kale. Simmer until kale is wilted and pasta is aldente. Serve as instructed.
Substitutions and Tips and Tricks for Recipe Success
Feel free to swap out the sausage for bacon, pancetta, or turkey Italian sausage.
If you want to make this pasta fazool vegetarian, leave out the sausage and swap the chicken stock for veggie stock. It will still be DELICIOUS.
Remember if using kale, massage it before chopping it and adding it to the pasta fazool. It will help to release any bitterness from the kale.
Use any small pasta in place of ditalini – soup shells or orzo would be my preferred substitutes.
If I had white wine on hand, I probably would have added a splash, if you do, feel free to do so as well.
If you don't want to spend the money on parmigiano reggiano, you can buy an aged parmesan and use the rind of that.
This is a THICK stew, while cooking, be sure to sure frequently to prevent the stew from sticking to the bottom of the pot.
For more hearty stews and soups, don't miss these favorites!

Our Pasta Fazool Recipe is packed with hearty Italian sausage, creamy white beans, loads of veggies, and a parmesan-infused broth you'll fall in love with. We stir in a handful of hearty kale and garnish this easy soup with as much parmesan cheese as your heart desires.
Ingredients
2

tsp

olive oil

3

sweet, mild, or hot italian sausage links, removed from casings (you can also use 1/2 lb bulk sausage)

1/4

cup

diced onion

3

large

garlic cloves, minced

3/4

cup

diced carrot

1/2

cup

diced celery

6

sprigs

fresh thyme

2 - 14.5

oz

cans cannellini beans, rinsed and drained

1

tbsp

tomato paste

14.5

oz

can diced tomatoes with basil and garlic

3 3/4 -4

cups

low-sodium chicken broth or stock

1

tsp

kosher salt

1

parmesan cheese rind

1 1/2

cups

ditalini or other small pasta shape

1

cup

packed kale, roughly chopped

parmesan cheese for garnish

crusty bread for dipping
Instructions
Heat a large skilet to a medium heat. Add olive oil. Once the oil is hot. Add the sausage you removed from casings. Let the sausage brown and then use a wooden spoon to break the sausage up into small pieces.

Once the sausage is brown, reduce the heat to medium low and add onion, garlic, carrot, and celery. Stir to combine. Season with a little bit of salt and pepper. Cook for 1-2 minutes just until coated in the sausage and ever-so-lightly softened.

Using a fork, gently mash about 1/4 of the white beans. Add thyme, white beans, canned tomatoes, tomato paste, canned tomatoes, 3 3/4 cup chicken stock, 1 teaspoon of salt, and parmesan cheese rind to the veggies. Bring to a boil and reduce to a simmer. Simmer for 7-8 minutes until the white beans start to soften and thicken the soup. Stir halfway through.

Stir in the pasta. Continue to simmer until the pasta is aldente. Stir every minute or so to prevent the pasta and veggies from sticking to the bottom of the pot. It will be thick, so if you leave it alone too much, it will stick. If the stew is thicker than you'd like, add the remaining 1/4 cup of chicken broth (or more).

Add the kale. Stir until wilted, it should take about 30 seconds to a minute. Remove the thyme sprigs (if there are any leaves left on them, pull them off and put them back into the stew) and parmesan cheese rind. Season to taste with salt and pepper.

Garnish with lots of grated parmesan cheese. Serve with crusty bread for dipping.
Nutrition Information
Serving:
1
serving
,
Calories:
407
kcal
(20%)
,
Carbohydrates:
51
g
(17%)
,
Protein:
19
g
(38%)
,
Fat:
12
g
(18%)
,
Saturated Fat:
4
g
(25%)
,
Cholesterol:
43
mg
(14%)
,
Sodium:
980
mg
(43%)
,
Potassium:
541
mg
(15%)
,
Fiber:
7
g
(29%)
,
Sugar:
4
g
(4%)
,
Vitamin A:
3995
IU
(80%)
,
Vitamin C:
25
mg
(30%)
,
Calcium:
119
mg
(12%)
,
Iron:
4
mg
(22%)