Calabrian Chili Pasta: Fiercely spicy, creamy (without the addition of any cream), cheesy, and peppered with hidden bits of crunch and texture from tiny pine nut treasures.
There are fewer thing in life that give me more pleasure than a simple aldente pasta with plenty of heat, a heavy hand of nutty parmesan cheese, and an obscene amount of garlic. When that pasta comes together in under 30 minutes, and uses a mere six ingredients, we're pretty much inseparable from now to eternity.
Calabrian Chili Pasta
There's a reason simple pastas like carbonara, Cacio e Pepe and easy tomato sauces soar in popularity with the masses. They're quick to throw together and use quality ingredients that harmonize together beautifully.
Our Calabrian Chili Pasta is no different.
This simple pasta requires just six ingredients and despite the minimal ingredient list, the flavor is next level with ultra spicy Calabrian chilis, nutty parmesan cheese, and a heavy hand of garlic.
As we do with many of our pastas, the sauce is derived from the addition of starchy, salty pasta water resulting in a creamy sauce without any cream in sight. Because I'm a lush for an extra pop of texture, we throw toasted pine nuts in at the end to add a little bit of crunch.
Serve with a big green salad or your favorite roasted veggies and enjoy simplicity at its finest.
What is a Calabrian chili
Since the Calabrian chili is the star ingredient of this easy pasta, it's only appropriate we delve into bit a little bit.
Like many ingredients, this spicy chili gets its name from the location in which it originates from, and the Calabrian chili originates in the Calabrian region of Italy.
This spicy petite pepper has grown in popularity in recent years, and for good reason, it's the perfect combination of prominent spice paired with hints of tang and sweetness. You can find them many different ways, but we prefer them slightly pickled and stored in olive oil. Mostly because this yields the most flavor from the pepper, but also because we love to use that tangy olive oil to cook with.
Here, in our Calabrian chili pasta we use the olive to cook the aromatics and then use the peppers themselves as the dominant ingredient in the pasta itself.
Other ingredients you'll need
Pine nuts. I'm a texture gal, so I always like to add a pop of crunch or texture to pretty much all of my recipes. Here, the nuttiness of parmesan led me to pine nuts, but slivered almonds or chopped hazelnuts would be a good option as well.
Shallot. Shallots have a milder sweeter flavor than a yellow or white onion so I prefer to use it in simple pastas. Because they are so delicate and sweet, they add a layer of flavor to the pasta, but also blend in seamlessly texture-wise.
Garlic. I almost always use a heavy hand of garlic, and this recipe is no exception. We ended up with three large cloves, but I could have gone with one more. Like a lot of our recipes, if you aren't in to whole pieces of garlic, you can grate it on a microplane instead.
Pasta. Any short tube-like pasta will work here. We used a rigatoni mezze, which is basically just a short rigatoni, but penne, ziti, shelbows, or anything that will catch the sauce and chilis well will work great.
Parmesan. Because this pasta has a very minimal amount of ingredients, it's important to use high-quality ingredients. Here, we went with shredded parmigiano reggiano for its strong nutty flavor.
Be sure to grate your own parmesan cheese!
Let's make Pasta
Boil the water. Because our Calabrian Chili Pasta cooks quickly, you want to bring the pasta to a boil before you do anything else, so you can throw everything together.
Toast the nuts. While the water comes to a boil, add the nuts to a large skillet and toast them over a medium-low heat. You want them to turn ever-so-slightly golden and smell nutty.
Sweat the shallots. Use the oil from the chilis to sweat the shallots over a medium heat. You don't want the shallots to brown, you slowly want them to soften.
Cook the pasta. After the shallots have cooked for a few minutes, drop the pasta into the water. Make sure to ONLY cook the pasta until it's under aldente, as it will continue to cook as you toss the sauce and noodles together later. For me, this usually means removing it from the pasta about 2-3 minutes shy of what the box instructs.
When the shallots soften, after 4-5 minutes, add the garlic and chopped chilis. Again, just sweat them until the garlic softens.
Toss everything. When the pasta is done cooking, use a sieve to transfer the pasta to the shallot and Calabrian chili mixture. Toss to coat the pasta. Add the pasta water and then sprinkle cheese on top. Toss to combine. Keep tossing until the cheese melts. If needed, add more pasta water to loosen up the sauce and melt the cheese.
Add the nuts back in and toss again. Season to taste with salt and pepper.
Substitutions and Tips and Tricks for Recipe Success
Pasta water is your best friend! Use what we call for in the recipe, but feel free to use more to get to your desired sauce consistency.
Think about adding sautéed or roasted shrimp. Lobster would also be delicious for a spicier take on our Lobster Scampi.
Use pecorino cheese in place of parmesan.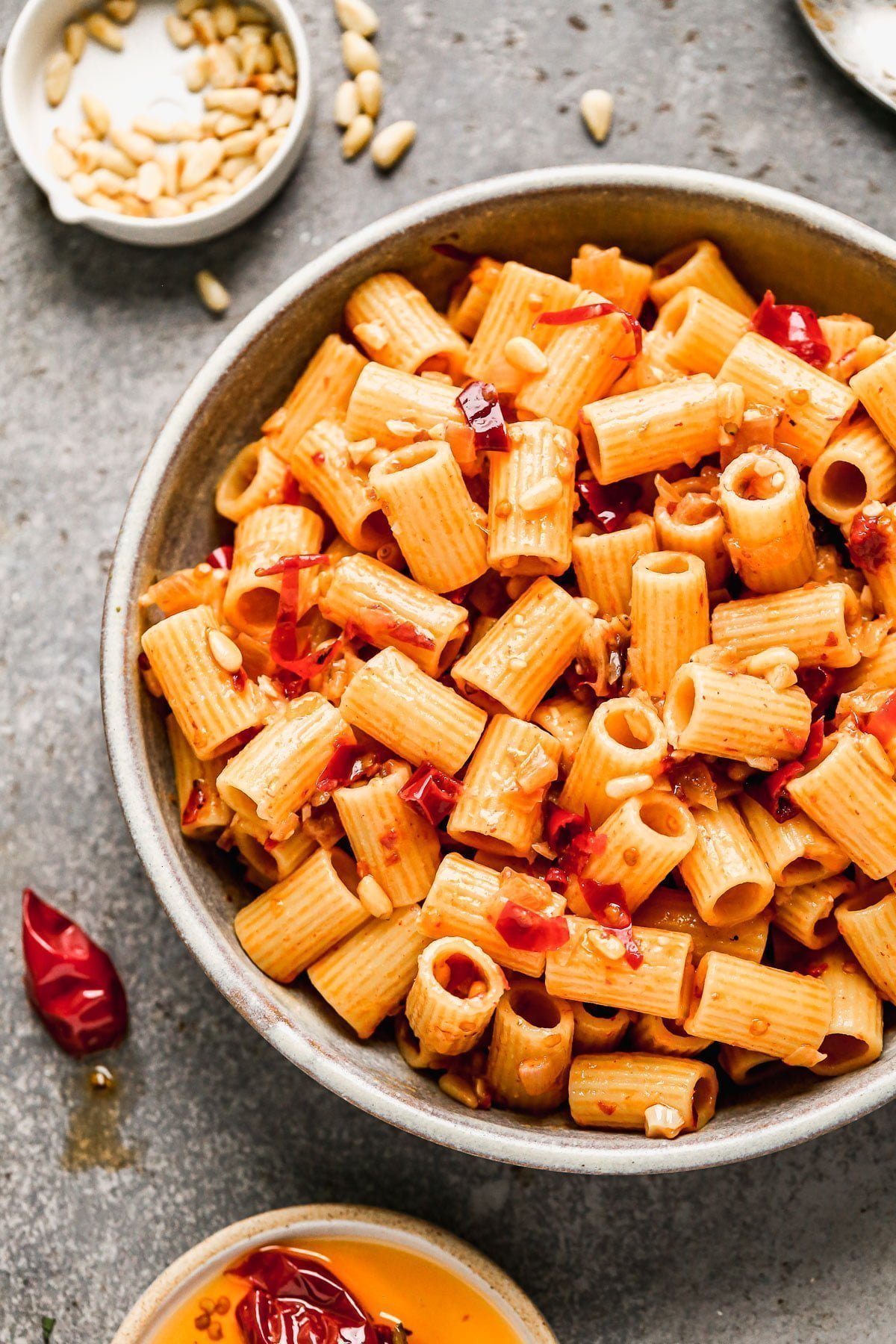 Calabrian Chili Pasta: Fiercely spicy, creamy (without the addition of any cream), cheesy, and peppered with hidden bits of crunch and texture from tiny pine nut treasures. 
Ingredients
1/4

cup

pine nuts

9

oz

jar calabrian chilis

2

medium

shallots, finely chopped (you'll need 1/2 cup shallots)

1/2

tsp

kosher salt, divided

3

large

garlic cloves, minced

3/4

lb

mezze rigatoni

1

cup

freshly grated parmesan cheese
Instructions
Bring a large pot of water to a boil. Season with salt.

Roughly chop enough chilis from the jar of calabrians to equal 1/4 cup.

While the water comes to a boil. Add pine nuts to a large skillet with high sides. Turn the heat on medium-low. Toast the nuts until then become slightly golden and smell nutty. Watch carefully, as they burn easily. Remove from the skillet and set aside.

Turn the heat up to medium. Add three tablespoons of oil from the jar of chilis. When the oil is hot, add the shallots and 1/4 teaspoon salt. Sweat the shallots until they start to soften, about 3-4 minutes. If they start to brown, turn the heat down to medium-low.

Drop the pasta into the boiling water and give it a good stir. Cook until just under aldente, about 2-3 minutes shy of what the box says.

Once you drop the pasta in the water, add the garlic, chopped chilis, and remaining 1/4 teaspoon salt to the shallots and chili oil. Sweat until the garlic has softened, about 1-2 minutes.

Before draining the pasta, reserve 1 cup of the starchy cooking liquid. Transfer the pasta to the skillet with the shallots. Toss to coat the pasta. Add 1/2 cup of the pasta water, toss. Sprinkle the cheese on top and continue to toss until the cheese melts. If needed, add more pasta water. Season to taste with salt and pepper.

Add the pine nuts to the pasta. Toss to combine.
Nutrition Information
Serving:
1
serving
,
Calories:
474
kcal
(24%)
,
Carbohydrates:
66
g
(22%)
,
Protein:
21
g
(42%)
,
Fat:
14
g
(22%)
,
Saturated Fat:
5
g
(31%)
,
Cholesterol:
17
mg
(6%)
,
Sodium:
697
mg
(30%)
,
Potassium:
272
mg
(8%)
,
Fiber:
3
g
(13%)
,
Sugar:
3
g
(3%)
,
Vitamin A:
198
IU
(4%)
,
Vitamin C:
1
mg
(1%)
,
Calcium:
319
mg
(32%)
,
Iron:
2
mg
(11%)