Peppermint Mocha French Toast is rich, easy, and the perfect breakfast for your holiday table. Only six ingredients!
This is what you need to make for breakfast on Christmas morning.
It's quick.
It's easy.
It's festive.
It's one of the most delicious sweet breakfast concoctions I've made to date. And, the sugar rush will give you ample energy to tackle that towering pile of gifts just waiting to be ripped in to.
It's no secret I'm not typically one for a sweet breakfast, (as evidence by all these savory breakfast posts). However, if said sweet breakfast involves rich egg bread (challah) being dunked in a custard-like batter, followed by a quick-cooking session in butter, AND is drizzled with dark chocolate, well, I can hop aboard the sweet breakfast train, no problem.
Aside from my temperamental sweet tooth, one of the things I prefer about savory breakfasts is the lack of a need for an exact measurement. You want bacon with your omelet? No problem. Prefer your egg sandwich with sautéed spinach and roasted red peppers instead of turkey sausage? Done.
But when you want to add coconut milk to you pancake batter or pumpkin puree to your waffles? Good luck, because you're going to be in the kitchen for a while, since messing with the ingredients in an already perfect batter is a recipe for a failure and a trip to the closest breakfast joint.
French toast, however, doesn't need exact measurements. Prefer yours heavier on the egg? Just add more. Like pumpkin puree? Just whisk a little in to the custard. Want a healthier option? Sub out the white bread for whole wheat.
And in this case, want your French toast to taste like Christmas with a hint of chocolate? Add International Delight Peppermint Mocha Creamer to the mix.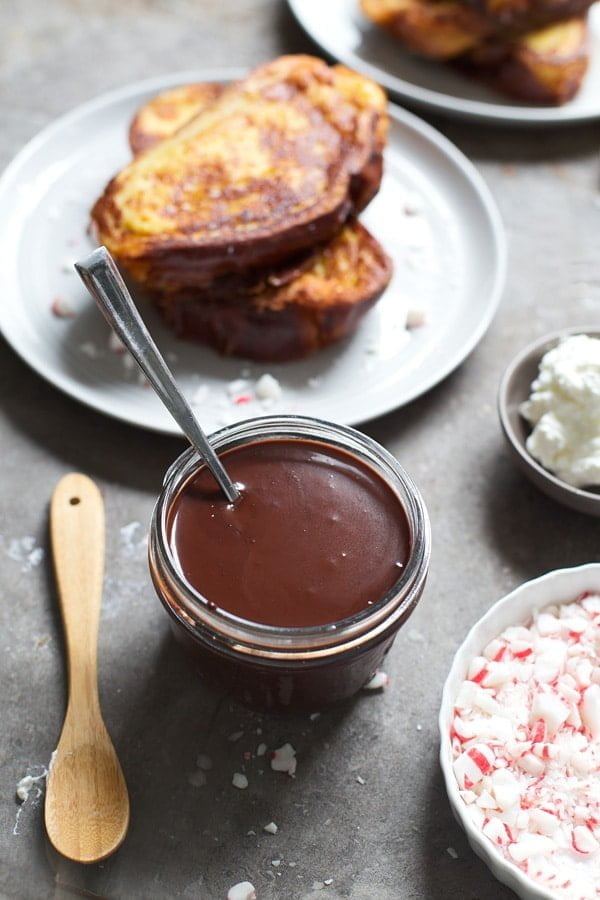 Because the creamer has plenty of sugar and flavorings innately in it, it's really not necessary to add an excessive amount of ingredients in to the custard batter, and in fact, I only used two — creamer and eggs.
I used three eggs to one and a quarter cup of creamer, which for me personally, was the perfect ratio, but if you like your custard to have a richer, more egg-like texture, add an extra egg.
Challah was my bread of choice, and almost always my choice when it comes to French toast, but again, this recipe is super flexible, so if all you have is a French baguette on hand, no big deal.
Instead of slathering the crispy, dense, French toast slices with syrup, I instead whipped up a ridiculously easy chocolate sauce with a little bit of heavy cream, dark chocolate chunks,and just a touch more of the peppermint mocha to drizzle over everything. At the last minute a scoop of whipped cream is dolloped on top instead of butter, and it's all dusted with crushed peppermints.
The holidays on a plate.
Peppermint Mocha French Toast with Chocolate Drizzle
Author:
Nicole ~ Cooking for Keeps
Ingredients
1½ cups International Delight Peppermint creamer, divided
3 eggs
1 day-old loaf challah, cut into 1-inch slices (you want it to be a touch dry)
6 tablespoons butter
¾ cup heavy cream
¾ cup dark chocolate chips
1 Tlbs. powdered sugar
½ cup crushed peppermints
Instructions
Preheat oven to 300 degrees. Place a cookie cooling rack on a rimmed baking sheet.
Whisk 1¼ cups creamer and eggs together in a shallow dish. Working in batches, bread pieces for 5-6 seconds per side, but be sure to not overly soak the bread.
Heat a large non-stick skillet to a medium heat. Add 1½ tablespoons butter to the skillet. Once it melts add 3 pieces of soaked bread, cook until golden brown on both sides, about 2-3 minutes per side. Transfer cooked pieces of french toast to cooling rack and pop in to the oven to keep warm while you make the rest of the french toast. Repeat process with remaining soaked bread.
Heat ½ cup of cream in a small saucepan until it begins to simmer. Add chocolate chips and stir with a spoon or spatula until chocolate is completely melted. Add remaining creamer, stir until combined.
Add cream to a small bowl. Use a whisk to vigorously beat the cream until soft peaks form, add powdered sugar. Whisk until combined.
Drizzle chocolate sauce on french toast. Top with whipped cream. Garnish with crushed peppermint
Notes
*If you don't have day-old bread, just pop the challah in to a 325 degree oven for 5-10 minutes until it's slightly crispy and dry.
This is a sponsored conversation written by me on behalf of International Delight. The opinions and text are all mine.