I promised you pumpkin, and you shall receive pumpkin.
This is one of three pumpkin recipes I have for you this week. THREE! Yipee!
We'll dabble in a little sweet, a little savory and a little in between.
Oh, and all three incorporate browned butter in some aspect. I don't know if you remember this, but I'm ridiculously, inexplicably, unequivocally obsessed with brown butter, OBSESSED. It's butter, but better, much better – and it goes with everything fall.
First up, pumpkin pancakes with brown butter and pecan streusel. Ummm, yeah. Does reading that make you salivate, or is it just me?
The first thing you're going to want to do is make the streusel. So so easy. In a little bowl, mix up chopped pecans, oats (mandatory in any streusel of mine), sugar, salt and butter. Spread it across a small sheet pan and bake just until it's starting to make your house smell divine, becomes barely golden brown and crunchy. This would also be great over greek yogurt, ice cream or even sprinkled over some fruit.
While the streusel is baking make your brown butter. Save two tablespoons of the melted butter and then stick the rest in the fridge to solidify – you're going to slather it all over your finished pancakes. Now, in the recipe I say that this step is optional, but I really encourage you to make it. It's so easy, and you can save the leftover brown butter for something else, maybe something else I'll be sharing later this week….


The batter is a very liberal adaptation of my favorite buttermilk pancake recipe from here. I scaled back the buttermilk for pumpkin puree (NOT pumpkin pie filling), added in a little bit of cinnamon and nutmeg for that pumpkin pie-esque flavor and upped the sugar content just a smidge. I know some people prefer their pancakes very sweet, I tend to lean towards the more savory side with just a touch of sweet, but if you like 'em sticky sweet, please be my guest and add in more sugar, it won't hurt any. Ohhhhh, I almost forgot to tell you, that brown butter you saved before, the two tablespoons, that goes in the pancake batter.
I think pancake cooking is pretty self explanatory, but a little tip for you. I used to think that cooking them in lots of butter was the key to a perfect pancake, but I've actually found that cooking them in no grease works best, in a nonstick pan, of course. They cook evenly, don't burn and there's a heck of a lot less mess.
Now, for the best part – the assembling and the eating, but mostly the eating. Slather the pancakes with brown butter, sprinkle with streusel and drown in maple syrup.
Now, that's breakfast.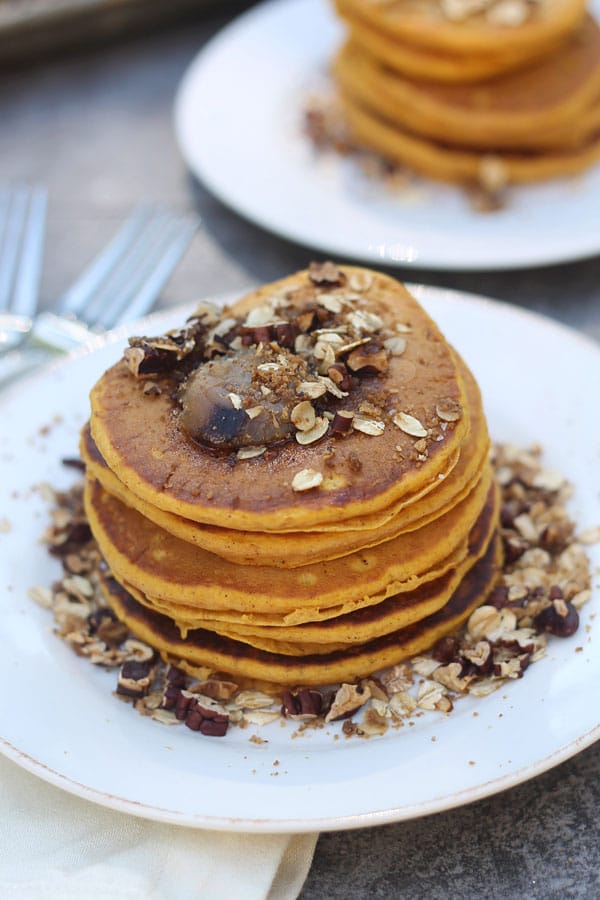 Pumpkin Pancakes with Brown Butter and Pecan Streusel
*Pancake batter adapted very very liberally from Food Network
Author:
Nicole-Cooking for Keeps
Ingredients
Pancakes:
1 stick butter
2 cups all-purpose flour
2 ½ teaspoons baking powder
½ teaspoon baking soda
3 tablespoons white sugar
2 tablespoons brown sugar
½ teaspoon salt
¾ teaspoon cinnamon
Pinch of nutmeg
1 ½ cups buttermilk
2 eggs
¾ cup pumpkin puree
Streusel:
⅓ cup pecans, chopped
¼ cup oats
2 tablespoons brown sugar
Liberal pinch of salt
2 tablespoons butter, melted
Instructions
Make Brown Butter: In a medium sauté pan melt stick of butter over a medium-high heat. Once butter begins to brown, swirl pan until it becomes a deep brown color and smells nutty. Remove from heat. Reserve two tablespoons melted brown butter. Place remaining brown butter into a container and place in the fridge or freezer to harden. Once butter has solidified again, use to butter pancakes. If you do not want to use brown butter on pancakes, just brown two tablespoons of butter for batter.
Make Streusel: Preheat oven to 325 degrees. In a small bowl combine chopped pecans, oats, brown sugar, salt and butter. Place on a baking sheet lined with parchment paper or a silt pad. Bake for six to eight minutes until slightly brown and crispy. Can be made three days in advance.
Make pancakes: In a large bowl, sift flour, baking powder, baking soda, sugars, salt, cinnamon and nutmeg. Whisk.
In a liquid measuring cup, measure out 1 ½ cups buttermilk. Crack eggs in milk, Whisk until combined. Whisk in pumpkin.
Whisk in buttermilk/pumpkin mixture and brown butter into flour mixture.
Heat a large non-stick skillet or electric griddle to a medium heat. Use a heaping ¼ cup of batter per pancake. Pancake is ready to flit when air bubbles appear at the top.
Serve with brown butter, streusel and maple syrup.