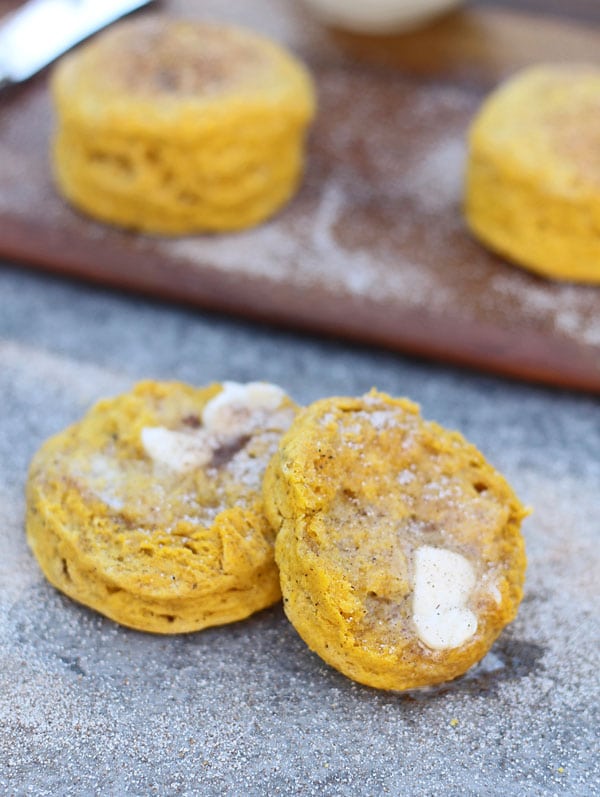 Pumpkin recipe number threeee..
Pumpkin Biscuits with Brown Butter and Cinnamon Sugar. Did you just die? I did a little.
I don't normally post on Thursdays, but tomorrow it's For Chic Sake Friday, and I promised there would be three pumpkin recipe posts this week, so here I am.
I hope you're not getting bored with pumpkin and brown butter; for me personally, I could never get tired of those two ingredients…but, talk to me in December and maybe my tune will have changed, since I have about a hundred other recipes in mind that include them.


I don't know if you know this about me, but I have a love affair with biscuits. I rarely make them because I can NEVER make them as delicious and fluffy as the ones from a restaurant or the freezer section at the grocery store – don't judge please; it's just so darn convenient. Not to say that I can't make them, I can, pretty good ones at that, they just don't have the fluffiness biscuits from a southern grandmother's kitchen have. So most of the time I cheat and mosey on over to the freezer section of the grocery store and pick up a package of Pillsbury southern style buttermilk biscuits.
This presents a problem when I want anything other than an ordinary biscuit; I must break out the butter and flour and make them myself, because there's not a grocery store in the entire Kansas City metropolitan area that's going to carry pumpkin biscuits in their freezer section. If there's one I'm missing out on, please let me know so I can skedaddle on over there.
I will admit there are quite a few steps to making biscuits. The ingredients must all be very cold, and I even like to cut up my cold butter, stick the butter in the freezer, make the biscuits, and then throw them back into the freezer before baking them off. This will almost guarantee a perfectly flakey and tall biscuit every single time – and for me, it's totally worth the extra steps.
What I love love love about these, is there isn't a smack-you-in-the-face pumpkin flavor; just a subtle hint coupled with pumpkin pie flavors like cinnamon and nutmeg. The brown butter gives the biscuit a slightly nutty and complex flavor that will make people ask – what is that?
You can eat them just as they are, smear them with brown butter and dust with cinnamon sugar (this is what I did), or you could even use them as a vessel for a savory sandwich or even better – biscuits and gravy. (Breakfast this weekend?)
Fall in a biscuit!
Pumpkin Biscuits with Brown Butter and Cinnamon Sugar
Author:
Nicole-Cooking for Keeps
Serves:
Makes about 8 biscuits
Ingredients
2 cups all-purpose flour + more for dusting
1 tablespoon sugar
1 teaspoon salt
½ teaspoon cinnamon
Pinch of nutmeg
1 tablespoon baking powder
¼ teaspoon baking powder
½ cup buttermilk
½ cup + 1 tablespoon pumpkin puree
1 tablespoon Crisco
6 tablespoons butter, divided
¼ cup cream
¼ cup sugar + 3 teaspoons cinnamon mixed together
Instructions
Preheat oven to 450 degrees.
In a small saucepan melt five tablespoons butter over a medium-high heat, when the butter begins to brown start to swirl the pan. Swirl until butter is a deep brown and smells nutty. Transfer to a container and place in the fridge to solidify. Cut butter and brown butter into cubes and stick in the freezer for a few minutes.
In a liquid measuring cup whisk pumpkin puree and buttermilk together. Place in fridge until ready to use.
In the bottom of a food processor, add flour, sugar, salt, cinnamon, nutmeg, baking powder and baking powder. Pulse three times to aerate. Add cubed butter and shortening. Pulse until mixture looks like a mixture of coarse meal and very small peas. Add buttermilk and pumpkin mixture, pulse until dough comes together.
Dump dough onto a liberally floured surface. Knead 3-4 times, if dough is too sticky sprinkle with additional flour.
Using a rolling pin, roll out dough to a ½ inch thickness. Cut biscuits using a 2-inch biscuit cutter. Use extra flour as necessary.
Once biscuits are formed, place onto a baking sheet lined with parchment paper or a silt pad and pop in the freezer for five minutes.
Brush tops with cream and sprinkle with cinnamon sugar.
Bake 12-15 minutes until golden brown and cooked though. (They should be tall)
Serve with butter and remaining cinnamon sugar.