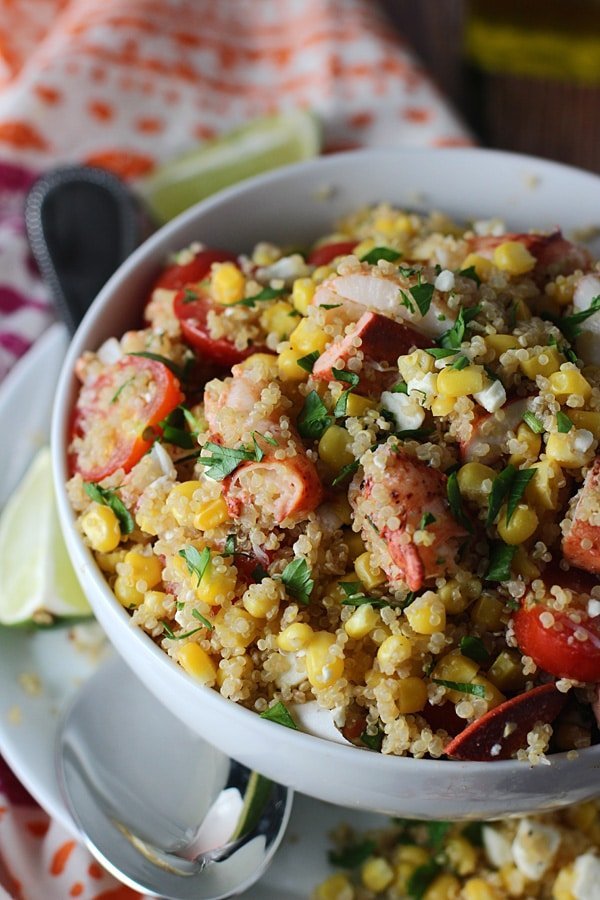 I applaud all you green thumb gardening experts, I'm envious, yet baffled by your successes. This is the second year in a row Kevin and I have tried our hand at growing some veggies in our backyard, and while we've had much more success with our cherry tomatoes as of late, our heirloom and beefsteak variety has generated only marginally more success than last year.
In fact, we can't stop the cherry tomatoes from growing, once we pick a handful, ten more pop up, and these guys are not your average cherry tomato, they are enormous. I'm convinced they're actually a hybrid between a normal tomato, and a cherry – or maybe I've just never seen what an actual cherry tomato looks like with all the mass-produced, over-priced ones you find at the grocery store.
Regardless, there's nothing that makes me giddier than when Kevin points out another bunch of the little guys growing almost overnight. It's crazy to think that we've actually grown something we can eat in our own backyard. Well, I guess if we're technically speaking, Kevin actually planted and nurtured them, but I supervised, so that totally counts, right? Oh, and I also water from time to time.
At first I was afraid our success was going to be short-lived, so I was hoarding the little guys as if I needed to ration them off every day for my sole source of sustenance – thankfully, I've since realized they are not going to stop growing anytime soon. This has freed them up to pop in my mouth for a snack as I please, serve them up as an app with some bocconcini (tiny mozzarella balls) and most recently, as a pop of red in this quinoa and lobster salad.
Of course the foundation of the salad started with leftover lobster from this dinner we had the other night. Apparently it's rather difficult for two people to finish four pounds of lobster and not burst – thank goodness for that, because this salad would never have transpired had we finished those feisty little suckers.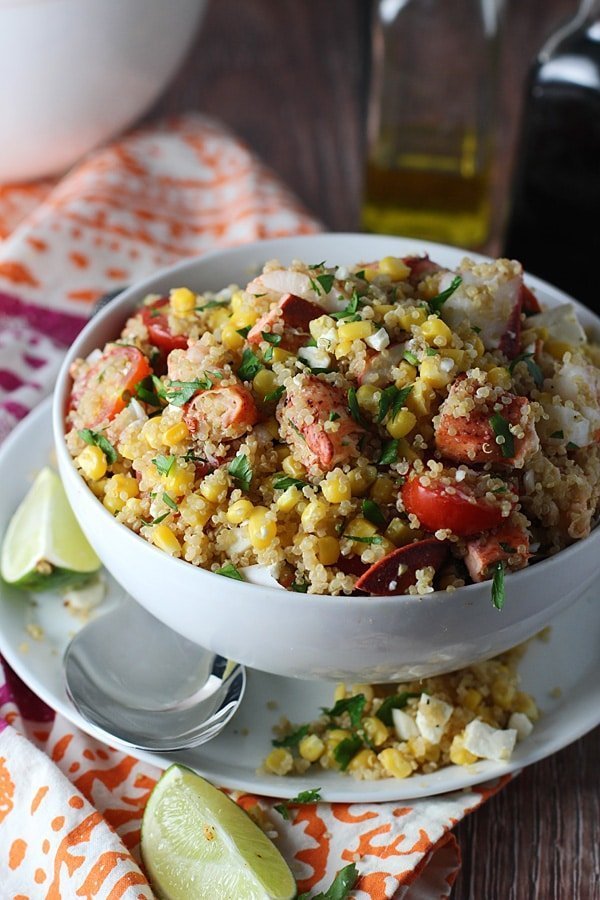 I love this, not only because it's delicious, but it's also an updated version of a summer classic – corn and tomato salad. And while the traditional salad would normally just serve as a side to a bigger protein, the addition of quinoa and lobster make this salad boast enough heartiness to suffice for your main meal.
We had leftover lobster already on hand, but in your case, I'd recommend getting two to three lobster tails, and grilling them along with the corn. You could over course, boil them both, but since there aren't many ingredients, you want each and every single component to be as flavorful as possible, and the grill will be the best instrument to facilitate that. Plus, it's summer, you should get out there and grill!
Once the lobster and corn are cooked, they're tossed with halved cherry tomatoes and some pre-cooked quinoa and then dressed with a super light (and bright!) lime vinaigrette. Add a nice, crisp class of rosé and this perfect summer dinner is done.

Quinoa Salad with Lobster, Grilled Corn, Cherry Tomatoes and Feta
Quinoa, lobster, corn and cherry tomatoes are tossed with a lime vinaigrette for a quintessential summertime salad.
Ingredients
1 cup cooked quinoa
2 large lobster tails
Olive oil for cooking
2 ears of corn
10 cherry tomatoes, halved
½ cup crumbled feta
Dressing:
Zest of 1 lime
Juice from 2 limes
2 teaspoons honey
¼ teaspoon salt
¼ cup olive oil
Instructions
Heat your grill to a medium heat. Split lobster tails in half length-wise. Using a metal or wooden skewer soaked in water, skewer the lobster tails so they don't curl when grilling. Brush meat with olive and sprinkle with salt and pepper. Grill, flesh side down for five minutes, or until the flesh is easily released from the grates. Flip over and cook another 3-4 minutes until meat is cooked through. At the same time the lobster is grilling, grill corn on indirect heat for 10-15 minutes, turning occasionally.
Once the lobster and corn are done, remove the meat from the shells and cut into bite-sized chunks. Cut corn from cob.
In a small bowl, whisk together all ingredients for dressing. Slowly whisk in olive oil. Season to taste with salt and pepper.
In a large bowl, toss quinoa, lobster, corn, tomatoes and feta together. Toss with dressing. Serve immediately.
If you want to make this ahead, just don't dress the salad until ready to serve.
Notes
As a side this recipe will feed 4-6 people, as an entree, 2-3 people.